Latest topics
»
New to Forum and SFG 15" raised bed foundation
by clphelps97 Yesterday at 6:13 pm
»
N&C Midwest: June 2023
by
sanderson
Yesterday at 4:32 pm
»
Tea Time -- Compost Tea, that is
by
sanderson
Yesterday at 4:23 pm
»
What are you eating from your garden today?
by
sanderson
Yesterday at 4:18 pm
»
Kiwi's SFG Adventure
by
sanderson
Yesterday at 4:09 pm
»
Easy Refrigerator Pickles from Extra Produce
by
sanderson
Yesterday at 3:29 pm
»
Frequency/amount to water
by lisawallace88 6/8/2023, 3:12 pm
»
Mulch around garlic
by
Scorpio Rising
6/8/2023, 10:19 am
»
Birds of the Garden
by
Scorpio Rising
6/7/2023, 9:21 pm
»
Paul's First SFGs
by pkadare 6/7/2023, 4:38 pm
»
What Have You Picked From Your Garden Today
by
Scorpio Rising
6/6/2023, 11:58 pm
»
Famous Gardening Quotes
by OhioGardener 6/5/2023, 10:18 am
»
Hello from Central Missouri, Zone 6a
by
Scorpio Rising
6/3/2023, 3:48 pm
»
N&C Midwest: May 2023
by OhioGardener 6/1/2023, 8:55 pm
»
Walking stick kale
by
sanderson
5/31/2023, 1:38 pm
»
Why Letting Weeds Run Wild Can Actually Help Your Garden
by
sanderson
5/30/2023, 2:35 pm
»
Teaming with Microbes Kindle Sale (Mem. Day weekend 2023)
by
sanderson
5/29/2023, 3:14 pm
»
Mid-Atlantic New Host Intro & Info
by JAM23 5/29/2023, 8:38 am
»
Poppy seeds - Hungarian Blue Breadseed
by
AtlantaMarie
5/28/2023, 6:12 am
»
Sluggo Plus
by
sanderson
5/27/2023, 3:23 pm
»
Centpedes
by OhioGardener 5/25/2023, 6:19 pm
»
beneficial nematodes
by OhioGardener 5/24/2023, 9:18 pm
»
Senseless Banter...
by markqz 5/24/2023, 5:39 pm
»
Pre-Filling a 30" Raised Bed
by toledobend 5/24/2023, 1:10 pm
»
Happy Birthday!!
by
AtlantaMarie
5/24/2023, 7:03 am
»
Aphids & Their Predators
by MrBooker 5/24/2023, 6:01 am
»
Hello from Bobcaygeon, Ontario
by
Scorpio Rising
5/20/2023, 1:52 pm
»
Spring Flowers
by OhioGardener 5/18/2023, 6:23 pm
»
My Solar Dehydrator at Work
by
sanderson
5/18/2023, 3:10 pm
»
French Tarragon
by
sanderson
5/18/2023, 12:41 pm
Hi everybody!
I'm a seasoned gardener who used to practice square foot gardening in the Southeast US. Then moved to the Intermountain West (NE Utah) several years ago where the climate is obviously quite different!

I'm interested in trying SFG out again, however, and am looking for feedback on how you guys do with raised beds and Mel'x Mix in arid, windy climates like this one?

My other training in permaculture, etc. has led me to believe that a sunken garden would be more appropriate in this climate.

What are your experiences? Are you able to keep your square foot raised beds from drying out too quickly?

Thanks!

wildyoga




Posts

: 1


Join date

: 2023-04-05


Location

: NE Utah



sanderson likes this post
Hi Wildyoga,  Welcome to the Forum from hot, dry summers Fresno, CA.
Yes, SFG raised beds with Mel's Mix and grids works in Utah.  There are a lot of SFG in the SLC area where preparedness is practiced.  Simple 2"x8" lumber makes beds deep enough for 6-7" of MM with a little room for straw mulch.  (E-Z Straw with Tack from Tractor Supply is my favorite.)  I have been using the method since March 2013.  My beds are actually table tops, up in the air.  Summers are over 100*F for weeks, peaking usually at 110*F, although last year it reached 115*F!  I don't have the high desert plains winds but you can work around that buy erecting wind buffers when needed to slow down the wind.  Any walls of permeable material like shade cloth, sheers, burlap.
Arizona table tops: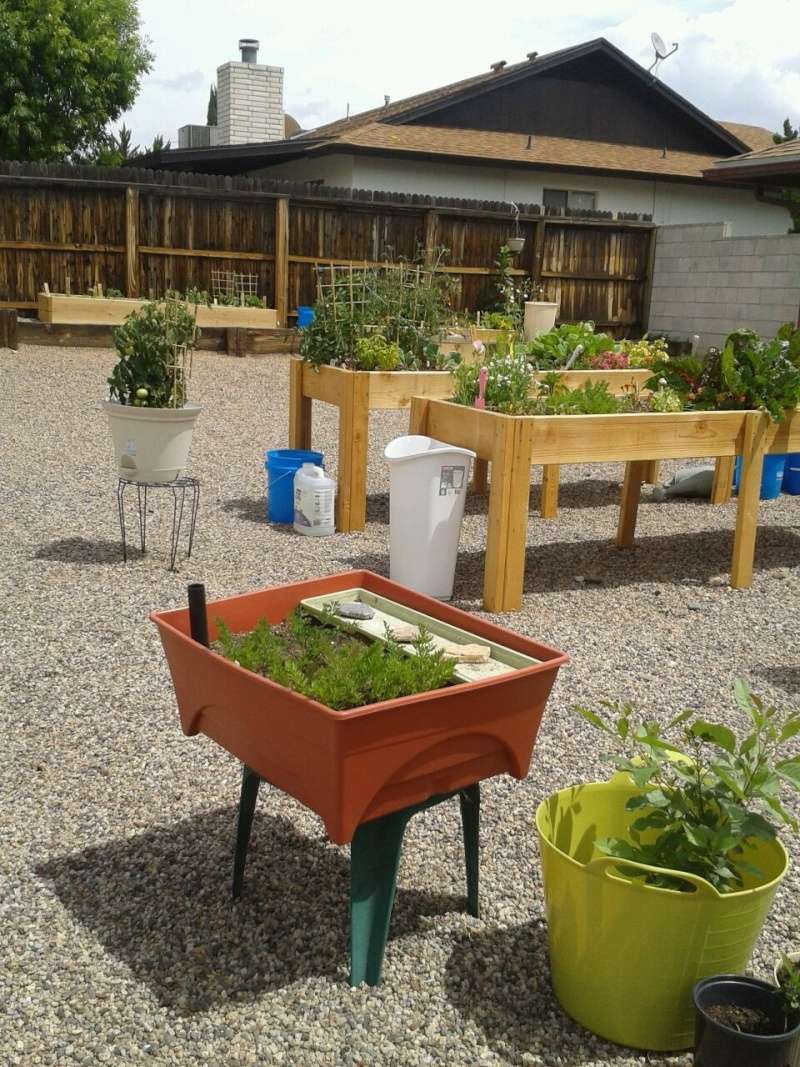 Fresno (me) small part of the garden in August 2018: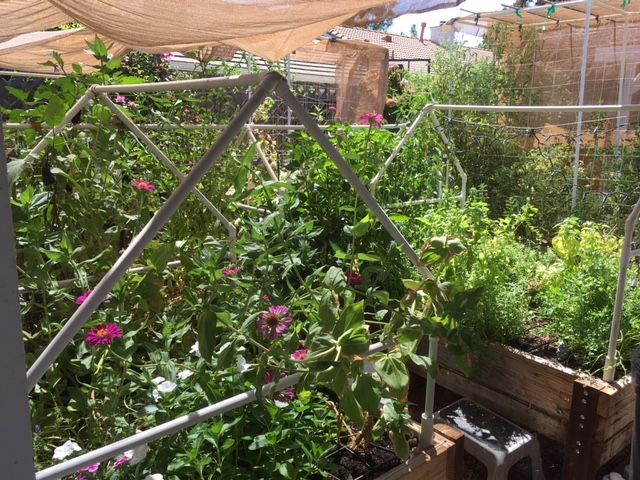 Check out threads in the Southwest Deserts subforum and Western Mountains and High Plains subforum. It seems that the further north one goes, the more small green houses are seen to extend the seasons.
Hello from Montana!
NE Utah is cold enough that raised beds warm up much earlier in the spring. What spring you ask? This year is already a month behind. THose raised beds will hopefully help us have some sort of season this year. Wind is an issue drying out beds quickly, and requires extra staking of broccoli and such. You must keep up on watering, and by hand with a cup will not be anything like near enough. Soaker hoses, on a timer, every day, make a huge difference. I also make my beds high enough for mulching to keep the soil moist, and to continually feed the plants as it breaks down. I use that early lawn mowing before the weeds bloom, it is heavy so it doesn't blow and has good nitrogen content for continual feeding. 

If I lived in southern Utah I would definitely look into waffle gardens. That seems very compatible with SQFG.

Turan




Posts

: 2605


Join date

: 2012-03-29


Location

: Gallatin Valley, Montana, Intermountain zone 4



plantoid, sanderson and wildyoga like this post
Hi Turan!
Missed you.
---
Permissions in this forum:
You
cannot
reply to topics in this forum