Latest topics
»
need specific advice on MM
by danieggert Today at 10:02 am
»
Senseless Banter...
by OhioGardener Yesterday at 8:11 pm
»
After harvest, leave the roots in or remove
by Mikesgardn Yesterday at 7:53 pm
»
Greenhouse - Helpful Hints in Setting up a Wood-Framed Greenhouse
by
Scorpio Rising
Yesterday at 7:46 pm
»
Sifted Peat
by danieggert Yesterday at 4:21 pm
»
Best choice of pot to plant my seedling
by markqz Yesterday at 1:30 pm
»
Responding to a specific post
by OhioGardener Yesterday at 9:55 am
»
N&C Midwest: March & April 2023
by
Scorpio Rising
3/21/2023, 10:17 pm
»
Kiwi's SFG Adventure
by
sanderson
3/21/2023, 9:00 pm
»
Think Spring 2023
by MrBooker 3/20/2023, 7:59 am
»
Sifting Compost for Newbies
by
sanderson
3/20/2023, 3:47 am
»
Too cold to put my new MM into my raised beds?? and Facebook SFG site
by
sanderson
3/20/2023, 3:39 am
»
Harvesting small amounts from iceberg lettuce, caulliflower, broccoli, cabbage etc.
by
sanderson
3/20/2023, 3:37 am
»
Indoor seed starting question
by
sanderson
3/20/2023, 3:19 am
»
Epsom salts for your veggie garden??
by
sanderson
3/19/2023, 11:37 pm
»
seed starting Mel's way
by bigtoad 3/17/2023, 9:26 pm
»
shop lights vs grow lights
by
sanderson
3/17/2023, 1:53 am
»
trellis netting square size
by
sanderson
3/16/2023, 10:45 pm
»
Ohio Gardener's Greenhouse
by OhioGardener 3/16/2023, 5:20 pm
»
Sour Dough Starter
by Jjean59 3/16/2023, 2:24 pm
»
Raised Beds from 48" Culvert
by wargarden2017 3/16/2023, 11:19 am
»
Baby Pools as Beds?!
by Jjean59 3/15/2023, 3:54 pm
»
March: What to plant in Northern California and Central Valley areas
by
sanderson
3/15/2023, 3:52 pm
»
So. California & Inland Valleys -March / April Planting Guide
by
sanderson
3/15/2023, 2:22 pm
»
Biosolids / Humanure Compost?
by OhioGardener 3/14/2023, 1:45 pm
»
Hello Form the Bitterroot Valley of Montana
by
sanderson
3/14/2023, 4:52 am
»
Renewing Mel's Mix
by anne 3/13/2023, 8:16 pm
»
help refuting a raised bed critic
by
sanderson
3/13/2023, 2:26 pm
»
Associations of time spent gardening with mental wellbeing and life satisfaction in Mid-to-late adulthood
by OhioGardener 3/13/2023, 9:04 am
»
Hello from the north end of the Bitterroot Valley, Montana
by
sanderson
3/13/2023, 5:05 am
Hello everyone! 
I've been combing through so many wonderful threads on this forum for a few weeks now and finally actually signed up so I can introduce myself
We have two littles at home (2 and 2 months) so I feel like a bit of a crazy minority who decides to start a garden while chasing toddlers! Growing up, my parents had a garden just one summer but it made a permanent impression on me. Every year Id ask my parents to garden again. Gardens are magical I think, but especially in childhood! I'm excited to share the experience of a garden with my own children. If you garden(ed) with little ones around I'd love to hear about it!
We live in the burbs on a 1/4 acre lot - our HOA allows gardens in the backyard so we will be taking advantage of that! Last weekend we built our four beds (4x6) and this weekend we'll be working on the garden zone. I love the peastone look so we'll be prepping the area and putting that down and then hopefully we'll be ready to mix the MM's next weekend to fill the beds!  
A question for all of you…how far would you drive for compost? $10 a 50 lb bag for rabbit poo….it's an hour away….what about free composted horse manure? 45 min away? Or is it worth it to just spend the $$$ at the garden store around the corner?
Looking forward to sharing progress pics throughout this first year of our SFG!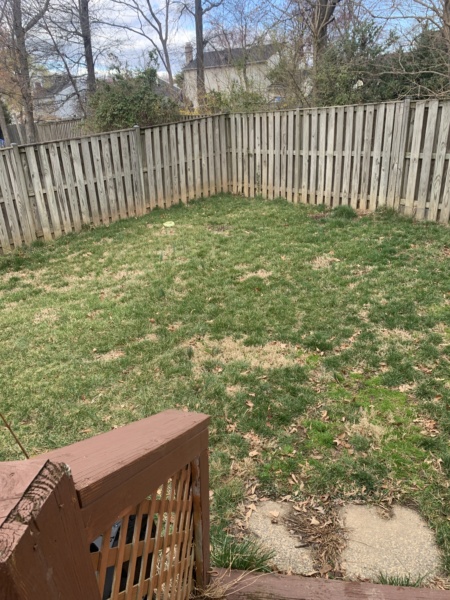 A "before" of our garden corner. The fence on the "left" here is the northern edge of our yard
My helper

novanewbie




Posts

: 2


Join date

: 2023-03-06


Location

: Northern VA Zone 7a



Nova, Welcome to the Forum from California. 
  Hopefully you have a copy of ALL NEW Square Foot Gardening.  It is invaluable.
Involving your children at a young age is a blessing.  The 2-year old might like his own 2'x2' or 2'x3' bed.  Leave a spot for baby to someday have his own bed.  
Square Foot Gardening with Kids - Square Foot Gardening
How far to drive for compost?  I drive 200 miles to visit kiddies and pick up bags of different composts because my area is a compost desert.  Be careful about animal manures.  You want all manures COMPOSTED, not aged, which is most horse manure.  Bunny manure should also be composted.  Look for real composts, not soil amendment, raised bed mix, planting mix, etc.  No added fillers like peat moss, sand, perlite.  You will be making the Mel's Mix with 1/3 fluffed peat moss so you don't want extra from the bagged composts.
Mel's Mix. How strong is your backbone? (forumotion.com)
Similar topics
---
Permissions in this forum:
You
cannot
reply to topics in this forum