Latest topics
»
Recommended store bought compost - Photos of composts
by
sanderson
Yesterday at 1:27 pm
»
Strawberry Varieties?
by Chuck d'Argy Yesterday at 12:42 pm
»
Jerusalem Artichoke or Sun Choke
by
Scorpio Rising
Yesterday at 7:09 am
»
Mark's first SFG
by
sanderson
12/3/2023, 7:33 pm
»
Strawberries in MM: to feed or not to feed?
by
sanderson
12/3/2023, 7:30 pm
»
What Have You Picked From Your Garden Today
by OhioGardener 11/29/2023, 5:36 am
»
Senseless Banter...
by
sanderson
11/28/2023, 10:31 pm
»
N & C Midwest: November/December 2023
by
sanderson
11/27/2023, 9:23 pm
»
FREE Online SFG Class - November 28, 2023
by
sanderson
11/27/2023, 9:21 pm
»
Mini-Raised Beds?
by Chuck d'Argy 11/27/2023, 2:14 pm
»
Happy Birthday!!
by
sanderson
11/26/2023, 10:58 pm
»
Name the mystery (to me) seedlings! :-)
by Psdumas 11/25/2023, 12:04 am
»
Happy Thanksgiving from the USA
by
sanderson
11/23/2023, 1:47 pm
»
Guatemalan Green Ayote Squash
by OhioGardener 11/21/2023, 8:27 am
»
Kiwi's SFG Adventure
by
sanderson
11/20/2023, 2:06 pm
»
Seeds 'n Such Early Order Seeds
by
sanderson
11/20/2023, 1:13 pm
»
USDA Plant Hardiness Zone Map
by OhioGardener 11/19/2023, 7:12 am
»
AeroGarden for starting seeds?
by OhioGardener 11/16/2023, 12:40 pm
»
Biochar?
by OhioGardener 11/16/2023, 10:31 am
»
2023 - Updated U.S. Interactive Plant Hardiness Map
by
sanderson
11/15/2023, 6:18 pm
»
SFG Is Intensive Gardening
by
sanderson
11/14/2023, 3:26 pm
»
Teaming with Microbes Kindle Sale (Mem. Day weekend 2023)
by markqz 11/10/2023, 12:42 am
»
Bok Choy Hors d'oeuvres
by
donnainzone5
11/9/2023, 5:58 pm
»
Now is the Time to Start Preparing Next Year's Spring Garden
by OhioGardener 11/9/2023, 7:13 am
»
Shocking Reality: Is Urine the Ultimate Gardening Hack or Disaster?
by dstack 11/6/2023, 5:29 pm
»
Nightmare on Mel Street.
by
Scorpio Rising
11/4/2023, 6:37 pm
»
Aerogardening
by
Scorpio Rising
11/3/2023, 10:02 am
»
Sunday All Purpose Organic Garden Nutrients
by lisawallace88 11/3/2023, 9:13 am
»
Mid-summer seed sowing, how do you do it?
by KiwiSFGnewbie 11/2/2023, 8:04 pm
»
N&C Midwest October 2023
by OhioGardener 11/1/2023, 8:49 am
Hoping to find an answer to this mystery going on with the chard (in Australia called silverbeet). I noticed a light white dusting on the underside of the outer leaves of one of the chard plants. Two plants next to each other, one affected, the other one not. At first I thought it was powdery mildew but I'm not entirely convinced to be honest. I know what powdery mildew looks like from zucchini and cucumber and usually the leaves are covered all over but not like this, not just on the underside and nowhere else. Also the fact that the other plant doesn't have anything makes me doubt my diagnoses but then again, it might be just a matter of time…
It doesn't look too bad when dry but when I put it in a bowl with water it looks spectacular. Like a spider has been busy making webs all over! Looks beautiful, almost silver. When taken out of the water, it is still visible but not the same as when in water (great trick of light!). It does come off when rubbing it but not with just running water. So, 1. What is it? 2. Can I still eat it (stir fried with some onion and garlic, yum!) 3. If not eating it, then probably better keep out of composting bin?
Thanks!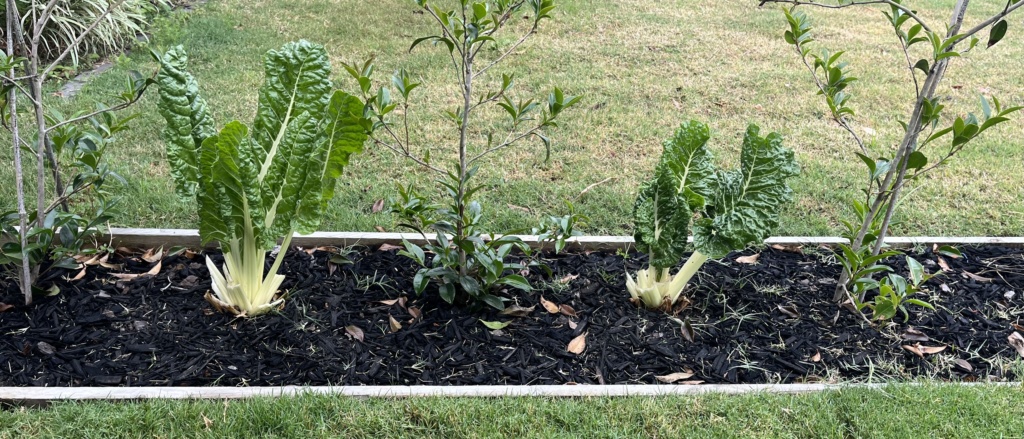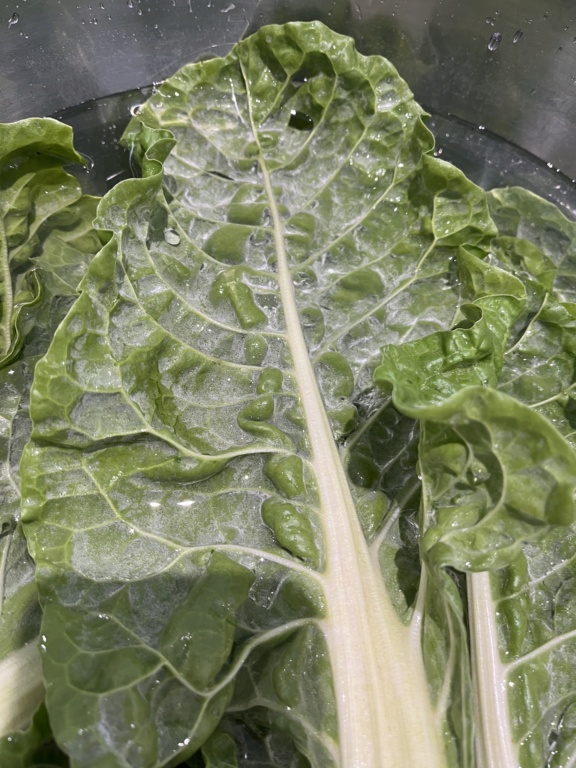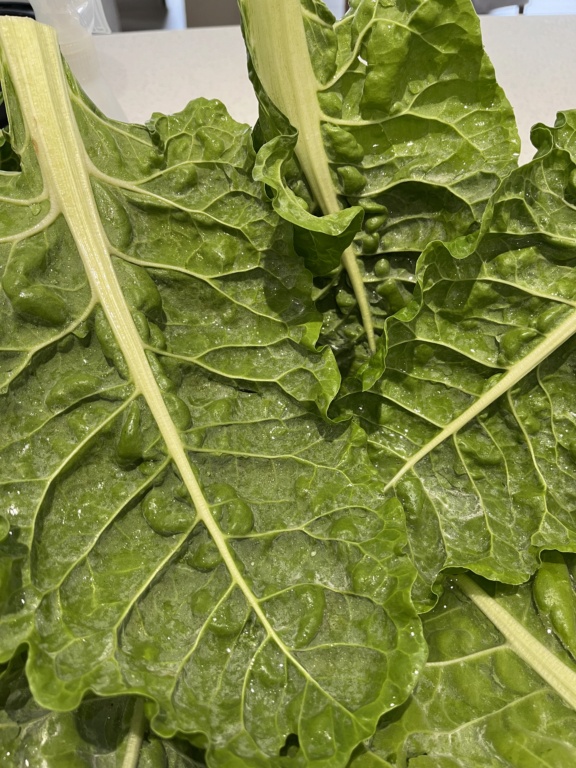 Guest

Guest





Your chard certainly looks great!

If you use a magnifying glass, is there a possibility that there is some small insect or mite attacking the undersides?

I don't know if this applies to your variety of chard, or if your chard is old enough, but when I have various infestations, I cut the leaves back to just a few token plants. After awhile the chard recovers and usually, at least for awhile, it's mildew-free. Using this approach, the chard lives for 2 or more years (at least in my freeze-free climate). But, again, your chard might behave differently.

I'm sure someone will be along with additional, improved insights.

Good luck!

markqz


Forum Moderator




Posts

: 858


Join date

: 2019-09-02


Location

: Lower left hand corner



sanderson likes this post
I've experienced this powdery white stuff on chard, but it was on the tops, not the underside. It was the beginning of powdery mildew spread by insects-first appeared as tiny white lumps where the injury/infestation started. Cut it back and hit the remaining leaves with neem oil or spray the leaves with a milk and baking soda mixture.
Last edited by Yardslave on 11/28/2022, 2:16 pm; edited 1 time in total (Reason for editing : spelling)

Yardslave




Posts

: 539


Join date

: 2012-01-19


Age

: 72


Location

: Carmel Valley, Ca.



sanderson likes this post
This is a new one for me.

I first thought it looked like snail slime, or insect webbing. Maybe try what Mark does.
Thanks to all of you who replied. It is still a mystery. Maybe it is mildew but the fact that it's only on the underside of the leaves makes me doubtful. Also considered the spider mite but it's not web-like.  A good soak in water with vinegar was enough to get clean leaves. First followed the sensible advice and cut it back but I just noticed something developing on both sides of one leave so will take it out completely, not taking any risks. It might be mildew after all. We're only at the start of the growing season and on the other side of the gate I have cucumbers and zucchinis, don't want them affected this early in the season!
Thank you all, really nice to be on this forum!

Guest

Guest





---
Permissions in this forum:
You
cannot
reply to topics in this forum