Latest topics
»
Stevia
by markqz Yesterday at 12:11 pm
»
Mark's first SFG
by markqz Yesterday at 11:53 am
»
Beds not holding moisture?
by MrBooker 9/27/2023, 7:13 am
»
N&C Midwest September 2023
by
Scorpio Rising
9/27/2023, 6:55 am
»
Walking stick kale
by markqz 9/26/2023, 11:52 pm
»
Butternut squash sets world record at the State Fair of Virginia
by markqz 9/25/2023, 5:13 pm
»
Ohio Gardener's Greenhouse
by OhioGardener 9/25/2023, 4:29 pm
»
Closing beds for winter
by plantoid 9/25/2023, 4:25 pm
»
Famous Gardening Quotes
by OhioGardener 9/23/2023, 12:51 pm
»
Foodbank's composting program creates food from food
by OhioGardener 9/22/2023, 8:29 am
»
What Have You Picked From Your Garden Today
by OhioGardener 9/21/2023, 1:15 pm
»
Turning existing garden beds into SFG
by jemm 9/20/2023, 7:35 am
»
updating my mix - what should I add
by
sanderson
9/18/2023, 5:04 am
»
Senseless Banter...
by
sanderson
9/16/2023, 11:37 pm
»
Lumber and measuring for SFG boxes
by
sanderson
9/16/2023, 12:21 am
»
Avatar issues
by Guinevere 9/14/2023, 7:53 pm
»
Happy Birthday!!
by
sanderson
9/11/2023, 4:40 pm
»
When to harvest? / Watermelon seedlings
by
sanderson
9/9/2023, 6:07 pm
»
Hornets Nest
by
sanderson
9/8/2023, 8:15 pm
»
Tropical Storm Hilary
by jennyjo37 9/5/2023, 5:31 pm
»
A square foot garden in a round bed.
by alicej 9/4/2023, 3:39 am
»
Determinate Cherry Tomato for Greenhouse
by OhioGardener 9/2/2023, 6:52 pm
»
N&C Midwest August 2023
by
Scorpio Rising
8/31/2023, 9:01 am
»
Hurricane
by
Scorpio Rising
8/30/2023, 7:25 am
»
No-Fail Zucchini Bread
by OhioGardener 8/28/2023, 11:11 am
»
buying compost small town SW Pennsylvania
by
sanderson
8/27/2023, 6:41 pm
»
Phosphate
by
sanderson
8/27/2023, 3:43 pm
»
Topping brand new SFG box with more gorgeous compost???
by
sanderson
8/27/2023, 3:36 pm
»
8 Great Vegetables for Fall Planting
by
sanderson
8/27/2023, 2:58 pm
»
What are you eating from your garden today?
by OhioGardener 8/26/2023, 7:19 pm
As many are finding out, some brands of compost need to be screened of wood pieces, bottle caps, and other debris unsuitable for our Mel's Mix.  Please post photos of your compost sifter if you would like to share.
I have the basic homemade style with 1/4" hardware cloth secured to a wood frame.  The smaller of the 2  fits over a cement pan, but I wanted something lighter and easier to handle.  Someone suggested this gold panning sifter pan that fits over a 5-gallon bucket.  
 I ordered it immediately, since my days of heavy lifting are done.
https://www.amazon.com/Classifier-Sifting-Panning-Gallon-Bucket/dp/B019U6DDS0/ref=sr_1_31?crid=22EYX8KQJXIIG&keywords=soil%20sifter%20for%205%20gallon%20bucket&qid=1652731187&s=lawn-garden&sprefix=soil%20sifter%2Clawngarden%2C152&sr=1-31&fbclid=IwAR0tft6mXtIvdZMDmQPKK2u72MhLZ6uvrEvoLrPXGzgPxFsnoWDoDt52rvc
Last edited by sanderson on 5/17/2022, 1:52 pm; edited 1 time in total
That gold-sifting bucket top seems awfully small!  
I had a piece of screen cloth on a 2x4 frame, very crude, since my first attempt at a SFG in '81. (First book.)  It finally got disassembled this Spring.  Slow to use.  With the amount of MM we are using to set up the new garden, I knew we needed something better this time.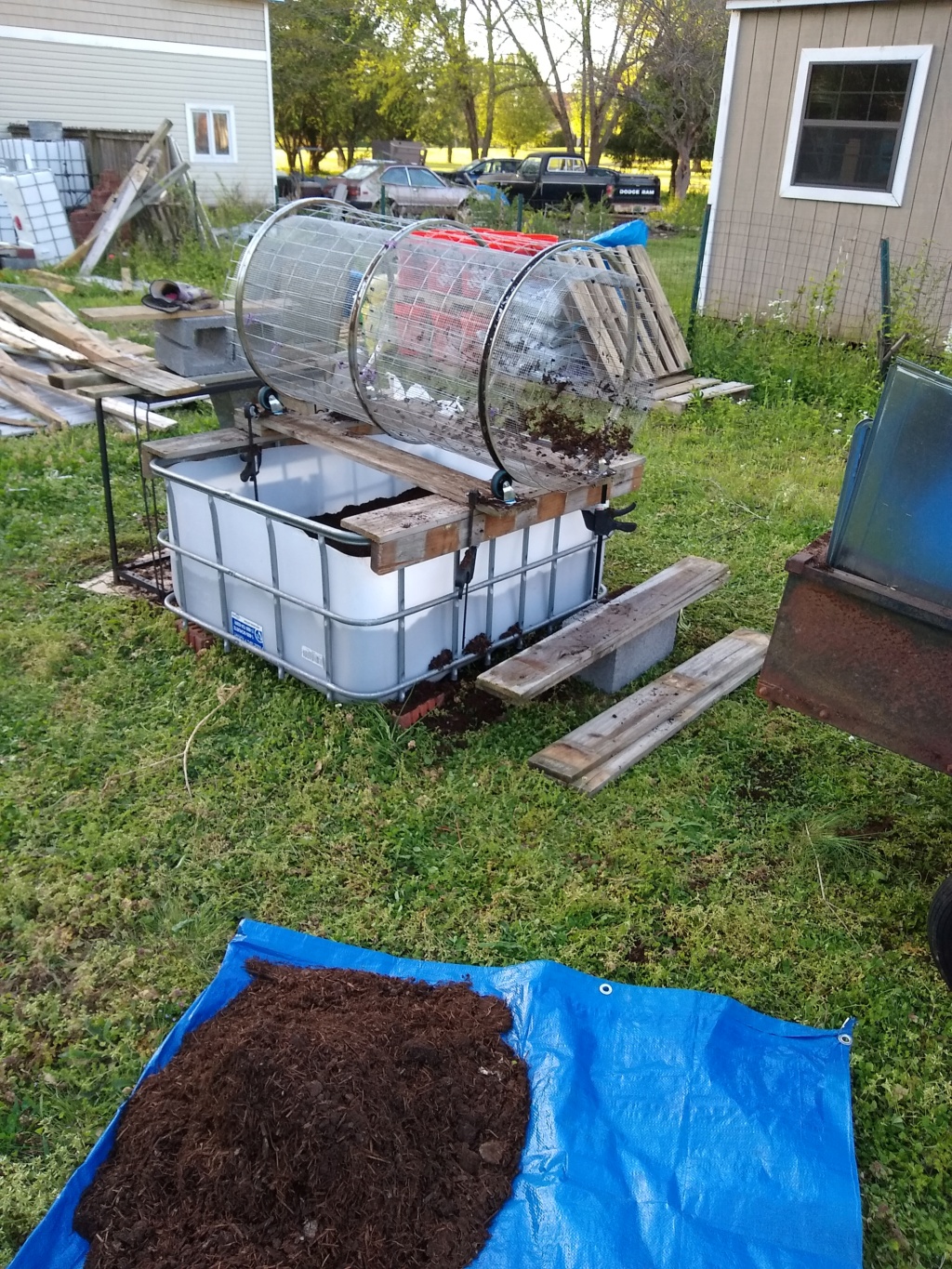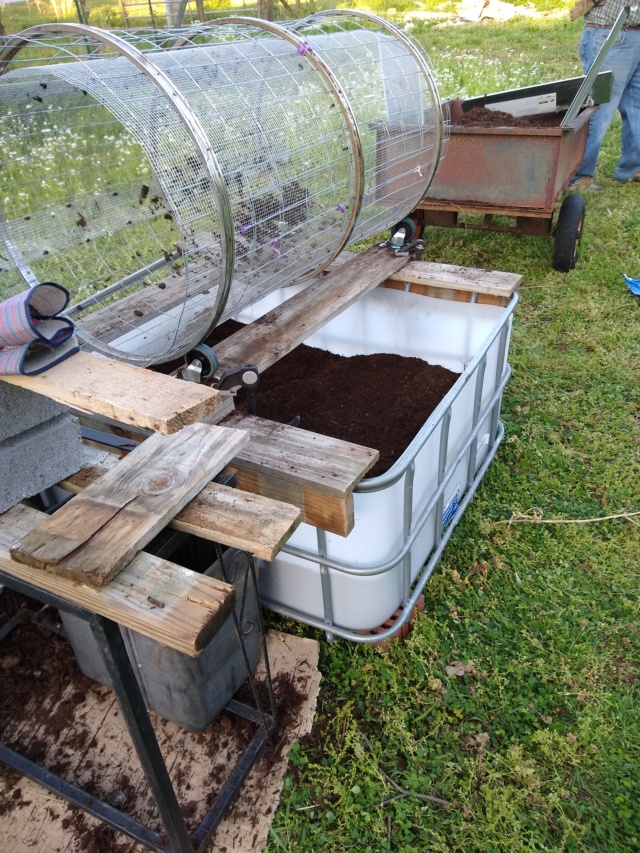 I found the DIY versions of "compost trommelers" online and other than gathering a few supplies - especially finding used old bike rims, removing the spokes, and steel-wooling the rust -- this was a good weekend investment of our time.  (The wire for the outer basket and the 1/4" hardware cloth was pricey, inflation...)   We can continue to use it, I'm sure, for many years.  I should probably go ahead and invest in a piece of 1/2" hardware cloth as well, for larger screening. (The inner basket is just clamped in.)
The "frame" is only two 2x6's with casters bolted on.  And set at a slight downward slope towards the reject side.   All the rest is just clamped and jury rigged into place for our huge operation making the MM in quantity.  So we only want to stow the two pieces of wood, and the wire basket. 
We did end up using various scrap pieces of metal to direct the compost, not in the photos.  We had to direct both the screened stuff down into the bin under, the bits of rocks that bounced back up toward the entry, and the flow of un-screened junk that came out the lower end.
There are somewhat smaller or simpler versions online.  If anyone wants a list of Youtube links, I have some saved.  After we'd already started ours, I found a shorter version -- maybe 24" long basket -- 24" wire would be a savings, and only two bike rims.  The man simply closed off the output end of the basket with a round piece of thin masonite.  The upper end of the basket is open for shoveling in or dumping in a basket of compost.  He rotates until he's happy with what he's screened, then lifts the basket off the casters, empties the unscreened rocks or large pieces, and begins again.  His basket is lighter weight, so it's not unwieldy, I'd think, to do that repeatedly.  I might have copied this design if I'd seen it earlier.  https://youtu.be/AS3sig0pP9Q?t=127

Soose




Posts

: 409


Join date

: 2022-02-23


Location

: North Alabama



sanderson and Hip2B like this post
I changed the title of this thread to include trommels. The YouTube video Soose posted was short and sweet, just an example of a DIY trommel. https://youtu.be/AS3sig0pP9Q?t=127

Yes, the pan sifter is small but I can only carry/lift 2 gallons of compost. I use a kiddie sand bucket for scooping. Considering a year ago I lived on the sofa with a killer synovial cyst, I'm thankful I can tinker around the garden again. I would use the smaller of my wood frames over a wheel barrow or cement pan if I needed a lot of sifted compost.
---
Permissions in this forum:
You
cannot
reply to topics in this forum