Latest topics
»
Mid-Atlantic New Host Intro & Info
by
sanderson
Today at 4:39 am
»
N&C Midwest: May 2023
by nrstooge Yesterday at 4:39 pm
»
Paul's First SFGs
by pkadare Yesterday at 11:06 am
»
Poppy seeds - Hungarian Blue Breadseed
by
AtlantaMarie
Yesterday at 6:12 am
»
Kiwi's SFG Adventure
by KiwiSFGnewbie 5/27/2023, 6:27 pm
»
Teaming with Microbes Kindle Sale (Mem. Day weekend 2023)
by OhioGardener 5/27/2023, 4:27 pm
»
Sluggo Plus
by
sanderson
5/27/2023, 3:23 pm
»
What Have You Picked From Your Garden Today
by OhioGardener 5/25/2023, 6:25 pm
»
Centpedes
by OhioGardener 5/25/2023, 6:19 pm
»
beneficial nematodes
by OhioGardener 5/24/2023, 9:18 pm
»
Senseless Banter...
by markqz 5/24/2023, 5:39 pm
»
Pre-Filling a 30" Raised Bed
by toledobend 5/24/2023, 1:10 pm
»
Happy Birthday!!
by
AtlantaMarie
5/24/2023, 7:03 am
»
Aphids & Their Predators
by MrBooker 5/24/2023, 6:01 am
»
Hello from Bobcaygeon, Ontario
by
Scorpio Rising
5/20/2023, 1:52 pm
»
What are you eating from your garden today?
by OhioGardener 5/18/2023, 6:29 pm
»
Spring Flowers
by OhioGardener 5/18/2023, 6:23 pm
»
My Solar Dehydrator at Work
by
sanderson
5/18/2023, 3:10 pm
»
French Tarragon
by
sanderson
5/18/2023, 12:41 pm
»
Famous Gardening Quotes
by
sanderson
5/15/2023, 8:50 pm
»
Birds of the Garden
by
sanderson
5/15/2023, 8:49 pm
»
New Compost PIle, 2nd attempt
by Chuck d'Argy 5/13/2023, 11:43 am
»
Ohio Gardener's Greenhouse
by OhioGardener 5/11/2023, 6:44 pm
»
Asparagus
by
sanderson
5/11/2023, 4:11 pm
»
Plan needed for 4'x4' irrigation grid
by OhioGardener 5/11/2023, 12:47 pm
»
TD's 2023 Garden
by
trolleydriver
5/10/2023, 3:16 pm
»
Spring Gardening - Parsnips and Garlic
by OhioGardener 5/10/2023, 2:59 pm
»
Seedlings Sticker Shock
by
sanderson
5/7/2023, 9:44 pm
»
From a Year 2 Novice to All the New SFGers or "How to Get Past the Fear Factor! :)"
by
sanderson
5/7/2023, 3:13 pm
»
Mark's first SFG
by
sanderson
5/5/2023, 3:39 pm
I have been garening in raised beds (31 inches tall) that I bought from a garden supply website.  I am now having 2 beds built that will be 10' by 4' and 31" high.  

They will not be open below like my others were... they will be a solid wall.  Should I cover the ground with gravel or plastic?  should I have drain outlets?  

We have very rich dirt here and at this same time we are having a patio built and I had them save the soil that they dug up for the under soil of the beds and then I will put my "good compost soil" on top of that...at least 2 feet of that.

they will be built this next week so I'm just curious, thanks in advance for any help

cherylLun




Posts

: 14


Join date

: 2019-06-11


Location

: Florida - Zone 9B



Hi Cheryl,  One of the benefits of SFG using what we call Mel's Mix, is that a bed does not have to be very deep.  The typical SFG bed is about 8" high with 6-7" of Mel's Mix.  The bottoms are lined with weed fabric (or cardboard) before adding the MM.
That are you going to use on the bottom of the new beds?  Drainage is very important.  For example, I have 2' tall table top beds with only 6-7" of Mel's Mix.  The bottoms of the beds are made of 3/4" plywood with 1/4 to 3/8" drain holes, one in the center of each sq ft and 1 in each of the 4 corners.
Can you explain how the new beds will not be open at the bottom?  That may help us understand what you are trying to achieve.
Here is a photo of one of my table top beds with a plywood bottom.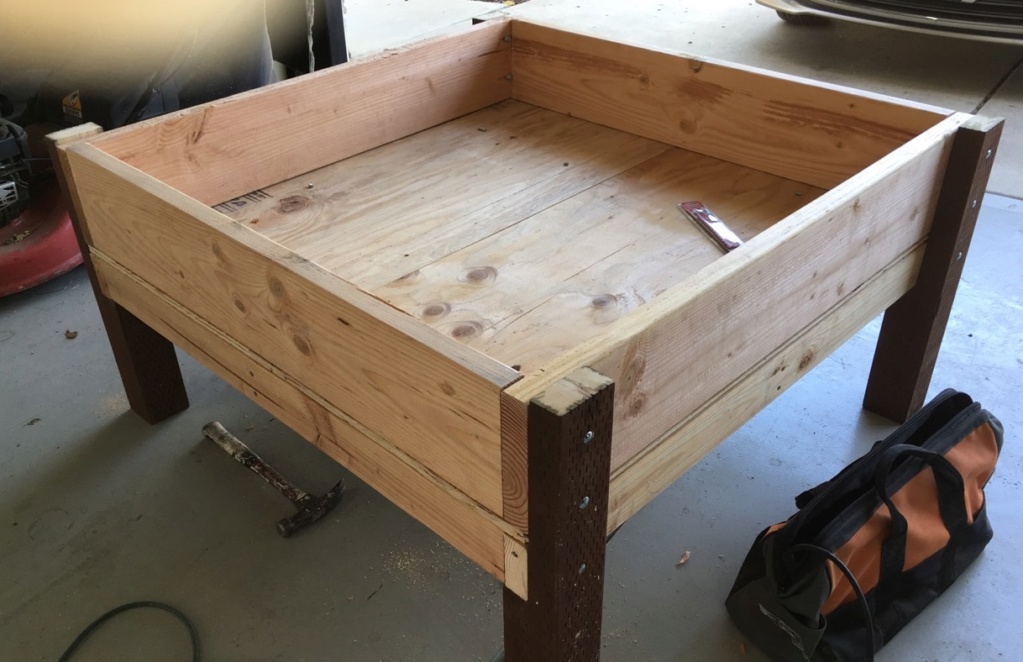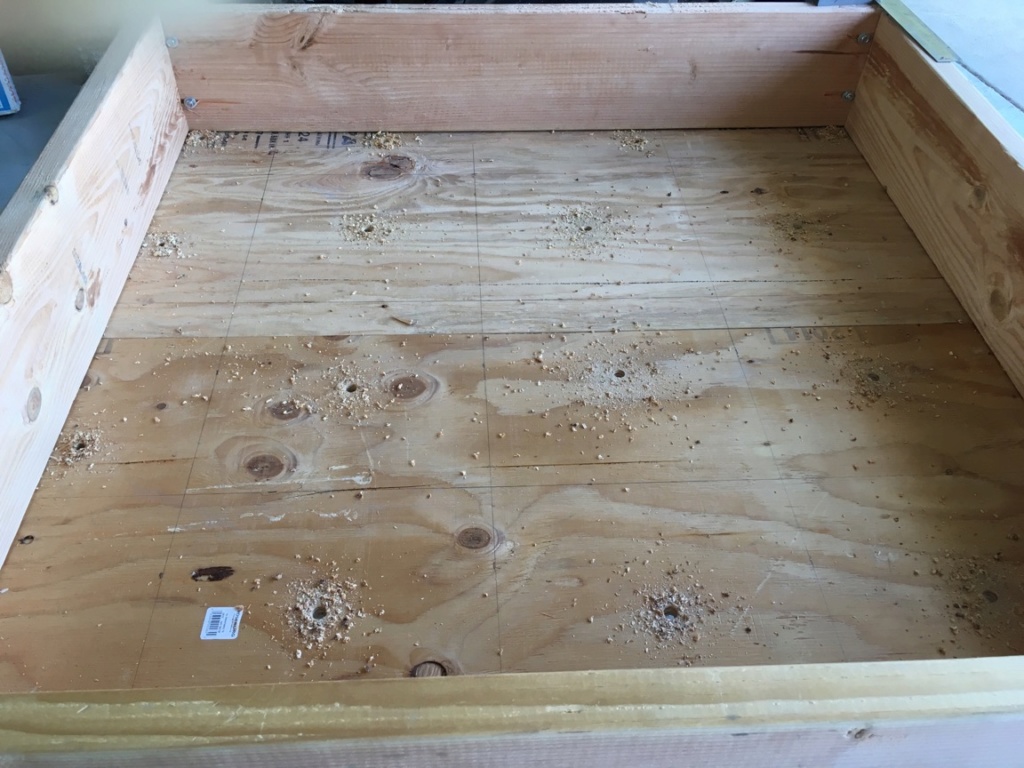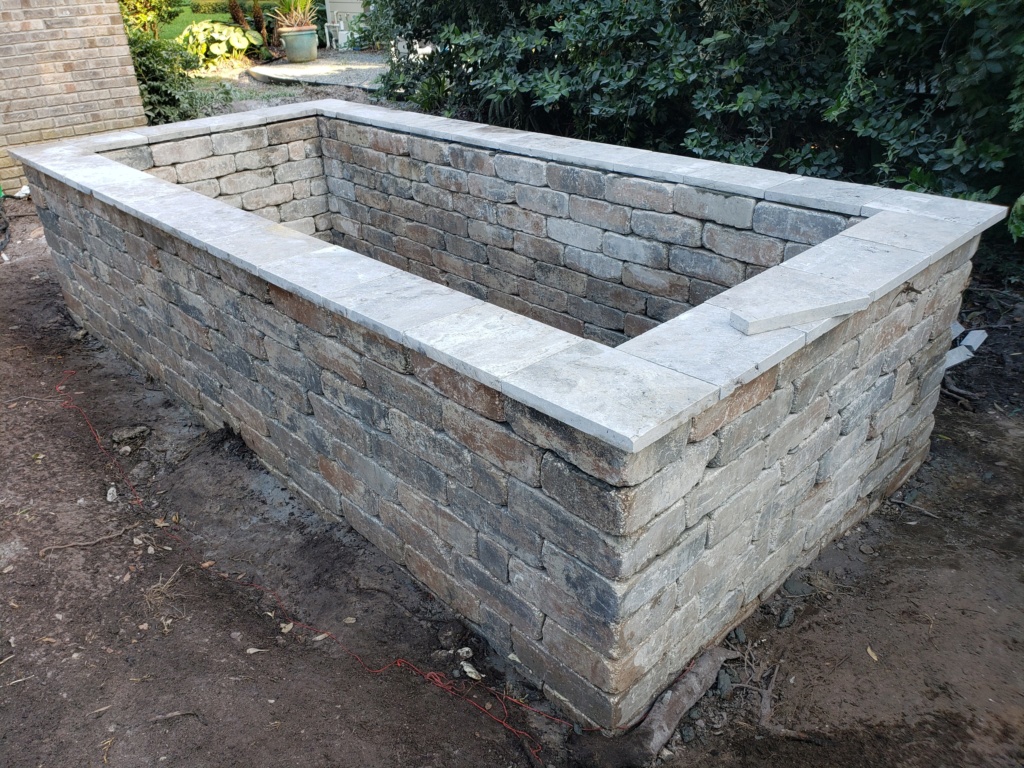 The beds I had before were like the ones you show of yours.  My husband wanted my beds to match the patio and such in the back yard and didn't like my wood planters.... so, I now have two 10' by 4' (inside dimensions) and 30" high.  going to fill the bottom part with good rich soil that I have in my yard that was dug up before and fill the top couple of feet with mels.  These just got finished today and will be filled with soil on Monday so that's why I was wondering what to do (if anything) about drainage.  Being on the ground will it just drain naturally?

cherylLun




Posts

: 14


Join date

: 2019-06-11


Location

: Florida - Zone 9B



CherylLun, being on the ground it will drain fine and should not cause any problems. You might want to re-think your plan to fill the top 2 feet with Mel's Mix - that will be very expensive, and really isn't necessary. Eight inches of MM will be enough to grow most any vegetables you will be growing. 

If it were me, I would fill the bottom foot or so with wood, i.e., tree limbs, pieces of tree trunks, etc., then fill with the top soil up to about 6" to 8" of the top, and fill the rest of it with MM.  (Do a google search of Hugelkultur for more info on using wood in the bottom of the raised beds).
____________________________
"In short, the soil food web feeds everything you eat and helps keep your favorite planet from getting too hot. Be nice to it."
~ Diane Miessler, "Grow Your Soil"

What Ohio Gardener said.  Fill the bottom with whatever, leaving at least 6-8" for Mel's Mix plus 1-2" for mulch.  I would put a layer of weed fabric between the "whatever" and the MM in case the dirt has weed seeds.  The roots of the veggies can go through it but the weeds spouting upwards is deterred.
I would recommend two (2) grids, each 4' x 5', for each bed.  It makes it easier to removed them for major cleanup and ease of amending with more blended compost.  Just don't forget to put the grids back in immediately.
By the way, those beds are gorgeous!
I still have some grids made of wood like this which is available at Home Depot.  They have a new white plastic trim that looks really nice against grey stone and brown Mel's Mix.
https://www.homedepot.com/p/Woodgrain-Millwork-WM-142-1-4-in-x-3-4-in-Pine-Screen-Moulding-10000711/206000895
Older grid of the wood trim.  Lasted 5 years in the bed year around.
New white plastic trim, photo taken at night.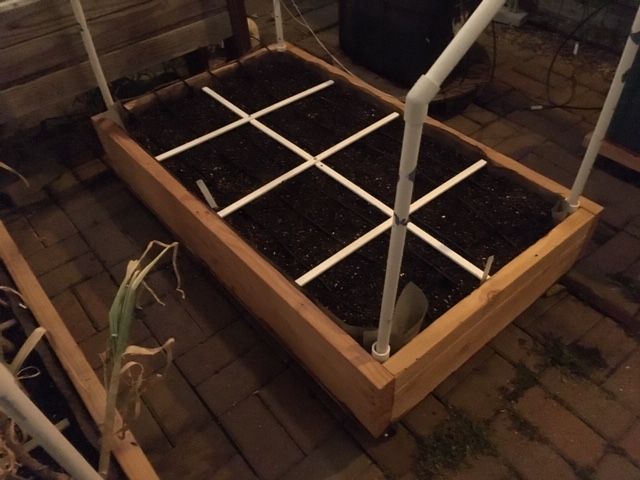 Thanks for the info!  I just happen to have a lot of branches and such since Dorian blew by so I'm going to put all of that in the bottom.  I can certainly see how having two smaller grids vs one large one would be a great idea

cherylLun




Posts

: 14


Join date

: 2019-06-11


Location

: Florida - Zone 9B



Similar topics
---
Permissions in this forum:
You
cannot
reply to topics in this forum