Latest topics
»
Walking stick kale
by plantoid Today at 8:55 pm
»
N&C Midwest September 2023
by OhioGardener Today at 5:27 pm
»
Beds not holding moisture?
by OhioGardener Today at 5:16 pm
»
Butternut squash sets world record at the State Fair of Virginia
by markqz Yesterday at 5:13 pm
»
Ohio Gardener's Greenhouse
by OhioGardener Yesterday at 4:29 pm
»
Closing beds for winter
by plantoid Yesterday at 4:25 pm
»
Famous Gardening Quotes
by OhioGardener 9/23/2023, 12:51 pm
»
Foodbank's composting program creates food from food
by OhioGardener 9/22/2023, 8:29 am
»
What Have You Picked From Your Garden Today
by OhioGardener 9/21/2023, 1:15 pm
»
Turning existing garden beds into SFG
by jemm 9/20/2023, 7:35 am
»
updating my mix - what should I add
by
sanderson
9/18/2023, 5:04 am
»
Senseless Banter...
by
sanderson
9/16/2023, 11:37 pm
»
Lumber and measuring for SFG boxes
by
sanderson
9/16/2023, 12:21 am
»
Avatar issues
by Guinevere 9/14/2023, 7:53 pm
»
Happy Birthday!!
by
sanderson
9/11/2023, 4:40 pm
»
When to harvest? / Watermelon seedlings
by
sanderson
9/9/2023, 6:07 pm
»
Hornets Nest
by
sanderson
9/8/2023, 8:15 pm
»
Tropical Storm Hilary
by jennyjo37 9/5/2023, 5:31 pm
»
A square foot garden in a round bed.
by alicej 9/4/2023, 3:39 am
»
Determinate Cherry Tomato for Greenhouse
by OhioGardener 9/2/2023, 6:52 pm
»
N&C Midwest August 2023
by
Scorpio Rising
8/31/2023, 9:01 am
»
Hurricane
by
Scorpio Rising
8/30/2023, 7:25 am
»
No-Fail Zucchini Bread
by OhioGardener 8/28/2023, 11:11 am
»
buying compost small town SW Pennsylvania
by
sanderson
8/27/2023, 6:41 pm
»
Phosphate
by
sanderson
8/27/2023, 3:43 pm
»
Topping brand new SFG box with more gorgeous compost???
by
sanderson
8/27/2023, 3:36 pm
»
8 Great Vegetables for Fall Planting
by
sanderson
8/27/2023, 2:58 pm
»
What are you eating from your garden today?
by OhioGardener 8/26/2023, 7:19 pm
»
Flowers to attract hummingbirds
by OhioGardener 8/26/2023, 6:59 pm
»
Hoss Tools Seeds 50% off
by OhioGardener 8/26/2023, 6:25 pm
I heard we are about a month behind the spring schedule for the North East, how will this affect the time table for starting seedlings indoors, do we have to bump everything up a month? I just started some peppers and tomatoes in vermiculite last night.
jjc

jjc




Posts

: 36


Join date

: 2013-02-24


Location

: Southbridge, MA



JJc who exactly did you hear this from, that we're behind by a month with the weather? I would disagree. Certainly the temperatures at night and the past week have been below average, but the angle of the sun has the buds coming on in the trees and my snow is almost gone.

I plan on indoor sowing of my seeds right on time. If I have to pot up that's what I will do. That is certainly better than sowing late and not having plants develop to maturity until September.
____________________________
43 years a gardener and going strong with SFG.
https://squarefoot.forumotion.com/t3574-the-end-of-july-7-weeks-until-frost
There are certain pursuits which, if not wholly poetic and true, do at least suggest a nobler and finer relation to nature than we know. The keeping of bees, for instance. ~ Henry David Thoreau
https://squarefoot.forumotion.com/t1306-other-gardening-books
Here in the UK we are just over three week behind in average temps and if this latest cold spell does not go away in the next week we will be a good month behind.

plantoid




Posts

: 4095


Join date

: 2011-11-09


Age

: 72


Location

: At the west end of M4 in the UK



We might be a month behind in temps from LAST year, but that was a freak year.
I realize my area is milder than the rest of NE but like Camp I'm staying on track. I planted out this time last year and I'm doing it again this year. I'll just have to cover at nights this year more often than last year. No biggie.
My outdoor spinach is up. I planted out starts of broccoil, kale, collards, pak choi, cabbage and onions last weekend.
Today I'm planting out more onion and some swiss chard starts, and then seeding beets and lettuces out there in these 3 front boxes: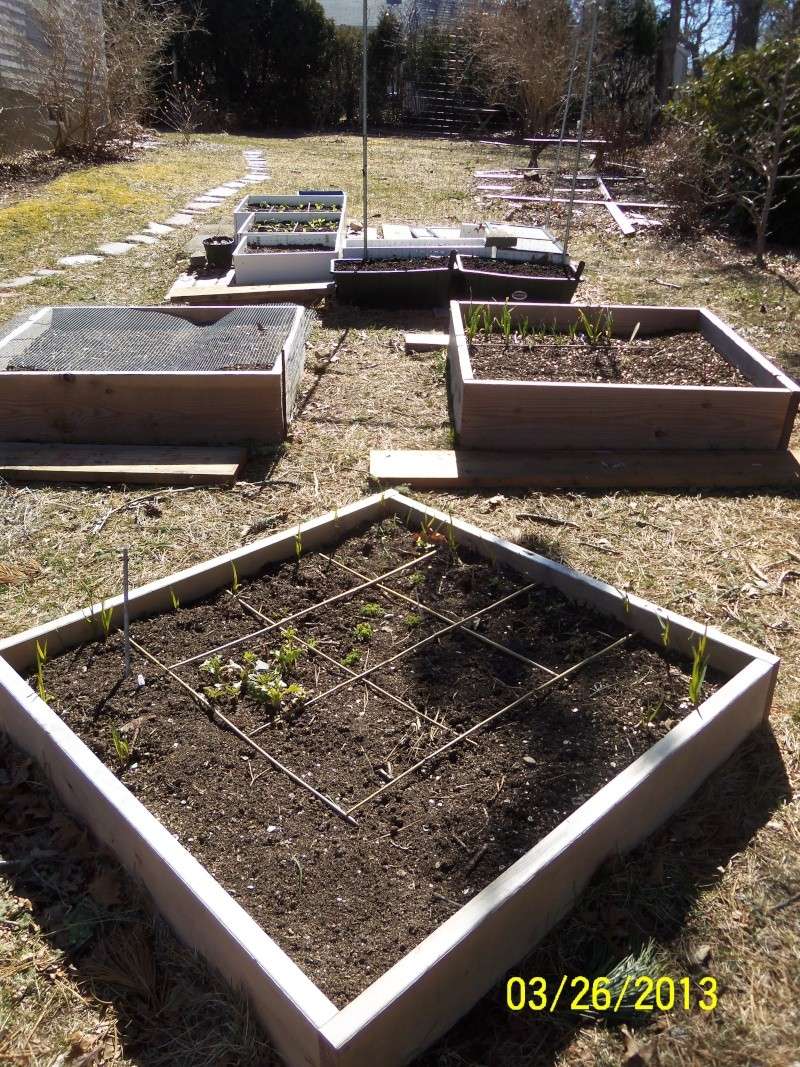 I planted some of last years peas out there but they never came up. First I'll dig around and see if they've rooted or rotted. If the latter, I'm going to try soaking them this time and see if I can get them to sprout before putting them out. If not, I'll buy a new pack.
No worries...the days are longer now.
CC

CapeCoddess




Posts

: 6824


Join date

: 2012-05-20


Age

: 67


Location

: elbow of the Cape, MA, Zone 6b/7a



Similar topics
---
Permissions in this forum:
You
cannot
reply to topics in this forum