Latest topics
»
N&C Midwest: June 2023
by OhioGardener Today at 10:33 am
»
Tea Time -- Compost Tea, that is
by OhioGardener Yesterday at 7:07 pm
»
Hello from Central Missouri, Zone 6a
by
Scorpio Rising
Yesterday at 3:48 pm
»
N&C Midwest: May 2023
by OhioGardener 6/1/2023, 8:55 pm
»
Kiwi's SFG Adventure
by KiwiSFGnewbie 5/31/2023, 4:32 pm
»
Walking stick kale
by
sanderson
5/31/2023, 1:38 pm
»
Why Letting Weeds Run Wild Can Actually Help Your Garden
by
sanderson
5/30/2023, 2:35 pm
»
What are you eating from your garden today?
by OhioGardener 5/30/2023, 12:11 pm
»
Teaming with Microbes Kindle Sale (Mem. Day weekend 2023)
by
sanderson
5/29/2023, 3:14 pm
»
Mid-Atlantic New Host Intro & Info
by JAM23 5/29/2023, 8:38 am
»
Paul's First SFGs
by pkadare 5/28/2023, 11:06 am
»
Poppy seeds - Hungarian Blue Breadseed
by
AtlantaMarie
5/28/2023, 6:12 am
»
Sluggo Plus
by
sanderson
5/27/2023, 3:23 pm
»
What Have You Picked From Your Garden Today
by OhioGardener 5/25/2023, 6:25 pm
»
Centpedes
by OhioGardener 5/25/2023, 6:19 pm
»
beneficial nematodes
by OhioGardener 5/24/2023, 9:18 pm
»
Senseless Banter...
by markqz 5/24/2023, 5:39 pm
»
Pre-Filling a 30" Raised Bed
by toledobend 5/24/2023, 1:10 pm
»
Happy Birthday!!
by
AtlantaMarie
5/24/2023, 7:03 am
»
Aphids & Their Predators
by MrBooker 5/24/2023, 6:01 am
»
Hello from Bobcaygeon, Ontario
by
Scorpio Rising
5/20/2023, 1:52 pm
»
Spring Flowers
by OhioGardener 5/18/2023, 6:23 pm
»
My Solar Dehydrator at Work
by
sanderson
5/18/2023, 3:10 pm
»
French Tarragon
by
sanderson
5/18/2023, 12:41 pm
»
Famous Gardening Quotes
by
sanderson
5/15/2023, 8:50 pm
»
Birds of the Garden
by
sanderson
5/15/2023, 8:49 pm
»
New Compost PIle, 2nd attempt
by Chuck d'Argy 5/13/2023, 11:43 am
»
Ohio Gardener's Greenhouse
by OhioGardener 5/11/2023, 6:44 pm
»
Asparagus
by
sanderson
5/11/2023, 4:11 pm
»
Plan needed for 4'x4' irrigation grid
by OhioGardener 5/11/2023, 12:47 pm
This morning I went out to my SFG beds to harvest some long-awaited beets. I have been having problems with my beds. My beds are arraigned on a slight incline, with one end of the bed slightly buried int the high side of the soil, to keep the beds level. The moles broke through a weathered 2" thick redwood sidewall on my raised bed, avoiding the hardware cloth lining intended to keep gophers, voles, and moles out. The moles harvested the worms in the beds and mined the entire bed, leaving a tilled bed and peppere plants that fell over from being loosened. Now the gophers are following up and despite my trapping are now feasting on the beets and carrots. I was ready to put in the tomatoes, chard, and broccoli, but I might have to either pull the beds and wire the sides up, or put everything in baskets until I can figure out a solution.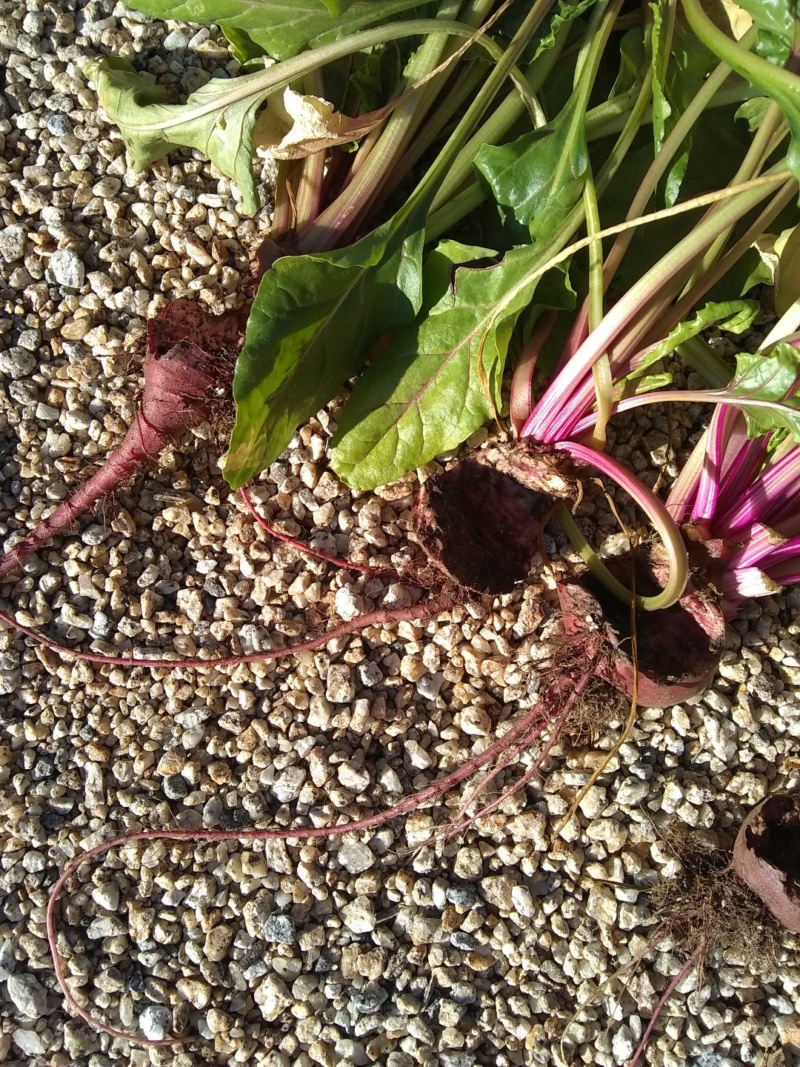 Yardslave




Posts

: 537


Join date

: 2012-01-19


Age

: 72


Location

: Carmel Valley, Ca.



Such devastation! I hate to see that!  My raised beds are metal, so the critters can't get through the sides. When I put the first bed in a number of years ago the gophers burrowed up into the beds and did unbelievable damage. I had to remove all the soil, move the bed, and put down 1/2" hardware cloth, and then re-install the bed and fill it. Since then, all of my beds are on the 1/2" hardware cloth.  But, the night before last some critter dug down through the wood chips surrounding the beds to try to get into the bed. Fortunately, it hit the hardware cloth and couldn't go any further. The entire length of the bed the wood chips were pulled away from the side of the bed down to the wire.
____________________________
"In short, the soil food web feeds everything you eat and helps keep your favorite planet from getting too hot. Be nice to it."
~ Diane Miessler, "Grow Your Soil"

---
Permissions in this forum:
You
cannot
reply to topics in this forum