Latest topics
»
Hi from Western Australia
by OhioGardener Today at 11:10 am
»
N & C Midwest: November/December 2023
by JAM23 Yesterday at 6:49 pm
»
Mark's first SFG
by OhioGardener Yesterday at 3:13 pm
»
Strawberry Varieties?
by
sanderson
12/5/2023, 3:57 pm
»
Recommended store bought compost - Photos of composts
by
sanderson
12/4/2023, 1:27 pm
»
Jerusalem Artichoke or Sun Choke
by
Scorpio Rising
12/4/2023, 7:09 am
»
Strawberries in MM: to feed or not to feed?
by
sanderson
12/3/2023, 7:30 pm
»
What Have You Picked From Your Garden Today
by OhioGardener 11/29/2023, 5:36 am
»
Senseless Banter...
by
sanderson
11/28/2023, 10:31 pm
»
FREE Online SFG Class - November 28, 2023
by
sanderson
11/27/2023, 9:21 pm
»
Mini-Raised Beds?
by Chuck d'Argy 11/27/2023, 2:14 pm
»
Happy Birthday!!
by
sanderson
11/26/2023, 10:58 pm
»
Name the mystery (to me) seedlings! :-)
by Psdumas 11/25/2023, 12:04 am
»
Happy Thanksgiving from the USA
by
sanderson
11/23/2023, 1:47 pm
»
Guatemalan Green Ayote Squash
by OhioGardener 11/21/2023, 8:27 am
»
Kiwi's SFG Adventure
by
sanderson
11/20/2023, 2:06 pm
»
Seeds 'n Such Early Order Seeds
by
sanderson
11/20/2023, 1:13 pm
»
USDA Plant Hardiness Zone Map
by OhioGardener 11/19/2023, 7:12 am
»
AeroGarden for starting seeds?
by OhioGardener 11/16/2023, 12:40 pm
»
Biochar?
by OhioGardener 11/16/2023, 10:31 am
»
2023 - Updated U.S. Interactive Plant Hardiness Map
by
sanderson
11/15/2023, 6:18 pm
»
SFG Is Intensive Gardening
by
sanderson
11/14/2023, 3:26 pm
»
Teaming with Microbes Kindle Sale (Mem. Day weekend 2023)
by markqz 11/10/2023, 12:42 am
»
Bok Choy Hors d'oeuvres
by
donnainzone5
11/9/2023, 5:58 pm
»
Now is the Time to Start Preparing Next Year's Spring Garden
by OhioGardener 11/9/2023, 7:13 am
»
Shocking Reality: Is Urine the Ultimate Gardening Hack or Disaster?
by dstack 11/6/2023, 5:29 pm
»
Nightmare on Mel Street.
by
Scorpio Rising
11/4/2023, 6:37 pm
»
Aerogardening
by
Scorpio Rising
11/3/2023, 10:02 am
»
Sunday All Purpose Organic Garden Nutrients
by lisawallace88 11/3/2023, 9:13 am
»
Mid-summer seed sowing, how do you do it?
by KiwiSFGnewbie 11/2/2023, 8:04 pm
Day 1, Thursday 9/7 - Fort Bragg
Leaving Santa Rosa, we drove north on 101, cutting over to the coastal highway 1 at Willits.  Winding roads all the way west to the coast line.  This is our first close up of the Northern Pacific Ocean.  Cool and Misty, blessed relief.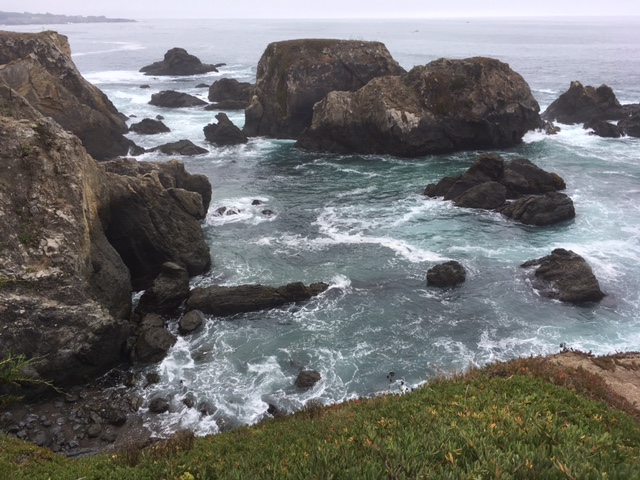 Further north on Highway 1 to Leggett, where it joins back with Highway 101.  I was trying to show how foggy it was. 
Going to see the tree.  
This is pretty common in CA when a tree is cut down, to carve something out of the remaining stump.  I thought of Mrs. TD's little garden with these little guys.  Being redwood, they will last for years.
Two views of full size carvings.
Old, old tree that is still alive.
Ken driving through the cut-out.
Ken standing in front of the vehicle that came through right after us.  Can you imagine the poor male driver with 3 women standing in front of the car waving hands, telling him to go left, go right, go straight?
Ken and I.  It's nice when you find a couple who will reciprocate taking photos of each other.  
After Leggett, we drove straight up 101 to Eureka.  I mean, winding roads can take a toll on both driver and passenger.  
Refreshed after a sound night's sleep, we headed north, with the goal of seeing elk and the Oregon border.
Day 2.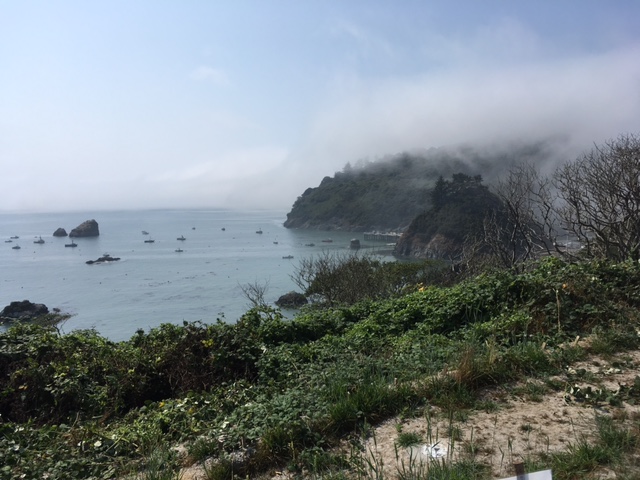 Nice rest area with information.  It's hard to capture the primeval feeling of just stepping into this walkway into the forest.  Spongy under footing of centuries of organic material.  When a tree is cut, lateral trees will grow up from the stumps, having the advantage of the mother tree's roots for nourishment.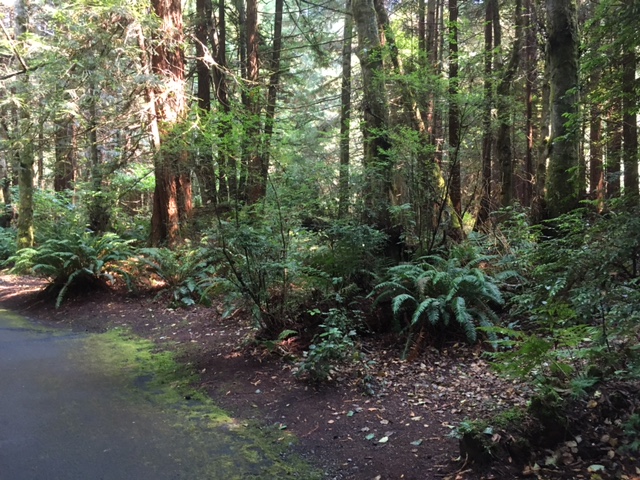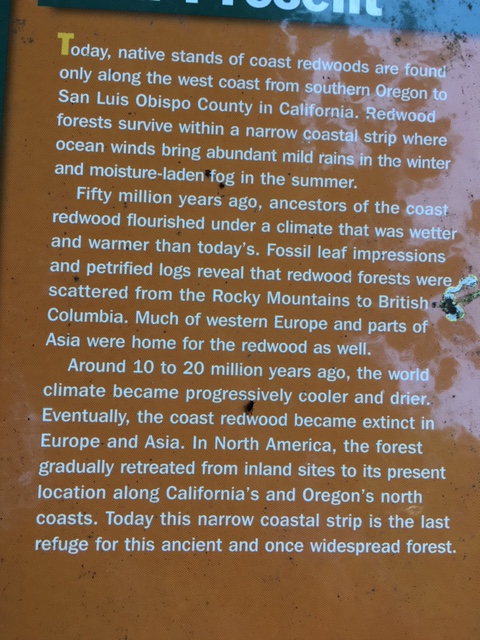 Roosevelt Elk resting during the day.  Funny how they know they are safe there.  See the bull's antlers?  In the evening when we drove by, they were in the meadow eating.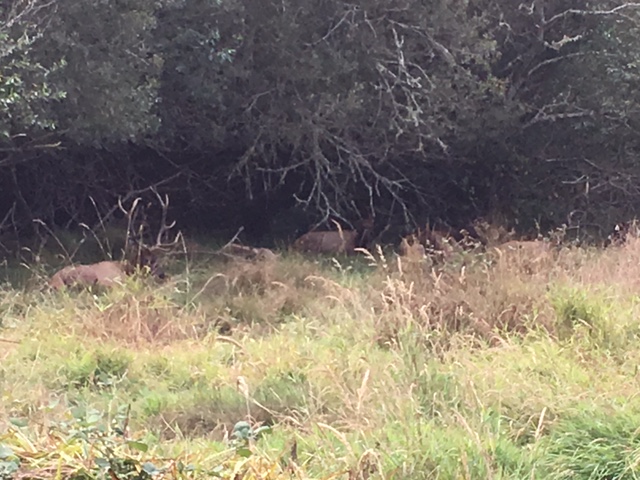 Klamath River where it empties into the Pacific Ocean.  Okay, so it was a little foggy.  A man told us he was waiting for the fog to lift to watch the pod (?) of sea lions that came and decided to stay.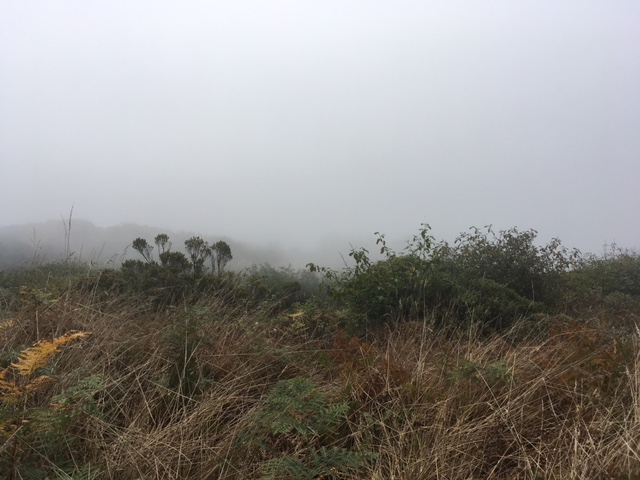 Oregon.  We weren't paying attention and accidentally crossed into Oregon.  We made a u-turn and saw this marijuana shop at the border right before the road enters back into CA.  Last chance for your recreational blunts, dabs, etc.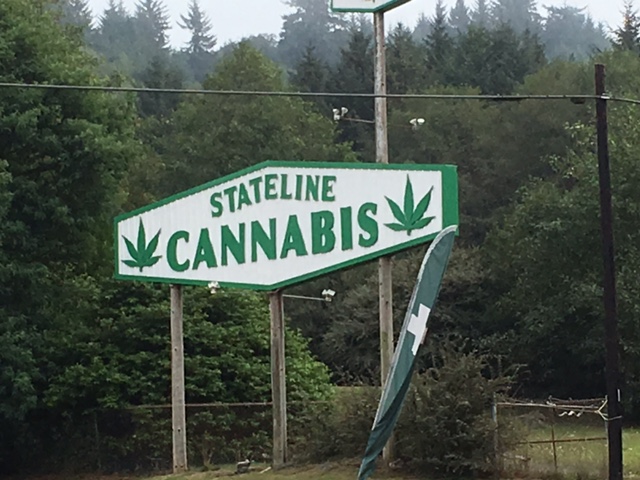 The hippy van on the left that is coming into view?  It stopped ahead next to the other vehicle.  I guess he had to finish what he was smoking or hide his stash.  
Back in Crescent City in early evening, I had to snap of few photos of these old buildings with their beautiful architecture.  The first one was built in 1850.
Day 3.  Driving back home and back to the east (valley side) of the coastal mountains. We were going to take highway 299 across the mountains over to Redding and then south on I-5 to Sacramento and then 99 south to Fresno.  Well, it was really inconvenient of the wild fire that it had to burn that week, so we took highway 36 over to I-5 at Red Bluff.  
Prior burn site.  The only thing growing at this time were low grasses and weeds, on which little pollinators were buzzing about.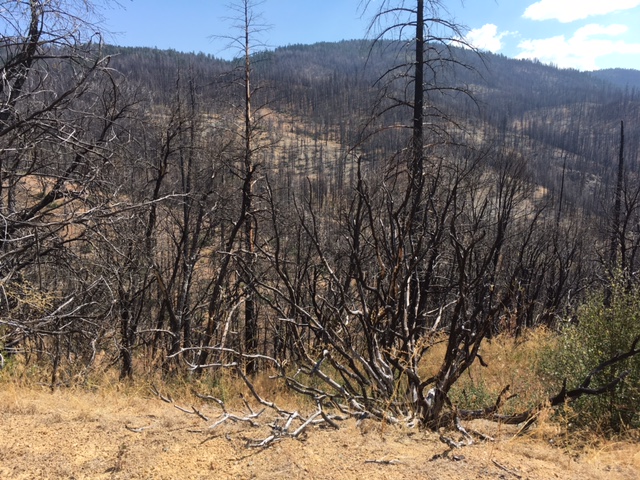 We drove 1,000 miles in 3 days starting from Santa Rosa (Heirloom Exposition) and that was just the northern part of CA with about 180 miles into the mid part of CA .  There are long day, medium day and short day zones within this one State.  Sandy surf-bunny southern beaches, craggy foggy northern beaches, Death Valley and deserts, snowy high Sierra Mountains, fertile ag valleys and 2 famous, crazy towns known as San Francisco and Los Angeles.
Great photos sanderson.  Looks like you had a wonderful time. 
Wow that is a tight fit to get a vehicle through that tree.
I'll have to try to find time to head over to the virtual airport to fire up the virtual plane for a virtual flight over the route you took.  Is it OK if I add the virtual flyover to this thread? 

trolleydriver


Forum Moderator




Posts

: 5390


Join date

: 2015-05-04


Age

: 76


Location

: Ottawa, Ontario, Canada



Thanks for refreshing my memory, S. We made that trip the first time we retired, 20 years ago, in a motorhome. It was
amazing
.
 (We didn't try to drive the motorhome through the tree, however.
 )
Nice tour, Sanderson.  That stump garden is amazing!  Is each carved grouping of animals all from one stump or is each animal one stump?  
Looks like your car is a wee bit close to that tree tunnel on the drivers side.
Um... blunts and dabs?  I don't know what that means.  
 Must have been CA lingo.  Or it is current?

CapeCoddess




Posts

: 6824


Join date

: 2012-05-20


Age

: 67


Location

: elbow of the Cape, MA, Zone 6b/7a



I enjoyed your tour, sanderson.  I recognize some of the names when we drove down to L.A./Pasadena in the 1980s.
trolleydriver wrote:Is it OK if I add the virtual flyover to this thread? 
Sounds good to me
CC, for your perusing enjoyment. I guessed the meanings and I was wrong. The culture has really expanded since the 60's. https://farmerslabseeds.com/words/ I really didn't pay attention to how they were carved. The small critters were probably carved from one stump. The larger critters maybe from a big stump with a couple of daughter stumps??

CN, Motorhome!

KJ, Thank you
---
Permissions in this forum:
You
cannot
reply to topics in this forum