Latest topics
»
Walking stick kale
by plantoid Today at 8:55 pm
»
N&C Midwest September 2023
by OhioGardener Today at 5:27 pm
»
Beds not holding moisture?
by OhioGardener Today at 5:16 pm
»
Butternut squash sets world record at the State Fair of Virginia
by markqz Yesterday at 5:13 pm
»
Ohio Gardener's Greenhouse
by OhioGardener Yesterday at 4:29 pm
»
Closing beds for winter
by plantoid Yesterday at 4:25 pm
»
Famous Gardening Quotes
by OhioGardener 9/23/2023, 12:51 pm
»
Foodbank's composting program creates food from food
by OhioGardener 9/22/2023, 8:29 am
»
What Have You Picked From Your Garden Today
by OhioGardener 9/21/2023, 1:15 pm
»
Turning existing garden beds into SFG
by jemm 9/20/2023, 7:35 am
»
updating my mix - what should I add
by
sanderson
9/18/2023, 5:04 am
»
Senseless Banter...
by
sanderson
9/16/2023, 11:37 pm
»
Lumber and measuring for SFG boxes
by
sanderson
9/16/2023, 12:21 am
»
Avatar issues
by Guinevere 9/14/2023, 7:53 pm
»
Happy Birthday!!
by
sanderson
9/11/2023, 4:40 pm
»
When to harvest? / Watermelon seedlings
by
sanderson
9/9/2023, 6:07 pm
»
Hornets Nest
by
sanderson
9/8/2023, 8:15 pm
»
Tropical Storm Hilary
by jennyjo37 9/5/2023, 5:31 pm
»
A square foot garden in a round bed.
by alicej 9/4/2023, 3:39 am
»
Determinate Cherry Tomato for Greenhouse
by OhioGardener 9/2/2023, 6:52 pm
»
N&C Midwest August 2023
by
Scorpio Rising
8/31/2023, 9:01 am
»
Hurricane
by
Scorpio Rising
8/30/2023, 7:25 am
»
No-Fail Zucchini Bread
by OhioGardener 8/28/2023, 11:11 am
»
buying compost small town SW Pennsylvania
by
sanderson
8/27/2023, 6:41 pm
»
Phosphate
by
sanderson
8/27/2023, 3:43 pm
»
Topping brand new SFG box with more gorgeous compost???
by
sanderson
8/27/2023, 3:36 pm
»
8 Great Vegetables for Fall Planting
by
sanderson
8/27/2023, 2:58 pm
»
What are you eating from your garden today?
by OhioGardener 8/26/2023, 7:19 pm
»
Flowers to attract hummingbirds
by OhioGardener 8/26/2023, 6:59 pm
»
Hoss Tools Seeds 50% off
by OhioGardener 8/26/2023, 6:25 pm
It's been 2 1/2 years since I have taken a road trip in this great nation of the U.S.  My winter winter crops are in, the weather mild, so we took off to see the Middle and Lower South.
We flew from California into Atlanta, Georgia.  Holy cow, but is that airport an experience
.  Monday we drove north up I-85 and stopped by to see AtlantaMarie.
The weather just north of Atlanta was delightful.  Then, back on the road to Liberty, South Carolina, where someone turned off the heat.  It was down to 39*F at night. Definitely, the end of summer crops.  Our hosts had lovely tomatoes ripening on the window sill.
Today, Tuesday, we drove over to Columbia, SC.  The freeways, especially the toll roads, are so nice to travel along.  Forest, some farming, mega warehouses, leading us to believe that SC is a good place to set up corporate centers.  Oh, so far I have been called Ma'am at least 50 times.  That is so refreshing.  "Please, thank you, have a nice day."  I've stepped into a parallel universe.  So far, everyone we have encountered has been sooooo nice.
Next stop: the Atlanta coast of Charleston, SC, maybe a side trip to Myrtle Beach if we aren't in their way of recovery.
I'm so glad you're having fun!  And it was wonderful to FINALLY see you face-to-face!!
I have really enjoyed So. Carolina.  Polite, clean rest stops, and no tent cities under every overpass.  
We had to trim Myrtle Beach off the itinerary.
This is Friday night.  Today we drove from Charleston (learned some good history!! and I thought I knew a lot) to Hilton Head Island and then into Savannah.  Tomorrow we will take the trolley/bus and see some recommended churches and houses.
Sunday we drive from Macon to Atlanta Airport to fly home.  Hoping it works out to visit with Yolos en route.
On our last day as we were driving towards the Atlanta Airport, we were able to stop by and visit with Yolos in Brooks, GA.  Nope, no photos, but I did get to tour the garden that I feel I have grown to know over the years of posting on the Forum.  She has lots of Strike shelling peas growing.  Yolos send me some seeds a few years ago and I have continued growing them every winter.  I sent her Snow Fairy tomatoes seeds this summer and she is growing them with some cold weather protection.
Something this Californian learned on this trip around GA and SC:
- "ma'am" is a common word  
- men open doors for women
- pine straw really is used as mulch
- some ants really hurt
- regular gas at $3.17-3.39 is common  
- public restrooms and rest stop restrooms were clean and well stocked!!
- grouper fish and red snapper are available fresh  
- asparagus is a common vegetable available on most menus  
- fried green tomato BLT sandwiches are really, really good  
- the Lower South actually gets freezes
- Hilton Head Island has beautiful beaches
- Charleston and Savannah were really important in the Revolutionary War.  Charleston had its own quieter tea party.
- at the Charleston old Exchange and Provost Dungeon, the basement dungeon was a nasty place to spend time, the U.S. Constitution was ratified by the SC Convention in the 2nd story ball room.
Huge fried grouper on "Texas Toast" like bread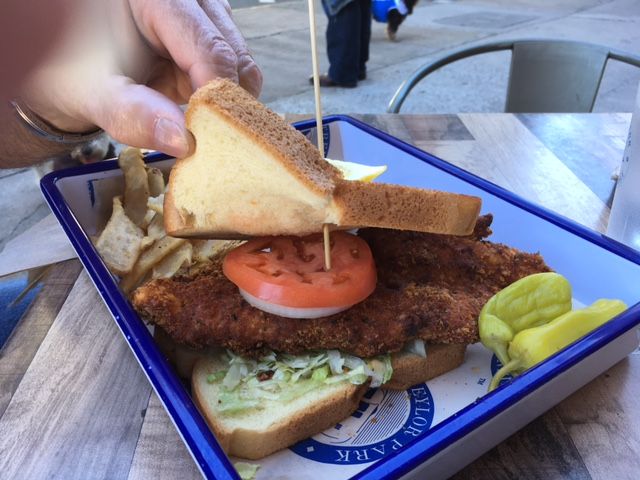 Fried Green tomato on "Texas Toast" like bread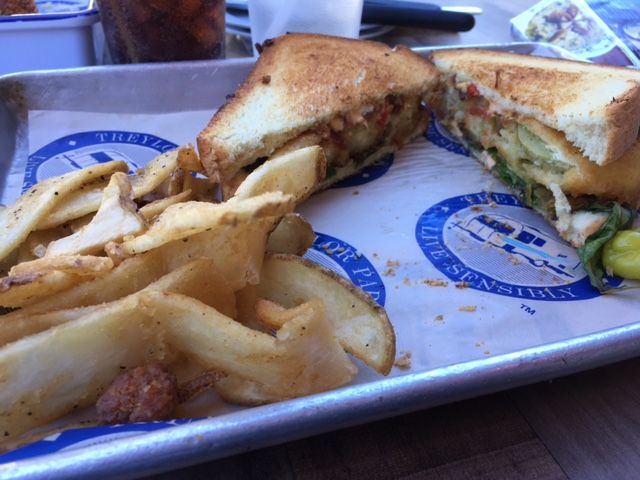 Pine straw mulch
Ant hills! This would take away the fun of gardening.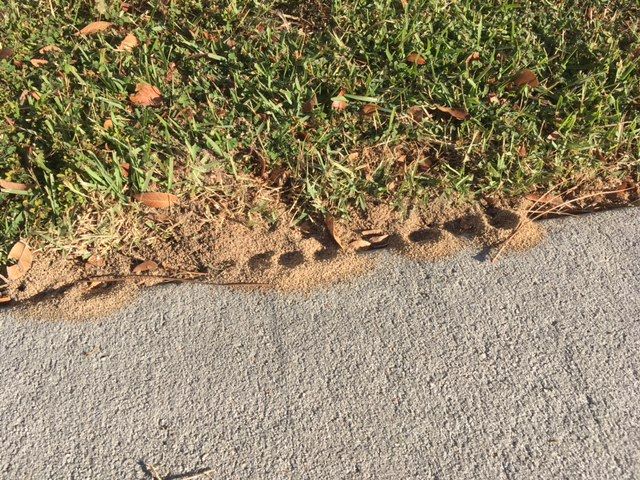 Gas prices. I don't know why diesel was so much more expensive.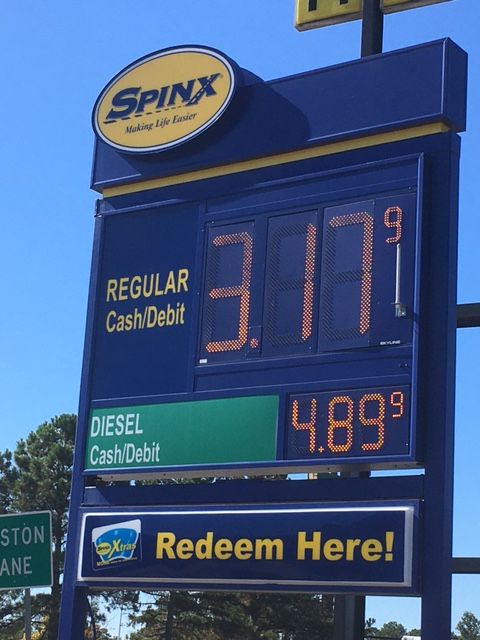 Yeah, those ants....  I've got plenty of scars from them!

Glad you got to see Yolos as well!!  And that you had such a good time.  It was GREAT to see you!  Hugs!!!
sanderson likes this post
AM, It was so good to meet in person. I feel like I have gotten to know you and Yolos over the years on this Forum.

Traveling to other states in person gives me an idea of what everyone faces, gardening-wise.
Sounds like you had a great time. And how wonderful to meet up with forum members.

trolleydriver


Forum Moderator




Posts

: 5390


Join date

: 2015-05-04


Age

: 76


Location

: Ottawa, Ontario, Canada



sanderson likes this post
Glad you got to travel the sunny southeast, Sanderson! In my younger years I lived in south Georgia (LaGrange) for nearly 5 years, and lived in metro Atlanta for 3 years.  Loved the area and the people, but learned to hate the red clay. 
____________________________
"In short, the soil food web feeds everything you eat and helps keep your favorite planet from getting too hot. Be nice to it."
~ Diane Miessler, "Grow Your Soil"

sanderson likes this post
---
Permissions in this forum:
You
cannot
reply to topics in this forum