Latest topics
»
Foodbank's composting program creates food from food
by OhioGardener Today at 8:29 am
»
What Have You Picked From Your Garden Today
by OhioGardener Yesterday at 1:15 pm
»
N&C Midwest September 2023
by OhioGardener Yesterday at 12:18 pm
»
Turning existing garden beds into SFG
by jemm 9/20/2023, 7:35 am
»
Closing beds for winter
by
sanderson
9/18/2023, 2:46 pm
»
updating my mix - what should I add
by
sanderson
9/18/2023, 5:04 am
»
Senseless Banter...
by
sanderson
9/16/2023, 11:37 pm
»
Walking stick kale
by
sanderson
9/16/2023, 12:27 am
»
Lumber and measuring for SFG boxes
by
sanderson
9/16/2023, 12:21 am
»
Avatar issues
by Guinevere 9/14/2023, 7:53 pm
»
Ohio Gardener's Greenhouse
by OhioGardener 9/14/2023, 5:27 pm
»
Happy Birthday!!
by
sanderson
9/11/2023, 4:40 pm
»
When to harvest? / Watermelon seedlings
by
sanderson
9/9/2023, 6:07 pm
»
Hornets Nest
by
sanderson
9/8/2023, 8:15 pm
»
Tropical Storm Hilary
by jennyjo37 9/5/2023, 5:31 pm
»
A square foot garden in a round bed.
by alicej 9/4/2023, 3:39 am
»
Determinate Cherry Tomato for Greenhouse
by OhioGardener 9/2/2023, 6:52 pm
»
N&C Midwest August 2023
by
Scorpio Rising
8/31/2023, 9:01 am
»
Hurricane
by
Scorpio Rising
8/30/2023, 7:25 am
»
No-Fail Zucchini Bread
by OhioGardener 8/28/2023, 11:11 am
»
buying compost small town SW Pennsylvania
by
sanderson
8/27/2023, 6:41 pm
»
Phosphate
by
sanderson
8/27/2023, 3:43 pm
»
Topping brand new SFG box with more gorgeous compost???
by
sanderson
8/27/2023, 3:36 pm
»
8 Great Vegetables for Fall Planting
by
sanderson
8/27/2023, 2:58 pm
»
What are you eating from your garden today?
by OhioGardener 8/26/2023, 7:19 pm
»
Flowers to attract hummingbirds
by OhioGardener 8/26/2023, 6:59 pm
»
Hoss Tools Seeds 50% off
by OhioGardener 8/26/2023, 6:25 pm
»
Fall is For Garlic Planting
by OhioGardener 8/24/2023, 6:27 pm
»
shop lights vs grow lights
by OhioGardener 8/24/2023, 10:16 am
»
Seed Storage Times
by OhioGardener 8/22/2023, 8:58 am
Hi all,
I'm a newbie here; I have built 2 - 4x4's with their grids and am ready to fill them this weekend (have my soil too
) and start to plant!
My question is about protection (from cats and squirrels now, chickens soon...). I was planning on building the chicken wire cages that are described in the book. But I was at a gardening store this weekend and saw that they used bird netting instead, which seemed a lot easier. Also, both 4x4's are going to have vertical trellises, and the cages won't work with them, I realized...
Is the netting enough protection? We are going to be getting chickens this spring too, and I am not sure if the netting will protect the garden from them... Does anyone have experience in this?
If there are specific ways that people have succesfully rigged this netting, I'd love to see pictures -- I'm a visual learner
. I already build 2 - 4x4 (1"x1") frames that I was going to attach chicken wire to for the cages, and was trying to figure a way to use the netting with these...
Thanks!
Melinda in San Antonio

Melgates




Posts

: 2


Join date

: 2012-01-26


Location

: San Antonio, Tx



I had a problem with my 2 outside cats, getting in/using the squares that had nothing growing. I just took the netting and threw it over the beds. The seeds I'd planted, collards, mustard greens, came up and grew thru the netting. The onions and garlic came up and raised the netting up too. Chickens will have to have wire to keep them out. I put a fence around all the beds for the rabbits and chickens. The chickens wings had to be trimmed so they could not fly over the fence.

Don't know if the netting will keep the squirrels out, I don't have a problem with mine, guess I don't grow anything they like!

littlejo




Posts

: 1575


Join date

: 2011-05-04


Age

: 69


Location

: Cottageville SC 8b



I had a similar problem last year. After trying many other methods, the only thing that ended up working was making a last minute fence out of conduit and bird netting with pink ribbon at the top so no one ran into the netting.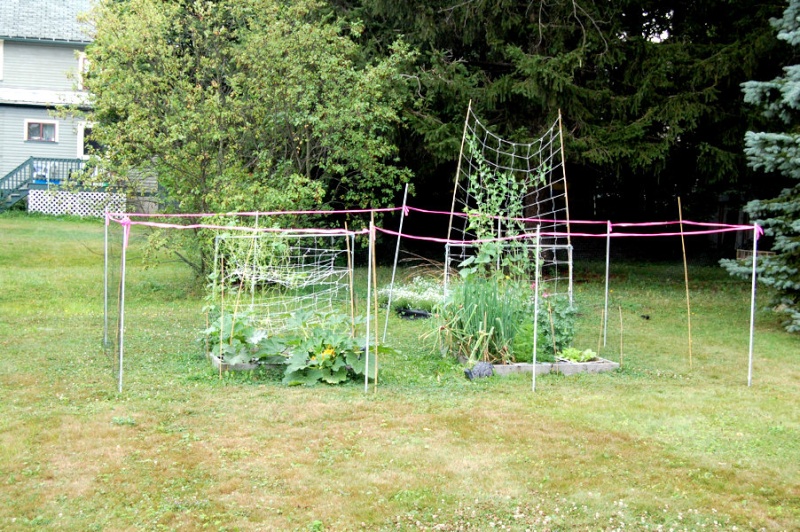 It was pretty flimsy, but it worked really well. It kept out the deer, cats, rabbits, and small children (and even my mother-in-law, lol, because she couldn't figure out how to get in). I plan on replacing the bird netting with something sturdier this year though.
Thanks for these responses. Since I have some chicken wire, I'm going to investigate how I could use it to erect a fence ... though I do like the idea of using conduit and bird netting... I'll keep pondering. Thanks for the input.

Melgates




Posts

: 2


Join date

: 2012-01-26


Location

: San Antonio, Tx



Similar topics
---
Permissions in this forum:
You
cannot
reply to topics in this forum