Latest topics
»
Sourdough Starter
by Jjean59 Today at 9:51 am
»
need specific advice on MM
by plantoid Yesterday at 6:43 pm
»
Senseless Banter...
by OhioGardener 3/22/2023, 8:11 pm
»
After harvest, leave the roots in or remove
by Mikesgardn 3/22/2023, 7:53 pm
»
Greenhouse - Helpful Hints in Setting up a Wood-Framed Greenhouse
by
Scorpio Rising
3/22/2023, 7:46 pm
»
Sifted Peat
by danieggert 3/22/2023, 4:21 pm
»
Best choice of pot to plant my seedling
by markqz 3/22/2023, 1:30 pm
»
Responding to a specific post
by OhioGardener 3/22/2023, 9:55 am
»
N&C Midwest: March & April 2023
by
Scorpio Rising
3/21/2023, 10:17 pm
»
Kiwi's SFG Adventure
by
sanderson
3/21/2023, 9:00 pm
»
Think Spring 2023
by MrBooker 3/20/2023, 7:59 am
»
Sifting Compost for Newbies
by
sanderson
3/20/2023, 3:47 am
»
Too cold to put my new MM into my raised beds?? and Facebook SFG site
by
sanderson
3/20/2023, 3:39 am
»
Harvesting small amounts from iceberg lettuce, caulliflower, broccoli, cabbage etc.
by
sanderson
3/20/2023, 3:37 am
»
Indoor seed starting question
by
sanderson
3/20/2023, 3:19 am
»
Epsom salts for your veggie garden??
by
sanderson
3/19/2023, 11:37 pm
»
seed starting Mel's way
by bigtoad 3/17/2023, 9:26 pm
»
shop lights vs grow lights
by
sanderson
3/17/2023, 1:53 am
»
trellis netting square size
by
sanderson
3/16/2023, 10:45 pm
»
Ohio Gardener's Greenhouse
by OhioGardener 3/16/2023, 5:20 pm
»
Raised Beds from 48" Culvert
by wargarden2017 3/16/2023, 11:19 am
»
Baby Pools as Beds?!
by Jjean59 3/15/2023, 3:54 pm
»
March: What to plant in Northern California and Central Valley areas
by
sanderson
3/15/2023, 3:52 pm
»
So. California & Inland Valleys -March / April Planting Guide
by
sanderson
3/15/2023, 2:22 pm
»
Biosolids / Humanure Compost?
by OhioGardener 3/14/2023, 1:45 pm
»
Hello Form the Bitterroot Valley of Montana
by
sanderson
3/14/2023, 4:52 am
»
Renewing Mel's Mix
by anne 3/13/2023, 8:16 pm
»
help refuting a raised bed critic
by
sanderson
3/13/2023, 2:26 pm
»
Associations of time spent gardening with mental wellbeing and life satisfaction in Mid-to-late adulthood
by OhioGardener 3/13/2023, 9:04 am
»
Hello from the north end of the Bitterroot Valley, Montana
by
sanderson
3/13/2023, 5:05 am
Hi all,
I'm a newbie here; I have built 2 - 4x4's with their grids and am ready to fill them this weekend (have my soil too
) and start to plant!
My question is about protection (from cats and squirrels now, chickens soon...). I was planning on building the chicken wire cages that are described in the book. But I was at a gardening store this weekend and saw that they used bird netting instead, which seemed a lot easier. Also, both 4x4's are going to have vertical trellises, and the cages won't work with them, I realized...
Is the netting enough protection? We are going to be getting chickens this spring too, and I am not sure if the netting will protect the garden from them... Does anyone have experience in this?
If there are specific ways that people have succesfully rigged this netting, I'd love to see pictures -- I'm a visual learner
. I already build 2 - 4x4 (1"x1") frames that I was going to attach chicken wire to for the cages, and was trying to figure a way to use the netting with these...
Thanks!
Melinda in San Antonio

Melgates




Posts

: 2


Join date

: 2012-01-26


Location

: San Antonio, Tx



I had a problem with my 2 outside cats, getting in/using the squares that had nothing growing. I just took the netting and threw it over the beds. The seeds I'd planted, collards, mustard greens, came up and grew thru the netting. The onions and garlic came up and raised the netting up too. Chickens will have to have wire to keep them out. I put a fence around all the beds for the rabbits and chickens. The chickens wings had to be trimmed so they could not fly over the fence.

Don't know if the netting will keep the squirrels out, I don't have a problem with mine, guess I don't grow anything they like!

littlejo




Posts

: 1575


Join date

: 2011-05-04


Age

: 69


Location

: Cottageville SC 8b



I had a similar problem last year. After trying many other methods, the only thing that ended up working was making a last minute fence out of conduit and bird netting with pink ribbon at the top so no one ran into the netting.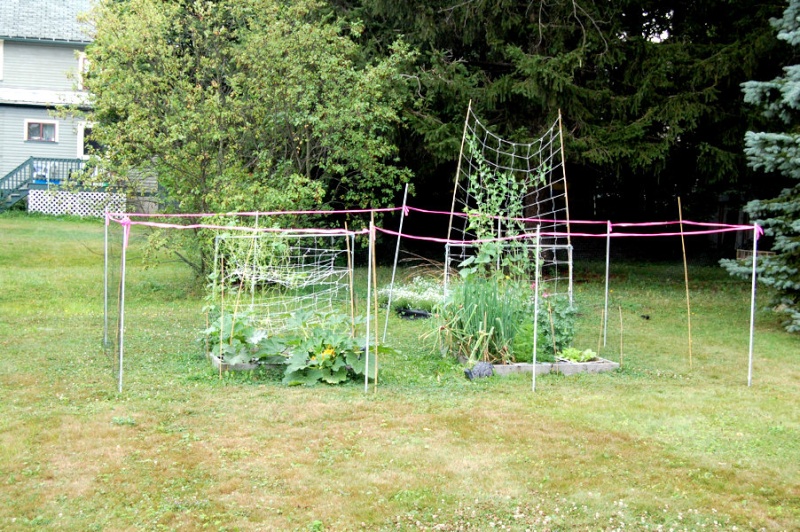 It was pretty flimsy, but it worked really well. It kept out the deer, cats, rabbits, and small children (and even my mother-in-law, lol, because she couldn't figure out how to get in). I plan on replacing the bird netting with something sturdier this year though.
Thanks for these responses. Since I have some chicken wire, I'm going to investigate how I could use it to erect a fence ... though I do like the idea of using conduit and bird netting... I'll keep pondering. Thanks for the input.

Melgates




Posts

: 2


Join date

: 2012-01-26


Location

: San Antonio, Tx



Similar topics
---
Permissions in this forum:
You
cannot
reply to topics in this forum