Latest topics
»
Mark's first SFG
by OhioGardener Today at 3:24 pm
»
What Have You Picked From Your Garden Today
by markqz Today at 2:56 pm
»
Kiwi's SFG Adventure
by KiwiSFGnewbie Yesterday at 10:25 pm
»
Hi from Western Australia
by OhioGardener Yesterday at 11:10 am
»
N & C Midwest: November/December 2023
by JAM23 12/8/2023, 6:49 pm
»
Strawberry Varieties?
by
sanderson
12/5/2023, 3:57 pm
»
Recommended store bought compost - Photos of composts
by
sanderson
12/4/2023, 1:27 pm
»
Jerusalem Artichoke or Sun Choke
by
Scorpio Rising
12/4/2023, 7:09 am
»
Strawberries in MM: to feed or not to feed?
by
sanderson
12/3/2023, 7:30 pm
»
Senseless Banter...
by
sanderson
11/28/2023, 10:31 pm
»
FREE Online SFG Class - November 28, 2023
by
sanderson
11/27/2023, 9:21 pm
»
Mini-Raised Beds?
by Chuck d'Argy 11/27/2023, 2:14 pm
»
Happy Birthday!!
by
sanderson
11/26/2023, 10:58 pm
»
Name the mystery (to me) seedlings! :-)
by Psdumas 11/25/2023, 12:04 am
»
Happy Thanksgiving from the USA
by
sanderson
11/23/2023, 1:47 pm
»
Guatemalan Green Ayote Squash
by OhioGardener 11/21/2023, 8:27 am
»
Seeds 'n Such Early Order Seeds
by
sanderson
11/20/2023, 1:13 pm
»
USDA Plant Hardiness Zone Map
by OhioGardener 11/19/2023, 7:12 am
»
AeroGarden for starting seeds?
by OhioGardener 11/16/2023, 12:40 pm
»
Biochar?
by OhioGardener 11/16/2023, 10:31 am
»
2023 - Updated U.S. Interactive Plant Hardiness Map
by
sanderson
11/15/2023, 6:18 pm
»
SFG Is Intensive Gardening
by
sanderson
11/14/2023, 3:26 pm
»
Teaming with Microbes Kindle Sale (Mem. Day weekend 2023)
by markqz 11/10/2023, 12:42 am
»
Bok Choy Hors d'oeuvres
by
donnainzone5
11/9/2023, 5:58 pm
»
Now is the Time to Start Preparing Next Year's Spring Garden
by OhioGardener 11/9/2023, 7:13 am
»
Shocking Reality: Is Urine the Ultimate Gardening Hack or Disaster?
by dstack 11/6/2023, 5:29 pm
»
Nightmare on Mel Street.
by
Scorpio Rising
11/4/2023, 6:37 pm
»
Aerogardening
by
Scorpio Rising
11/3/2023, 10:02 am
»
Sunday All Purpose Organic Garden Nutrients
by lisawallace88 11/3/2023, 9:13 am
»
Mid-summer seed sowing, how do you do it?
by KiwiSFGnewbie 11/2/2023, 8:04 pm
Well, I am not having a 100% success rate, due to hail storms and bugs, but considering I've never had a veggie garden and I grew many things from seed, I think I am doing well!
Here is the plot right after I added the grid and planted the first seeds and seedlings:
And here it is today.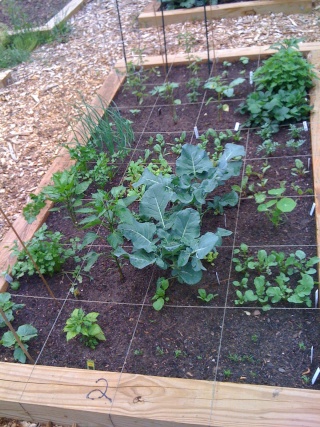 The carrots on the lower right are taking FOREVER to come up. I planted those one month ago. You can't see the heirloom eggplant seedling that was mostly eaten by the flea beetles behind the broccoli
. I'm giving it one more week, and if it doesn't get better I will have to buy a regular one at Home Depot. The catnip (upper right) is very, very happy. And the marigolds are finally getting extra leaves and I saw one bud today (I grew those from seed).
Looking good!

Carrots are notorious for taking a long time to germinate. Have they germinated, but are just taking their own time to get going? Give them a chance. It is amazing what a little time will do for their growth.

Furbalsmom




Posts

: 3141


Join date

: 2010-06-10


Age

: 76


Location

: Coastal Oregon, Zone 9a, Heat Zone 2 :(



Some germinated and haven't gotten their true leaves for like 2 weeks. Some didn't germinate at all. Some are finally growing real leaves. I had a couple of bad storms after I planted them, so maybe they just got washed away. You live and learn.
---
Permissions in this forum:
You
cannot
reply to topics in this forum