Hi all,
Due to sever mole problems I had to make "mole bunkers".  They were made from cinder blocks and cement (1st picture).  Turned out great!  What is even better is how plentiful and beautiful the SFG has become.  My first planting was with a couple 6 packs of Butter Crunch lettuce (see 2nd picture).  They were planted when we had about 5 days of 100 plus heat.  Within two weeks of the end of the heat wave they were overgrowing the area and we were eating them nightly.
Thanks to Mel for his tenacity in coming up with the
PERFECT
gardening method.
Mazzy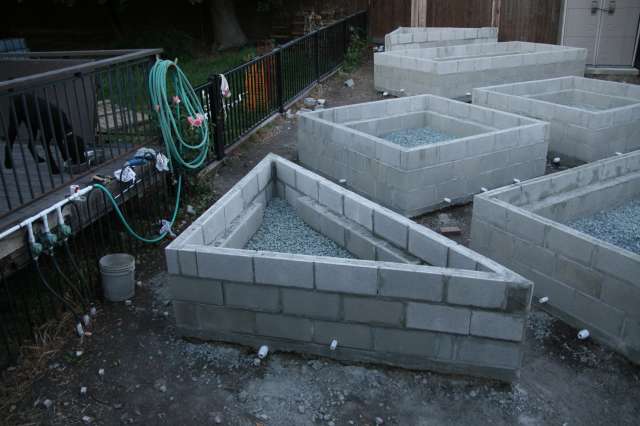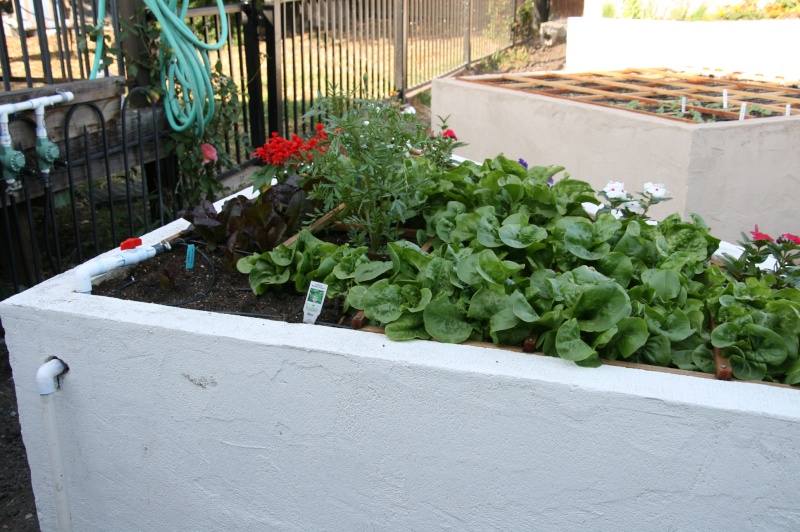 Mazzy, they are great, I really like the craftsmanship you apparently possess..
Wont the blocks or covering absorb alot of moisture ?

jimmy cee


Certified SFG Instructor




Posts

: 2215


Join date

: 2013-02-16


Age

: 87


Location

: Hatfield PA. zone 6b



I covered with colored stucco.  We'll see how much they absorb after the first rainy season :>)  My biggest fear was that they would have adequate drainage so they didn't turn into 6 backyard mud swimming pools. Each bed has 6 inches of 1/4 inch drain rock with 10 drain spouts protruding into the bottom of the drain rock.  Should be okay.

Mazzy
Mazzy,  I just noticed that you have the drip lines and grids installed!  
 Very SFG looking!
lovely! That's amazing how the butter crunch grew in that heat. Are your grids one piece? For instance could you use them as a trellis also?

CC

CapeCoddess




Posts

: 6824


Join date

: 2012-05-20


Age

: 67


Location

: elbow of the Cape, MA, Zone 6b/7a



Thanks!  The drip line company was recommended by Sanderson...Dripworks.com.  I'm very happy with them.  Nice product, good price, and great service.

The grid was made out of 3/4 x 3/4 redwood 8' long sticks purchased at Home Depot.  I glued and screwed them together and I can lift each one off at one time.  Yes...they could be used as a trellis.  That's a good idea :>)  I really like the grids.  They make it easy to plan and keep track of the garden system.  Here's a link that shows the plan at the Territorial Seed website     http://gardenplanner.territorialseed.com/garden-plan.aspx?p=548529

Mazzy

Kate888




Posts

: 199


Join date

: 2012-02-11


Age

: 58


Location

: Demotte, Indiana - zone 5b



Your garden is looking terrific.  You did a wonderful job.

quiltbea




Posts

: 4712


Join date

: 2010-03-21


Age

: 81


Location

: Southwestern Maine Zone 5A



Nice to see them completely finished, Mazzy! They look great, like a real asset to the yard should you ever sell the house. And that's great about the butter crunch lettuce surviving 100 degrees. That's about the norm for us during summers -- at least a bit of it coming and going, or even a month straight, like last year. I had thought the butter lettuces had a hard time in the heat, but I guess not. I'm surprised you didn't say that they hadn't turned bitter!

Marc Iverson




Posts

: 3638


Join date

: 2013-07-05


Age

: 62


Location

: SW Oregon



Thanks for the nice complements.  I did not notice if the butter crunch had turned bitter.  The heat wave was just when I planted them so maybe it didn't have same effect as if it had been growing for a couple weeks. 

Mazzy
---
Permissions in this forum:
You
cannot
reply to topics in this forum