Latest topics
»
New to Forum and SFG 15" raised bed foundation
by clphelps97 Yesterday at 6:13 pm
»
N&C Midwest: June 2023
by
sanderson
Yesterday at 4:32 pm
»
Tea Time -- Compost Tea, that is
by
sanderson
Yesterday at 4:23 pm
»
What are you eating from your garden today?
by
sanderson
Yesterday at 4:18 pm
»
Kiwi's SFG Adventure
by
sanderson
Yesterday at 4:09 pm
»
Easy Refrigerator Pickles from Extra Produce
by
sanderson
Yesterday at 3:29 pm
»
Frequency/amount to water
by lisawallace88 6/8/2023, 3:12 pm
»
Mulch around garlic
by
Scorpio Rising
6/8/2023, 10:19 am
»
Birds of the Garden
by
Scorpio Rising
6/7/2023, 9:21 pm
»
Paul's First SFGs
by pkadare 6/7/2023, 4:38 pm
»
What Have You Picked From Your Garden Today
by
Scorpio Rising
6/6/2023, 11:58 pm
»
Famous Gardening Quotes
by OhioGardener 6/5/2023, 10:18 am
»
Hello from Central Missouri, Zone 6a
by
Scorpio Rising
6/3/2023, 3:48 pm
»
N&C Midwest: May 2023
by OhioGardener 6/1/2023, 8:55 pm
»
Walking stick kale
by
sanderson
5/31/2023, 1:38 pm
»
Why Letting Weeds Run Wild Can Actually Help Your Garden
by
sanderson
5/30/2023, 2:35 pm
»
Teaming with Microbes Kindle Sale (Mem. Day weekend 2023)
by
sanderson
5/29/2023, 3:14 pm
»
Mid-Atlantic New Host Intro & Info
by JAM23 5/29/2023, 8:38 am
»
Poppy seeds - Hungarian Blue Breadseed
by
AtlantaMarie
5/28/2023, 6:12 am
»
Sluggo Plus
by
sanderson
5/27/2023, 3:23 pm
»
Centpedes
by OhioGardener 5/25/2023, 6:19 pm
»
beneficial nematodes
by OhioGardener 5/24/2023, 9:18 pm
»
Senseless Banter...
by markqz 5/24/2023, 5:39 pm
»
Pre-Filling a 30" Raised Bed
by toledobend 5/24/2023, 1:10 pm
»
Happy Birthday!!
by
AtlantaMarie
5/24/2023, 7:03 am
»
Aphids & Their Predators
by MrBooker 5/24/2023, 6:01 am
»
Hello from Bobcaygeon, Ontario
by
Scorpio Rising
5/20/2023, 1:52 pm
»
Spring Flowers
by OhioGardener 5/18/2023, 6:23 pm
»
My Solar Dehydrator at Work
by
sanderson
5/18/2023, 3:10 pm
»
French Tarragon
by
sanderson
5/18/2023, 12:41 pm
I'm just getting into SFG and have 2 4' x'8 '30" raised garden beds on order. My plan is to use Mel's mix for the top 12" so I'm wondering what is the best way to fill up the lower 18". As a point of interest these beds have no bottom.
A couple of thoughts I had:
1. Fill the bottom 18" with cardboard, branches, and chunks of wood (we have 5 acres of pine trees with loads of blow downs). Then fill the spaces with sand or gravel.
2. Cut a couple of 4' x 8' sheets of plywood to fit. The beds have rounded corners. Support the plywood with concrete blocks to a level of 18". If this is a good way to go, what should the thickness of the plywood be?
3. Same as #2 but set the plywood lower, then top as in #1, then MM on top.

Any thoughts or suggestions will help.

Thanks!

pkadare




Posts

: 12


Join date

: 2023-05-10


Location

: Bobcaygeon, Ontario, Canada



You only need 6" of Mel's Mix on the top of the beds.  I filled the bottom of my high beds with top soil, then topped off with MM. Another good fill is sand or a mixture of sand & top soil.  You would regret using things like cardboard and/or brush for years to come as it decomposes and the soil level in the beds drops by inches at a time.
____________________________
"In short, the soil food web feeds everything you eat and helps keep your favorite planet from getting too hot. Be nice to it."
~ Diane Miessler, "Grow Your Soil"

sanderson likes this post
PK,  What OhioGardener wrote.
Fill the lower part with inert top soil or washed sand. You only need 6-7" of the Mel's Mix.  Doubling it up is twice as expensive, both to originally make and then to amend every year.  It does not work any better than 6-7" of properly made and annually amended with composts MM.
Regarding options
#2
and 3, your beds are already 30" tall.  That is a heck of a lot of weight of moist fill for any type of bottom for the bed.  If the day comes that you want to make table top beds raised on cinderblocks, 3/4" plywood lasts about 5-8 years.  Drill 1/2" holes per square foot.  Support every 2' in both directions.  Use 2"x8" lumber for the bed sides which is enough for 6-7" of Mel's Mix plus some straw mulch.
Some pics of TT beds.
Mine
Mine, overkill with 1" holes.
Pennsylvania SFG gardener.
Oregon SFG gardener.
Each child got to choose the paint color for these raised beds made with cement pans.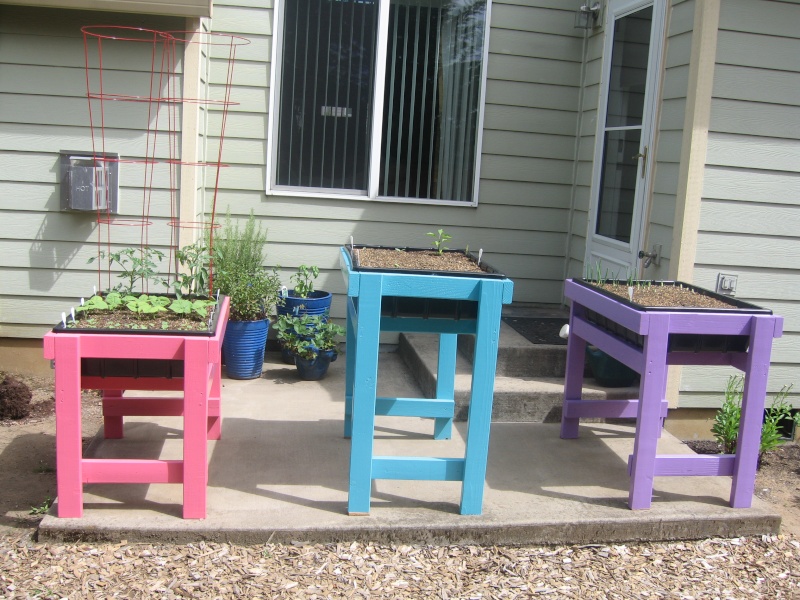 I've noticed that it is trendy to have super deep beds in the garden. I guess this can help those who can't bend over to ground level and it can look attractive. If I remember correctly, the general best item to bulk up under your Mel's Mix is sand, according to the SFG Method. Whatever is used, I would recommend putting some landscape fabric between your substrate and your Mel's Mix so they don't commingle over time.

Cmonster90




Posts

: 5


Join date

: 2011-10-20


Location

: Atlanta



sanderson and Scorpio Rising like this post
Definitely recommend using the weed fabric to keep the sand, etc. and your Mel's mix separate.

toledobend




Posts

: 107


Join date

: 2012-02-13


Location

: West Central Louisiana



Cmonster90 and sanderson like this post
Similar topics
---
Permissions in this forum:
You
cannot
reply to topics in this forum