Latest topics
»
Senseless Banter...
by OhioGardener Yesterday at 8:11 pm
»
After harvest, leave the roots in or remove
by Mikesgardn Yesterday at 7:53 pm
»
Greenhouse - Helpful Hints in Setting up a Wood-Framed Greenhouse
by
Scorpio Rising
Yesterday at 7:46 pm
»
Sifted Peat
by danieggert Yesterday at 4:21 pm
»
Best choice of pot to plant my seedling
by markqz Yesterday at 1:30 pm
»
Responding to a specific post
by OhioGardener Yesterday at 9:55 am
»
N&C Midwest: March & April 2023
by
Scorpio Rising
3/21/2023, 10:17 pm
»
Kiwi's SFG Adventure
by
sanderson
3/21/2023, 9:00 pm
»
Think Spring 2023
by MrBooker 3/20/2023, 7:59 am
»
Sifting Compost for Newbies
by
sanderson
3/20/2023, 3:47 am
»
Too cold to put my new MM into my raised beds?? and Facebook SFG site
by
sanderson
3/20/2023, 3:39 am
»
Harvesting small amounts from iceberg lettuce, caulliflower, broccoli, cabbage etc.
by
sanderson
3/20/2023, 3:37 am
»
Indoor seed starting question
by
sanderson
3/20/2023, 3:19 am
»
Epsom salts for your veggie garden??
by
sanderson
3/19/2023, 11:37 pm
»
seed starting Mel's way
by bigtoad 3/17/2023, 9:26 pm
»
shop lights vs grow lights
by
sanderson
3/17/2023, 1:53 am
»
trellis netting square size
by
sanderson
3/16/2023, 10:45 pm
»
Ohio Gardener's Greenhouse
by OhioGardener 3/16/2023, 5:20 pm
»
Sour Dough Starter
by Jjean59 3/16/2023, 2:24 pm
»
Raised Beds from 48" Culvert
by wargarden2017 3/16/2023, 11:19 am
»
Baby Pools as Beds?!
by Jjean59 3/15/2023, 3:54 pm
»
March: What to plant in Northern California and Central Valley areas
by
sanderson
3/15/2023, 3:52 pm
»
So. California & Inland Valleys -March / April Planting Guide
by
sanderson
3/15/2023, 2:22 pm
»
Biosolids / Humanure Compost?
by OhioGardener 3/14/2023, 1:45 pm
»
Hello Form the Bitterroot Valley of Montana
by
sanderson
3/14/2023, 4:52 am
»
Renewing Mel's Mix
by anne 3/13/2023, 8:16 pm
»
help refuting a raised bed critic
by
sanderson
3/13/2023, 2:26 pm
»
Associations of time spent gardening with mental wellbeing and life satisfaction in Mid-to-late adulthood
by OhioGardener 3/13/2023, 9:04 am
»
Hello from the north end of the Bitterroot Valley, Montana
by
sanderson
3/13/2023, 5:05 am
»
Holy snow Batman!
by
donnainzone5
3/12/2023, 2:55 pm
[I can't find the search on the mobile version of the website, to find the thread where we were talking about what to use as clamps or forbindrr clips, to hold  plastic or tulle or netting on trellises or frames. Move the post for me if needed, please?]
A friend asked me before one of our windy  storms a few weeks ago, maybe before Christmas, to help her find some clamps for plastic on her small temp greenhouse.  It's just made of plastic draped over a frame of 3/4" PVC.  
We've had several windy storms including the recent one with tornadoes ( not too close thankfully).  She told me yesterday that the clamps she used have held on great, solved her problem.  If they were a little loose, she was planning to pad between Clamp and plastic with some bits of craft foam.  Not sure if she had to do that.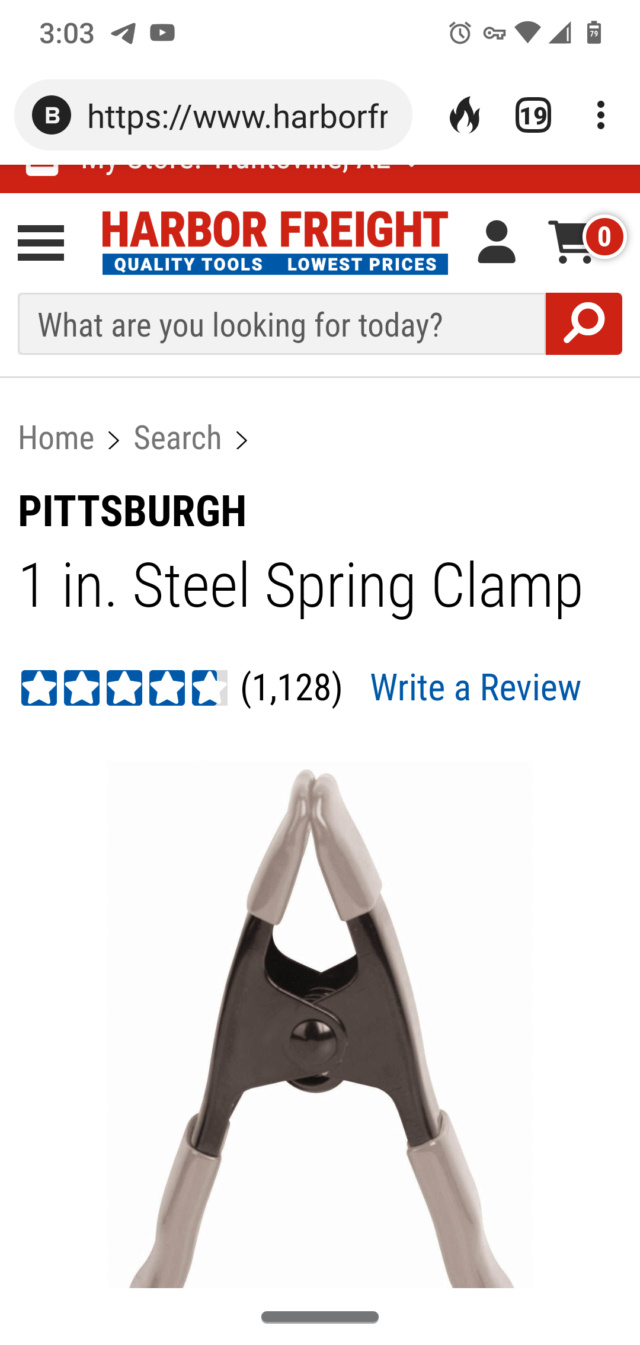 Soose




Posts

: 405


Join date

: 2022-02-23


Location

: North Alabama



sanderson likes this post
These should work on 3/4" PVC.

I found that the Large Black Binder clips worked for 1/2" PVC. Due to their design, they might not work for 3/4" PVC.
The Harbor Freight clamps are 99c and I saw a bin of them at Home Depot as well before Christmas for the same... Haven't compared the quality. Over the long run, they might rust, freeze up, wouldn't be surprised. I need to tell my non tool-savvy friend to bring them in when she can.

Soose




Posts

: 405


Join date

: 2022-02-23


Location

: North Alabama



Here's another thought for something more permanent and flexible. I was looking at greenhouses and learned about wiggle wire. ( That's a trademark name. ) It's a c channel with a sinusoidal tension wire that holds the covering plastic or whatever and it looks easy to use. Now, I'm wondering if the frame over a sfg bed could actually be made of these 6ft sections of wiggle wire channel. The clamping ability would be built into the frame.
I've not handled any in person yet. I expect there are different manufacturers and sturdiness, but galvanized is a plus.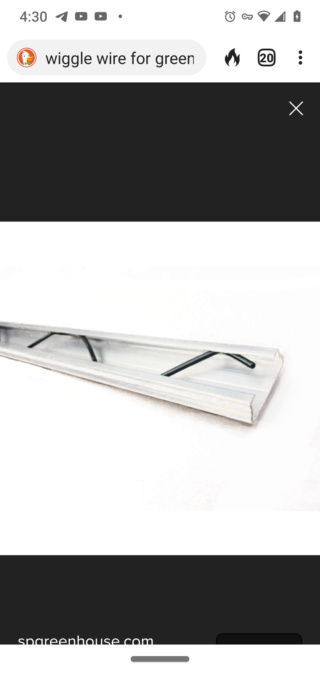 Soose




Posts

: 405


Join date

: 2022-02-23


Location

: North Alabama



What kind of plastic cover? Most plastic won't last more than a year with sun exposure. The exception is vinyl.

For tulle and netting, you can use zip ties. Get the unattractive, black, UV-resistant ones for longevity. Or colored ones for decoration. I use zip ties for solar cooking apps, and even the colored ones work for 3 years or more.

You could also use zip ties with plastic if you're willing to punch through the plastic (that's why I brought up the point about plastic being temporary). A small bit of HVAC duct tape (the reflective stuff, not the gooey gray "duck" tape) can be used to reinforce around the puncture sites. You could also put the tape directly over the zip ties and the holes if the goal is to prevent bugs from getting in.

I haven't checked prices lately, but before 2019 I was able to get small clamps at better prices than HF from aliexpress. But you typically have to do a lot of careful shopping (pay attention to scores), and then wait 3 months.

markqz


Forum Moderator




Posts

: 764


Join date

: 2019-09-02


Location

: Lower left hand corner



@markqz, was the question about plastic type for me?

My friend's greenhouse had just big box plastic, I'm sure.

The wiggle wire greenhouse was 6mil uv protected greenhouse plastic -- Leon, that farmer on YouTube who makes self wicking beds of old mineral tubs and had made a name for himself. He said his 4yr plastic was 7yr old, he removes it in Summer and installs shade cloth.

Soose




Posts

: 405


Join date

: 2022-02-23


Location

: North Alabama



Similar topics
---
Permissions in this forum:
You
cannot
reply to topics in this forum