Latest topics
»
N&C Midwest: June 2023
by OhioGardener Today at 10:33 am
»
Tea Time -- Compost Tea, that is
by OhioGardener Yesterday at 7:07 pm
»
Hello from Central Missouri, Zone 6a
by
Scorpio Rising
Yesterday at 3:48 pm
»
N&C Midwest: May 2023
by OhioGardener 6/1/2023, 8:55 pm
»
Kiwi's SFG Adventure
by KiwiSFGnewbie 5/31/2023, 4:32 pm
»
Walking stick kale
by
sanderson
5/31/2023, 1:38 pm
»
Why Letting Weeds Run Wild Can Actually Help Your Garden
by
sanderson
5/30/2023, 2:35 pm
»
What are you eating from your garden today?
by OhioGardener 5/30/2023, 12:11 pm
»
Teaming with Microbes Kindle Sale (Mem. Day weekend 2023)
by
sanderson
5/29/2023, 3:14 pm
»
Mid-Atlantic New Host Intro & Info
by JAM23 5/29/2023, 8:38 am
»
Paul's First SFGs
by pkadare 5/28/2023, 11:06 am
»
Poppy seeds - Hungarian Blue Breadseed
by
AtlantaMarie
5/28/2023, 6:12 am
»
Sluggo Plus
by
sanderson
5/27/2023, 3:23 pm
»
What Have You Picked From Your Garden Today
by OhioGardener 5/25/2023, 6:25 pm
»
Centpedes
by OhioGardener 5/25/2023, 6:19 pm
»
beneficial nematodes
by OhioGardener 5/24/2023, 9:18 pm
»
Senseless Banter...
by markqz 5/24/2023, 5:39 pm
»
Pre-Filling a 30" Raised Bed
by toledobend 5/24/2023, 1:10 pm
»
Happy Birthday!!
by
AtlantaMarie
5/24/2023, 7:03 am
»
Aphids & Their Predators
by MrBooker 5/24/2023, 6:01 am
»
Hello from Bobcaygeon, Ontario
by
Scorpio Rising
5/20/2023, 1:52 pm
»
Spring Flowers
by OhioGardener 5/18/2023, 6:23 pm
»
My Solar Dehydrator at Work
by
sanderson
5/18/2023, 3:10 pm
»
French Tarragon
by
sanderson
5/18/2023, 12:41 pm
»
Famous Gardening Quotes
by
sanderson
5/15/2023, 8:50 pm
»
Birds of the Garden
by
sanderson
5/15/2023, 8:49 pm
»
New Compost PIle, 2nd attempt
by Chuck d'Argy 5/13/2023, 11:43 am
»
Ohio Gardener's Greenhouse
by OhioGardener 5/11/2023, 6:44 pm
»
Asparagus
by
sanderson
5/11/2023, 4:11 pm
»
Plan needed for 4'x4' irrigation grid
by OhioGardener 5/11/2023, 12:47 pm
My tomato plants aren't thriving. Recently I noticed what looked like yellow spots all over the leaves, and I thought oh great, blight....but upon closer inspection saw they aren't spots, they're tiny, tiny holes. All of the leaves toward the bottom half of the plants are covered in holes.

To make matters worse, the leaves towards the top of the plants are all curled up tightly in corkscrew shapes.

I've been researching disease and insect problems for tomatoes and I think the holes might be caused by flea beetles, but I'm stumped on the twisting upper leaves. They don't look like the images I've seen caused by curly top disease.

They are producing some yellow flowers and each plant has 2-3 small green tomatoes in development. None of them have reached a height over 2 feet tall; they were planted on May 5. I'm in zone 5a.

Is it possible that more than one infestation can be going on here? Anyone have any experience with these symptoms? I haven't tried treating them with anything yet, but am open to non-organic remedies; I fear they're too "sick" for anything organic to work at this point.

Can I still save them?
Most times curled leaves on tomato plants means nothing more than the plants have been stressed. If the weather is too hot & dry, the leaves will curl to conserve moisture. If the soil got too dray, the leaves will curl for the same reason. If the plants have been dry, and suddenly got a lot of water, the leaves will curl. If this is the cause of the curled leaves, the plant will continue on its own.
If the leaves look similar to this picture, that is an indication of stress on the plant.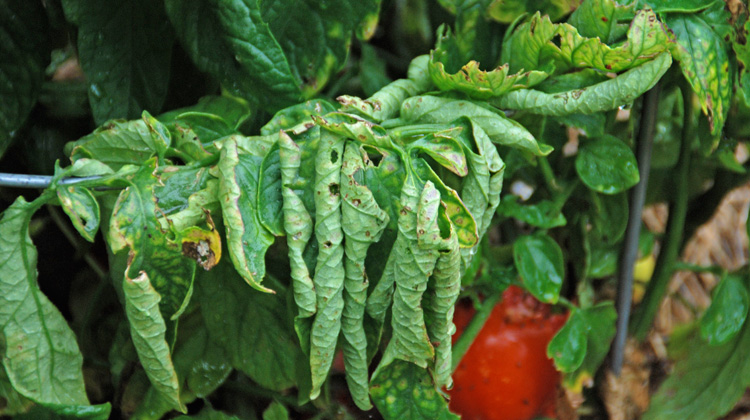 ____________________________
"In short, the soil food web feeds everything you eat and helps keep your favorite planet from getting too hot. Be nice to it."
~ Diane Miessler, "Grow Your Soil"

Yes could be more than one problem.  Corkscrew leaves on tomatoes can be from products used to kill weeds such as Roundup.  Have you or your neighbors sprayed any thing to get rid of weeds.

yolos




Posts

: 4152


Join date

: 2011-11-20


Age

: 73


Location

: Brooks, Ga Zone 7B/8A



Hi Wmom, if you are in Zone 5a and transplanted on May 5th, you might of planted them too early and sometimes tomato plants that are cold stressed never recover. I would recommend for next year getting a soil thermometer and waiting for a soil temperature of 60F before transplanting. Check with Cornell Extension for varieties that do well in your area. You may want to research season extending products and methods to give you a few more days for growing. Is it possible for you to upload a few pictures?

Dan in Ct




Posts

: 295


Join date

: 2014-08-10


Location

: Ct Zone 6A



Similar topics
---
Permissions in this forum:
You
cannot
reply to topics in this forum