Latest topics
»
Stevia
by markqz Yesterday at 12:11 pm
»
Mark's first SFG
by markqz Yesterday at 11:53 am
»
Beds not holding moisture?
by MrBooker 9/27/2023, 7:13 am
»
N&C Midwest September 2023
by
Scorpio Rising
9/27/2023, 6:55 am
»
Walking stick kale
by markqz 9/26/2023, 11:52 pm
»
Butternut squash sets world record at the State Fair of Virginia
by markqz 9/25/2023, 5:13 pm
»
Ohio Gardener's Greenhouse
by OhioGardener 9/25/2023, 4:29 pm
»
Closing beds for winter
by plantoid 9/25/2023, 4:25 pm
»
Famous Gardening Quotes
by OhioGardener 9/23/2023, 12:51 pm
»
Foodbank's composting program creates food from food
by OhioGardener 9/22/2023, 8:29 am
»
What Have You Picked From Your Garden Today
by OhioGardener 9/21/2023, 1:15 pm
»
Turning existing garden beds into SFG
by jemm 9/20/2023, 7:35 am
»
updating my mix - what should I add
by
sanderson
9/18/2023, 5:04 am
»
Senseless Banter...
by
sanderson
9/16/2023, 11:37 pm
»
Lumber and measuring for SFG boxes
by
sanderson
9/16/2023, 12:21 am
»
Avatar issues
by Guinevere 9/14/2023, 7:53 pm
»
Happy Birthday!!
by
sanderson
9/11/2023, 4:40 pm
»
When to harvest? / Watermelon seedlings
by
sanderson
9/9/2023, 6:07 pm
»
Hornets Nest
by
sanderson
9/8/2023, 8:15 pm
»
Tropical Storm Hilary
by jennyjo37 9/5/2023, 5:31 pm
»
A square foot garden in a round bed.
by alicej 9/4/2023, 3:39 am
»
Determinate Cherry Tomato for Greenhouse
by OhioGardener 9/2/2023, 6:52 pm
»
N&C Midwest August 2023
by
Scorpio Rising
8/31/2023, 9:01 am
»
Hurricane
by
Scorpio Rising
8/30/2023, 7:25 am
»
No-Fail Zucchini Bread
by OhioGardener 8/28/2023, 11:11 am
»
buying compost small town SW Pennsylvania
by
sanderson
8/27/2023, 6:41 pm
»
Phosphate
by
sanderson
8/27/2023, 3:43 pm
»
Topping brand new SFG box with more gorgeous compost???
by
sanderson
8/27/2023, 3:36 pm
»
8 Great Vegetables for Fall Planting
by
sanderson
8/27/2023, 2:58 pm
»
What are you eating from your garden today?
by OhioGardener 8/26/2023, 7:19 pm
This is my first year gardening and SFGing(?). As other newbies I am worried about pests. I have a a few basic questions. 

Is there a beneficial difference in using Tulle or mesh? Or are they same? 

Also, I have been reading a few posts about pests in the forum, and I've come across quite a few photos of gardens enclosed with coverings. I am curious though how those enclosures are pollinated? Especially cucumbers and other cucurbits? 

If I don't build an enclosure, rather use the floating covers, is there a time where they should be removed or used? For example, keep them on at night and off during the day? 

Thank you!

palmtree689




Posts

: 1


Join date

: 2020-06-11


Location

: zone 6



I use tulle.  We have bad Squash Vine Borers (SVB) and then after the fourth of July we get pickle worms.  On the cucurbit bed I try to use tulle.  Very small openings.  I do not know about mesh.  I have not learned much about the time of day that the plants are susceptible to the SVB but they say the pickle worm moth (which the baby worms bore into most cucurbits) lay their eggs in the late afternoon.  So you could leave uncovered during the day and then cover up in the afternoon.  What I have found the best solution that works is to plant parthenocarpic varieties that do not need pollinators.  Last year my varieties were Partenon zucchini and Picolino cucumbers.  They are both parthenocarpic and can remain under cover until ready to harvest.
Other things you can do is to time the planting.  In some areas of the US the SVB only have one generation during the summer.  So if you plant early or late you may avoid them altogether.  But here in Georgia we have at least two generations of SVB.  The only way to avoid them is to plant out extra early and continue to harvest until they die. Or you can plant parthenocarpic varieties or you can uncover every morning, hand pollinate and then recover them.
My Partenon Zucchini plants.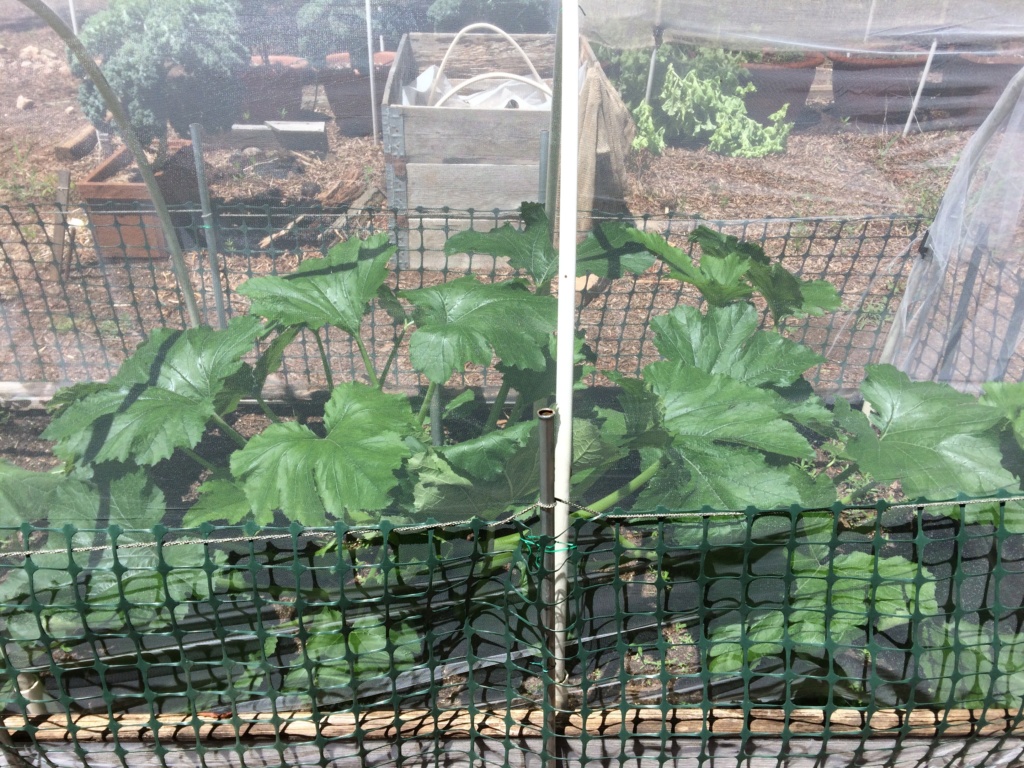 I do have other cucurbrits planted elsewhere and they are uncovered and will eventually die or the fruits will be bored into by the pickle worm.

yolos




Posts

: 4152


Join date

: 2011-11-20


Age

: 73


Location

: Brooks, Ga Zone 7B/8A



Hi Palmtree689. Welcome from another Georgian! Glad you've joined us.

Other photos you may have seen might be covered with some sort of plastic that the owner takes up & puts down daily to keep from frying their plants. You might look at Yolos's garden photos in the archives. And Sanderson's as well.

---
Permissions in this forum:
You
cannot
reply to topics in this forum