Latest topics
»
Mark's first SFG
by OhioGardener Today at 3:24 pm
»
What Have You Picked From Your Garden Today
by markqz Today at 2:56 pm
»
Kiwi's SFG Adventure
by KiwiSFGnewbie Yesterday at 10:25 pm
»
Hi from Western Australia
by OhioGardener Yesterday at 11:10 am
»
N & C Midwest: November/December 2023
by JAM23 12/8/2023, 6:49 pm
»
Strawberry Varieties?
by
sanderson
12/5/2023, 3:57 pm
»
Recommended store bought compost - Photos of composts
by
sanderson
12/4/2023, 1:27 pm
»
Jerusalem Artichoke or Sun Choke
by
Scorpio Rising
12/4/2023, 7:09 am
»
Strawberries in MM: to feed or not to feed?
by
sanderson
12/3/2023, 7:30 pm
»
Senseless Banter...
by
sanderson
11/28/2023, 10:31 pm
»
FREE Online SFG Class - November 28, 2023
by
sanderson
11/27/2023, 9:21 pm
»
Mini-Raised Beds?
by Chuck d'Argy 11/27/2023, 2:14 pm
»
Happy Birthday!!
by
sanderson
11/26/2023, 10:58 pm
»
Name the mystery (to me) seedlings! :-)
by Psdumas 11/25/2023, 12:04 am
»
Happy Thanksgiving from the USA
by
sanderson
11/23/2023, 1:47 pm
»
Guatemalan Green Ayote Squash
by OhioGardener 11/21/2023, 8:27 am
»
Seeds 'n Such Early Order Seeds
by
sanderson
11/20/2023, 1:13 pm
»
USDA Plant Hardiness Zone Map
by OhioGardener 11/19/2023, 7:12 am
»
AeroGarden for starting seeds?
by OhioGardener 11/16/2023, 12:40 pm
»
Biochar?
by OhioGardener 11/16/2023, 10:31 am
»
2023 - Updated U.S. Interactive Plant Hardiness Map
by
sanderson
11/15/2023, 6:18 pm
»
SFG Is Intensive Gardening
by
sanderson
11/14/2023, 3:26 pm
»
Teaming with Microbes Kindle Sale (Mem. Day weekend 2023)
by markqz 11/10/2023, 12:42 am
»
Bok Choy Hors d'oeuvres
by
donnainzone5
11/9/2023, 5:58 pm
»
Now is the Time to Start Preparing Next Year's Spring Garden
by OhioGardener 11/9/2023, 7:13 am
»
Shocking Reality: Is Urine the Ultimate Gardening Hack or Disaster?
by dstack 11/6/2023, 5:29 pm
»
Nightmare on Mel Street.
by
Scorpio Rising
11/4/2023, 6:37 pm
»
Aerogardening
by
Scorpio Rising
11/3/2023, 10:02 am
»
Sunday All Purpose Organic Garden Nutrients
by lisawallace88 11/3/2023, 9:13 am
»
Mid-summer seed sowing, how do you do it?
by KiwiSFGnewbie 11/2/2023, 8:04 pm
I'm thinking of putting together a hoop house similar to how Mel did in his book.  However, I cannot figure out what size 6mil plastic I should have.  I will be making a hoop house for 2 of my beds.  One is 4 x 8 and the other is 3 x 6.  I will buy the10ft 1/2" PVC (probably 3 hoops for each bed with a center brace) and conduit straps.  The hoops will attach to the outside of the beds.
What I'm having trouble with is figuring out what width and length of 6mil plastic I should have for each bed.  I know I need enough to drape off the ends and enough to be able to wrap close in the front and back.  Once the weather warms the hoop house will be removed for the summer garden and usage of the trellis and returned towards then end of the season to extend the season a bit mainly for the green veggies.
Any help or suggestions would be great.
Thanks
2015 Projected Layout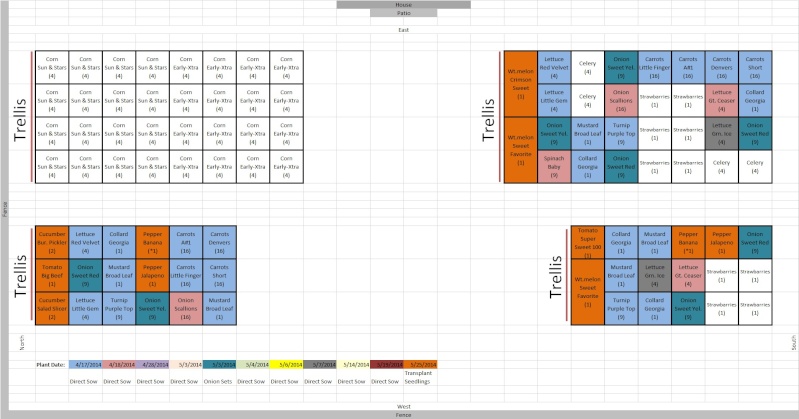 twodaend




Posts

: 66


Join date

: 2012-06-10


Age

: 44


Location

: Plainfield, IL



It depends on the length of the PVC that you end up using to make the hoop.
When I build mine on a 4' width bed, I have found that 10' makes the hoop too tall, so I normally use between about 7' instead.  If you use a 7 foot length hoop, you'll be able to buy the 9 foot wide plastic that is readily available at hardware stores.  Even ten foot width will work well -- that would give you a foot and a half on each side.

As far as length, again, it depends on how high the hoop will be.  With a 7 foot width, that will make the height of the hoop about 3 1/2 foot tall (on a four foot wide bed).  So, 8 + 3.5 + 3.5 = 15 feet long, and you'll want plenty of overlap on the sides, so add 2 feet to each side.

Basically, a 10' x 20' piece of plastic should cover a 4' x 8' hoop system.

PS -- I have also found that using only three braces makes the plastic sag between the middle and outside braces if there is any amount of wind or snow.  I would recommend four pieces for sure.

Hope that helps.

slimbolen99




Posts

: 185


Join date

: 2013-01-15


Location

: Shawnee, KS



---
Permissions in this forum:
You
cannot
reply to topics in this forum