Latest topics
»
My Own Fault, but haven completely confused myself
by
sanderson
Yesterday at 9:51 pm
»
N&C Midwest: March & April 2023
by JAM23 Yesterday at 7:02 pm
»
SFG in the 916? First Time MM "Build"...
by OhioGardener Yesterday at 6:45 pm
»
Think Spring 2023
by KiwiSFGnewbie Yesterday at 3:42 pm
»
New study finds plants 'scream' when stressed or injured
by OhioGardener Yesterday at 9:23 am
»
Attracting Beneficial Insects Such As The Aphidius Wasp
by dstack Yesterday at 7:05 am
»
So. California & Inland Valleys -March / April Planting Guide
by
sanderson
3/30/2023, 4:45 pm
»
April: What to plant in No. California/Central Valley area
by
sanderson
3/30/2023, 4:41 pm
»
Planting Seed Potatoes vs Store bought potatoes.
by markqz 3/29/2023, 11:49 pm
»
Happy Birthday!!
by
AtlantaMarie
3/29/2023, 6:51 am
»
Bunk Feeder for Bed
by Lizlo_FL 3/28/2023, 6:27 pm
»
Weird spots on tomato leaves seedlings
by Mattlund 3/28/2023, 4:56 pm
»
soil block makers
by OhioGardener 3/28/2023, 1:27 pm
»
Greenhouse - Helpful Hints in Setting up a Wood-Framed Greenhouse
by sunflowersarefun 3/28/2023, 1:13 pm
»
Sourdough Starter
by
Scorpio Rising
3/28/2023, 9:03 am
»
Hurricane
by yolos 3/27/2023, 10:27 pm
»
Winter Lag - Waiting for Sprimg
by WhiteWolf22 3/27/2023, 12:39 am
»
Kiwi's SFG Adventure
by
sanderson
3/25/2023, 10:11 pm
»
Mixing Mel's Mix
by
sanderson
3/25/2023, 4:08 pm
»
Hi from Northern VA!
by onebirdiema 3/25/2023, 4:06 pm
»
Sifted Peat
by
sanderson
3/25/2023, 3:40 pm
»
Can I Use this As My 5 Sources of Compost?
by
sanderson
3/25/2023, 3:36 pm
»
Green onions
by OhioGardener 3/25/2023, 8:28 am
»
Nero Di Toscana Cabbage or Black Palm Tree
by Paul Crowe 3/25/2023, 6:01 am
»
Chinese Cabbage and Radicchio, spacing?
by Paul Crowe 3/25/2023, 5:40 am
»
finished my SGF garden
by
sanderson
3/25/2023, 3:49 am
»
need specific advice on MM
by
sanderson
3/25/2023, 3:42 am
»
Compost from Five Different Sources
by
sanderson
3/25/2023, 3:32 am
»
Indoor seed starting question
by Simso 3/24/2023, 8:30 pm
»
Senseless Banter...
by OhioGardener 3/22/2023, 8:11 pm
I'm not a very good "experimenter" and record keeper, so sorry for the lack of supplemental data on this, but I thought it was interesting.
I got a compost tumbler for Christmas and about in January I put it together and threw some stuff in it just for fun.  I just cleaned it out a couple weeks ago.  So, about a 5 month process?  Obviously not done "by the book", I just kind of threw some stuff together and it was very cold and the "mass" in the compost tumbler is small, so it just kind of sat there really for some of that time.  I digress, anyway, I dumped it out and the material was very black and wet.  I dumped it and then moved into a pile to let it set and dry out.  The material is still very wet, it's almost gummy feeling.  I can't remember what I used as the base materials for this batch.  I was checking on it last night and I took a couple scoops of my finished and screened compost and dumped it next to it to get a visual comparison.  
On the left is the stuff from the tumbler, on the right is from a regular pile process.  I know the stuff on the right has leaves, horse manure, coffee grounds, and misc kitchen waste.  I know the stuff on the left (from tumbler) does not have manure, does have coffee and kitchen waste, wish I could remember what the primary "brown" was.  Anyway, I thought the difference in color was pretty neat.  Don't know what it means, but kind of neat.
The "holding moisture" has me concerned a little.  We had a very wet May and have had recent rains and my piles set out exposed, so I can see where it hasn't had a real good chance to dry out yet, BUT the finished brown stuff on the right has been sitting out in the same "environment" and it's nowhere near as wet.
Anyway, anybody else come up with vast color and texture differences in their composting? 
O.K.  The reason I cleaned out the tumbler was so I could get a new batch started and hopefully started correctly.  I'm using shredded PAPER, there I documented it.  PAPER is the "brown" in this batch with coffee grounds and kitchen waste as primary "green".  I also added a little bit of rabbit poop because I was a little short on "greens".  I came up with needing 2:1 ratio of paper to coffee-kitchen waste mix, puts me at about "30" on the calcualtor about "29" or so..  Bin hold about 18 gallons,  I put 12 gallons paper, 6 gallons "green", and added some compost starter.  
Anyway, we'll see how it turns out.  So far, not heating up very well.  I think I need a little more green.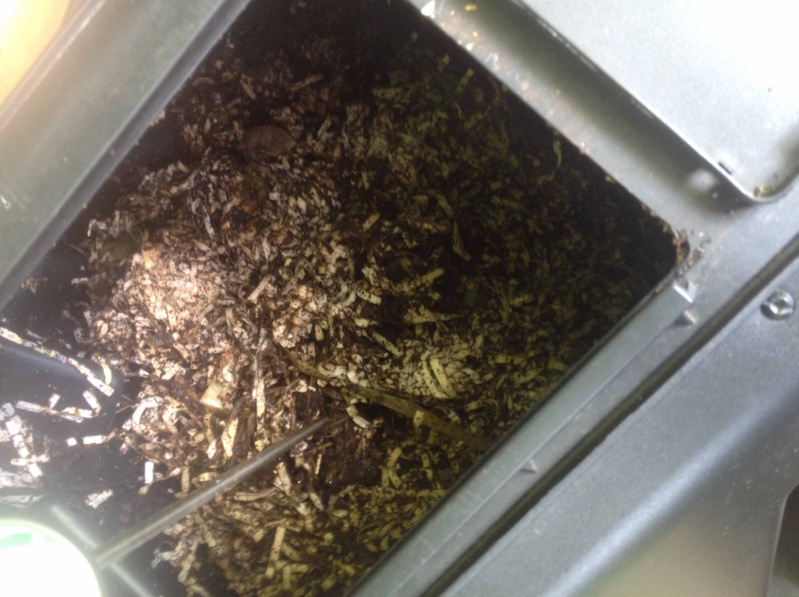 Zmoore




Posts

: 225


Join date

: 2015-04-14


Location

: Virginia Zone 7a



I'm going to make the wildest guess. Some organism has created a gummy mess, maybe anaerobic? If it doesn't smell bad anymore, then the anaerobic organisms have passed, but the slime-gummy was left behind. Pure guess. The tumbler will not heat up anywhere near what a large pile can. The critical mass syndrome. But giving it a twirl every day should help keep things broken apart. Some day I will have to use a bin, so I expect you to work out the bugs on this process!
This was my 4th season using a tumbler. I consider it sort of a winter toy.
I'll start filling when things in my yard are don't, that's around December.
This past season was my finest somewhat finished compost and that was because it was the fullest of all the years.
Here are my findings, right or wrong, I'll probably stay with them.
A full tumbler will complete in time, much longer than my piles, however, will finally finish, I always transfer mine to main piles in spring.
Should tumble frequently so items don't get bogged up together. If a clump has banded together, and not frozen, prod with a tool and tumble, material must be loose and airy.
Above all else, keep from getting soaked.( not enough ventilation to dry ) if get wet, add browns till moisture is absorbed..Getting soggy can occur over time using kitchen scraps. I keep straw, newspaper and various cardboard material around just for this.
Keeping the tumbler out of the weather is a great help, no extra moisture will run in. Usually enough moisture is provided in the greens added.
Leave some material in from last batch, helps new material start.
Tumble slowly and feel material churning inside. I know of folk trying to spin it like those spinning on the price is right tv game show.
As I mentioned before, to me a tumbler's a toy, some consider it a tool, which it really is. It will warm up, not nearly as a pile does.  It will freeze solid in winter, I just keep adding then..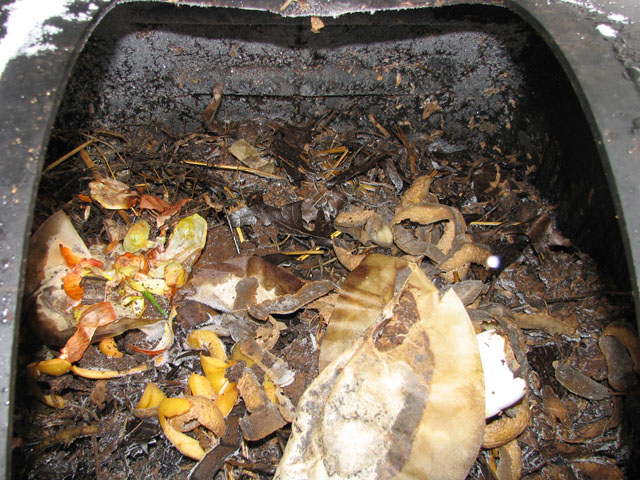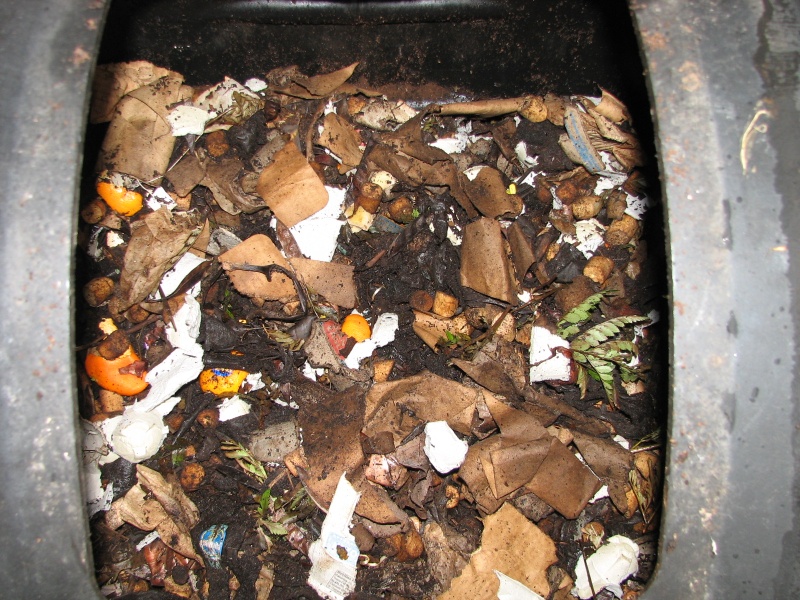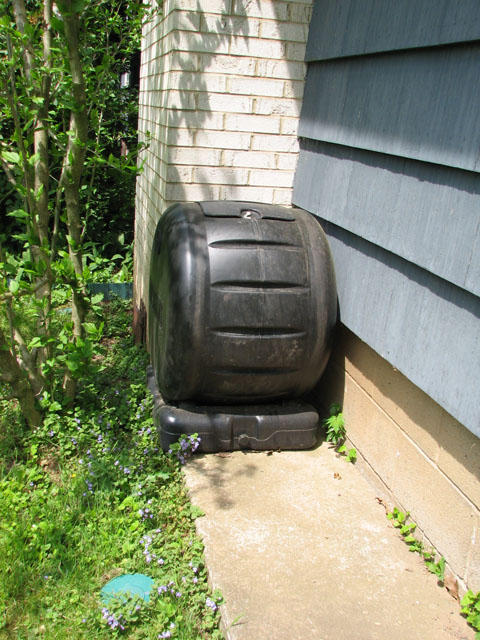 If I think of more I will add later.

jimmy cee


Certified SFG Instructor




Posts

: 2215


Join date

: 2013-02-16


Age

: 87


Location

: Hatfield PA. zone 6b



Jimmy, can you post this in a separate thread. These are helpful tips for using a tumbler.
sanderson wrote:Jimmy, can you post this in a separate thread.  These are helpful tips for using a tumbler.
done

jimmy cee


Certified SFG Instructor




Posts

: 2215


Join date

: 2013-02-16


Age

: 87


Location

: Hatfield PA. zone 6b



---
Permissions in this forum:
You
cannot
reply to topics in this forum