Latest topics
»
Strawberries in MM: to feed or not to feed?
by KiwiSFGnewbie Today at 6:26 pm
»
Mark's first SFG
by OhioGardener Today at 6:04 pm
»
Strawberry Varieties?
by
Scorpio Rising
Yesterday at 7:47 am
»
What Have You Picked From Your Garden Today
by OhioGardener 11/29/2023, 5:36 am
»
Senseless Banter...
by
sanderson
11/28/2023, 10:31 pm
»
N & C Midwest: November/December 2023
by
sanderson
11/27/2023, 9:23 pm
»
FREE Online SFG Class - November 28, 2023
by
sanderson
11/27/2023, 9:21 pm
»
Mini-Raised Beds?
by Chuck d'Argy 11/27/2023, 2:14 pm
»
Happy Birthday!!
by
sanderson
11/26/2023, 10:58 pm
»
Name the mystery (to me) seedlings! :-)
by Psdumas 11/25/2023, 12:04 am
»
Happy Thanksgiving from the USA
by
sanderson
11/23/2023, 1:47 pm
»
Guatemalan Green Ayote Squash
by OhioGardener 11/21/2023, 8:27 am
»
Kiwi's SFG Adventure
by
sanderson
11/20/2023, 2:06 pm
»
Seeds 'n Such Early Order Seeds
by
sanderson
11/20/2023, 1:13 pm
»
USDA Plant Hardiness Zone Map
by OhioGardener 11/19/2023, 7:12 am
»
AeroGarden for starting seeds?
by OhioGardener 11/16/2023, 12:40 pm
»
Biochar?
by OhioGardener 11/16/2023, 10:31 am
»
2023 - Updated U.S. Interactive Plant Hardiness Map
by
sanderson
11/15/2023, 6:18 pm
»
SFG Is Intensive Gardening
by
sanderson
11/14/2023, 3:26 pm
»
Teaming with Microbes Kindle Sale (Mem. Day weekend 2023)
by markqz 11/10/2023, 12:42 am
»
Bok Choy Hors d'oeuvres
by
donnainzone5
11/9/2023, 5:58 pm
»
Now is the Time to Start Preparing Next Year's Spring Garden
by OhioGardener 11/9/2023, 7:13 am
»
Shocking Reality: Is Urine the Ultimate Gardening Hack or Disaster?
by dstack 11/6/2023, 5:29 pm
»
Nightmare on Mel Street.
by
Scorpio Rising
11/4/2023, 6:37 pm
»
Aerogardening
by
Scorpio Rising
11/3/2023, 10:02 am
»
Sunday All Purpose Organic Garden Nutrients
by lisawallace88 11/3/2023, 9:13 am
»
Mid-summer seed sowing, how do you do it?
by KiwiSFGnewbie 11/2/2023, 8:04 pm
»
N&C Midwest October 2023
by OhioGardener 11/1/2023, 8:49 am
»
Fall Tree Colors
by
Scorpio Rising
10/31/2023, 1:48 pm
»
Freeze Dried Food
by lisawallace88 10/30/2023, 11:28 am
I am sure you all are experiencing unusually hot weather this week.  This is our 3rd day of too much too soon.  Today its 86F at 9am and will reach 91 they tell us.  Yesterday it reached 95 in the afternoon.  Luckily my raised bed is beside a flowing river and we get breezes even in theat so that helps a little.
I thought to put up shade cloth (bleached white muslin fabric) clipped to bamboo ploles at strategic spots in my bed.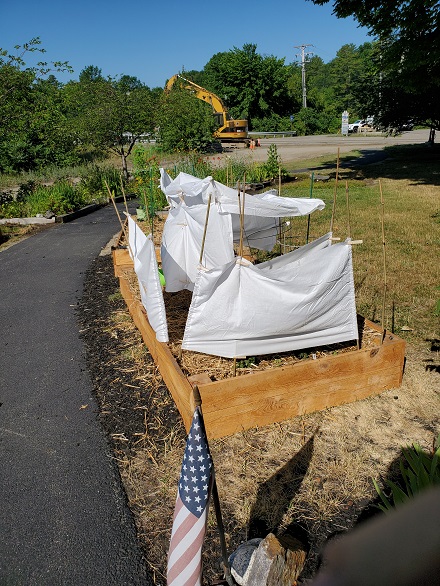 As you can tell the river's breeze is billowing my fabric but still, I am shading important areas like the greens and also the young tomatoes against too much heat too soon.
Luckily our temps drop at night here to the low 70s and high 60s so the added protection may not be necessary, but I want to be sure.
Is anyone else taking steps against this heat?
Last edited by quiltbea42 on 6/29/2021, 9:37 am; edited 1 time in total (Reason for editing : spelling error)

quiltbea42




Posts

: 8


Join date

: 2021-06-25


Location

: Southwestern Maine USA



Here in SW Ohio we have a hot, dry period every year from late June through July. Daytime temps in the 90's with nighttime temps in the high 70's is common, so there are no cool weather crops during that time. But other plants continue performing throughout the heat wave with heavy mulch over the soil and drip irrigation between the soil and the mulch. The only plants that we have to "protect" to some extent are the tomatoes. If the tomato fruit is not shaded it will get sun scald, so I sometimes hang some shade cloth on the south & west sides of the tomato cages to shade the fruit. The beans, squash, cucumbers, carrots, beets, kale, and chard love the heat, so they are no problem. The onions tend to get strong during the heat, though.  I did find 4 Black Swallowtail cats on the carrots this morning, though....
____________________________
"In short, the soil food web feeds everything you eat and helps keep your favorite planet from getting too hot. Be nice to it."
~ Diane Miessler, "Grow Your Soil"

We're getting Arizona heat here in southern Illinois today. Supposed to cool down a little by Sunday.
We live just across the river from St. Louis.
| | |
| --- | --- |
| Humidity | 64% |
| Wind Speed | W 7 mph |
| Barometer | 30.02 in (1016.1 mb) |
| Dewpoint | 78°F (26°C) |
| Visibility | 10.00 mi |
| Heat Index | 108°F (42°C) |
| Last update | 29 Jul 11:53 am CD |

MrBooker




Posts

: 725


Join date

: 2016-03-19


Age

: 77


Location

: 62260



That humidity!!  
 More like Arizona during a monsoon.
Fresno, CA: 102*F right now, only 22% humidity, 6 mph breeze.
Similar topics
---
Permissions in this forum:
You
cannot
reply to topics in this forum