Latest topics
»
N & C Midwest: November/December 2023
by
Scorpio Rising
Today at 4:35 pm
»
Strawberry Varieties?
by
sanderson
12/5/2023, 3:57 pm
»
Recommended store bought compost - Photos of composts
by
sanderson
12/4/2023, 1:27 pm
»
Jerusalem Artichoke or Sun Choke
by
Scorpio Rising
12/4/2023, 7:09 am
»
Mark's first SFG
by
sanderson
12/3/2023, 7:33 pm
»
Strawberries in MM: to feed or not to feed?
by
sanderson
12/3/2023, 7:30 pm
»
What Have You Picked From Your Garden Today
by OhioGardener 11/29/2023, 5:36 am
»
Senseless Banter...
by
sanderson
11/28/2023, 10:31 pm
»
FREE Online SFG Class - November 28, 2023
by
sanderson
11/27/2023, 9:21 pm
»
Mini-Raised Beds?
by Chuck d'Argy 11/27/2023, 2:14 pm
»
Happy Birthday!!
by
sanderson
11/26/2023, 10:58 pm
»
Name the mystery (to me) seedlings! :-)
by Psdumas 11/25/2023, 12:04 am
»
Happy Thanksgiving from the USA
by
sanderson
11/23/2023, 1:47 pm
»
Guatemalan Green Ayote Squash
by OhioGardener 11/21/2023, 8:27 am
»
Kiwi's SFG Adventure
by
sanderson
11/20/2023, 2:06 pm
»
Seeds 'n Such Early Order Seeds
by
sanderson
11/20/2023, 1:13 pm
»
USDA Plant Hardiness Zone Map
by OhioGardener 11/19/2023, 7:12 am
»
AeroGarden for starting seeds?
by OhioGardener 11/16/2023, 12:40 pm
»
Biochar?
by OhioGardener 11/16/2023, 10:31 am
»
2023 - Updated U.S. Interactive Plant Hardiness Map
by
sanderson
11/15/2023, 6:18 pm
»
SFG Is Intensive Gardening
by
sanderson
11/14/2023, 3:26 pm
»
Teaming with Microbes Kindle Sale (Mem. Day weekend 2023)
by markqz 11/10/2023, 12:42 am
»
Bok Choy Hors d'oeuvres
by
donnainzone5
11/9/2023, 5:58 pm
»
Now is the Time to Start Preparing Next Year's Spring Garden
by OhioGardener 11/9/2023, 7:13 am
»
Shocking Reality: Is Urine the Ultimate Gardening Hack or Disaster?
by dstack 11/6/2023, 5:29 pm
»
Nightmare on Mel Street.
by
Scorpio Rising
11/4/2023, 6:37 pm
»
Aerogardening
by
Scorpio Rising
11/3/2023, 10:02 am
»
Sunday All Purpose Organic Garden Nutrients
by lisawallace88 11/3/2023, 9:13 am
»
Mid-summer seed sowing, how do you do it?
by KiwiSFGnewbie 11/2/2023, 8:04 pm
»
N&C Midwest October 2023
by OhioGardener 11/1/2023, 8:49 am
Hello, These 5 little plants are puzzling me. I'm pretty sure I didn't plant them, I'm getting older but I don't think I'm suffering from that, that....oh darn what you call it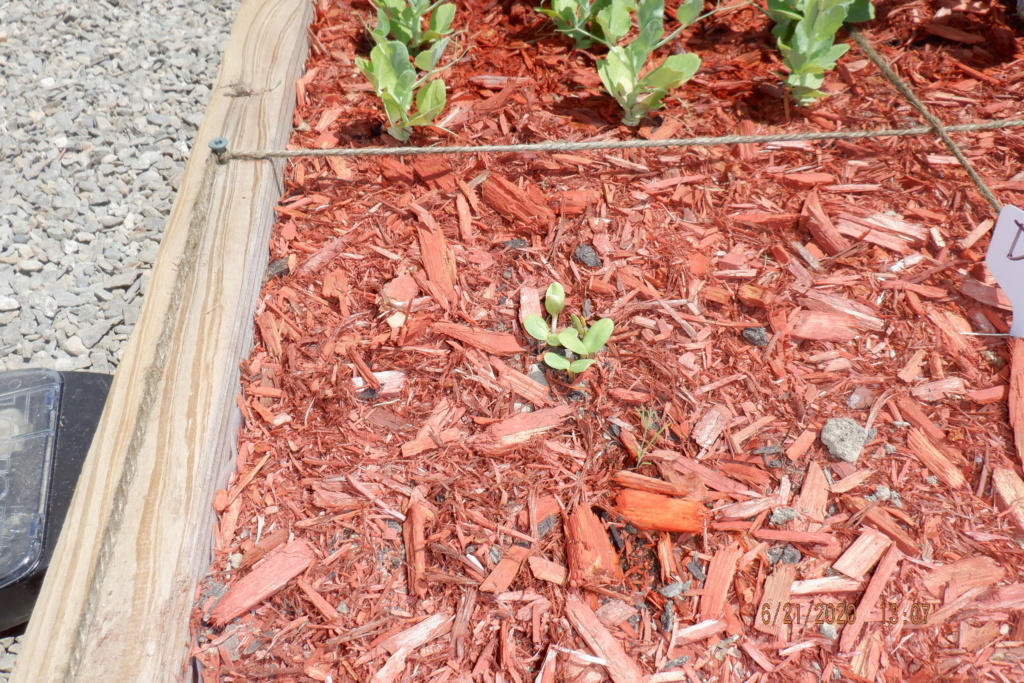 Anyway I don't think they are just common weeds, something too precise. 
I speculate my helper is a fuzzy little one of gods creatures about 6inch long 2inch tall with a cousin Alvin in Hollywood. We have LOTS of these little guys running around and they can just walk straight through our deer/rabbit fence. 
I think he must have buried them before the mulch since it was never disrupted.  Wish my Dill was doing as good as these...maybe sunflowers? That's my guess since we indulge the birds visiting the feeders.
There is another group of these popping up in another Square Foot. It would be interesting to see what they grow into. And there is nothing extraneous in the elevated bed. 
Wow gardening is a great learning adventure.
OC
PS who ordered this mid summer hell weather? We are not supposed to be 90+ and humid, that's Mid Atlantic nonsense!!!

OldCrow




Posts

: 45


Join date

: 2020-05-09


Location

: Mid Coast Maine 5a



Those could be Sunflower, but it is hard to tell at that stage.  We have sunflower coming up everywhere because of the birds. The Bluejays and Woodpeckers grab sunflower seeds out of the feeder and fly off to a tree or a post to crack open the seed. Quite often they end up dropping the seed, and having to back to feeder to get another one. Then we'll have a sunflower growing there.

Our Dill is over 3' tall already.

We are also suffering from that high heat and humidity, without any rain. Right now it is 93°F, with a heat index of 98°F, and the humidity is miserable.  Every morning they say we are going to have spotty showers or thunderstorms, but they never happen.  If it weren't for the drip irrigation on the beds, we wouldn't have any vegetables left.
____________________________
"In short, the soil food web feeds everything you eat and helps keep your favorite planet from getting too hot. Be nice to it."
~ Diane Miessler, "Grow Your Soil"

3ft! holy cow, you can hardly see my Dill. Heck I got excited because it just got true leaves or what ever you call a Dill plant's main stuff
I stand corrected by that "Mid Atlantic" heat stuff. I should know better I rode a bicycle ride in IOWA, RAGBRAI, several years ago in the end of July. Yes the midwest get HOT. 
I'm doing nothing but hand watering. The last rain we had was 1/2inch on June 11th and next predicted Jun 26/27. I've ordered a Drip irrigation setup but still waiting. 
I think I'll thin those "sunflowers" and see what happens. I'll post a picture when the true leave come out. 
OC

OldCrow




Posts

: 45


Join date

: 2020-05-09


Location

: Mid Coast Maine 5a



Did you ever figure out what your seedlings were?  
And if they survived -- that is if your little garden helper didn't re-discover them as a nice salad--  what do they look like now?

Nicola




Posts

: 220


Join date

: 2010-05-19


Location

: Central CT Zone 6a



Similar topics
---
Permissions in this forum:
You
cannot
reply to topics in this forum