Latest topics
»
N&C Midwest: June 2023
by OhioGardener Today at 10:33 am
»
Tea Time -- Compost Tea, that is
by OhioGardener Yesterday at 7:07 pm
»
Hello from Central Missouri, Zone 6a
by
Scorpio Rising
Yesterday at 3:48 pm
»
N&C Midwest: May 2023
by OhioGardener 6/1/2023, 8:55 pm
»
Kiwi's SFG Adventure
by KiwiSFGnewbie 5/31/2023, 4:32 pm
»
Walking stick kale
by
sanderson
5/31/2023, 1:38 pm
»
Why Letting Weeds Run Wild Can Actually Help Your Garden
by
sanderson
5/30/2023, 2:35 pm
»
What are you eating from your garden today?
by OhioGardener 5/30/2023, 12:11 pm
»
Teaming with Microbes Kindle Sale (Mem. Day weekend 2023)
by
sanderson
5/29/2023, 3:14 pm
»
Mid-Atlantic New Host Intro & Info
by JAM23 5/29/2023, 8:38 am
»
Paul's First SFGs
by pkadare 5/28/2023, 11:06 am
»
Poppy seeds - Hungarian Blue Breadseed
by
AtlantaMarie
5/28/2023, 6:12 am
»
Sluggo Plus
by
sanderson
5/27/2023, 3:23 pm
»
What Have You Picked From Your Garden Today
by OhioGardener 5/25/2023, 6:25 pm
»
Centpedes
by OhioGardener 5/25/2023, 6:19 pm
»
beneficial nematodes
by OhioGardener 5/24/2023, 9:18 pm
»
Senseless Banter...
by markqz 5/24/2023, 5:39 pm
»
Pre-Filling a 30" Raised Bed
by toledobend 5/24/2023, 1:10 pm
»
Happy Birthday!!
by
AtlantaMarie
5/24/2023, 7:03 am
»
Aphids & Their Predators
by MrBooker 5/24/2023, 6:01 am
»
Hello from Bobcaygeon, Ontario
by
Scorpio Rising
5/20/2023, 1:52 pm
»
Spring Flowers
by OhioGardener 5/18/2023, 6:23 pm
»
My Solar Dehydrator at Work
by
sanderson
5/18/2023, 3:10 pm
»
French Tarragon
by
sanderson
5/18/2023, 12:41 pm
»
Famous Gardening Quotes
by
sanderson
5/15/2023, 8:50 pm
»
Birds of the Garden
by
sanderson
5/15/2023, 8:49 pm
»
New Compost PIle, 2nd attempt
by Chuck d'Argy 5/13/2023, 11:43 am
»
Ohio Gardener's Greenhouse
by OhioGardener 5/11/2023, 6:44 pm
»
Asparagus
by
sanderson
5/11/2023, 4:11 pm
»
Plan needed for 4'x4' irrigation grid
by OhioGardener 5/11/2023, 12:47 pm
+6
CitizenKate
CapeCoddess
trolleydriver
sanderson
Scorpio Rising
BeetlesPerSqFt
10 posters
Page 5 of 5 •
1, 2, 3, 4, 5
Wow. I haven't been keeping up with my thread!

I already got frost, early, twice, but it hit the garden patchily, so there has still been some summer veg happening. There is frost forecast for tonight, so I've covered the porch peppers with fabric, threw a plastic tub over the Vietnamese coriander, and tried to harvest the remaining tomatoes, peppers, eggplants, tomatillos, okra, and ground cherries.

I saw a shy little salamander in my garden! But it was back by the Jerusalem artichokes - where I will soon by digging everything up. I hope it will be ok. 

I pulled some of the leeks and put them in wet peat in a bucket in the garage. They aren't overwintering types (Dawn Giant and King Richard), and they were in the garlic-bed-to-be. I think I'll actually get the garlic in on time this year!

I got my lettuce seedlings transplanted, but not my beet seedlings. Not much time left before the Persephone days... I just haven't been on top of things for fall/winter this time round.

I also, inspired by Scorpio Rising's cleanup post, have been trying to clean my garden up. Weeding, pulling the dead vines, topping off the beds. It looks a lot better, but still plenty to do.

I'm working on my garden plan for next year. The collards are getting bumped to the OSFG next year. I love them, but they are ending up wider than 2ft, so the planned 1 per square isn't working. Plus their height is awkward for my current covers to keep the cabbage butterflies out. Now that the back flowerbed has been cleared up I can get a photo of my 4x4 mostly covered by tulle, but with a collard and two Brussels sprout plants flopped out the back side.

BeetlesPerSqFt




Posts

: 1439


Join date

: 2016-04-11


Location

: Port Matilda, PA Zone 5b/6a LF:5/11-FF:10/10



You two are inspirational workers
I've transplanted 2/3rds of my seedlings (lettuces, beets, turnips, napa cabbage, bok choy, tatsoi, and kohlrabi.)
I also harvested my celeriac. I can see that I should have watered the celeriac more (they are smaller than they could be), but I got more than enough. I'm trying to decide how to, and how much of, the stems/leaves to preserve. Looks like blanching+freezing, and blanching + dehydrating are both options.
Here's my covered bed with an upright Brussel sprout, tilted collard, and flopped Brussel sprout sticking out the back side because they wouldn't fit inside.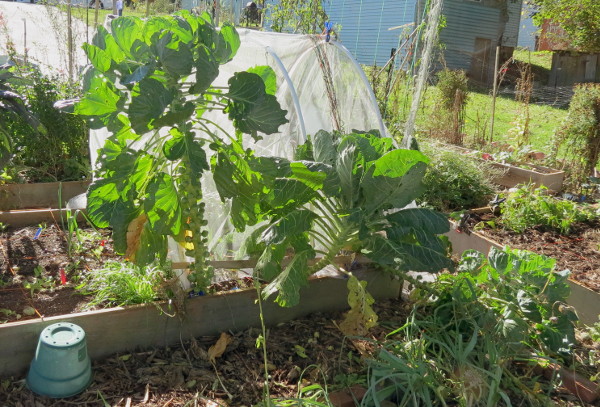 BeetlesPerSqFt




Posts

: 1439


Join date

: 2016-04-11


Location

: Port Matilda, PA Zone 5b/6a LF:5/11-FF:10/10



Page 5 of 5 •
1, 2, 3, 4, 5
---
Permissions in this forum:
You
cannot
reply to topics in this forum