Latest topics
»
So. California & Inland Valleys -March / April Planting Guide
by
sanderson
Yesterday at 4:45 pm
»
April: What to plant in No. California/Central Valley area
by
sanderson
Yesterday at 4:41 pm
»
Think Spring 2023
by
sanderson
Yesterday at 4:36 pm
»
SFG in the 916? First Time MM "Build"...
by Irrig8The916 Yesterday at 11:03 am
»
Planting Seed Potatoes vs Store bought potatoes.
by markqz 3/29/2023, 11:49 pm
»
Attracting Beneficial Insects Such As The Aphidius Wasp
by dstack 3/29/2023, 6:17 pm
»
Happy Birthday!!
by
AtlantaMarie
3/29/2023, 6:51 am
»
Bunk Feeder for Bed
by Lizlo_FL 3/28/2023, 6:27 pm
»
Weird spots on tomato leaves seedlings
by Mattlund 3/28/2023, 4:56 pm
»
soil block makers
by OhioGardener 3/28/2023, 1:27 pm
»
Greenhouse - Helpful Hints in Setting up a Wood-Framed Greenhouse
by sunflowersarefun 3/28/2023, 1:13 pm
»
Sourdough Starter
by
Scorpio Rising
3/28/2023, 9:03 am
»
Hurricane
by yolos 3/27/2023, 10:27 pm
»
Winter Lag - Waiting for Sprimg
by WhiteWolf22 3/27/2023, 12:39 am
»
N&C Midwest: March & April 2023
by OhioGardener 3/26/2023, 3:48 pm
»
Kiwi's SFG Adventure
by
sanderson
3/25/2023, 10:11 pm
»
Mixing Mel's Mix
by
sanderson
3/25/2023, 4:08 pm
»
Hi from Northern VA!
by onebirdiema 3/25/2023, 4:06 pm
»
Sifted Peat
by
sanderson
3/25/2023, 3:40 pm
»
Can I Use this As My 5 Sources of Compost?
by
sanderson
3/25/2023, 3:36 pm
»
Green onions
by OhioGardener 3/25/2023, 8:28 am
»
Nero Di Toscana Cabbage or Black Palm Tree
by Paul Crowe 3/25/2023, 6:01 am
»
Chinese Cabbage and Radicchio, spacing?
by Paul Crowe 3/25/2023, 5:40 am
»
finished my SGF garden
by
sanderson
3/25/2023, 3:49 am
»
need specific advice on MM
by
sanderson
3/25/2023, 3:42 am
»
Compost from Five Different Sources
by
sanderson
3/25/2023, 3:32 am
»
Indoor seed starting question
by Simso 3/24/2023, 8:30 pm
»
Senseless Banter...
by OhioGardener 3/22/2023, 8:11 pm
»
After harvest, leave the roots in or remove
by Mikesgardn 3/22/2023, 7:53 pm
»
Best choice of pot to plant my seedling
by markqz 3/22/2023, 1:30 pm
This year was full of surprises, both with the weather and unseen other obligations.  I got my spring garden started a little late, but seems to be doing ok.  4 of my store bought broccoli bolted way early and I am now down to 2, which I am keeping a close eye on.  Radishes are being harvested and sugar snap peas are starting to climb the trellis.  Carrots are coming up, bush beans are growing fast and beets are looking good!  Spinach and red romaine are making an appearance but I don't hold out too much home with the warmer weather coming fast.  I was finally able to get my Mel's Mix - bought from Veteran Compost - Justen is awesome there and delivered it for much less than it would have cost us to go pick it up - with gas and tolls.  We will be setting up our 'summer' beds this weekend, along with our pots.  Going to try brussel sprouts in a container - my neighbor gave me 9 plants - just to see how that goes. So far, my crowning glory are my herb pots - Was at our local May Market and a Master Gardner demonstrated how to put them together and use a PVC pipe with holes in the middle for watering... LOVE THEM!  See pics below!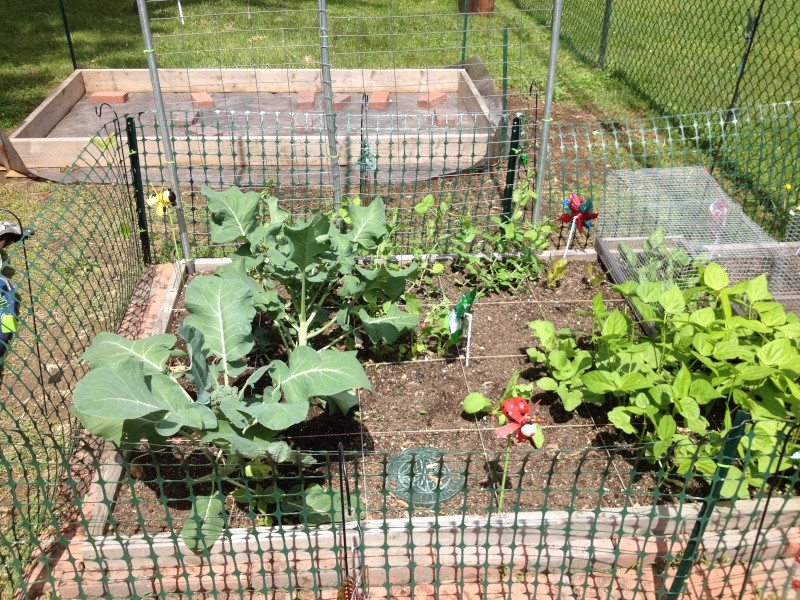 kristinz




Posts

: 67


Join date

: 2012-04-27


Age

: 48


Location

: New Castle, DE ~ Zone 7a ~



everything looks lovely, Kristen. For getting a late start it sure looks established. Now what's this about the PVC pipe with holes for the pot? How big are the holes and how far apart are they? Does a PVC pipe stick up so you can pour water down into it? how big a pipe and how much area will it cover? would 1 pipe cover a 1 foot square area? could a few pipes with holes be placed around trees?

CC

CapeCoddess




Posts

: 6824


Join date

: 2012-05-20


Age

: 67


Location

: elbow of the Cape, MA, Zone 6b/7a



CC, your garden looks great!  As for a late start... well, I'm still planting things almost every week.  Is it ever too late?

giant_trainer




Posts

: 56


Join date

: 2013-01-23


Age

: 68


Location

: Memphis, TN



Late? I still have 1/2 my boxes to plant!

Goosegirl




Posts

: 3435


Join date

: 2011-02-16


Age

: 58


Location

: Zone 4A - NE SD



Kristin, The pots are just lovely.  
Goosegirl wrote:Late? I still have 1/2 my boxes to plant!
Me too! I haven't been in any hurry to plant or seed squash, cukes, malabar spinach, or beans yet, as we're just starting to get nights consistently in the 50's.
kristinz, I'll be interested to hear how you do with your container brussels sprouts. I've been growing some that I planted last fall, and while they've always looked very healthy and beautiful, I've yet to see even a hint of a sprout on them even after something like seven months. Perhaps you'll be able to discover something and pass it along!

Marc Iverson




Posts

: 3638


Join date

: 2013-07-05


Age

: 61


Location

: SW Oregon



Similar topics
---
Permissions in this forum:
You
cannot
reply to topics in this forum