Latest topics
»
N&C Midwest: June 2023
by OhioGardener Today at 10:33 am
»
Tea Time -- Compost Tea, that is
by OhioGardener Yesterday at 7:07 pm
»
Hello from Central Missouri, Zone 6a
by
Scorpio Rising
Yesterday at 3:48 pm
»
N&C Midwest: May 2023
by OhioGardener 6/1/2023, 8:55 pm
»
Kiwi's SFG Adventure
by KiwiSFGnewbie 5/31/2023, 4:32 pm
»
Walking stick kale
by
sanderson
5/31/2023, 1:38 pm
»
Why Letting Weeds Run Wild Can Actually Help Your Garden
by
sanderson
5/30/2023, 2:35 pm
»
What are you eating from your garden today?
by OhioGardener 5/30/2023, 12:11 pm
»
Teaming with Microbes Kindle Sale (Mem. Day weekend 2023)
by
sanderson
5/29/2023, 3:14 pm
»
Mid-Atlantic New Host Intro & Info
by JAM23 5/29/2023, 8:38 am
»
Paul's First SFGs
by pkadare 5/28/2023, 11:06 am
»
Poppy seeds - Hungarian Blue Breadseed
by
AtlantaMarie
5/28/2023, 6:12 am
»
Sluggo Plus
by
sanderson
5/27/2023, 3:23 pm
»
What Have You Picked From Your Garden Today
by OhioGardener 5/25/2023, 6:25 pm
»
Centpedes
by OhioGardener 5/25/2023, 6:19 pm
»
beneficial nematodes
by OhioGardener 5/24/2023, 9:18 pm
»
Senseless Banter...
by markqz 5/24/2023, 5:39 pm
»
Pre-Filling a 30" Raised Bed
by toledobend 5/24/2023, 1:10 pm
»
Happy Birthday!!
by
AtlantaMarie
5/24/2023, 7:03 am
»
Aphids & Their Predators
by MrBooker 5/24/2023, 6:01 am
»
Hello from Bobcaygeon, Ontario
by
Scorpio Rising
5/20/2023, 1:52 pm
»
Spring Flowers
by OhioGardener 5/18/2023, 6:23 pm
»
My Solar Dehydrator at Work
by
sanderson
5/18/2023, 3:10 pm
»
French Tarragon
by
sanderson
5/18/2023, 12:41 pm
»
Famous Gardening Quotes
by
sanderson
5/15/2023, 8:50 pm
»
Birds of the Garden
by
sanderson
5/15/2023, 8:49 pm
»
New Compost PIle, 2nd attempt
by Chuck d'Argy 5/13/2023, 11:43 am
»
Ohio Gardener's Greenhouse
by OhioGardener 5/11/2023, 6:44 pm
»
Asparagus
by
sanderson
5/11/2023, 4:11 pm
»
Plan needed for 4'x4' irrigation grid
by OhioGardener 5/11/2023, 12:47 pm
So I recently put together about 116 sqft of raised bed on the side of my house. And have been working on my planting plan.
As a few notes:
I'm in SW Florida. Zone 10, Spring through fall is all "summer", winter is "cooler summer"...
I use a blend of plant compost, composted manure, peat or coconut coir, and raised bed soil, mixed with the local sand as my growing medium.
I like to grow different species of plants than is common around here - occasionally that leads to one square failing...
So the bed:
It's built from 5/4"x 6" ground contact PT. The trellis frames are cheap 1x2" pine with plastic netting. All screwed together. And secured in place with 2x3" PT stakes (about 12" long)
Here's my planting plan - it's still a bit of a work in progress, as I find seeds, or plants I wanted in it.
It's drawn in 3 sections, that are all attached in the actual bed.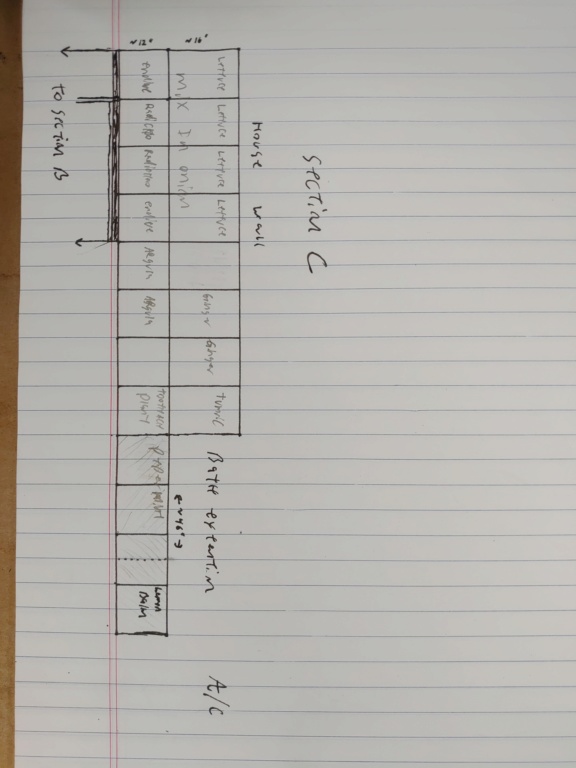 The red dots indicate that seeds or plants are already planted.
There's still a few blocks open, I need to decide what'll go there.
And a real image of the bed so the 3 parts of the plan make more sense...

savlaka




Posts

: 5


Join date

: 2020-04-24


Location

: Florida



Your bed looks wonderful!  I applaud your use of grids.  However, have you read All New Square Foot Gardening either editions 2 or 3?  

It doesn't appear that you've used the exact formula for Mel's Mix, though.  Is there some reason you used raised bed soil and sand?
I've read a copy of the book, I bought it new last year whatever version that would be.
And no my mix is not the same as his.
As for why - current availability of materials is one reason.
Another is this mix has served me well even before I'd heard of square foot gardening.
Right now the cheapest vermiculite I could find in stock around here was over $20 a cu foot. It would have doubled the projects cost.
My mix is heavy on the compost types, then mixed with the Florida sand and peat or coir probably 75% is the composted materials. This mix is a bit denser than Mel's mix, and holds more water over the course of Florida summer days. It does have disadvantages - watering needs to be slowed even stopped during rainy season as it can get waterlogged, as Mel's mix drains better. That's actually why I add a bit of "jungle growth" soil, as it's larger particles and helps it drain a bit better, but only in the first few inches.
This bed was done with 50 cu foot of compost, 8 of jungle growth soil, and 6 cu foot of peat, mixed into the existing sand (what SW Florida has as "soil") after removing the grass.


savlaka




Posts

: 5


Join date

: 2020-04-24


Location

: Florida



In my experience, it's nearly impossible to find coarse vermiculite locally.  Generally, it needs to be ordered online from such companies as Amazon, U-Line, Greenhouse Megastore, A.M. Leonard, and one or two others.  Prices do vary, but generally are far less expensive than purchasing smaller bags of fine or medium grade.  

Those SFG practitioners in your area should be able to guide you to suitable compost sources, as well.  Peat moss is inexpensive and generally easy to find.
Similar topics
---
Permissions in this forum:
You
cannot
reply to topics in this forum