Latest topics
»
Powdery Mildew already striking
by
sanderson
Today at 2:59 am
»
Butterfly Junction
by
Greenbeard
Yesterday at 5:55 pm
»
Greenbeards Grove 2018
by
Greenbeard
Yesterday at 5:47 pm
»
Fourth Year SFG in Canada
by
trolleydriver
Yesterday at 5:41 pm
»
Hi from Buffalo
by
ispinwool
Yesterday at 2:20 pm
»
How's the Weather Where You're At?
by
hammock gal
Yesterday at 2:12 pm
»
Hi from Burrrrlington Vermont!
by
ispinwool
Yesterday at 2:07 pm
»
Lurking newby
by
Windsor.Parker
Yesterday at 12:27 pm
»
Any tips growing with Jiffy Pots
by
countrynaturals
Yesterday at 11:11 am
»
Help! Onion Maggots!
by
Sunsanvil
Yesterday at 9:17 am
»
Volunteer Mushroom
by
Windsor.Parker
Yesterday at 9:16 am
»
Compost pile in Schwenksville PA.
by
AtlantaMarie
Yesterday at 6:57 am
»
N&C Midwest - MAY! Spring has sprung!
by
DorothyG
Yesterday at 12:01 am
»
2018 SFG in Brooks, GA
by
yolos
5/20/2018, 10:16 pm
»
Tomato Tuesday 2018
by
hammock gal
5/20/2018, 10:51 am
»
Potato growing
by
Scorpio Rising
5/20/2018, 9:49 am
»
Situation in Hawaii
by
AtlantaMarie
5/20/2018, 7:40 am
»
Pests...How to keep at bay
by
jimmy cee
5/19/2018, 10:41 pm
»
On the Road
by
sanderson
5/19/2018, 1:09 pm
»
New England May 2018
by
sanderson
5/19/2018, 12:17 am
»
Mr. Booker's Garden -2018
by
sanderson
5/18/2018, 12:17 pm
»
CANADIAN REGION: What are you doing in MaY 2018
by
Kelejan
5/17/2018, 10:30 pm
»
Aero Garden for starting seeds?
by
Windsor.Parker
5/17/2018, 3:44 pm
»
Potatoes: Yes or No?
by
jimmy cee
5/16/2018, 11:38 pm
»
Interplanting Beans/Cucumbers to repel beetles
by
Roseinarosecity
5/16/2018, 1:51 pm
»
Happy Birthday!!
by
sanderson
5/16/2018, 9:55 am
»
Sanderson's Urban SFG in Fresno, California
by
sanderson
5/15/2018, 2:56 pm
»
Texas Dream garden 2017
by
has55
5/15/2018, 12:14 pm
»
Happy Mother's Day!
by
countrynaturals
5/14/2018, 2:55 pm
»
Just Completed my Garden.....What Should I Plant NOW!
by
stealthmayhem
5/14/2018, 8:55 am

I'm applying some of the hugelkultur concept to two of my square foot garden beds.  I live in a neighborhood and I really don't want a 6-7 ft hultur hill in my yard. I wanted to try in my sfg bed, since this is the type of gardener method I have chosen to use, probably for the rest of my life.
I dug down about a foot in both beds.
in this bed I removed the weed barrier and put down cardboard in both beds. I left my wide worm tube in place.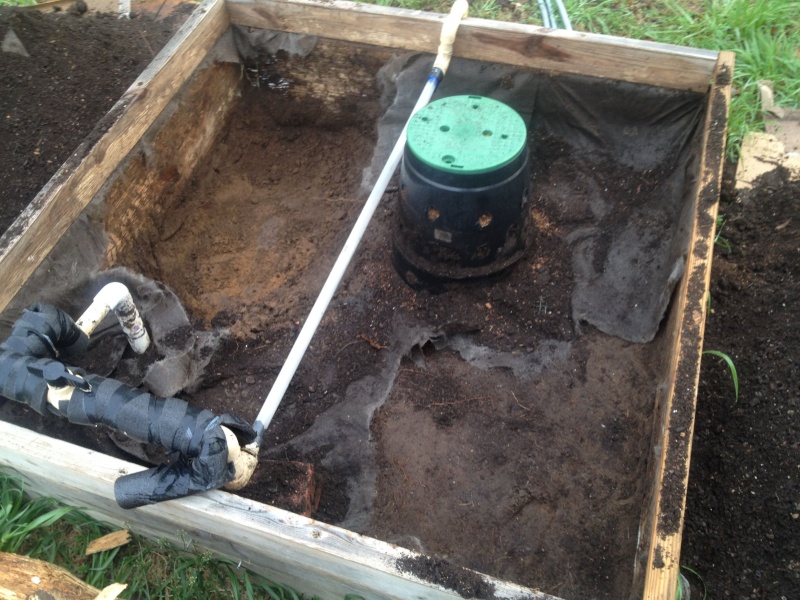 the worms have become more active since warmer temp have arrived in denton, tx.  a drop in 3 inches on friday 3/28/14.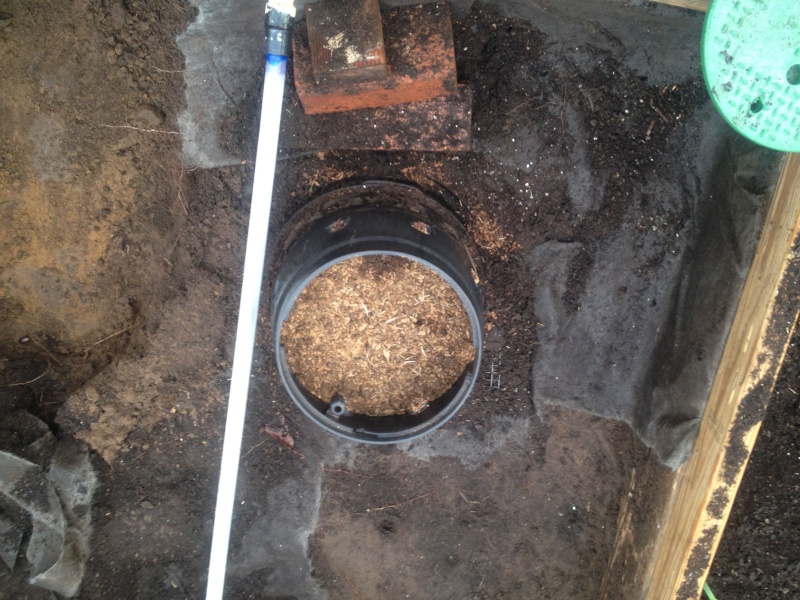 here's is two rotten logs about to be placed in this bed after I get the cardboard down. this wood is porous, so I can see how it will hold water and attract organism like the coral reef when it building itself at the baby stage. There was tons of worms in the soil. I was impressed. I guess the wide worm tube is working. will keep checking it progress.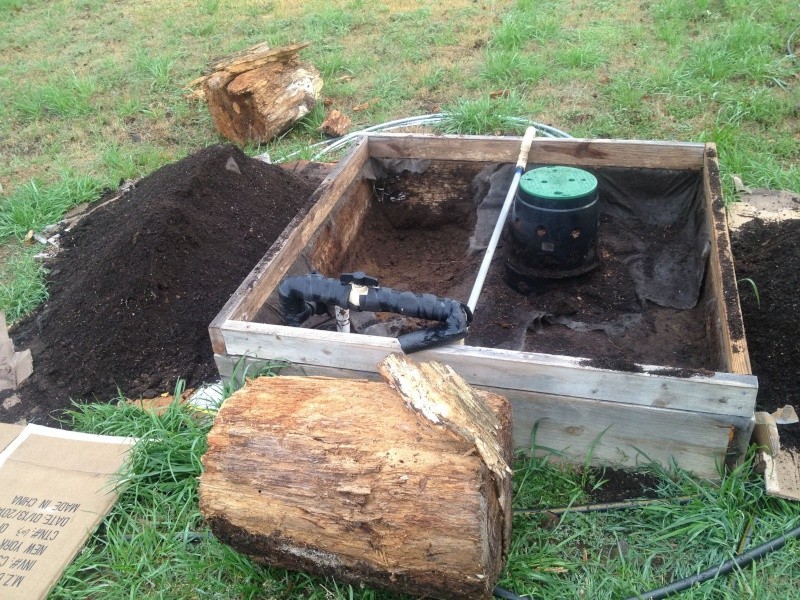 my future new  tomatoes and pepper bed with the rotten logs in place. I have not yet added the bird netting to my SFG trellis. 
water line in place, but not connected to my underground aquajet system. It be done when my parts arrived.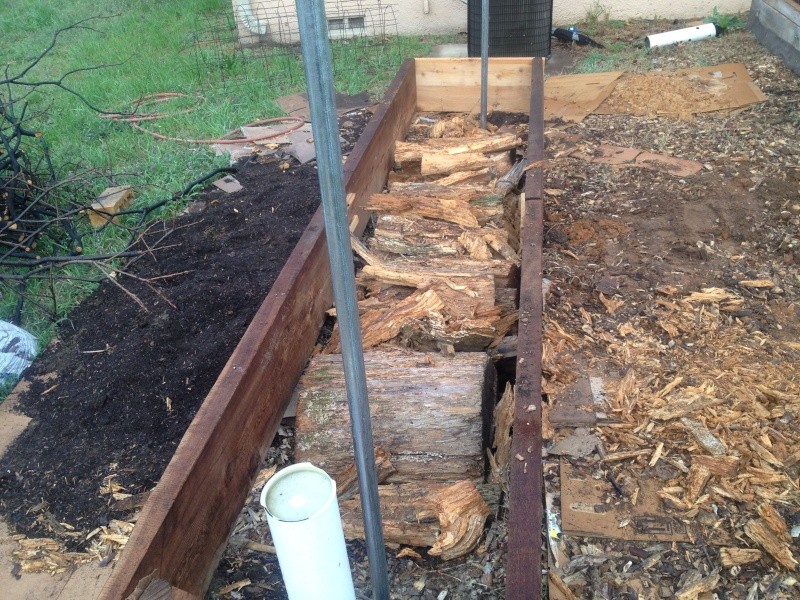 The finish product: mel's mix with coconut coir from texas organic hydroponics. I didn't use peat moss. The water holding power of the coir just works better for me in texas sun stricken, skin burning, energy sucking, water robbing heat. but it doesn't stop me from having fun in my SFG beds.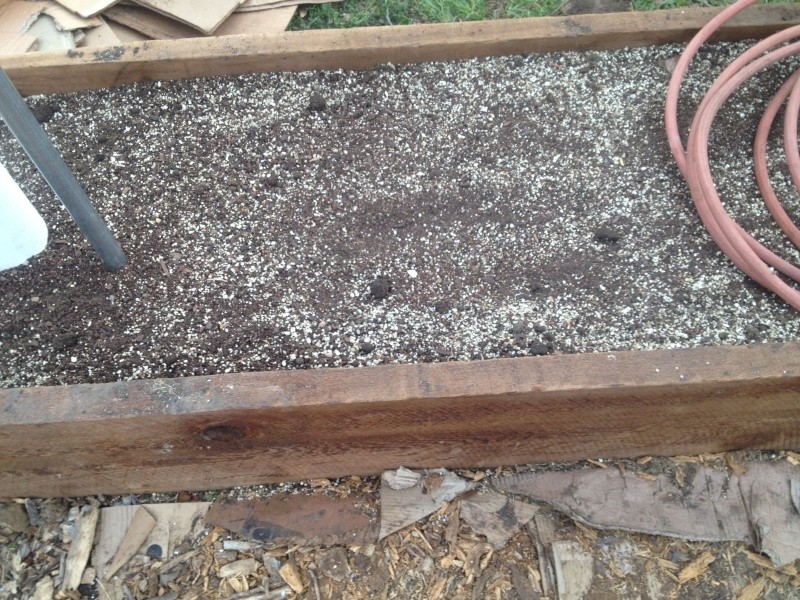 Amazing project you have undertaken. In a couple of months you will have the "Texas sun stricken, skin burning, energy sucking, water robbing heat."

Forum Moderator Certified SFG Teacher




Posts

: 15980


Join date

: 2013-04-21


Age

: 69


Location

: Fresno CA Zone 8-9



yep, I usually dread it, but this time , I'm saying bring the heat on. It the only way I'm going to find out if the idea will work and be helpful to others.
this year I hope I have success with both my winter and summer ideas. These idea are just burning to get out of my heart and my time is limited of what I can do since I work long shifts.
Oh my goodness Has, that's an interesting idea and I really look forward to hearing your results.

I've got a stash of logs that at first look awfully heavy but crumble to pieces when touched. If your experiment works I may borrow your idea. Or do regular hugelkultur with it instead of letting nature simply reclaim it out back.

Certified SFG Instructor




Posts

: 4871


Join date

: 2010-08-20


Location

: Central Ohio zone 6a



those logs are almost like lifting air after they've rotten. I was surprised. hope everything is a success and will open a new doorway in water conservation for SFGardening
Anything that helps save water is a great idea. Your rotten logs also helping preserve nutrients and adding to a naturally evolving good soil structure is a nice bonus too. Hugelkultur has some really interesting ideas -- some great youtubes on Sepp Holzer and others, those Aussie permaculture guys -- and it will be interesting to see how your implementation plays out for you over the months and years if you keep updating.

We had 100 degrees for over a month last summer and 90 degrees most of the rest of it, and even my MM in square-foot-sized thick burlap bags didn't ever get dangerously dry. But I do hear people say they run into dry MM like you do. I hope you got good coir. They sell coir-based soils here by the truckload, and cheap, but I worry about the salt contents and whether they really bother to soak and drain mass quantities of it before incorporating it into their soils and composts.



Posts

: 3638


Join date

: 2013-07-05


Age

: 56


Location

: SW Oregon



I moved this topic to "non-SFG Discussion"

Forum Moderator Certified SFG Teacher




Posts

: 15980


Join date

: 2013-04-21


Age

: 69


Location

: Fresno CA Zone 8-9




---
Permissions in this forum:
You
cannot
reply to topics in this forum