Latest topics
»
Mid-Atlantic New Host Intro & Info
by
sanderson
Today at 4:39 am
»
N&C Midwest: May 2023
by nrstooge Yesterday at 4:39 pm
»
Paul's First SFGs
by pkadare Yesterday at 11:06 am
»
Poppy seeds - Hungarian Blue Breadseed
by
AtlantaMarie
Yesterday at 6:12 am
»
Kiwi's SFG Adventure
by KiwiSFGnewbie 5/27/2023, 6:27 pm
»
Teaming with Microbes Kindle Sale (Mem. Day weekend 2023)
by OhioGardener 5/27/2023, 4:27 pm
»
Sluggo Plus
by
sanderson
5/27/2023, 3:23 pm
»
What Have You Picked From Your Garden Today
by OhioGardener 5/25/2023, 6:25 pm
»
Centpedes
by OhioGardener 5/25/2023, 6:19 pm
»
beneficial nematodes
by OhioGardener 5/24/2023, 9:18 pm
»
Senseless Banter...
by markqz 5/24/2023, 5:39 pm
»
Pre-Filling a 30" Raised Bed
by toledobend 5/24/2023, 1:10 pm
»
Happy Birthday!!
by
AtlantaMarie
5/24/2023, 7:03 am
»
Aphids & Their Predators
by MrBooker 5/24/2023, 6:01 am
»
Hello from Bobcaygeon, Ontario
by
Scorpio Rising
5/20/2023, 1:52 pm
»
What are you eating from your garden today?
by OhioGardener 5/18/2023, 6:29 pm
»
Spring Flowers
by OhioGardener 5/18/2023, 6:23 pm
»
My Solar Dehydrator at Work
by
sanderson
5/18/2023, 3:10 pm
»
French Tarragon
by
sanderson
5/18/2023, 12:41 pm
»
Famous Gardening Quotes
by
sanderson
5/15/2023, 8:50 pm
»
Birds of the Garden
by
sanderson
5/15/2023, 8:49 pm
»
New Compost PIle, 2nd attempt
by Chuck d'Argy 5/13/2023, 11:43 am
»
Ohio Gardener's Greenhouse
by OhioGardener 5/11/2023, 6:44 pm
»
Asparagus
by
sanderson
5/11/2023, 4:11 pm
»
Plan needed for 4'x4' irrigation grid
by OhioGardener 5/11/2023, 12:47 pm
»
TD's 2023 Garden
by
trolleydriver
5/10/2023, 3:16 pm
»
Spring Gardening - Parsnips and Garlic
by OhioGardener 5/10/2023, 2:59 pm
»
Seedlings Sticker Shock
by
sanderson
5/7/2023, 9:44 pm
»
From a Year 2 Novice to All the New SFGers or "How to Get Past the Fear Factor! :)"
by
sanderson
5/7/2023, 3:13 pm
»
Mark's first SFG
by
sanderson
5/5/2023, 3:39 pm
I grow two varieties of strawberry, Quinault and Sequoia.
I took a taste test today after I picked another quart of the beauties when the rain stopped and the sun came out for a few hours today.
Here's a combination of the two just picked, about a quart.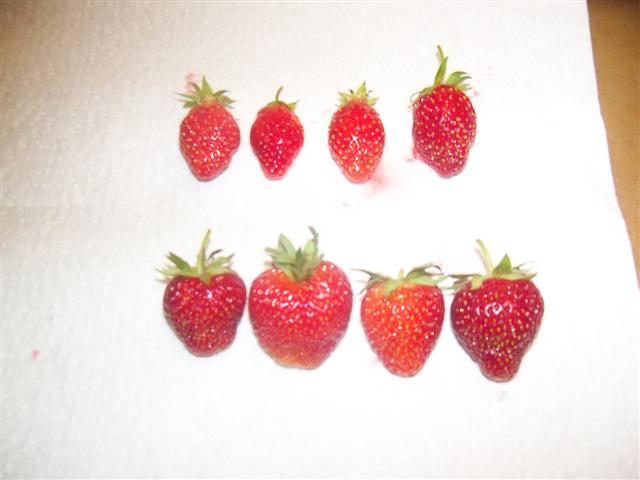 Top row are Sequoias, an everbearer, a more elongated berry.
Bottom row are Quinaults, a June bearer, with the traditional shape.
I did this twice with different berries, and Sequoias win hands down for sweetness.
The others have a slightly sweetish flavor with a bit of tartness.
Overall, putting a combination of the two in a bowl for shortcake makes them just divine.
Just thought folks might want to know if they plan on berries in their garden beds next year.

quiltbea




Posts

: 4712


Join date

: 2010-03-21


Age

: 81


Location

: Southwestern Maine Zone 5A



Thanks for the comparison QuiltBea. I had some Quinaults.
Unfortunately, I let my strawberries in the old fashioned
SFG bed with amended soil get so weedy no strawberries bloomed or produced this year. I am no longer capable of weeding a bed on the ground.
Assuming I get more Table Top beds ready with MM, I will try again next year.
I miss my strawberries.

Furbalsmom




Posts

: 3141


Join date

: 2010-06-10


Age

: 76


Location

: Coastal Oregon, Zone 9a, Heat Zone 2 :(



Quiltbea, Quinalt is one of the varieties we considered for our two new beds this year, but ended up with Tristar and Seascape. They are just starting to color up and I'm anxious to see which tastes best and will be allowed to make runners next year. If our selection is as good mixed as yours is, maybe we'll keep both kinds. Otherwise, if one is definitely a second-rate, up she come. Thanks for your input. Nonna

Nonna.PapaVino




Posts

: 1437


Join date

: 2011-02-07


Location

: In hills west of St. Helens, OR



Thank you for posting, Quiltbea. I'm in the process of trying to get a bed of strawberries going. Wasn't sure what variety to go with. The last time I had strawberries, I planted a huge row garden of them, don't remember the variety, whatever the big box store had at the time. They were so sour! Plus, the weeds overwhelmed me and I just gave up after a year. So, thought I'd try again, but would like a pryamid style bed for fun. But, if I can't convience the old man that I NEED this, then will just do traditional SFG 4x4.

stripesmom




Posts

: 291


Join date

: 2011-03-28


Location

: SE Iowa



Thanks for the info. Does anyone have any experience with Ozarks? That is what I tried this year - 3 of 25 plants made it, not their fault! I do not know how they are on the sweet/tart scale.

GG

Goosegirl




Posts

: 3435


Join date

: 2011-02-16


Age

: 58


Location

: Zone 4A - NE SD



---
Permissions in this forum:
You
cannot
reply to topics in this forum