Latest topics
»
my worms are gonna get hungry
by
has55
Today at 9:19 am
»
Tomato Tuesday - 2020
by
plantoid
Yesterday at 8:31 pm
»
another idea from do nothing gardening-composting tea
by
plantoid
Yesterday at 7:46 pm
»
CANADIAN REGION: What are you doing July, August, September
by
trolleydriver
Yesterday at 7:32 pm
»
Green Chili's
by
OhioGardener
Yesterday at 6:55 pm
»
Pesto
by
sanderson
Yesterday at 6:30 pm
»
2020 SFG in Brooks, GA
by
sanderson
Yesterday at 6:25 pm
»
2020 SFG Adventures in Hampstead, NC
by
sanderson
Yesterday at 5:37 am
»
Newbie SFGer in N. Virginia needing some advice
by
novablue
8/9/2020, 7:29 pm
»
Hardcore Sustainability - Urban Homesteading
by
TCgardening
8/9/2020, 12:23 pm
»
A couple of recipes for when the tomatoes show up ;-)
by
Scorpio Rising
8/9/2020, 9:35 am
»
N&C Midwest: August 2020
by
OhioGardener
8/8/2020, 7:36 pm
»
Tomato Mosaic Virus...Fearing the Worst :(
by
Yardslave
8/7/2020, 12:26 pm
»
The SFG journey-Overview of the Redesign Compost Tea Brewer
by
has55
8/7/2020, 3:50 am
»
Tampa newbie
by
TCgardening
8/6/2020, 9:11 am
»
Pull Bean Plants to Pick Beans?
by
Scorpio Rising
8/5/2020, 8:45 pm
»
Safety of cardboard in compost
by
Scorpio Rising
8/5/2020, 8:42 pm
»
Succession seed sowing now
by
Scorpio Rising
8/5/2020, 8:37 pm
»
Hello from southern Wisconsin
by
AtlantaMarie
8/5/2020, 6:07 am
»
Stroke - Country Naturals
by
countrynaturals
8/4/2020, 7:28 pm
»
Cheerleaders needed, please. This is daunting.
by
mollyhespra
8/4/2020, 2:19 pm
»
Almost 68, and this is a new one on me !!!!
by
sanderson
8/4/2020, 2:06 pm
»
SFG Journey: Beneficial nematodes experiment
by
has55
8/4/2020, 1:01 pm
»
New England, August, 2020
by
SFGHQSTAFF
8/4/2020, 4:18 am
»
Earwigs 2.0!
by
OhioGardener
8/3/2020, 2:52 pm
»
Happy Birthday!!
by
Scorpio Rising
8/3/2020, 12:56 pm
»
N&C Midwest—July 2020
by
Scorpio Rising
8/3/2020, 12:40 pm
»
Tomato Problems - Help!
by
Dan in Ct
8/3/2020, 8:33 am
»
Fire Ring / Round Raised Bed Planter
by
Scorpio Rising
8/2/2020, 8:03 pm
»
August Avatar: Beat The Heat!
by
Scorpio Rising
8/2/2020, 9:01 am
Its me again, another bug question...
I don't have a photo of this guy yet, he is quite too fast moving for my cell phone cam, but he looks like a spotted cucumber beetle, only bright red instead of green.
Here is a photo of a spotted cucumber beetle:
http://www.clemson.edu/extension/hgic/pests/plant_pests/veg_fruit/hgic2207.html
(First image shown)
It looks just like that, size and all, but bright red instead of green. Have seen no evidence of damage, and have found them crawling over all manner of plants in the garden. Ive tried ye olde google, but thus far, cannot find anything.
I am going to call the extension office later today, but was wondering if anyone here might have a clue what it is and if I need to be concerned about it...
Thanks!!!

scooter




Posts

: 24


Join date

: 2011-05-13


Location

: Springfield, OH



Found it...
Bean Leaf Beetle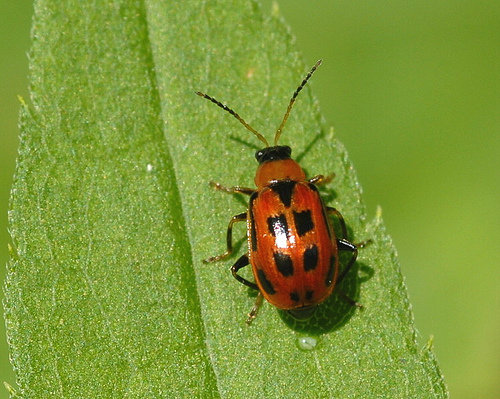 "
Description:
Adult bean leaf beetles come in several colors, from yellow-green to red, and their markings can vary as well. Regardless, all bean leaf beetles have a characteristic black triangle mark at the front of the
elytra
, just behind the pronotum. Generally only the adult beetles will be visible, as all other forms live in the soil. The eggs are oval and orange-red in color. Larvae are white with black ends. The pupae are ghostly white copies of the adults.
Life cycle:
Adult bean leaf beetles overwinter in leaf litter or in the soil, usually preferring wooded areas for shelter. As soon as temperatures begin to warm up in the spring, the first adults emerge to feed and mate. Females lay about a dozen eggs at a time in the soil under legume hosts. After several weeks of feeding on the roots, larvae pupate in the soil. Adults emerge to repeat the cycle. In southern areas, bean leaf beetles can produce multiple generations within a growing season.
Crops damaged:
Snap beans, soybeans, and other legumes. Adults feed on both the foliage and pods, while larvae feed on the roots.
Signs and symptoms:
Round holes in foliage, within the leaf margins. Stunted plant growth due to larvae feeding on roots. Cosmetic damage to pods late in season.
Control measures:


If you notice feeding damage, hand pick adult beetles and drop them in soapy water to destroy them. Beetles are most active in the afternoon, so monitor your plants at this time.

Young seedlings are most susceptible to bean leaf beetle damage. Be vigilant when plants are young.

If you've had problems with bean leaf beetles in past growing years, consider planting snap beans later in the season to avoid early emerging adults in spring."

Hope this helps!

Tril




Posts

: 198


Join date

: 2011-04-30


Location

: Gardiner, Maine, 5a



Great info. I'm hardly ever out in the afternoons as I work nights and sleep in the afternons. Now I will go out and check on my beanie babies.

shannon1




Posts

: 1697


Join date

: 2011-04-01


Location

: zone 9a St.Johns county FL



Thanks for the help! But... turns out, it is a lady beetle.. a spotted lady beetle. After you posted the info on bean leaf beetles (which I do have some munching my beans, but those guys are a brown color...grrr), I went out, hunted em down in the garden, and looked for the triangles... nope, and they looked like they were feasting on aphids.. so 2 hours of googling later, I find this-
http://en.wikipedia.org/wiki/Spotted_lady_beetle
http://www.iowavoice.com/2008/07/01/spotted-lady-beetle/
Yay! Finally something to feast on the aphids!

scooter




Posts

: 24


Join date

: 2011-05-13


Location

: Springfield, OH



Tril - Thanks for your helpful post and photo above! I just stumbled upon this thread, ran outside with cup of soapy water to check, and lo & behold - found a bean leaf beetle! I only had a few holes on a three of my seedlings, and only saw the one beetle (may he RIP), but I'm sure he probably has some family members lurking around. Now that I know what to look for, I'll stay on top of it! Can't say enough about the great help folks offer on this forum!

MasonGarden




Posts

: 284


Join date

: 2010-03-17


Location

: Mason, OH



---
Permissions in this forum:
You
cannot
reply to topics in this forum