Latest topics
»
CANADIAN REGION: What are you doing October, November, December 2020
by
Kelejan
Today at 3:12 am
»
TD - A Journey Through Prostate Cancer
by
Kelejan
Today at 2:50 am
»
Percent of worm castings in soil mix
by
Kelejan
Today at 2:47 am
»
Update on Marie's mom
by
Kelejan
Today at 2:39 am
»
Garlic in Central Ohio
by
Dunkinjean
Yesterday at 10:44 pm
»
Garden Veggie Plants Dying
by
floyd1440
Yesterday at 9:25 pm
»
What are you eating from your garden today?
by
OhioGardener
Yesterday at 6:47 pm
»
N&C Midwest—October 2020
by
OhioGardener
Yesterday at 4:27 pm
»
turnip/rutabaga trouble
by
OhioGardener
Yesterday at 3:07 pm
»
What Have You Picked From Your Garden Today
by
Scorpio Rising
10/25/2020, 7:01 pm
»
FULL GARDEN TOUR (Both SFG and Non-SFG)
by
dstack
10/23/2020, 6:29 pm
»
Weed Killer Spray and my garden
by
sanderson
10/21/2020, 10:13 pm
»
How's the Weather Where You're At?
by
RJARPCGP
10/21/2020, 6:44 pm
»
New England, October, 2020
by
RJARPCGP
10/21/2020, 6:40 pm
»
Bokashi
by
OhioGardener
10/21/2020, 6:08 pm
»
Self Watering containers?
by
OldCrow
10/21/2020, 1:38 pm
»
Happy Birthday!!
by
Scorpio Rising
10/20/2020, 7:50 pm
»
Help with bush beans
by
LilBittyBean
10/17/2020, 1:41 pm
»
Hello!
by
AtlantaMarie
10/16/2020, 6:42 am
»
my worms are gonna get hungry
by
OhioGardener
10/15/2020, 12:49 pm
»
Mark's first SFG
by
markqz
10/15/2020, 12:11 pm
»
2020 SFG in Brooks, GA
by
yolos
10/13/2020, 11:32 pm
»
Fern leaf tomato?
by
plantoid
10/13/2020, 4:28 pm
»
Prior planning prevents poor plantings performance
by
sanderson
10/12/2020, 2:08 am
»
Tomato Pie
by
sanderson
10/12/2020, 2:03 am
»
Seed Exchange: Looking for Greek Sweet Red Squash
by
sanderson
10/12/2020, 1:47 am
»
OhioGardener SFG
by
OhioGardener
10/10/2020, 6:27 pm
»
Your first frost date ...had it yet?
by
plantoid
10/10/2020, 8:23 am
»
California - What are you doing this month?
by
Yardslave
10/9/2020, 2:58 pm
»
What new seeds are you saving this year?
by
llama momma
10/8/2020, 5:23 pm
Ah, what a long cool spring we have had. And on the coast the June gloom might help keep things cooler still, but I wouldn't count on it. When I moved to Winchester people said, "It is so hot there" but what I knew was that it was the first time in my life I had central air so no worries!
I am way behind for my summer plantings, and just cleaned up from winter/spring but I am ready to go. That is the beauty of SoCal - there is no month you cannot plant!
What to Plant This Month:
Beans,
Bush
Beans,
Pole
Beets
Cantaloupe
Carrots
Corn
Cucumber
Eggplant
Herbs
Lima
Beans
Melons
Parsley
Peppers
Potatoes
Pumpkin
Squash,
summer
Squash,
Winter
Sunflowers
Tomato
plants
Watermelon
ENJOY! And let me know how your garden grows...
Chopper,
I truly appreciate your monthly updates on what to plant in Southern California.
And I'm thrilled that I can still plant potatoes! Friday evening, I pulled about three small servings worth.
My only issue is figuring out where to plant more.... In the fridge are more seed potatoes, not to mention some store-bought ones that have sprouted.
Here is what is happening in my garden as of now:
Onion harvest - these are drying in the sun now(how long do they need to dry?), plus I have already used about 5 or 6.
This is the now empty squares(sorry I don't have a grid - haven't figured out how to attach a grid to the blocks but do use one to plant. The chard & kale to the right seem to be the only things getting chewed and are not a particular favorite here.
My 'bush' beans(the Nantes carrots for carrot week are to the right of the beans) that are climbing:
My pole beans & cucumbers have merged and grown off the top of the 4 ft trellis. The beans have not yet bloomed but the cucs have. There is such a jungle that I haven't found any cucs yet.
Note to self: DO NOT plant beans next to cucs again and give them both a higher trellis.
Two views of my squash bed. The taller one is a spaghetti squash, the shorter one is the tromboncino. Their trellis is 6 fy high by 9 ft wide.
There are severl spaghetti squash:
And a bunch of trombincino starting
Cantelope hiding in the shade. There are at least 6 that are soft ball size.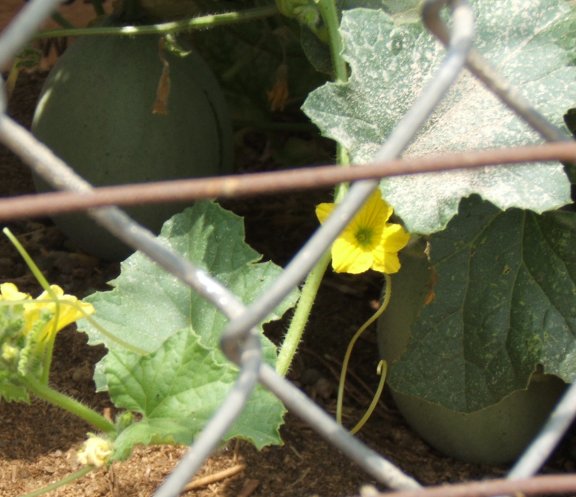 And my first tomato is about ripe:
We have finished off the lettuce - want to plant more-and radishes. Have been picking the Parisian carrots that we got a free package of - they are short but over 2 in in diameter and good. Harvested the 1st bell pepper and that plant which I bought from HD has about 6 more on it and is flowering again. Mine that I started from seeds haven't flowered yet.
There have been some ups and downs but I am very pleased with my 1st SFG garden so far.
Linda

Lindacol




Posts

: 777


Join date

: 2011-01-23


Location

: Bloomington, CA



Wow! Everything looks good.

My corn is looking decent even with the cool weather. Pulled off the first zucchini, and there are lots of little green tomatoes popping up everywhere. The blackberries are also starting to ripen.

The neighborhood raccoon ate my spaghetti squash plant - the actual plant!! So I was lucky to get a starter from my local nursery to start again.

MeyerLemon




Posts

: 31


Join date

: 2010-03-02


Location

: CA



---
Permissions in this forum:
You
cannot
reply to topics in this forum