Latest topics
»
Kiwi's SFG Adventure
by KiwiSFGnewbie Yesterday at 10:25 pm
»
Hi from Western Australia
by OhioGardener Yesterday at 11:10 am
»
N & C Midwest: November/December 2023
by JAM23 12/8/2023, 6:49 pm
»
Mark's first SFG
by OhioGardener 12/8/2023, 3:13 pm
»
Strawberry Varieties?
by
sanderson
12/5/2023, 3:57 pm
»
Recommended store bought compost - Photos of composts
by
sanderson
12/4/2023, 1:27 pm
»
Jerusalem Artichoke or Sun Choke
by
Scorpio Rising
12/4/2023, 7:09 am
»
Strawberries in MM: to feed or not to feed?
by
sanderson
12/3/2023, 7:30 pm
»
What Have You Picked From Your Garden Today
by OhioGardener 11/29/2023, 5:36 am
»
Senseless Banter...
by
sanderson
11/28/2023, 10:31 pm
»
FREE Online SFG Class - November 28, 2023
by
sanderson
11/27/2023, 9:21 pm
»
Mini-Raised Beds?
by Chuck d'Argy 11/27/2023, 2:14 pm
»
Happy Birthday!!
by
sanderson
11/26/2023, 10:58 pm
»
Name the mystery (to me) seedlings! :-)
by Psdumas 11/25/2023, 12:04 am
»
Happy Thanksgiving from the USA
by
sanderson
11/23/2023, 1:47 pm
»
Guatemalan Green Ayote Squash
by OhioGardener 11/21/2023, 8:27 am
»
Seeds 'n Such Early Order Seeds
by
sanderson
11/20/2023, 1:13 pm
»
USDA Plant Hardiness Zone Map
by OhioGardener 11/19/2023, 7:12 am
»
AeroGarden for starting seeds?
by OhioGardener 11/16/2023, 12:40 pm
»
Biochar?
by OhioGardener 11/16/2023, 10:31 am
»
2023 - Updated U.S. Interactive Plant Hardiness Map
by
sanderson
11/15/2023, 6:18 pm
»
SFG Is Intensive Gardening
by
sanderson
11/14/2023, 3:26 pm
»
Teaming with Microbes Kindle Sale (Mem. Day weekend 2023)
by markqz 11/10/2023, 12:42 am
»
Bok Choy Hors d'oeuvres
by
donnainzone5
11/9/2023, 5:58 pm
»
Now is the Time to Start Preparing Next Year's Spring Garden
by OhioGardener 11/9/2023, 7:13 am
»
Shocking Reality: Is Urine the Ultimate Gardening Hack or Disaster?
by dstack 11/6/2023, 5:29 pm
»
Nightmare on Mel Street.
by
Scorpio Rising
11/4/2023, 6:37 pm
»
Aerogardening
by
Scorpio Rising
11/3/2023, 10:02 am
»
Sunday All Purpose Organic Garden Nutrients
by lisawallace88 11/3/2023, 9:13 am
»
Mid-summer seed sowing, how do you do it?
by KiwiSFGnewbie 11/2/2023, 8:04 pm
I usually serve this salad combo with craisins (dried cranberries), but it is even better with fresh strawberries!
-----------------------------------------

Mixed Lettuce Salad with Strawberries
Make a salad with:
Mixed lettuces from your SFG
Fresh strawberries, sliced
Sweet onion, sliced (e.g. Vidalia)
Grilled or roasted chicken breast, cut up
Toasted chopped walnuts (see below**)
Serve w/ Apple Cider Vinaigrette:
2 Tbsp apple juice concentrate, un-thawed
2 Tbsp apple cider vinegar
1 tsp Dijon mustard
1/8 tsp kosher salt
Dash of fresh ground black pepper
Pinch or two of ground allspice or cinnamon
1 tsp sugar or mild honey
2 Tbsp canola oil
2 Tbsp extra virgin olive oil
Combine the vinaigrette ingredients and whisk (or shake in jar) until sugar is dissolved and dressing is slightly emulsified. Refrigerate until ready to use. Makes enough dressing for 4 smaller salads or 2 meal-size salads.
**To toast walnuts: Place in single layer on baking sheet and toast in 350° F oven for about 5 minutes or until walnuts are fragrant. You can also toast them in a dry skillet over low heat for about 6-7 minutes.
I posted this pic in another thread, but I like recipes with photos! This is the salad before the chicken and dressing were added.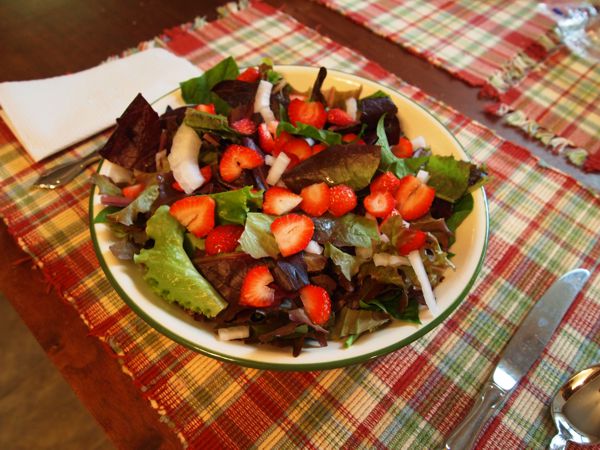 Enjoy!
pattipan
I do not get home grown tomatoes while the lettuce is still sweet in the PNW. I regularly use strawberries (and walnuts) in my spring salads. YUM (even without the chicken) I like to keep the dressing simple to highlight the sweet nutty flavor of fresh greens.
---
Permissions in this forum:
You
cannot
reply to topics in this forum