Latest topics
»
my worms are gonna get hungry
by
has55
Today at 9:19 am
»
Tomato Tuesday - 2020
by
plantoid
Yesterday at 8:31 pm
»
another idea from do nothing gardening-composting tea
by
plantoid
Yesterday at 7:46 pm
»
CANADIAN REGION: What are you doing July, August, September
by
trolleydriver
Yesterday at 7:32 pm
»
Green Chili's
by
OhioGardener
Yesterday at 6:55 pm
»
Pesto
by
sanderson
Yesterday at 6:30 pm
»
2020 SFG in Brooks, GA
by
sanderson
Yesterday at 6:25 pm
»
2020 SFG Adventures in Hampstead, NC
by
sanderson
Yesterday at 5:37 am
»
Newbie SFGer in N. Virginia needing some advice
by
novablue
8/9/2020, 7:29 pm
»
Hardcore Sustainability - Urban Homesteading
by
TCgardening
8/9/2020, 12:23 pm
»
A couple of recipes for when the tomatoes show up ;-)
by
Scorpio Rising
8/9/2020, 9:35 am
»
N&C Midwest: August 2020
by
OhioGardener
8/8/2020, 7:36 pm
»
Tomato Mosaic Virus...Fearing the Worst :(
by
Yardslave
8/7/2020, 12:26 pm
»
The SFG journey-Overview of the Redesign Compost Tea Brewer
by
has55
8/7/2020, 3:50 am
»
Tampa newbie
by
TCgardening
8/6/2020, 9:11 am
»
Pull Bean Plants to Pick Beans?
by
Scorpio Rising
8/5/2020, 8:45 pm
»
Safety of cardboard in compost
by
Scorpio Rising
8/5/2020, 8:42 pm
»
Succession seed sowing now
by
Scorpio Rising
8/5/2020, 8:37 pm
»
Hello from southern Wisconsin
by
AtlantaMarie
8/5/2020, 6:07 am
»
Stroke - Country Naturals
by
countrynaturals
8/4/2020, 7:28 pm
»
Cheerleaders needed, please. This is daunting.
by
mollyhespra
8/4/2020, 2:19 pm
»
Almost 68, and this is a new one on me !!!!
by
sanderson
8/4/2020, 2:06 pm
»
SFG Journey: Beneficial nematodes experiment
by
has55
8/4/2020, 1:01 pm
»
New England, August, 2020
by
SFGHQSTAFF
8/4/2020, 4:18 am
»
Earwigs 2.0!
by
OhioGardener
8/3/2020, 2:52 pm
»
Happy Birthday!!
by
Scorpio Rising
8/3/2020, 12:56 pm
»
N&C Midwest—July 2020
by
Scorpio Rising
8/3/2020, 12:40 pm
»
Tomato Problems - Help!
by
Dan in Ct
8/3/2020, 8:33 am
»
Fire Ring / Round Raised Bed Planter
by
Scorpio Rising
8/2/2020, 8:03 pm
»
August Avatar: Beat The Heat!
by
Scorpio Rising
8/2/2020, 9:01 am
Ok guys - I need your experience here. The good news is I'm growing my tomatoes SFG style in my front yard and they are growing despite the black walnut towering over my backyard. YEA! The bad news is I went out this morning to really give the plants a once over...saw a few little bugs on my other toms and peppers and just pulled them off. But, I have never had a brandywine before. It seems to be attracting these small purplish-red winged bugs. These are almost like aphids but they are a purplish-red?? They don't look like those little red teeny mites we often get here on 'maters. There are also these little white slivers (are these the eggs?). My pic came out fuzzy and I can't take another right now because I tried to squish every one of them and take off the white things.
I've also taken a pic of the entire plant so you can see it.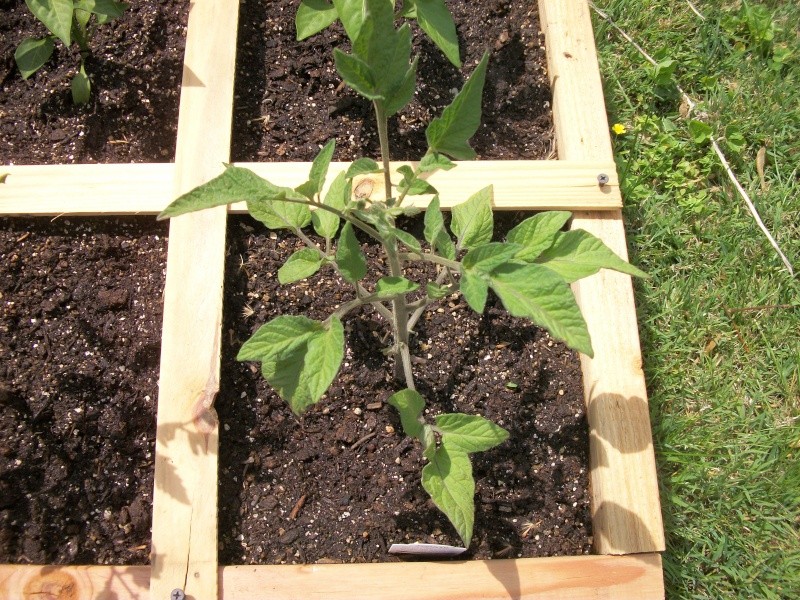 About 9 days ago I cut some bottom leaves from a couple of the other plants in the adjoining 3 squares. They looked like THIS. The other leaves don't seem to have much of this at all.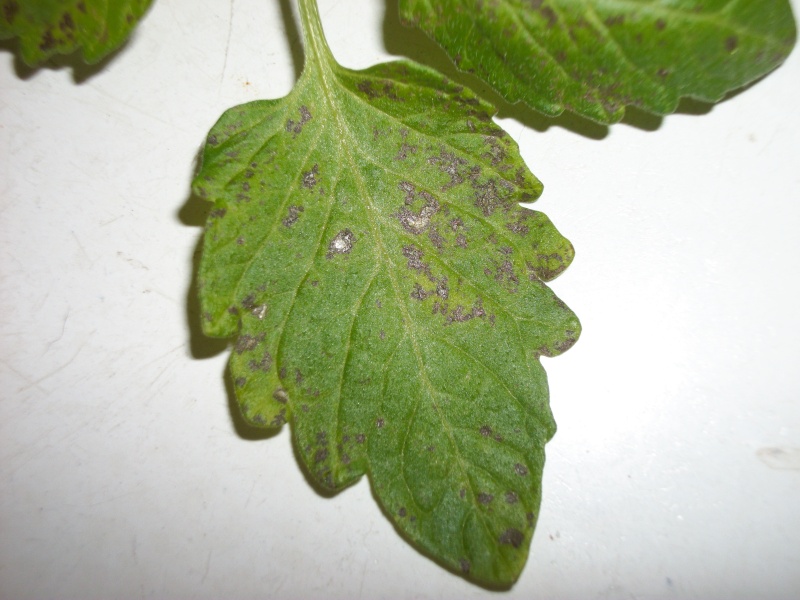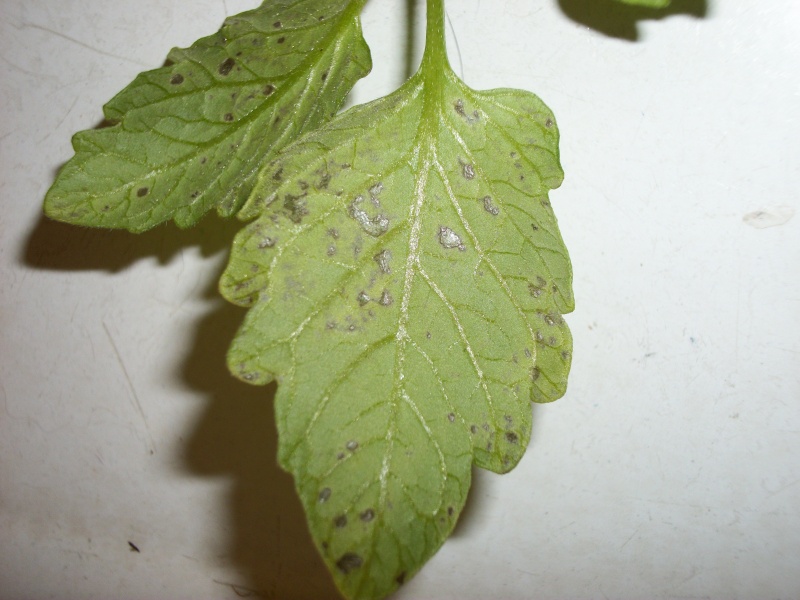 The plants still look decent but I am trying hard to catch any problems early. What are these and what do I need to do?
Thanks so much for any help.

UnderTheBlackWalnut




Posts

: 559


Join date

: 2011-04-18


Age

: 53


Location

: Springfield (central), IL, on the line between 5b and 6a



Check out Stacie's video - her tiny bugs are just like mine. Can anyone who has more experience give us some advice.
Stacie's tiny bugs on her tomato plants post

UnderTheBlackWalnut




Posts

: 559


Join date

: 2011-04-18


Age

: 53


Location

: Springfield (central), IL, on the line between 5b and 6a




Squat_Johnson




Posts

: 440


Join date

: 2010-05-25


Location

: Beaver Dam, Kentucky, zone 6a



---
Permissions in this forum:
You
cannot
reply to topics in this forum