Latest topics
»
TD Painting
by
Kelejan
Yesterday at 10:26 pm
»
new eastern redbud looks like it might need attention
by
Scorpio Rising
Yesterday at 9:48 pm
»
Rogue strawberries
by
Scorpio Rising
Yesterday at 9:43 pm
»
N&C Midwest—June 2020
by
Scorpio Rising
Yesterday at 9:42 pm
»
So glad I watered...
by
Scorpio Rising
Yesterday at 9:39 pm
»
Friday Rookie Topic: Carrots
by
Emily49
Yesterday at 8:26 pm
»
Experimental Asparagus Bed
by
plantoid
Yesterday at 4:09 pm
»
Eddie Willers 1st rookie mistake, what to do?
by
Eddie Willers
Yesterday at 1:29 pm
»
2020 SFG in Brooks, GA
by
yolos
Yesterday at 12:29 pm
»
frustration
by
Yardslave
Yesterday at 12:29 pm
»
Oh, TURD...
by
mollyhespra
Yesterday at 8:45 am
»
TD - A Journey Through Prostate Cancer
by
countrynaturals
6/3/2020, 9:51 pm
»
CANADIAN REGION: What are you doing April, May, June, 2020
by
lvanderb
6/3/2020, 8:42 pm
»
What to plant now for Zone 10
by
dstack
6/3/2020, 8:09 pm
»
Be a couch potato or grow your own potatoes?
by
Emily49
6/3/2020, 1:05 pm
»
mix of lettuce in one square
by
OhioGardener
6/2/2020, 7:54 pm
»
Any Strange and Wonderful Visitors? Photos please!
by
OhioGardener
6/2/2020, 7:41 pm
»
Stroke - Country Naturals
by
Kelejan
6/2/2020, 7:37 pm
»
Just about got enough seeds sown & seedlings transplanted
by
Emily49
6/2/2020, 7:33 pm
»
How's the Weather Where You're At?
by
Scorpio Rising
6/2/2020, 6:32 pm
»
What Have You Picked From Your Garden Today
by
plantoid
6/2/2020, 3:17 pm
»
Senseless Banter...
by
sanderson
6/2/2020, 5:07 am
»
Tomato disease help
by
OldCrow
6/1/2020, 7:07 pm
»
New England, June 2020
by
Scorpio Rising
6/1/2020, 4:47 pm
»
Mail order tomato plants
by
Scorpio Rising
6/1/2020, 12:40 pm
»
N&C Midwest: May 2020
by
Scorpio Rising
6/1/2020, 12:37 pm
»
Cheerleaders needed, please. This is daunting.
by
OldCrow
6/1/2020, 9:27 am
»
The SFG Journey- Harvesting compost from rows
by
has55
5/31/2020, 1:57 am
»
The SFG Journey- preparing Hoops on SFG Beds for future shade cloth
by
has55
5/31/2020, 1:37 am
»
Panic Buying due to Cornavirus Pandemic
by
yolos
5/31/2020, 1:00 am
I've been gardening off-an-on for many, many years but never liked the row garden format. Always preferred border and raised bed gardens so SFG just suits my preference particularly since I just don't care about weeds during the heat and humidity of summer.
We got the beds built, MM mixed pretty close to the formula which is odd for me. I've never really gardened "by the book" before. I tried starting seeds indoors but don't have the patience or room to do it properly. Some of the March seeds are doing pretty well though and I've transplanted a few of my own lettuces with the tomatoes, peppers and herbs looking pretty good.
I have three beds, two 4x4 and one 4x8.
Before anyone asks (I've read enough here already to know you will) -- yes, I've read the books. I borrowed the original from the library and then bought the all new version which is currently in my garden bag alongside my cultivators.
Here's the first bed, aka spring bed, with lettuce, carrots, herbs, chard, spinach and some sad attempts at peas.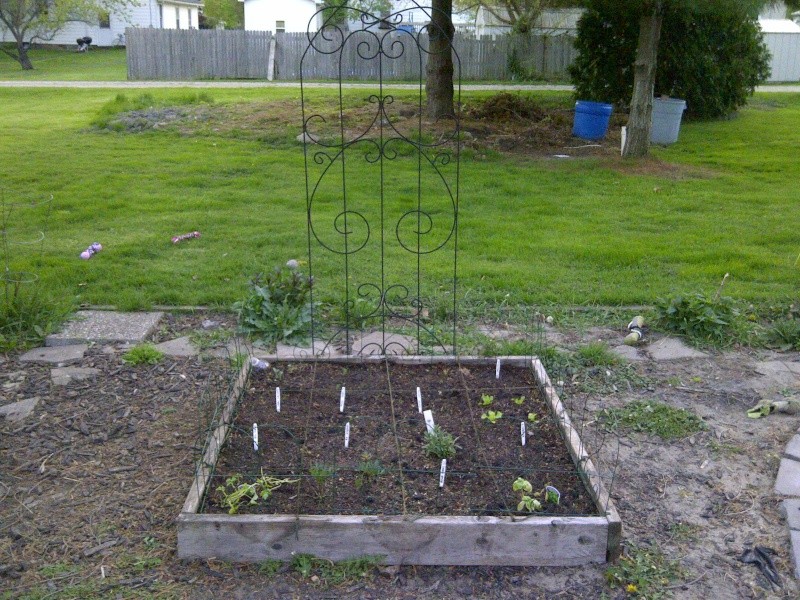 The summer bed where I'm attempting more peas but plan to have chard, kale, turnips and beans: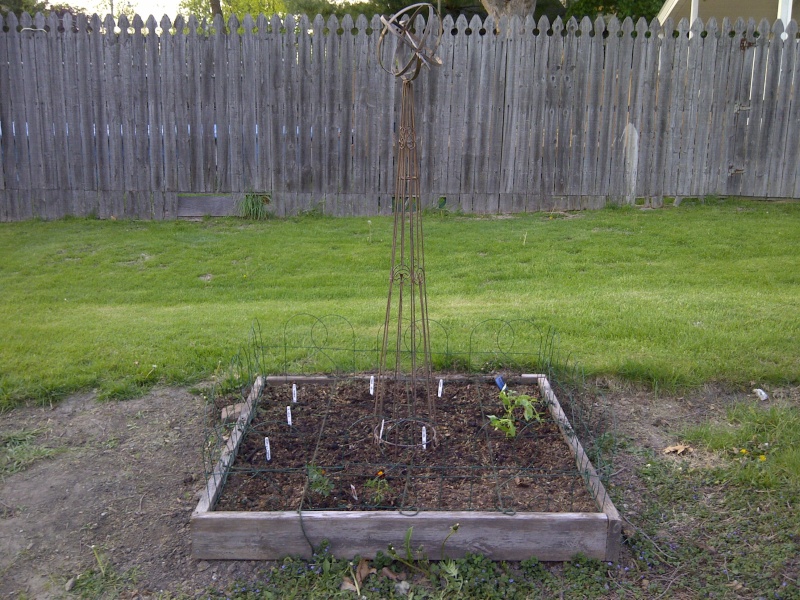 The big bed for mostly tomatoes, broccoli, eggplant and peppers isn't planted yet so I will post photos when it's starting to look like something.
I plan to start tidying things up as soon as the beds are basically done. I did not use the weed block fabric since I have not had the greatest luck with it anyway and two of the beds are in an area that was cleared a few years ago for a now defunct row garden. I did line the bottoms with cardboard and newspaper before adding the MM.
Once everything is planted, I'll go through and do some weeding around the beds and in the perennial borders that are behind the spring bed.
My ultimate goal is to remove as much grass as possible from my yard so I am constantly expanding borders and beds but this is the first year I've felt able to actually grow edibles than a few tomatoes. The whole SFG approach seems so much more efficient and tidy than the row gardens.

ilvalleygal




Posts

: 25


Join date

: 2011-04-29


Location

: North Central IL - 5A



Welcome and congrats on a great looking garden.
Looks like you are off to a great start up there. Welcome aboard!!

Where in IL? 5A is pretty far up there, right?

I hope to see more of you. Don't hesitate to ask questions or jump in and participate in the topics. The more the merrier. We all like to have some fun around here. It's great to have another Midwesterner on board.

BackyardBirdGardner




Posts

: 2727


Join date

: 2010-12-25


Age

: 46


Location

: St. Louis, MO



Welcome! I'm in central Illinois as well, near Peoria.

Happy SFGing!!

Aub




Posts

: 283


Join date

: 2010-08-07


Age

: 39


Location

: Central Illinois (near Peoria) 5a



I'm about an hour south of Rockford, not far from Starved Rock State Park. I've inspired a few neighbors with my flower borders and even gotten tomatoes growing from our walnut-infested area.

It's been years since I tried growing edibles beyond some herbs and tomatoes.

I've really gotten serious about gardening this year and even had some chicken manure delivered a few weeks ago. It's back there "cooking" in the compost bucket now.

The last two warm days have been great for getting things hopping out of the pots and beds. I can see little seedlings all over the place and the seeds in their mini-greenhouses have put on new growth.

ilvalleygal




Posts

: 25


Join date

: 2011-04-29


Location

: North Central IL - 5A



---
Permissions in this forum:
You
cannot
reply to topics in this forum