Latest topics
»
Spider Mites?
by
donnainzone5
Today at 12:51 pm
»
N&C Midwest: July 2021
by
OhioGardener
Today at 12:11 pm
»
Happy Birthday!!
by
Scorpio Rising
Today at 11:54 am
»
Hello from Central Maine-zone 4b/5
by
sanderson
Today at 6:08 am
»
Slug Control with Nematodes
by
sanderson
Today at 2:23 am
»
Compost fire?
by
sanderson
Today at 2:08 am
»
Organic Home Growing Library
by
sanderson
Today at 1:15 am
»
Raising garlic
by
Scorpio Rising
Yesterday at 7:30 pm
»
First Time Planting Seeds in SFG
by
Frank207
Yesterday at 5:54 pm
»
How are you protecting your garden from the heatwve?
by
MrBooker
Yesterday at 1:20 pm
»
New SGFer with nutrient deficient soil
by
OhioGardener
Yesterday at 10:00 am
»
Kyoto Red Carrot
by
karynne
7/28/2021, 8:46 pm
»
Square Foot Gardening Official YouTube channel
by
dstack
7/28/2021, 6:06 pm
»
Creating a Grid for Plastic Box
by
Tanglewood
7/28/2021, 3:54 pm
»
Spoon Tomato
by
njayne58
7/28/2021, 12:19 pm
»
JAM23 SFG in Illinois
by
karynne
7/27/2021, 10:18 pm
»
OhioGardener SFG
by
OhioGardener
7/27/2021, 8:21 pm
»
Anyone grow okra?
by
kauairosina
7/27/2021, 7:07 pm
»
3 Ways to Stop Powdery Mildew (video)
by
dstack
7/27/2021, 5:31 pm
»
My SFG journey- using hanging clips on cucumber and tomatoes
by
has55
7/27/2021, 9:26 am
»
Hello from a professional in Fremont
by
JJ_Gam
7/26/2021, 3:43 pm
»
What Have You Picked From Your Garden Today
by
OhioGardener
7/25/2021, 9:03 pm
»
What are you eating from your garden today?
by
markqz
7/25/2021, 2:22 pm
»
Cucumbers
by
yolos
7/23/2021, 4:38 pm
»
Name that plant - the game
by
Scorpio Rising
7/23/2021, 12:14 am
»
Greetings from Bangalore
by
OhioGardener
7/22/2021, 10:17 am
»
Potato growing
by
MrBooker
7/22/2021, 4:51 am
»
Famous Gardening Quotes
by
OhioGardener
7/19/2021, 9:26 am
»
thank you for all your help last year bkrieb
by
bkrieb
7/17/2021, 1:12 am
»
Message from Sanderson
by
Scorpio Rising
7/15/2021, 8:10 am
+5
orionsbelt
tash
martha
Lavender Debs
Jano
9 posters
Hi,

I would like to know instead of using wood to make the frame for the SFG can i use buckets? with a full opening on the bottom.

Each will give me 1 square foot and i can cut them to the depth that i want.

Will this work?

Thanks

Jano




Posts

: 5


Join date

: 2010-03-23


Location

: Laval, Quebec, Canada [5a]



Hi Emak! I was just at a veggie class where they were using colanders, BBQ woks (slotted veggie holders) and pasta inserts as containers. They were going to do buckets but couldn't see putting holes in them. The lady went to garage sales and 2nd hand stores for inexpensive sieves. So far, so good. Some look like they were lined with landscape fabric.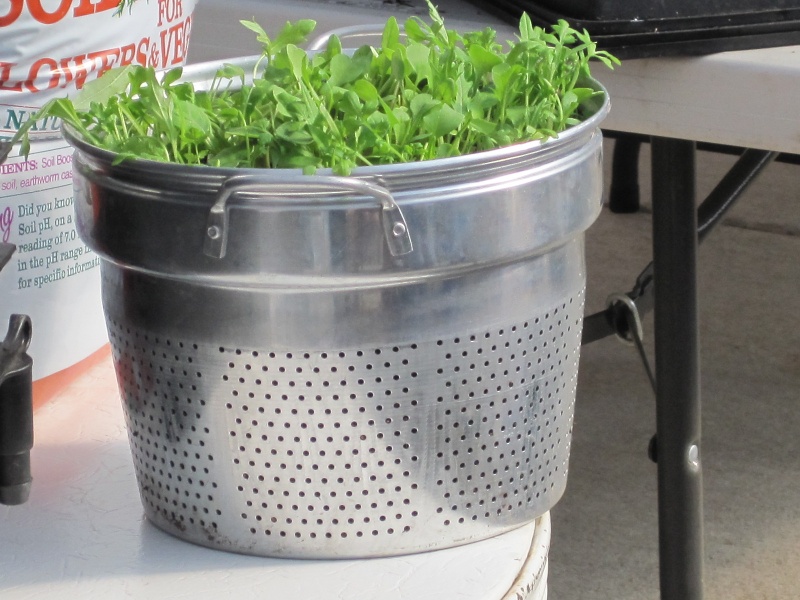 Macro greens for yummy salad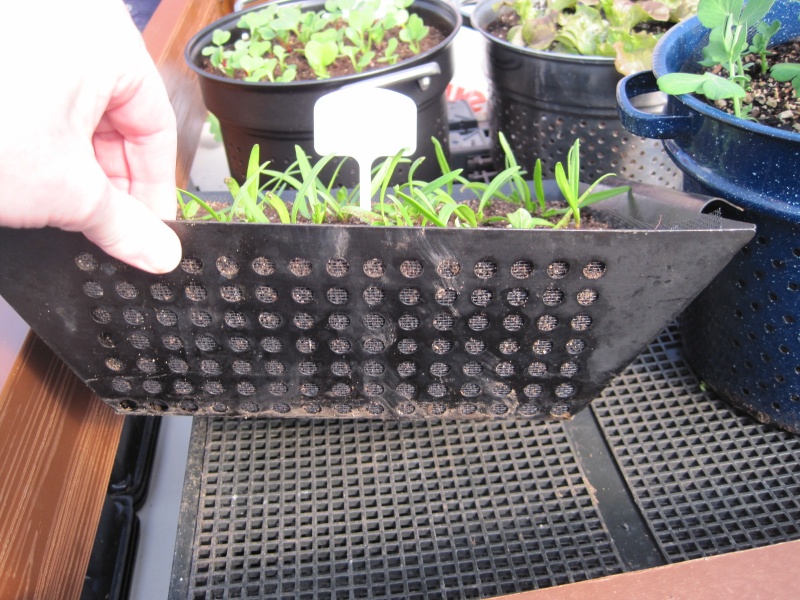 BBQ wok with spinach. Salad and peas in background.
Deborah ….getting dirty in the other Washington
Hello, Emak. Welcome!

I can't envision your plan - like what type of bucket - but why not, if you've got the drainage thing handled.

martha




Posts

: 2188


Join date

: 2010-03-03


Age

: 64


Location

: Acton, Massachusetts Zone 5b/6a



I saw somewhere (sorry I don't have a link) about using those plastic buckets you can get at homedepot or lowes and putting a 2" or so hole in the bottom, sticking a tomato through it, filling the rest with soil, then hanging it up by the handle and either planting the top with something else or just putting the lid on. It works like the topsy ones but cheaper.

tash




Posts

: 9


Join date

: 2010-03-23



Here is an example.

My bed is 2'x50' on one side of my fence.

So i take the bukets and cut all the bottom out.

Then place them like this there is another 4-5" of soil under that and then clay.

OOOOOOOOOOOOOOOOOOOOOOOO
OOOOOOOOOOOOOOOOOOOOOOOO

Each giving me equal to around 1sqf. It's the 5Gallon buckets.

Jano




Posts

: 5


Join date

: 2010-03-23


Location

: Laval, Quebec, Canada [5a]



I don't see why you couldn't use buckets - after all, Mel says that you can do 1"x1" squares, and he also mentions using that plastic-y stuff that they make decks out of (what's it called?) if you want something more durable.

I would recommend doing it slightly differently than you're planning, though.

Rather than cutting the bottoms out of each bucket, you could drill one hole per bucket for drainage (kind of like they have in plant pots). I'm not sure of the best width - just guessing maybe 1"-2"?

Another thing is soil depth. Mel recommends using 6" of Mel's Mix (see his book or another forum post), unless you're planting something like carrots or leeks. If your bucket is more than 6" deep, you can add sand (not regular garden soil) to the bottom of the bucket, until there is 6" remaining for veggies.

You might want to keep an eye on the drainage. Try filling one up with Mel's Mix and sand, then putting it on your bed and adding water. If the water drains easily, you're okay. If it starts to pool or turn to slush, then you may need to elevate your buckets using cinder blocks...or perhaps put them on some gravel, or add those plastic things they use under plant pots.

I'm a novice myself, so you may not want to take my word for it...I'm just guessing from experience I've had growing herbs in containers, watching other gardeners, and also from what I've read in the book and forum posts.

Let me know if this makes sense!

orionsbelt




Posts

: 29


Join date

: 2010-03-19


Location

: Arlington, VA



One thing you may run in to is if you plan to grow something that requires more than one square - like spaghetti squash, zucchini, summer squash, etc.

I've grown tomatoes successfully in 5 gallon buckets (and have seen some people do it so they hang out the bottom) - so I think you'll be fine with most things. I tried zucchini and yellow squash in buckets last year and they did very poorly.

One bonus would be the ability to move things if needed.

And...have you considered how you will make a trellis?

bonnie0128




Posts

: 110


Join date

: 2010-03-21


Age

: 45


Location

: Lake Milton, OH (zone 6A)



I've been using plain old 5 gallon buckets for years to grow flowers and herbs in. I just use a ¼ drill bit and drill 5 or 6 holes in the bottom. I have a box and bench system on my deck that was designed specifically to hold a 5 gallon bucket. The first few years I just filled the whole thing up with potting soil but when I get up to more than 20 buckets the potting soil got expensive. To save soil and $ I started filling the bottom half of the buckets with regular old dirt and the top half with potting soil. This cost less but weighed a lot more and seemed to have a negative effect on drainage. Then I hit a idea a couple years ago that has been working great. I fill the bottom half of the bucket with Styrofoam packing peanuts, cover with weed block to keep the potting soil from getting in the peanuts and fill to the top with PS. The first couple of times I didn't use the weed block but it was a hassle the next year when I cleaned out the pots for new plantings. This year I will be using Mel's Mix instead of potting soil. I buy things on-line a lot so always have peanuts hanging around but you can also purchase very inexpensively at pack and ship stores. The buckets are much lighter even when fully planted and can easily be moved around to rearrange and/or follow the sun. Added benefit, it keeps the Styrofoam peanuts out of the land fill. This year I'm going to mix veggies in with my flowers. Really excited about potatoes!
Last edited by swripley on 3/24/2010, 5:37 pm; edited 1 time in total (Reason for editing : typo)

swripley




Posts

: 62


Join date

: 2010-03-22


Age

: 57


Location

: Billings, Montana



I like the peanuts idea. Just remember that some are made from corn these days and will melt in water. To check just hold one and get it wet. If it disappears it's corn

tash




Posts

: 9


Join date

: 2010-03-23



In my larger flower containers, I put empty soda cans in the bottom and then fill with potting soil. Very light weight and I don't use too much soil. The tuberous begonias last year were the prettiest I've ever had! =)

n.

nancy




Posts

: 595


Join date

: 2010-03-16


Location

: Cincinnati, Ohio (6a)



I went to the deli in my local grocery store and asked if they had any buckets they were done with, they brought out a cart with about 8 buckets on it, I'm going to grow tomatoes in them after I drill some holes.

I would be sure to use food grade buckets!

nidiyao




Posts

: 56


Join date

: 2010-03-25


Age

: 62


Location

: Indianapolis, US



---
Permissions in this forum:
You
cannot
reply to topics in this forum