Latest topics
»
My Own Fault, but haven completely confused myself
by
sanderson
Yesterday at 9:51 pm
»
N&C Midwest: March & April 2023
by JAM23 Yesterday at 7:02 pm
»
SFG in the 916? First Time MM "Build"...
by OhioGardener Yesterday at 6:45 pm
»
Think Spring 2023
by KiwiSFGnewbie Yesterday at 3:42 pm
»
New study finds plants 'scream' when stressed or injured
by OhioGardener Yesterday at 9:23 am
»
Attracting Beneficial Insects Such As The Aphidius Wasp
by dstack Yesterday at 7:05 am
»
So. California & Inland Valleys -March / April Planting Guide
by
sanderson
3/30/2023, 4:45 pm
»
April: What to plant in No. California/Central Valley area
by
sanderson
3/30/2023, 4:41 pm
»
Planting Seed Potatoes vs Store bought potatoes.
by markqz 3/29/2023, 11:49 pm
»
Happy Birthday!!
by
AtlantaMarie
3/29/2023, 6:51 am
»
Bunk Feeder for Bed
by Lizlo_FL 3/28/2023, 6:27 pm
»
Weird spots on tomato leaves seedlings
by Mattlund 3/28/2023, 4:56 pm
»
soil block makers
by OhioGardener 3/28/2023, 1:27 pm
»
Greenhouse - Helpful Hints in Setting up a Wood-Framed Greenhouse
by sunflowersarefun 3/28/2023, 1:13 pm
»
Sourdough Starter
by
Scorpio Rising
3/28/2023, 9:03 am
»
Hurricane
by yolos 3/27/2023, 10:27 pm
»
Winter Lag - Waiting for Sprimg
by WhiteWolf22 3/27/2023, 12:39 am
»
Kiwi's SFG Adventure
by
sanderson
3/25/2023, 10:11 pm
»
Mixing Mel's Mix
by
sanderson
3/25/2023, 4:08 pm
»
Hi from Northern VA!
by onebirdiema 3/25/2023, 4:06 pm
»
Sifted Peat
by
sanderson
3/25/2023, 3:40 pm
»
Can I Use this As My 5 Sources of Compost?
by
sanderson
3/25/2023, 3:36 pm
»
Green onions
by OhioGardener 3/25/2023, 8:28 am
»
Nero Di Toscana Cabbage or Black Palm Tree
by Paul Crowe 3/25/2023, 6:01 am
»
Chinese Cabbage and Radicchio, spacing?
by Paul Crowe 3/25/2023, 5:40 am
»
finished my SGF garden
by
sanderson
3/25/2023, 3:49 am
»
need specific advice on MM
by
sanderson
3/25/2023, 3:42 am
»
Compost from Five Different Sources
by
sanderson
3/25/2023, 3:32 am
»
Indoor seed starting question
by Simso 3/24/2023, 8:30 pm
»
Senseless Banter...
by OhioGardener 3/22/2023, 8:11 pm
I'm getting ready to make the purchases for my hoop cover, and I'm getting super anal. I want it to meet all my needs, and want to know what you all did, and what you're happy you did, or what you wish you would have done. Here are my specific needs:
~ I'd like it to double as a frame for bird netting (can I use that for the bunnies and deer as well?)
~ Double (triple?) as a trellis for my cukes and tomatoes, using nylon netting on one of the end hoops - does that mean I would have to make the whole hoop cover 6+ feet tall?
~ I'd like to attach it to my bed with either brackets, or short pieces of rebar or thicker PVC. Here is a picture of my bed - there's a seat, so attaching right to the side will be a little problematic because of the overhang. Suggestions?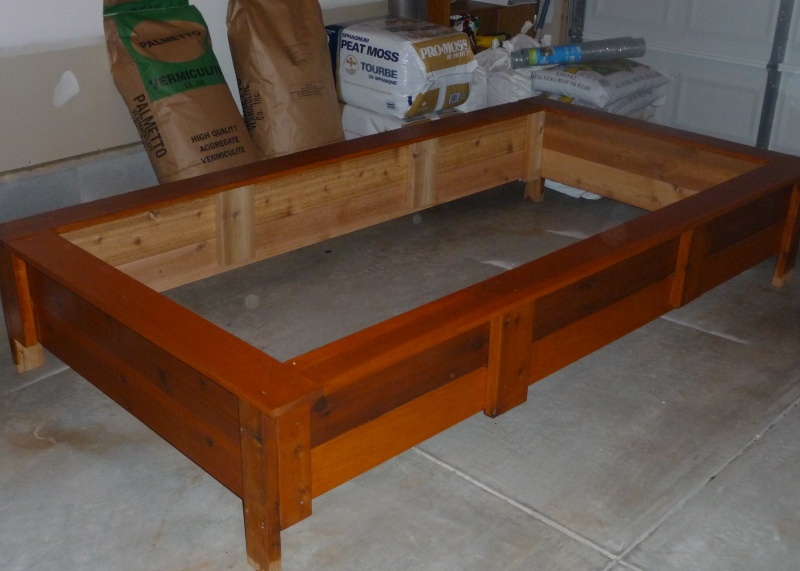 What size PVC would you recommend? I don't get heavy snows, or regular high winds, but sometimes we get hurricane carryover winds (when the hurricane is on the coast, it settles down by the time it gets to us, but can get a bit strong - no super strong though). I do plan to buy snap clasps to clasp the plastic onto the PVC.
Gosh, what else do I need to know?
Thanks SOOOOOOOOOO much. Where would I be without you?!
Tracy

jazzymaddy




Posts

: 309


Join date

: 2011-03-20


Age

: 48


Location

: Fort Mill, SC



I don't have the time or finances to do this in one shot.....but here is what you are talking about. You want to emulate this guy's design in some way...
https://www.youtube.com/watch?v=kMzjsCDJ7Hw
You would just use a little finer guaged netting to keep out the critters. My issue with the critter netting doubling as trellis netting is.....what a pain in the doohickywhackadoo to take the vines off of that when they are spent.

BackyardBirdGardner




Posts

: 2727


Join date

: 2010-12-25


Age

: 49


Location

: St. Louis, MO



Whoah! That is intense! I don't know if I have the time/finances either. Maybe one day. So I guess ultimate perfection will have to wait...

I do have to add one more requirement:

~ I have to keep the HOA happy - not too much to draw attention to itself, and not too permanent. I know, that's a big one!

jazzymaddy




Posts

: 309


Join date

: 2011-03-20


Age

: 48


Location

: Fort Mill, SC



Similar topics
---
Permissions in this forum:
You
cannot
reply to topics in this forum