Latest topics
»
N&C Midwest October 2023
by
Scorpio Rising
Today at 8:33 am
»
New from AZ
by
sanderson
Yesterday at 3:23 pm
»
Beds not holding moisture?
by lisawallace88 Yesterday at 2:54 pm
»
What Have You Picked From Your Garden Today
by lisawallace88 Yesterday at 2:46 pm
»
Tomato Fruitworm
by
sanderson
10/1/2023, 4:39 pm
»
Ohio Gardener's Greenhouse
by
sanderson
10/1/2023, 4:14 pm
»
Plan for a raised bed off ground?
by OhioGardener 10/1/2023, 8:24 am
»
Stevia
by markqz 9/28/2023, 12:11 pm
»
Mark's first SFG
by markqz 9/28/2023, 11:53 am
»
N&C Midwest September 2023
by
Scorpio Rising
9/27/2023, 6:55 am
»
Walking stick kale
by markqz 9/26/2023, 11:52 pm
»
Butternut squash sets world record at the State Fair of Virginia
by markqz 9/25/2023, 5:13 pm
»
Closing beds for winter
by plantoid 9/25/2023, 4:25 pm
»
Famous Gardening Quotes
by OhioGardener 9/23/2023, 12:51 pm
»
Foodbank's composting program creates food from food
by OhioGardener 9/22/2023, 8:29 am
»
Turning existing garden beds into SFG
by jemm 9/20/2023, 7:35 am
»
updating my mix - what should I add
by
sanderson
9/18/2023, 5:04 am
»
Senseless Banter...
by
sanderson
9/16/2023, 11:37 pm
»
Lumber and measuring for SFG boxes
by
sanderson
9/16/2023, 12:21 am
»
Avatar issues
by Guinevere 9/14/2023, 7:53 pm
»
Happy Birthday!!
by
sanderson
9/11/2023, 4:40 pm
»
When to harvest? / Watermelon seedlings
by
sanderson
9/9/2023, 6:07 pm
»
Hornets Nest
by
sanderson
9/8/2023, 8:15 pm
»
Tropical Storm Hilary
by jennyjo37 9/5/2023, 5:31 pm
»
A square foot garden in a round bed.
by alicej 9/4/2023, 3:39 am
»
Determinate Cherry Tomato for Greenhouse
by OhioGardener 9/2/2023, 6:52 pm
»
N&C Midwest August 2023
by
Scorpio Rising
8/31/2023, 9:01 am
»
Hurricane
by
Scorpio Rising
8/30/2023, 7:25 am
»
No-Fail Zucchini Bread
by OhioGardener 8/28/2023, 11:11 am
»
buying compost small town SW Pennsylvania
by
sanderson
8/27/2023, 6:41 pm
First off I would like to welcome Old Hippie as our new Co-Regional Host for Canada! Together I'm sure we can get the Canada Forum hopping.
The only thing I have left in my garden that is doing anything is one lonely broccoli plant. If you've read any of my past updates, you will know that I planted it from seed in the spring. It stopped growing for a while, was munched on by cabbage worms and just sat there in statis. Since the cooler weather came along in September and October, it has decided to start growing again. I think it's grown about a foot since September. Last I checked a couple of days ago, there still wasn't a head, but I'm hopeful that I will get at least one harvest out of this stubborn broccoli plant this season!!
I'm a little behind in putting my beds to "bed", but I may be able to find some time this weekend to clean them up and get them ready for spring. I also still have my new boxes to setup, although unfortunately I don't have the $$ needed to buy the MM ingredients to fill them. So, that will have to wait until spring too.
Anyone else have any updates they would like to share??

Blackrose




Posts

: 710


Join date

: 2010-03-21


Age

: 50


Location

: Aurora, Ontario, Zone 5a



Where have all of my Canadian SFGers gone? You guys can't be hibernating yet!

Blackrose




Posts

: 710


Join date

: 2010-03-21


Age

: 50


Location

: Aurora, Ontario, Zone 5a



Yes I have gone into hibernation here in Petawawa. We had a very cold September and early heavy frost near the end of September that finished everything off. My summer squash were really taking off with blooms late August but the cool September didn't help. I didn't get as much as I expected to get.
My tomato vines were stranded with 100s of green cherry and juliet grape tomatoes that never ripened. When the 2nd heavy frost hit and killed the vines completely I picked them all. As an experiment to see if they would ripen I lined many of the partially ripened ones up on the kitchen window sill 2-3 thick with a few greener ones tucked in between them, loaded several into 2 lunch-sized paper bags (also kept on the window sill), and left the rest in a plastic flower pot that I brought into the house. I had really good luck with all 3 techniques! I only had a dozen or so rotten casualties in the pot but I have many fully ripened tomatoes as of this weekend just passed. They ripened very slowly but they did eventually ripen. I actually have more tomatoes than we'll be able to eat before they spoil so I will be taking a bunch of them to work to give away.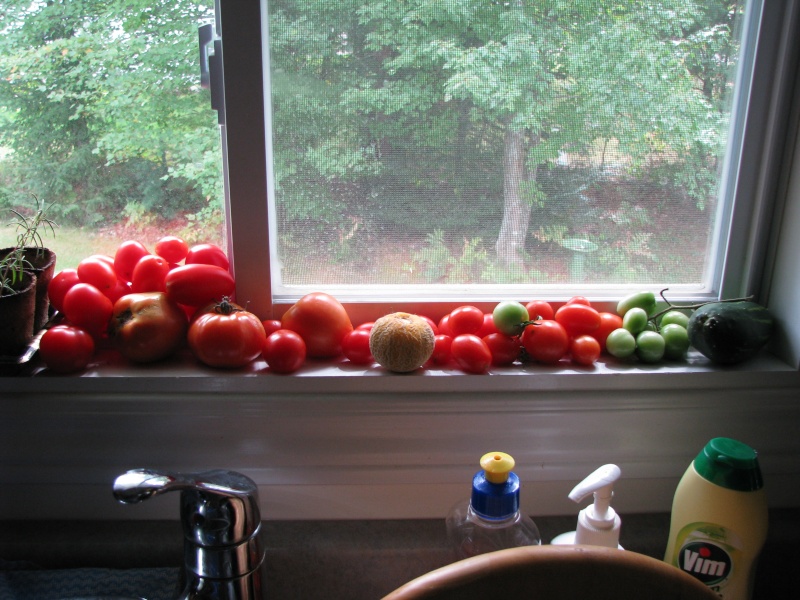 Note the single midget cantaloupe in the front center; it was definately a midget being only about two inches across. Not even enough for a single melon ball once skinned and seeded. But it was really cute! Too bad there weren't anymore. It was shaded out by a cherry tomato vine that grew off the top of trellis into the trees above. I will switch things around next year to prevent shading issues.
I harvested several plots of carrots and my 2 plots of parsnips since frost. I think there may be one square of carrots still out there that will be eaten before snow sets in to stay.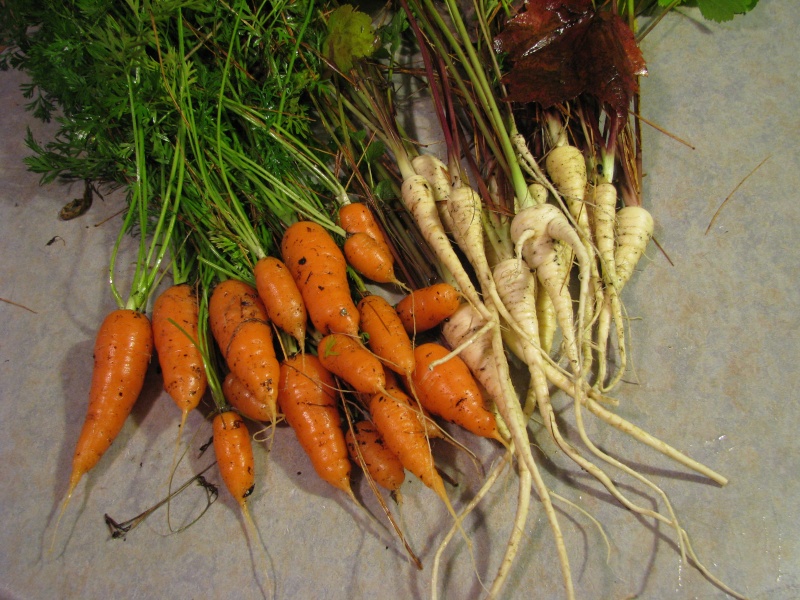 I have already cleaned the dead plants and vines out my gardens and have put them to bed. We have already had snow a couple times that lasted a couple days each before melting. The outdoor growing season has been over here for a while now.
My gardens did really well compared to last year but still could have been much more productive. My harvest was nothing like what many others on the forum seem to be getting from their gardens, so I must hope that the potential productivity can still be better.
I made one major mistake that I am aware of. I put a sprinkler on a timer to water my gardens when we went on vacation early August that caused a significant amount of flower and leader rot on my winter squash and peppers. They never recovered and I literally got only 1 squash of each winter squash vine and pepper plants for a grand total of 0 sweet dumpling, 2 acorn, 1 buttercup squash, and 3 peppers. I had a bit better luck with my 4 summer squash plants but there was still a lot more potential for them had September been warmer; I harvested 8 white custard, 4 yellow crookneck, and 1 sunburst. There were many summer squash flowers in September but it was too cold for the pollinators to do their job and the hand pollinated flowers found it to cold for the squash to grow. I need to install a drip irrigation system next year. I found 2 drip irrigation kits on the fall clearance rack that have all the tubing and connectors to make this a reality next year.
The other problem I had was with root production on my beets, radishes, and turnips. Great tops but no bottoms. Also very poor broccoli head production, great leaves but very small or no heads. I am not sure how to fix these production problems. This is the second year in a row with poor success on these crops. I love beets and would really like to be able to grow my own.
I am very proud of having grown all my veggies from seed. I started most of them on an old heating pad and grew them in my home made "table top grow op" (as my hubby nick-named it) until I could transplant them in the spring. That allowed me to be busy "growing things" starting in March.
Here is a photo of my early October harvest, clearly the "Grand Finale" of my SFG, taken shortly after first major frost that happened late September. It was the best mix of different crops that I had all at one time and they made a very pretty arrangement!
I am already planning for next year! This is how I make it through till spring to make my hibernation a little more interesting. I can't wait for March to get here so I can start the process all over again. Next year will be even better!

bullfrogbabe




Posts

: 189


Join date

: 2010-03-03


Age

: 52


Location

: Petawawa, Ontario, Canada Zone 4a



Similar topics
---
Permissions in this forum:
You
cannot
reply to topics in this forum