Latest topics
»
New from AZ
by jkrn Today at 10:16 am
»
N&C Midwest October 2023
by OhioGardener Yesterday at 8:47 pm
»
Tomato Fruitworm
by
sanderson
Yesterday at 4:39 pm
»
Ohio Gardener's Greenhouse
by
sanderson
Yesterday at 4:14 pm
»
Plan for a raised bed off ground?
by OhioGardener Yesterday at 8:24 am
»
Beds not holding moisture?
by MrBooker Yesterday at 6:36 am
»
Stevia
by markqz 9/28/2023, 12:11 pm
»
Mark's first SFG
by markqz 9/28/2023, 11:53 am
»
N&C Midwest September 2023
by
Scorpio Rising
9/27/2023, 6:55 am
»
Walking stick kale
by markqz 9/26/2023, 11:52 pm
»
Butternut squash sets world record at the State Fair of Virginia
by markqz 9/25/2023, 5:13 pm
»
Closing beds for winter
by plantoid 9/25/2023, 4:25 pm
»
Famous Gardening Quotes
by OhioGardener 9/23/2023, 12:51 pm
»
Foodbank's composting program creates food from food
by OhioGardener 9/22/2023, 8:29 am
»
What Have You Picked From Your Garden Today
by OhioGardener 9/21/2023, 1:15 pm
»
Turning existing garden beds into SFG
by jemm 9/20/2023, 7:35 am
»
updating my mix - what should I add
by
sanderson
9/18/2023, 5:04 am
»
Senseless Banter...
by
sanderson
9/16/2023, 11:37 pm
»
Lumber and measuring for SFG boxes
by
sanderson
9/16/2023, 12:21 am
»
Avatar issues
by Guinevere 9/14/2023, 7:53 pm
»
Happy Birthday!!
by
sanderson
9/11/2023, 4:40 pm
»
When to harvest? / Watermelon seedlings
by
sanderson
9/9/2023, 6:07 pm
»
Hornets Nest
by
sanderson
9/8/2023, 8:15 pm
»
Tropical Storm Hilary
by jennyjo37 9/5/2023, 5:31 pm
»
A square foot garden in a round bed.
by alicej 9/4/2023, 3:39 am
»
Determinate Cherry Tomato for Greenhouse
by OhioGardener 9/2/2023, 6:52 pm
»
N&C Midwest August 2023
by
Scorpio Rising
8/31/2023, 9:01 am
»
Hurricane
by
Scorpio Rising
8/30/2023, 7:25 am
»
No-Fail Zucchini Bread
by OhioGardener 8/28/2023, 11:11 am
»
buying compost small town SW Pennsylvania
by
sanderson
8/27/2023, 6:41 pm
Outside the Box for So Cal.
FYI, the monarch migration through southern California is August through October. Keep your eyes peeled. If you grow milkweed, that is what they eat and lay eggs on. I am no monarch expert, but love the 'extras' that come with gardening - like observing two different species of hummingbirds flitting among my plantings. The perks, as it were.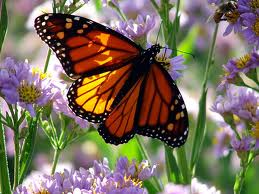 We are on the Fall migration path in my area of Texas as well. The past couple of years they've come down a bit west of us, but hoping they might turn east this year. Being visited by thousands of monarchs is truly a spiritual experience.

Retired Member 1




Posts

: 904


Join date

: 2010-03-03


Location

: USA



Duh! Having another senior moment. I can't find the other monarch thread.
 Anyway, I've spent the past 2 days cleaning the aphids off my milkweed plants, searching for caterpillars, and relocating them all to the butterfly house. I now have about 30, from tiny to huge and fat. I had to set up a fan in the butterfly house and hose it down from the outside twice a day because of our excessive heat, but at least these babies are safe from predators and have plenty to eat.
For those of you who love butterflies, but don't want all the work involved in raising monarchs (ungrateful things that fly away right after laying eggs, so they're rarely seen in the garden and we have to do all the work of raising their young), find out if you have Gulf Fritillaries in your area. We found one last year and bought some passion flower vine for it (their host plant for the caterpillars). This year we have frits everywhere. It's like living in a Disney movie and we don't have to do a thing but water the passion vine plants and enjoy the show.
---
Permissions in this forum:
You
cannot
reply to topics in this forum