Latest topics
»
Hello from Howe, TX Zone 8a
by
wpsnts
Yesterday at 10:33 am
»
Hello from Murphy, TX
by
wpsnts
Yesterday at 10:27 am
»
The SFG Journey-Johnson Su Bioreactor for composting, No turning
by
has55
Yesterday at 8:16 am
»
My SFG journey- using hanging clips on cucumber and tomatoes
by
has55
Yesterday at 8:06 am
»
Microbes...you gotta see this one !!!
by
has55
Yesterday at 7:55 am
»
Wasabi Radish
by
sanderson
Yesterday at 12:55 am
»
Tomato - Snow Fairy
by
sanderson
Yesterday at 12:53 am
»
N&C Midwest — October 2021
by
nrstooge
10/18/2021, 10:23 am
»
I want to start over
by
Roseinarosecity
10/17/2021, 12:46 am
»
CANADIAN REGION:What are you doing July to December 2021
by
Kelejan
10/16/2021, 6:15 pm
»
Birds of the Garden
by
Kelejan
10/16/2021, 6:10 pm
»
Happy Birthday!!
by
Scorpio Rising
10/16/2021, 12:18 pm
»
Winter Travel
by
OhioGardener
10/13/2021, 8:17 am
»
What are you eating from your garden today?
by
yolos
10/10/2021, 11:09 am
»
Keeping bees
by
Kelejan
10/9/2021, 10:50 am
»
worm buying
by
OhioGardener
10/8/2021, 8:57 am
»
October: What to plant in Northern California and Central Valley areas
by
Yardslave
10/7/2021, 5:56 pm
»
Hello from West Palm Beach, FL
by
OhioGardener
10/6/2021, 6:02 pm
»
OhioGardener SFG
by
OhioGardener
10/5/2021, 9:31 pm
»
National Kale Day
by
OhioGardener
10/5/2021, 9:04 am
»
Senseless Banter...
by
OhioGardener
10/4/2021, 2:13 pm
»
October Avatar: Fall Gardening
by
sanderson
10/4/2021, 2:06 pm
»
What are these fruits?
by
bijan
10/4/2021, 1:53 pm
»
Mulching question?
by
sanderson
10/4/2021, 1:46 pm
»
Wood Chips-->Pine
by
sanderson
10/4/2021, 1:41 pm
»
Dr Higa's Soil Classifications
by
sanderson
10/4/2021, 1:35 pm
»
Famous Gardening Quotes
by
sanderson
10/4/2021, 1:32 pm
»
has55's R & D Journey
by
has55
10/3/2021, 5:02 pm
»
The SFG Journey: The love ballet of cucumber
by
has55
10/3/2021, 4:34 pm
»
I should have barked (zucchini humor)
by
OhioGardener
10/2/2021, 3:11 pm
+4
herbarium
Retired Member 1
Shoda
timwardell
8 posters
Not sure what is happening. Things were looking so good but in the last few weeks I've had whiteflies take out a square of potatoes, and now I've got what I think are 2 different problems with my tomatoes, AND somethings not right with my summer squash and watermelons. *sigh* My zucchini and cukes are doing just fine. My peppers and eggplants are okay except for having a few too many holes in the leaves. I've been applying a fungicide to the tomatoes but have avoided using any other pesticides except Bt. ...
I've never had problems with wilt or blight before on my tomatoes so I'm not really sure what I'm dealing with. I've sent photos to my county ag office but thought some of you might know.
I've posted photos of the problems I'm having here:
https://s41.photobucket.com/albums/e268/timwardell/2010%20plant%20issues/
However, here are few pics: The white powder on the summer squash is Bt.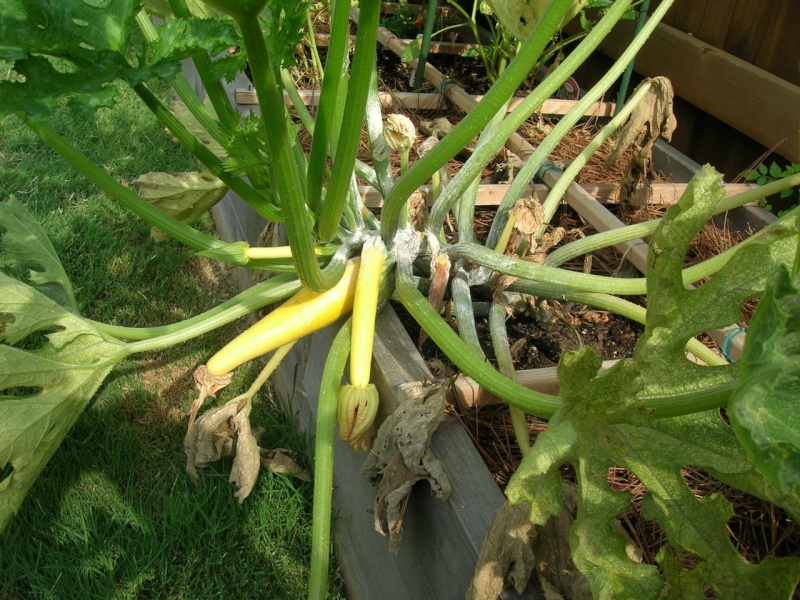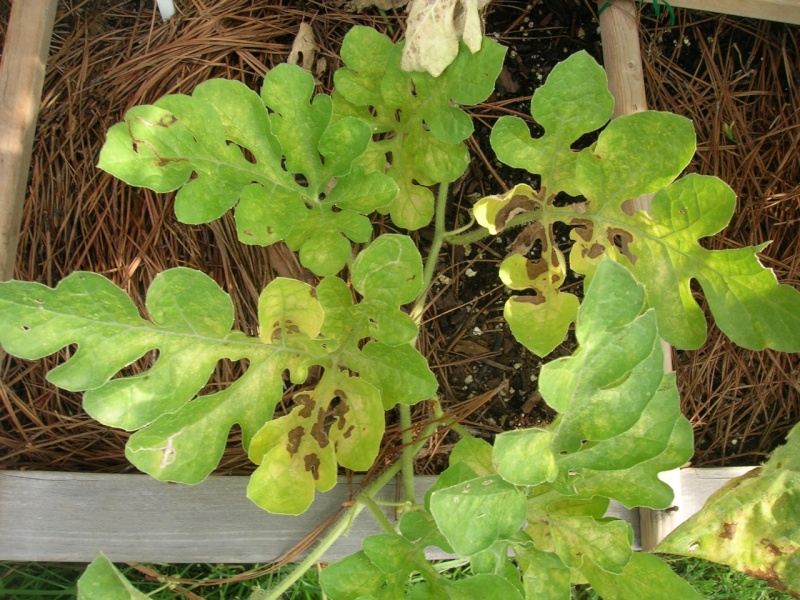 Tim, Sorry about your plants! I am new to this but am seeing a few similar plants in my garden. I talked to the nursery yesterday and because we have had a wet and cool spring, there is more fungus then usual.

I purchased some organic fungicide to treat my infected plants and I pruned some of the expendable leaves.

Did you try taking a sample to a local nursery? They often have pretty smart folks who keep up with the diseases and pests of the region. Maybe they can help.
Tim, I'm having similar problems with my tomatoes -- three plants are looking like yours. It might be blight, so I pulled off all the affected leaves and put them in the garbage. But a few more leaves are beginning to turn as well. I wish I had an answer, but in Texas we blame all things on the weather!

I had problems with squash -- not quite blossom end rot but some fruits weren't forming right even though I hand pollinate. I pulled off the affected fruit, dosed with Neem oil and extra calcium/magnesium supplement, and within a week the three plants in question began to produce correctly again.

BUT, I am having many more pests this year than ever before -- again, I blame the weather. All of my veggies and many ornamentals are being nibbled at by several different "critters" -- caterpillars, pill bugs, stink bugs, flea beetles, afids, and the list goes on. Since this is my first garden at the new house, I don't have any history on what might be going on.

If you find out what is wrong with your tomatoes, please let me know.

Retired Member 1




Posts

: 904


Join date

: 2010-03-03


Location

: USA



I'm spraying the tomatoes with a fungicide.
The squash have been given a boost of calcium and fertilizer.
Like so many others I'm seeing larger numbers of more different kinds of bugs this year. I thought our colder, wetter, snowier winter (2nd most snowfall on record) might have kept things in check. Apparently it's had the opposite effect.
I am not saying what you have is a fungus but some of it appears to be.

Cooler, damper weather will contribute to fungus problems and so will watering in the evening and/or watering so the water hits the leaves. We certainly can't do everything to prevent such situations.

I like to fertilize my yard and lawn with liquid kelp. I don't usually fertilize my Square Foot Garden other than with the compost in the boxes but if there is reason to believe my plants are more suseptible to fungus, drought, or frost I will use it there also. Kelp has been shown to make plants more resistant to such things. It may even eliminate existing fungus. I either put some in a hose end sprayer and set it to 8 oz (or more) per gallon or I add 1 T. to 1 gallon water in a watering can. Although I normally avoid watering the leaves I purposely spray them with the kelp mixture because the plants absorb it through the leaves and if they do have a fungus applying where the fungus is should be most helpful.
Thank you for that suggestion, Beuna. I hadn't heard about using kelp that way. I'm having similar problems as Tim, and it is very frustrating.

Retired Member 1




Posts

: 904


Join date

: 2010-03-03


Location

: USA



So where would one even begin to look to purchase kelp that can be used like this? I live in MI ... a long way from any saltwater kelp. All I have on hand are the sheets of Nori I use for making Sushi and that stuff is too expensive to use as fertilizer.

I learn so much from these forums. Thanks everyone for sharing ALL your experiences ... good, bad, previous solutions, and suggestions to try.

Nurse Grams




Posts

: 37


Join date

: 2010-05-23


Age

: 63


Location

: West MI - 5b



I just did a search for it and gardens alive has it
Most nurseries and garden centers carry liquid kelp. I like to mix it with fish emulsion because both have micronutrients. Sometimes you can buy a comb of the two together.
Any issues with air flow? I have seen from some of your other pictures that the yard is fenced in. Maybe the breezes are nto getting to the plants and things are festering.

Just a thought.

Garden_State




Posts

: 86


Join date

: 2010-04-27


Age

: 51


Location

: Hunterdon County, NJ



The ladies I love at "Little House in the Suburbs" posted this
potion
recipe last May. I will be making it for my babies this weekend. Perhaps it can help some of you, too.
Easy Organic Garden Plant Food Veggie Plant Food
(Enough for 100 square feet of garden)
1 can beer
6oz water
½ c fish emulsion
2T liquid soap
4T Epsom salts
Put it in a hose end attachment and set it for 6oz per gallon. Use it all, every two weeks. Cannot be stored.
**Note, you aren't "watering" with this solution. The mix disappears too quickly. It's a spray for the leaves. If you water with it, you'll end up fertilizing 16 square feet and nothing else. If you want to water with it, just set your sprayer to deliver much less.
If the fishy smell is too much, substitute kelp for the fish emulsion. Should be on the same shelf at your store.

nancy




Posts

: 595


Join date

: 2010-03-16


Location

: Cincinnati, Ohio (6a)



---
Permissions in this forum:
You
cannot
reply to topics in this forum