Latest topics
»
Mark's first SFG
by OhioGardener Today at 3:13 pm
»
N & C Midwest: November/December 2023
by
Scorpio Rising
Yesterday at 4:35 pm
»
Strawberry Varieties?
by
sanderson
12/5/2023, 3:57 pm
»
Recommended store bought compost - Photos of composts
by
sanderson
12/4/2023, 1:27 pm
»
Jerusalem Artichoke or Sun Choke
by
Scorpio Rising
12/4/2023, 7:09 am
»
Strawberries in MM: to feed or not to feed?
by
sanderson
12/3/2023, 7:30 pm
»
What Have You Picked From Your Garden Today
by OhioGardener 11/29/2023, 5:36 am
»
Senseless Banter...
by
sanderson
11/28/2023, 10:31 pm
»
FREE Online SFG Class - November 28, 2023
by
sanderson
11/27/2023, 9:21 pm
»
Mini-Raised Beds?
by Chuck d'Argy 11/27/2023, 2:14 pm
»
Happy Birthday!!
by
sanderson
11/26/2023, 10:58 pm
»
Name the mystery (to me) seedlings! :-)
by Psdumas 11/25/2023, 12:04 am
»
Happy Thanksgiving from the USA
by
sanderson
11/23/2023, 1:47 pm
»
Guatemalan Green Ayote Squash
by OhioGardener 11/21/2023, 8:27 am
»
Kiwi's SFG Adventure
by
sanderson
11/20/2023, 2:06 pm
»
Seeds 'n Such Early Order Seeds
by
sanderson
11/20/2023, 1:13 pm
»
USDA Plant Hardiness Zone Map
by OhioGardener 11/19/2023, 7:12 am
»
AeroGarden for starting seeds?
by OhioGardener 11/16/2023, 12:40 pm
»
Biochar?
by OhioGardener 11/16/2023, 10:31 am
»
2023 - Updated U.S. Interactive Plant Hardiness Map
by
sanderson
11/15/2023, 6:18 pm
»
SFG Is Intensive Gardening
by
sanderson
11/14/2023, 3:26 pm
»
Teaming with Microbes Kindle Sale (Mem. Day weekend 2023)
by markqz 11/10/2023, 12:42 am
»
Bok Choy Hors d'oeuvres
by
donnainzone5
11/9/2023, 5:58 pm
»
Now is the Time to Start Preparing Next Year's Spring Garden
by OhioGardener 11/9/2023, 7:13 am
»
Shocking Reality: Is Urine the Ultimate Gardening Hack or Disaster?
by dstack 11/6/2023, 5:29 pm
»
Nightmare on Mel Street.
by
Scorpio Rising
11/4/2023, 6:37 pm
»
Aerogardening
by
Scorpio Rising
11/3/2023, 10:02 am
»
Sunday All Purpose Organic Garden Nutrients
by lisawallace88 11/3/2023, 9:13 am
»
Mid-summer seed sowing, how do you do it?
by KiwiSFGnewbie 11/2/2023, 8:04 pm
»
N&C Midwest October 2023
by OhioGardener 11/1/2023, 8:49 am
I started this seed, I have it written down as butterflyweed, but it looks NOTHING like what the other package of seeds ended up: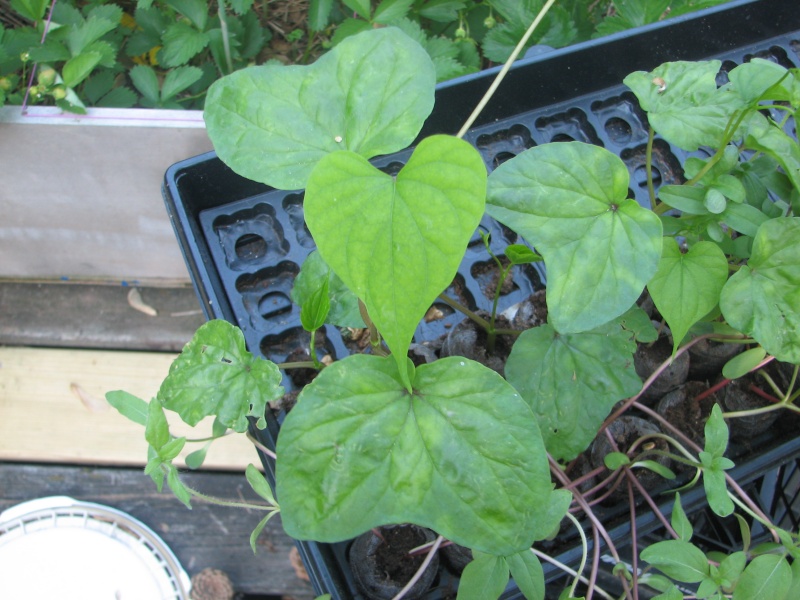 It almost seems vine like with these two HUGE seedling leaves then that spade like flower is the new "adult" one.
Help!...again...
Does the seed itself have any distinctive shape / size / markings?
I think maybe a moon flower.
or Morning Glory (that's less likely). I would suggest prepare a trellis arrangement for it.
moon flower it is then!!
I must have messed up my planting schematic, but I did plant moon flower, also in this seeding pack I have the following seedlings :sunflower (two kinds), butterfly weed (two kinds), zinnia, and 4 o'clocks.
SO... I wonder is what I think are sunflower seedlings are actually the butterflyweed seedlings
My trellis isn't ready yet (stupid tree situation), how tall should it be? I have an area I think would be perfect.
I have moon flower and morning glory growing in the same pot. Lets see if I can get the right picture.
If you look at the bottom leaves they are the Moon Flower, the leaves in the beginning seem to have a different shape leaf then like with the picture from my last years Moon flower the leaves are heart shaped like a Morning Glory.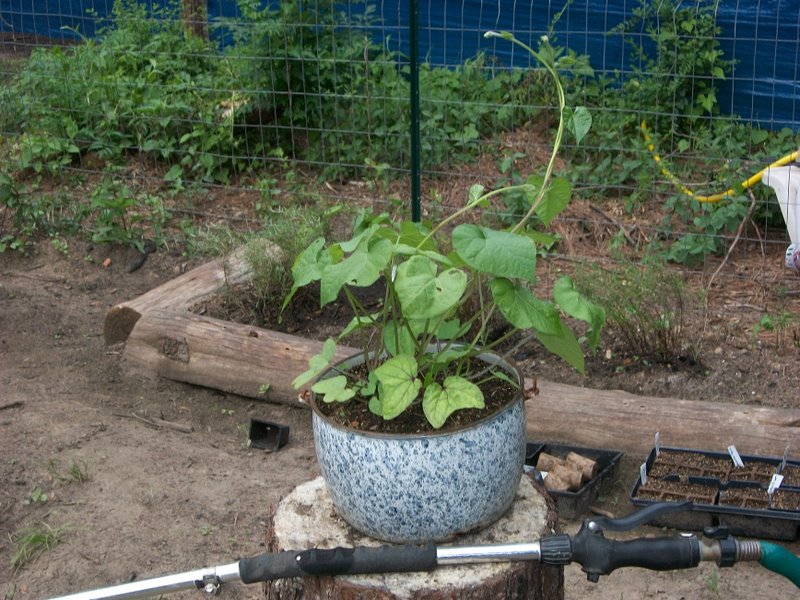 The picture below is last years Moon flower. I love these I plant them with morning glories to have flowers all day.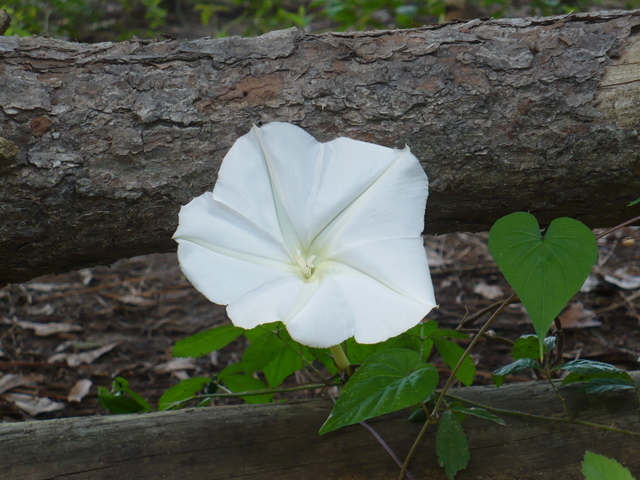 Hope that helps
Ha-v-v

Ha-v-v




Posts

: 1123


Join date

: 2010-03-12


Age

: 63


Location

: Southwest Ms. Zone 8A (I like to think I get a little bit of Zone 9 too )



I have never heard of moon flower, it's beautiful

1chichi




Posts

: 151


Join date

: 2010-04-24


Location

: SuNnY SoutH CaRoLiNa



Arent they, I still need sweet peas. I like the combination of the 3, sweet pea,( was the flower in a beautiful vase at my wedding near the guest book.) Moon flowers and morning glories. Ive always liked the way they vine
Ha-v-v

Ha-v-v




Posts

: 1123


Join date

: 2010-03-12


Age

: 63


Location

: Southwest Ms. Zone 8A (I like to think I get a little bit of Zone 9 too )



---
Permissions in this forum:
You
cannot
reply to topics in this forum