Latest topics
»
Stevia
by markqz Today at 09:11
»
Mark's first SFG
by markqz Today at 08:53
»
Beds not holding moisture?
by MrBooker Yesterday at 04:13
»
N&C Midwest September 2023
by
Scorpio Rising
Yesterday at 03:55
»
Walking stick kale
by markqz 2023-09-26, 20:52
»
Butternut squash sets world record at the State Fair of Virginia
by markqz 2023-09-25, 14:13
»
Ohio Gardener's Greenhouse
by OhioGardener 2023-09-25, 13:29
»
Closing beds for winter
by plantoid 2023-09-25, 13:25
»
Famous Gardening Quotes
by OhioGardener 2023-09-23, 09:51
»
Foodbank's composting program creates food from food
by OhioGardener 2023-09-22, 05:29
»
What Have You Picked From Your Garden Today
by OhioGardener 2023-09-21, 10:15
»
Turning existing garden beds into SFG
by jemm 2023-09-20, 04:35
»
updating my mix - what should I add
by
sanderson
2023-09-18, 02:04
»
Senseless Banter...
by
sanderson
2023-09-16, 20:37
»
Lumber and measuring for SFG boxes
by
sanderson
2023-09-15, 21:21
»
Avatar issues
by Guinevere 2023-09-14, 16:53
»
Happy Birthday!!
by
sanderson
2023-09-11, 13:40
»
When to harvest? / Watermelon seedlings
by
sanderson
2023-09-09, 15:07
»
Hornets Nest
by
sanderson
2023-09-08, 17:15
»
Tropical Storm Hilary
by jennyjo37 2023-09-05, 14:31
»
A square foot garden in a round bed.
by alicej 2023-09-04, 00:39
»
Determinate Cherry Tomato for Greenhouse
by OhioGardener 2023-09-02, 15:52
»
N&C Midwest August 2023
by
Scorpio Rising
2023-08-31, 06:01
»
Hurricane
by
Scorpio Rising
2023-08-30, 04:25
»
No-Fail Zucchini Bread
by OhioGardener 2023-08-28, 08:11
»
buying compost small town SW Pennsylvania
by
sanderson
2023-08-27, 15:41
»
Phosphate
by
sanderson
2023-08-27, 12:43
»
Topping brand new SFG box with more gorgeous compost???
by
sanderson
2023-08-27, 12:36
»
8 Great Vegetables for Fall Planting
by
sanderson
2023-08-27, 11:58
»
What are you eating from your garden today?
by OhioGardener 2023-08-26, 16:19
Hello all! Need some help! We have indeterminate tomatoes, that we started indoors from seed, really taking off in our garden. So much so, that they are already AT LEAST 6 feet tall (and it is only the first week of July with a lot more summer to go). They have many tomatoes and flowers on the vine. We did not use a trellis this year. They are staked and growing inside of cages with suckers being removed.

Now they are getting very difficult to manage because of their height. Should we top them off now or is it too early in the season? If we top them off, will they continue to make more new flowers and fruit from the lower branches or does the production of new flowers stop if they are topped off. We don't want to sacrifice losing more fruit production so early in the season but don't want the plants to snap and break if they get too top heavy and much taller.

I've only encountered this situation much later in the growing season in the past and I'm not sure how to handle and manage it this time.

Any help would be appreciated.

amcon2




Posts

: 18


Join date

: 2015-04-19


Location

: long island , new york



Scorpio Rising likes this post
Sometimes tall tomatoes will safely fall over the top of a trellis and continue growing just fine. The stems are pretty hardy even if they get bent.

To me pruning tells the plant what you want. Top them and the suckers will grow and make it bushier. Remove suckers and the main stem(s) continue growing tall. It you want to top them, cut above a small lower sucker that you want to take over growing up. Every sucker produces flowers, fruit and their own suckers. Maybe experiment with a couple of plants?

Scorpio Rising and WhiteWolf22 like this post
Sanderson, thanks for your response. I think I will try some experimenting with a few of the plants, as you suggested. My concern was that if I topped off that ALL new  flower production would stop, but if I stop pruning suckers then that won't happen. Is that correct? They will just get bushier?

I dont have a trellis in place for them to fall on top of and because of their location (they are lined up and butted up against the outside of a garage wall and have grown up to the roof). I might try playing around with jimmying up some kind of support for some of them to flop onto, if I can figure out how. The others, I will top off and see how that goes. 

Thanks for your help.

amcon2




Posts

: 18


Join date

: 2015-04-19


Location

: long island , new york



sanderson likes this post
If there is an eave overhead, you can support tomatoes with string/twine/stretchy garden tape from the rafter tails if you can figure out a way not to damage them.  Or erect a free-standing tall EMC trellis.  Mine have stayed straight for ~4 seasons do to a trick I learned from Yolos.  See photo below.
I do a compromise.  I let 1, 2 or 3 daughters/suckers also grow to provide some self-shade in my hot dry climate.  This year I'm only letting 1 or 2 daughters grow and not even using trellises to get them started for a change.  They are all overhead supported off free standing EMC trellises.  The cheap stretchy tape I bought this year is too stretchy but it's still working out. I carefully wrap the vines around their tape as each grows taller.  The area is 1-dimensional, so I have to be able to reach everything from one side.  In this photo they look bushy but that's in part to the drooping of the tape.  
The weather was perfect this spring for lots of tomatoes to set. Now they are starting to ripen.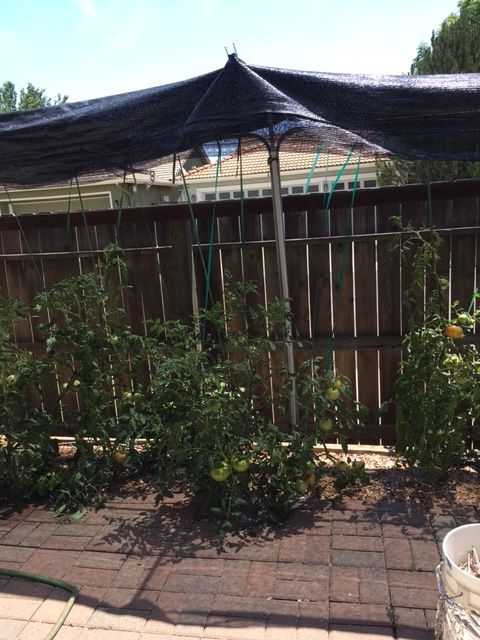 A 2"x4" block is used as a "foot" to stabilize the EMC.  A hole is drilled large enough for the rebar to go through but small enough so the EMC can't slip through.
Scorpio Rising likes this post
Similar topics
---
Permissions in this forum:
You
cannot
reply to topics in this forum