Latest topics
»
Mark's first SFG
by OhioGardener Yesterday at 3:24 pm
»
What Have You Picked From Your Garden Today
by markqz Yesterday at 2:56 pm
»
Kiwi's SFG Adventure
by KiwiSFGnewbie 12/9/2023, 10:25 pm
»
Hi from Western Australia
by OhioGardener 12/9/2023, 11:10 am
»
N & C Midwest: November/December 2023
by JAM23 12/8/2023, 6:49 pm
»
Strawberry Varieties?
by
sanderson
12/5/2023, 3:57 pm
»
Recommended store bought compost - Photos of composts
by
sanderson
12/4/2023, 1:27 pm
»
Jerusalem Artichoke or Sun Choke
by
Scorpio Rising
12/4/2023, 7:09 am
»
Strawberries in MM: to feed or not to feed?
by
sanderson
12/3/2023, 7:30 pm
»
Senseless Banter...
by
sanderson
11/28/2023, 10:31 pm
»
FREE Online SFG Class - November 28, 2023
by
sanderson
11/27/2023, 9:21 pm
»
Mini-Raised Beds?
by Chuck d'Argy 11/27/2023, 2:14 pm
»
Happy Birthday!!
by
sanderson
11/26/2023, 10:58 pm
»
Name the mystery (to me) seedlings! :-)
by Psdumas 11/25/2023, 12:04 am
»
Happy Thanksgiving from the USA
by
sanderson
11/23/2023, 1:47 pm
»
Guatemalan Green Ayote Squash
by OhioGardener 11/21/2023, 8:27 am
»
Seeds 'n Such Early Order Seeds
by
sanderson
11/20/2023, 1:13 pm
»
USDA Plant Hardiness Zone Map
by OhioGardener 11/19/2023, 7:12 am
»
AeroGarden for starting seeds?
by OhioGardener 11/16/2023, 12:40 pm
»
Biochar?
by OhioGardener 11/16/2023, 10:31 am
»
2023 - Updated U.S. Interactive Plant Hardiness Map
by
sanderson
11/15/2023, 6:18 pm
»
SFG Is Intensive Gardening
by
sanderson
11/14/2023, 3:26 pm
»
Teaming with Microbes Kindle Sale (Mem. Day weekend 2023)
by markqz 11/10/2023, 12:42 am
»
Bok Choy Hors d'oeuvres
by
donnainzone5
11/9/2023, 5:58 pm
»
Now is the Time to Start Preparing Next Year's Spring Garden
by OhioGardener 11/9/2023, 7:13 am
»
Shocking Reality: Is Urine the Ultimate Gardening Hack or Disaster?
by dstack 11/6/2023, 5:29 pm
»
Nightmare on Mel Street.
by
Scorpio Rising
11/4/2023, 6:37 pm
»
Aerogardening
by
Scorpio Rising
11/3/2023, 10:02 am
»
Sunday All Purpose Organic Garden Nutrients
by lisawallace88 11/3/2023, 9:13 am
»
Mid-summer seed sowing, how do you do it?
by KiwiSFGnewbie 11/2/2023, 8:04 pm
I'd be grateful for some help figuring out how to store my compost over winter.  This is an issue that I thought was resolved, but I've since begun rethinking it and I don't know which way to go.  It seems there's a tradeoff for me on the issue of moisture levels versus airflow, and I'm having trouble figuring out which side of it to come down on.
As background to this, I'm currently making all the compost I'll need (I hope!) for spring (October-November) since I'll be living away from home over winter.  I've made a storage bin out of pallets with chicken wire stapled to them, and the compost that I've already made (in my tumbler) is sitting on the ground in this bin, with a piece of old carpet directly on top as a cover (once the bin is full I'll lay the carpet more tidily than this, so it covers better).
Originally I was going to cut up a tarp and lash it to the outside of the bin to make "walls" and a "roof", preventing most rain from even hitting the carpet.  But then I began to think that might disrupt airflow too much, so I haven't done that yet.  However after a
post from sanderson
mentioning the need to water the compost, and noticing that the outer part of mine is already looking dry, I've begun to wonder if keeping the moisture in (i.e. preventing airflow) is a better way to go.  Once I leave Auckland for the winter there will be no-one who can look after the moisture level in it.  On the airflow side of things, I wonder if perhaps the channels which the arthropods and wormies will make in it, will be sufficient to keep the bugs happy?  Or have the bugs already done their work, and is airflow really not a worry now?
So, I'd love to hear what our compost gurus have to say on this tradeoff.  Is it better to prevent moisture loss, at the expense of less airflow?  Or is airflow more of a priority?  Obviously I can water the material in spring before I use it; that's not a problem.
Many thanks everyone!

KiwiSFGnewbie




Posts

: 206


Join date

: 2022-09-25


Location

: Auckland, New Zealand



sanderson likes this post
Don't overthink it. KISS  principle (Keep It Simple Stupid). When you go to Bunnings or a nursery they sell you compost in plastic bags. The goodies are still intact. In the book, Mel recommends keeping plastic bags from potting mix, vermiculite etc to store compost in. So far it's working for me. Most of these bags have some small holes for airflow. Even if they don't, the compost will still continue to decompose anaerobically - just a little slower.

Hip2B




Posts

: 55


Join date

: 2022-04-10


Age

: 54


Location

: Burnie, Tasmania, Australia (Cool Climate / Zone 9)



sanderson likes this post
Kiwi, With the pallets as walls, I would put on a solid top and front to keep off the rain. The sides can breathe and the critters can turn it over while you are gone. Water before you leave. If the compost is finished, you can store in bags in a protected place.
Scorpio Rising and Hip2B like this post
Big thanks to both of you for these!
I feel so silly to have forgotten that advice about what to do with the bags.  I did keep them, but they're all just sitting in the basement neatly folded up.  Darnit, maybe I didn't need to go through all the hassle of making my pallet bin?
I have a couple more pallets which I could use as top and front -- I know they're not solid, but I really don't have the time to look for anything else.  They're heavy and should stay in place no matter the weather. With the carpet on the compost surely that'll be good enough?  Certainly will water before I leave.
One question though: how do I tell when compost is finished?  So far I've managed to avoid needing to know, since mine will be maturing on the ground for ~3 months.  After a month in my tumbler it's a lovely dark brown -- but that's not finished, right?  Or is it?  Could I really sift that finely and actually put it on a garden straight away?
Thank you again -- you guys rock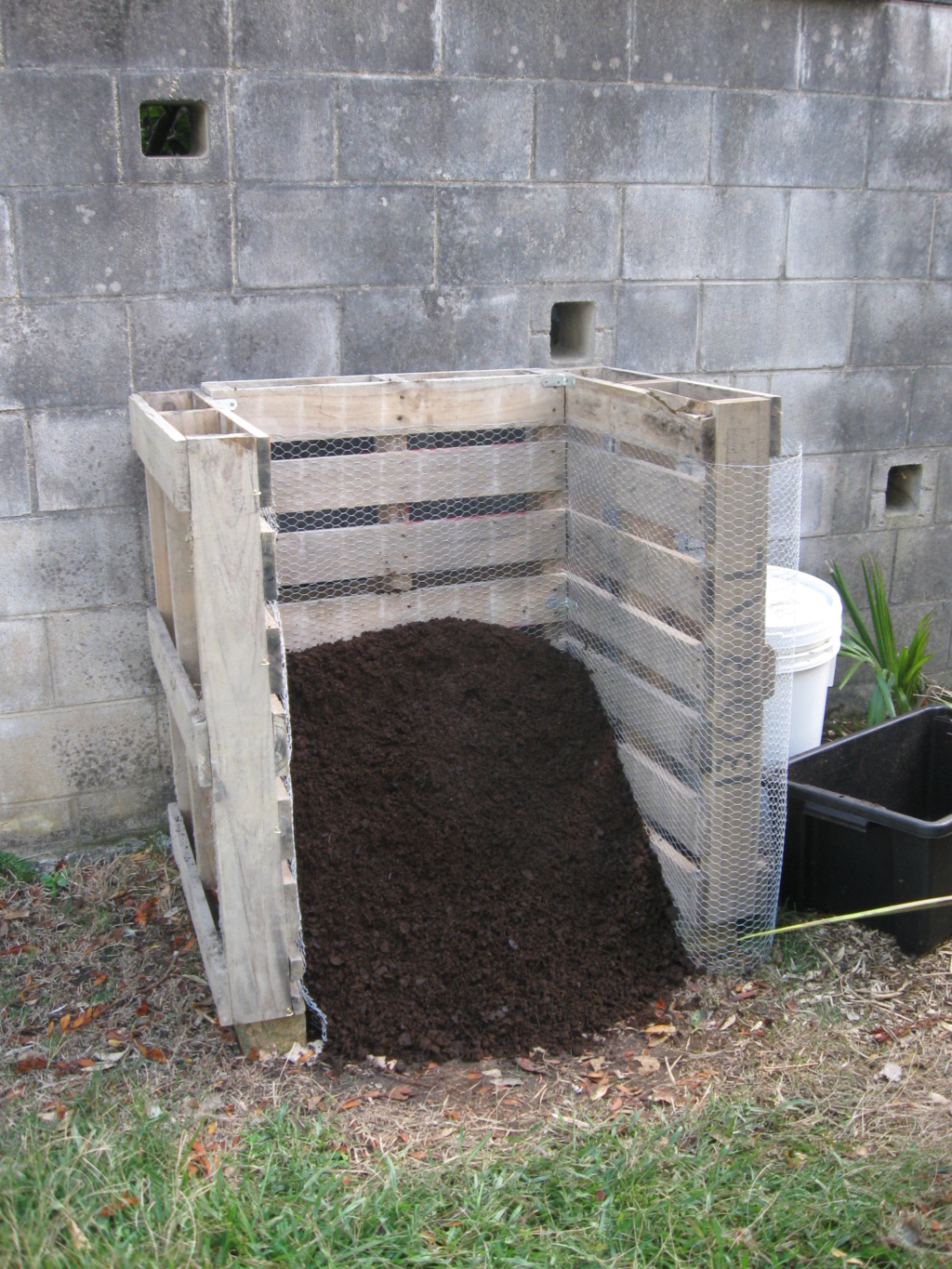 KiwiSFGnewbie




Posts

: 206


Join date

: 2022-09-25


Location

: Auckland, New Zealand



sanderson likes this post
Composting is actually a very long process but what you are asking is when is it finished "enough" to put in the beds.
A uniform color, dark and rich looking is just one criteria.  Another more important one is when one cannot identify the raw materials used.  Another is how fine the particles are.  Even when we consider it fine material, the microbes in the beds/pots will break it down even further.  This brand of bagged compost is the finest, most "finished" compost I have ever found. I didn't have to screen it.  It is the one on the left.  The famous brand on the right yielded 25% of the volume in wood pieces and what looked like shredded bark.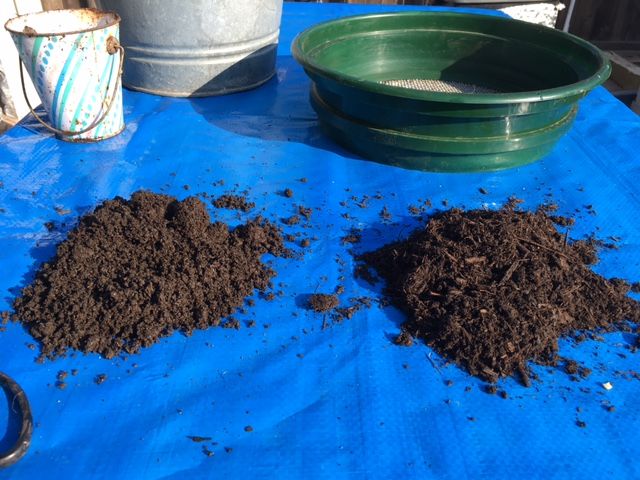 Looking at your compost in the bin, it appears to be to the point where you could use it for a winter garden now if you sifted.  The remaining can be loosely stored in the bags in the basement.  Heck, since it would overwinter in the rich microbial environment of the bed, maybe it doesn't even need to be screened for that.  You could go ahead and mix some of it into the bed/pots and it will be premium come spring.  Add enough so that what little bit it breaks down and shrinks over winter will still leave you with your original height or 6-7".  If you get very little rain during the winter, I would add it now and cover with something permeable like weed cloth, an old sheet, bedding straw or dry leaves if winter winds aren't crazy like they are influenced by hurricanes.  If you get heavy winter rains maybe store it loosely in the bags in the basement.
My average annual rain is only 8-14" and only in the winter so I like to get all the beds cleaned, amended with compost and covered with bedding straw for winter if I'm not using them.  Even my beds with winter crops and a thin layer of straw don't shrink much because they don't need a lot of nutrients like summer crops.
Regarding your pallet bin, it will not go to waste.  As you make compost during the summer you can use it to store compost after each batch is "finished" and start a new one in your tumbler.
If I may make an observation of the bin.  I like to have something on the bottom that allows drainage and allows worms to crawl up from the ground into the compost.  Yet, keeps it off the dirt and away from weed seeds.  I used 12" square concrete pavers and bricks and set the wood bin on top.  It made for a tidy way to store it off the dirt.  I think OG has something similar under his bin.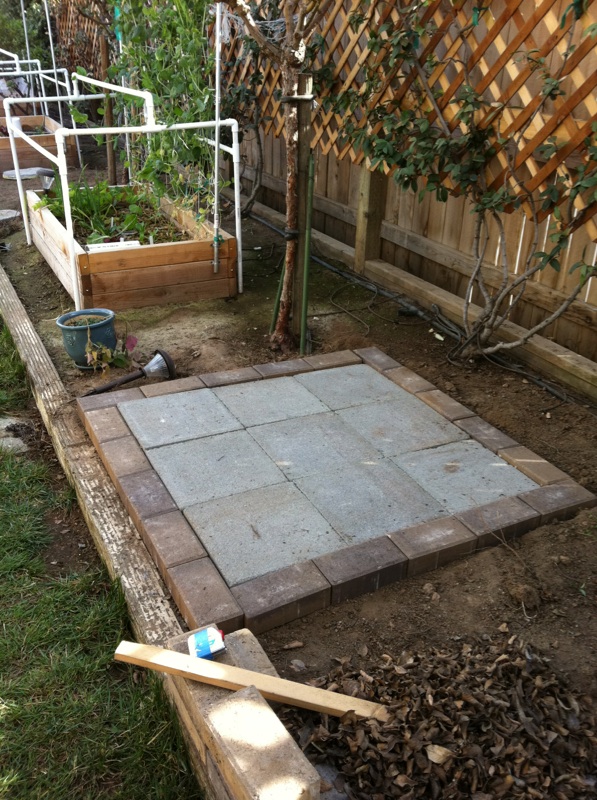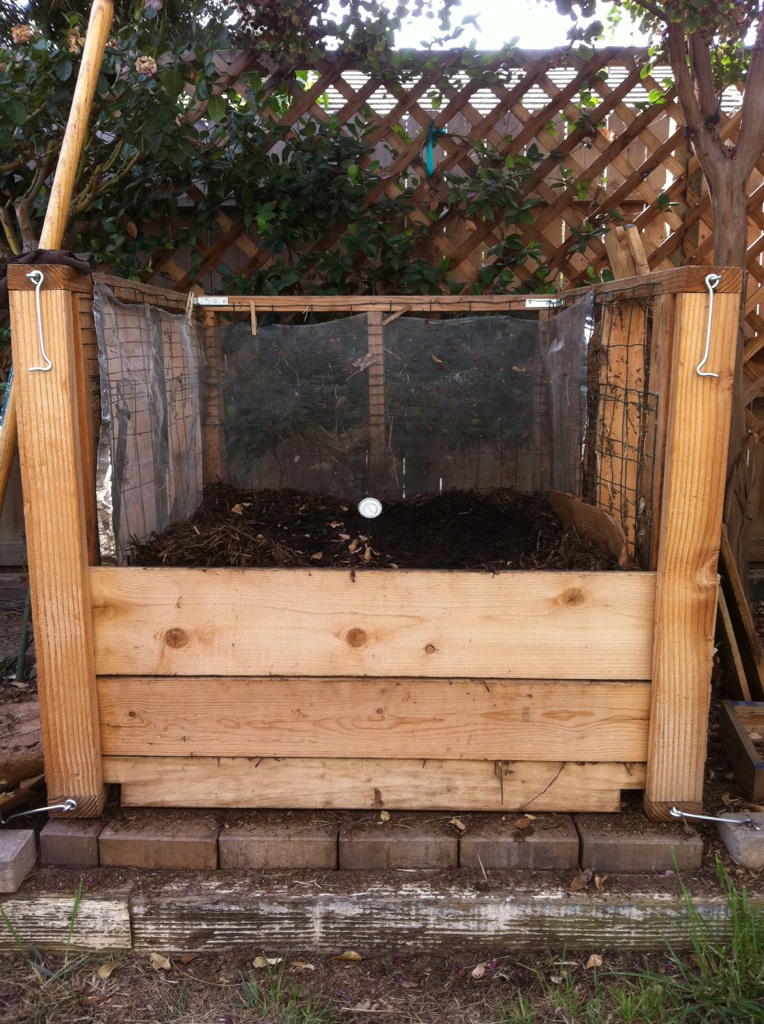 This photo shows the hinged wood lid my husband made to keep the compost clean and prevent excess rain from getting it soggy.  You could use one pallet as a lid by removing slats from one side and filling in the gaps on the top side.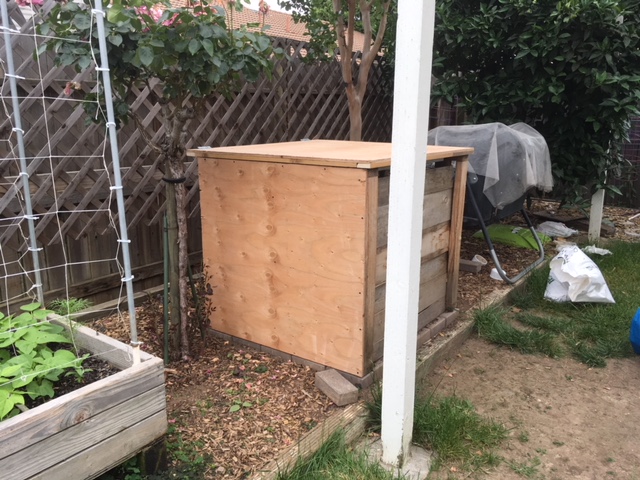 Wow, sanderson, thank you so much for all of this! 
I see from your first photo that finished compost looks like dirt, that's great to know.  I chop up most of my tumbler additions with an old food processor, so the particles are very small when I fill it. (Browns are sawdust and shredded leaves)  When I sifted with the 1" screen the day I empied it, I did find partially decomposed leaves in the mix and I get that those should not make it into the garden.
Auckland's rainfall (in an
average
year, which we have not had this year -- so far we have had two and a half times our average for Jan-Apr) is 3'6" and for the winter months 16" so the comparison with your figures tells me I should be protecting it more than just with the carpet.  The first batch has been on the ground now for more than 3 weeks so I'm not that keen on putting it in the basement -- we had major ant problems last year and had to call in the exterminators!  But I can certainly get the pallet bin more rain resistant than it currently is.
And good point re using it next summer, I hadn't thought of that.  Really nice to know it will have a use even if next year I store the compost in the basement in winter
Thank you so much for your feedback on the floor of the pallet bin!  I had no idea I should be putting a solid surface under the compost, I thought it was best to have it as close to the ground as possible.  What I did was I weed sprayed the area first, then waited a few weeks and put down cardboard to keep the compost from touching any residue, and I figured the worms etc would make their way through it as they have in the garden bed perimeter.  I think I'm going to have to assume that that's enough for this first winter, but I have bricks that I certainly can add once I've emptied it out in spring. (The plan is that all the compost I'm making this autumn will be used at the beginning of spring)
I know I've said similar before, but really your garden must be the most beautiful and tidy garden for miles around!!  I'm always jealous when I see your photos
Thanks again, sanderson, I really don't know what we would do without you!

KiwiSFGnewbie




Posts

: 206


Join date

: 2022-09-25


Location

: Auckland, New Zealand



sanderson and Scorpio Rising like this post
I like your pallet bin!  I have a bin that my kids bought me for Mother's Day a number of years ago, pallet wood on the bottom but really open.  It won't last forever but neither will I!  By then, I will be ready to try something different!  Yellow jackets made a home in it last year, they are mean!

Scorpio Rising




Posts

: 8612


Join date

: 2015-06-12


Age

: 61


Location

: Ada, Ohio



sanderson and KiwiSFGnewbie like this post
Similar topics
---
Permissions in this forum:
You
cannot
reply to topics in this forum