Latest topics
»
Recommended store bought compost - Photos of composts
by
sanderson
Yesterday at 1:27 pm
»
Strawberry Varieties?
by Chuck d'Argy Yesterday at 12:42 pm
»
Jerusalem Artichoke or Sun Choke
by
Scorpio Rising
Yesterday at 7:09 am
»
Mark's first SFG
by
sanderson
12/3/2023, 7:33 pm
»
Strawberries in MM: to feed or not to feed?
by
sanderson
12/3/2023, 7:30 pm
»
What Have You Picked From Your Garden Today
by OhioGardener 11/29/2023, 5:36 am
»
Senseless Banter...
by
sanderson
11/28/2023, 10:31 pm
»
N & C Midwest: November/December 2023
by
sanderson
11/27/2023, 9:23 pm
»
FREE Online SFG Class - November 28, 2023
by
sanderson
11/27/2023, 9:21 pm
»
Mini-Raised Beds?
by Chuck d'Argy 11/27/2023, 2:14 pm
»
Happy Birthday!!
by
sanderson
11/26/2023, 10:58 pm
»
Name the mystery (to me) seedlings! :-)
by Psdumas 11/25/2023, 12:04 am
»
Happy Thanksgiving from the USA
by
sanderson
11/23/2023, 1:47 pm
»
Guatemalan Green Ayote Squash
by OhioGardener 11/21/2023, 8:27 am
»
Kiwi's SFG Adventure
by
sanderson
11/20/2023, 2:06 pm
»
Seeds 'n Such Early Order Seeds
by
sanderson
11/20/2023, 1:13 pm
»
USDA Plant Hardiness Zone Map
by OhioGardener 11/19/2023, 7:12 am
»
AeroGarden for starting seeds?
by OhioGardener 11/16/2023, 12:40 pm
»
Biochar?
by OhioGardener 11/16/2023, 10:31 am
»
2023 - Updated U.S. Interactive Plant Hardiness Map
by
sanderson
11/15/2023, 6:18 pm
»
SFG Is Intensive Gardening
by
sanderson
11/14/2023, 3:26 pm
»
Teaming with Microbes Kindle Sale (Mem. Day weekend 2023)
by markqz 11/10/2023, 12:42 am
»
Bok Choy Hors d'oeuvres
by
donnainzone5
11/9/2023, 5:58 pm
»
Now is the Time to Start Preparing Next Year's Spring Garden
by OhioGardener 11/9/2023, 7:13 am
»
Shocking Reality: Is Urine the Ultimate Gardening Hack or Disaster?
by dstack 11/6/2023, 5:29 pm
»
Nightmare on Mel Street.
by
Scorpio Rising
11/4/2023, 6:37 pm
»
Aerogardening
by
Scorpio Rising
11/3/2023, 10:02 am
»
Sunday All Purpose Organic Garden Nutrients
by lisawallace88 11/3/2023, 9:13 am
»
Mid-summer seed sowing, how do you do it?
by KiwiSFGnewbie 11/2/2023, 8:04 pm
»
N&C Midwest October 2023
by OhioGardener 11/1/2023, 8:49 am
Hi,  I was on the Facebook SFG site on Sunday while waiting for my grand-daughter's turn to wrestle in the tournament.  I was killing time.

I came across a great post on seed starting but sure can't find it today.

This is what I remember

1. sprout the seeds (I want to do like I have seen on this site, face down on a plastic bag with a wet paper towel on top.  Light or no light?)
2. plant in a 3" peat pot about half way up (with MM or seed starting medium)(after 1st 2 leaves or first 2 'true' leaves)
3. put under lights about 2" above pots
4. add dirt as plant grows
5.  use small fan to mimic wind and make stem stronger
6. plant in garden after last frost

Does this sound right?  Did I miss something?  Will this work?

Is there a better way to start the seedlings in the 3" peat pots.

I will be starting the sifting of my 12 CF of compost tomorrow in the garage with a propane heater on.  Whoo hoo, Lots O' Fun

Dani From Burr Ridge

danieggert




Posts

: 54


Join date

: 2023-01-19


Age

: 72


Location

: burr ridge illinois zone 5



danieggert wrote: Will this work?
Yes, except for the part about adding soil as the plant grows. Most seedlings do not want their crown covered with soil, and they expect to grow at soil level. There are exceptions, of course, but most prefer to grow where they start.
Is there a better way to start the seedlings in the 3" peat pots.
Not necessarily better, but a lot easier.  Fill the pots with sifted, moistened MM, plant the seeds in the MM, put the pots in a tray with a clear plastic cover over it, and set it on a heat mat under lights. When the seeds sprout, unplug the heat mat and remove the plastic cover. Watch 'em grow.
____________________________
"In short, the soil food web feeds everything you eat and helps keep your favorite planet from getting too hot. Be nice to it."
~ Diane Miessler, "Grow Your Soil"

sanderson likes this post
I couldn't find the FB thread, either.
What OG wrote.  Don't add more MM or soil as the little seedlings grow.  The MM or soil has to be really moist because peat pots can dry out easily.  I'm in a hot arid climate.  Cover with plastic and set on heat mat.  Mist if they seem to be getting dry.  As each one germinates, uncover and make sure they are under lights.  Water from the bottom.  You may want to make a heating/germination spot and a light area for the germinated pots.  Make sure the lights are down close according to the type of lights you are using.  
If you use the baggie and wet paper towel method for germination, yes, place with seed side down.  Magic marker label on the towel side.  When you see the little radicle(root), plant in a pot to the depth on the seed packet.  Oh, so carefully.  Like with tweezers or some other tender method.  I tried it this year and it really helped get the peppers to germinate fast.
I personally hate peat pots, but I know many folks use them, or cow pots.  If I have to buy a replacement start from the nursery, I carefully tear off the peat pot because it is almost impossible to keep the peat pot wet in the MM in the beds.
I grow my seeds in many ways, I have square foot gardening, traditional gardening, hydroponics nft, dwc, and aeroponics 
One of my easiest ways when planting out in sq ft is using this humidity unit, self made, it pumps water twice a day from bottom to top.
Thats 80 snow peas ready for transplant out, I planted them all out last night, took 4 days to go from seed to this
The empty looking level  is rockmelon seeds and fennel seeds which I put in yesterday after empting the tray of snow peas, this morning the rockmelon has sprouted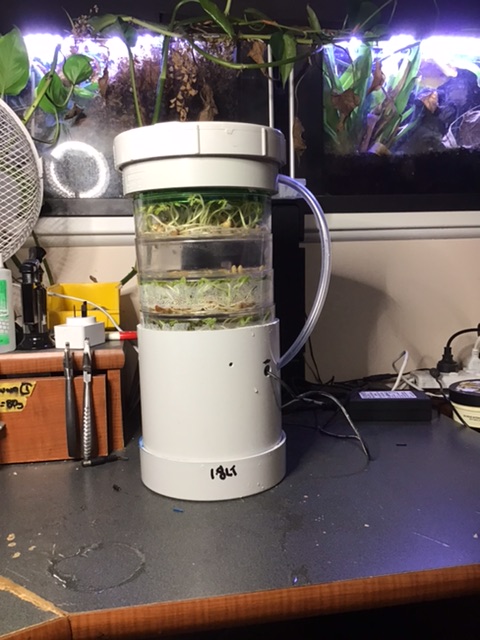 Simso




Posts

: 123


Join date

: 2021-11-18


Location

: Australia - Perth



---
Permissions in this forum:
You
cannot
reply to topics in this forum