Latest topics
»
Recommended store bought compost - Photos of composts
by
sanderson
Yesterday at 1:27 pm
»
Strawberry Varieties?
by Chuck d'Argy Yesterday at 12:42 pm
»
Jerusalem Artichoke or Sun Choke
by
Scorpio Rising
Yesterday at 7:09 am
»
Mark's first SFG
by
sanderson
12/3/2023, 7:33 pm
»
Strawberries in MM: to feed or not to feed?
by
sanderson
12/3/2023, 7:30 pm
»
What Have You Picked From Your Garden Today
by OhioGardener 11/29/2023, 5:36 am
»
Senseless Banter...
by
sanderson
11/28/2023, 10:31 pm
»
N & C Midwest: November/December 2023
by
sanderson
11/27/2023, 9:23 pm
»
FREE Online SFG Class - November 28, 2023
by
sanderson
11/27/2023, 9:21 pm
»
Mini-Raised Beds?
by Chuck d'Argy 11/27/2023, 2:14 pm
»
Happy Birthday!!
by
sanderson
11/26/2023, 10:58 pm
»
Name the mystery (to me) seedlings! :-)
by Psdumas 11/25/2023, 12:04 am
»
Happy Thanksgiving from the USA
by
sanderson
11/23/2023, 1:47 pm
»
Guatemalan Green Ayote Squash
by OhioGardener 11/21/2023, 8:27 am
»
Kiwi's SFG Adventure
by
sanderson
11/20/2023, 2:06 pm
»
Seeds 'n Such Early Order Seeds
by
sanderson
11/20/2023, 1:13 pm
»
USDA Plant Hardiness Zone Map
by OhioGardener 11/19/2023, 7:12 am
»
AeroGarden for starting seeds?
by OhioGardener 11/16/2023, 12:40 pm
»
Biochar?
by OhioGardener 11/16/2023, 10:31 am
»
2023 - Updated U.S. Interactive Plant Hardiness Map
by
sanderson
11/15/2023, 6:18 pm
»
SFG Is Intensive Gardening
by
sanderson
11/14/2023, 3:26 pm
»
Teaming with Microbes Kindle Sale (Mem. Day weekend 2023)
by markqz 11/10/2023, 12:42 am
»
Bok Choy Hors d'oeuvres
by
donnainzone5
11/9/2023, 5:58 pm
»
Now is the Time to Start Preparing Next Year's Spring Garden
by OhioGardener 11/9/2023, 7:13 am
»
Shocking Reality: Is Urine the Ultimate Gardening Hack or Disaster?
by dstack 11/6/2023, 5:29 pm
»
Nightmare on Mel Street.
by
Scorpio Rising
11/4/2023, 6:37 pm
»
Aerogardening
by
Scorpio Rising
11/3/2023, 10:02 am
»
Sunday All Purpose Organic Garden Nutrients
by lisawallace88 11/3/2023, 9:13 am
»
Mid-summer seed sowing, how do you do it?
by KiwiSFGnewbie 11/2/2023, 8:04 pm
»
N&C Midwest October 2023
by OhioGardener 11/1/2023, 8:49 am
+5
graphite
jillschmill
dmpower
jerzyjen
NYmama
9 posters
We have loads of rabbits, squirrels, etc. in our area, and our SFG doesn't stand a chance unless it's covered. We're currently using an 18" tall chicken wire cover, as Mel describes in his book, and we have a vertical growing trellis with nylon netting on the north side of the garden.

The problem is that we've got peas growing on the north side of the garden, they're ready to climb up the trellis, but they can't get out of the cage! How can we allow the peas to climb without the rabbits eating the garden? I guess we could make a giant 6' chicken wire fence around the whole garden, but that would make it hard to access it on a daily basis, and a little dangerous for the kids (1.5 and 4). Any other solutions?

Thanks!

NYmama




Posts

: 1


Join date

: 2010-05-23


Location

: NY



I have lots of bunnies & squirrels in my yard and I use the 24" high plastic rabbit fence all around my box. This is year 2 and I haven't had any critters get in over the top (my guess is squirrels could get in by climbing it, but they havent). This way i can still have the peas climb up the trellis and they end up sticking the rabbit fencing too.
Here's a pic from yesterday.
I don't know if this will work with your critter situation but like i said ive managed to have too good luck. I even cut about 2" off the top of the plastic fence cause im short and when i reach in from a kneeling position i didnt like the plastic scraping my arms. Its definately working cause the ONLY box I never got around to rabbit fencing got ransacked yesterday... gotta replant my corn

jerzyjen




Posts

: 210


Join date

: 2010-03-03


Age

: 47


Location

: Burlington County, NJ - Zone 6b



I have a major problem with rabbits!!! Actually, they are rabbids now. In my 4x4 box, I have the tomatoes growing in the 4 squares on the north side, peppers and eggplant in the other squares. These have been attacked many times by the rabbids, they have even chewed through some of my vinyl netting a couple of times.
I am in the process of building a 4x3 chicken wire cover to cover everything except the tomatoes. Then I will will install a chicken wire fence, open topped, 3 sided, around the outside of the final 4 squares that have the tomatoes, making sure that the fencing overlaps the cover a little at the sides.
This may sound like overkill, but I have already lost so much to these wee beasties. Unfortunately the next step would be rabbid stew.

dmpower




Posts

: 82


Join date

: 2010-04-06


Location

: 5b Bloomington Indiana



I'm in the same boat, except that I just built the cover today and now realize the problem! Not sure what to do. The items growing on the trellis (tomatoes & cucumbers) aren't yet being eaten by the bunnies, but my green beans are being devoured! Didn't have this problem last year, so I'm stumped. So, the only thing I can think to do is slide the cover so it covers about 3 1/2 of the 4 squares, then figure out some way to block the other end so they don't come under.

If anyone has ideas, I'd love to hear them! Thanks!

Jill

jillschmill




Posts

: 27


Join date

: 2010-04-10


Location

: St. Louis



I have completed my cover over 3x4 squares, and have left the end 4 tomatoes out of the cover. I had to wrap some chicken wire around the bottom of the tomato squares and bring it around the sides a little so the rabbids can not get in under the end that does not go all the way to the end of the box (at tomatoes). This has worked very well and I have had no more new damage. Unfortunately the bunnies are now chewing through the bird netting I have on the next square. They have enjoyed my stevia and my sun chokes!! These beasts eat a greater variety of vegetables than most people I know.
So yet another cover to make.

dmpower




Posts

: 82


Join date

: 2010-04-06


Location

: 5b Bloomington Indiana



I'm new here, and new to square foot gardening too. I'm planning on making my first SFG boxes this year and was trying to figure out a way to have a trellis and keep out the rabbits/cats. And keep the bird droppings off the lettuce...
Anyhow, I haven't tried building this yet, but here's the idea: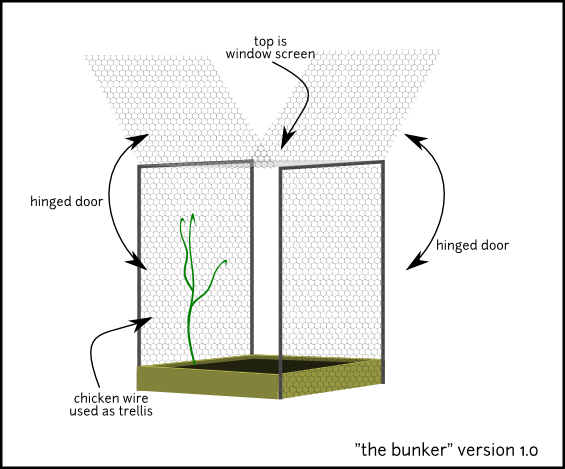 graphite




Posts

: 1


Join date

: 2011-02-01


Location

: Mid West



Wow, that's a great idea! I'll have to keep that in mind for the bed we're putting in out in the open at my son's school.
Graphite
That's a great idea.
Thanks!!

WJB




Posts

: 16


Join date

: 2010-09-22


Age

: 60


Location

: Oklahoma



We not only have squirrels and bunnies but chickens and guineas, I like the guineas in the garden but none of the others, I put up 4 - 4' tee posts and strached deer fence up around the whole garden . The deer fencing is available at tractor supply and or Lowes it comes in 7' tall X 100 ' long, for $16 or $17 bucks I cut it in half tied itto the posts with zip ties and used cheap tent stakes to secure it to the ground. We are all tall enough to just step over and no critters in the garden!

Jay Bird




Posts

: 228


Join date

: 2010-04-07


Age

: 59


Location

: Mount Vernon Texas



I also use the deer fence.

I like the bunker idea, but would get frustrated trying to harvest through the little openings. I see the doors swinging to the side maybe... I have used wire cages on my tomatoes in the past, and the big tomatoes don't fit through the holes. I also would slice up my hands on the wire.
Last edited by Squat_Johnson on 2/2/2011, 11:31 am; edited 1 time in total (Reason for editing : clarity)

Squat_Johnson




Posts

: 440


Join date

: 2010-05-25


Location

: Beaver Dam, Kentucky, zone 6a



Similar topics
---
Permissions in this forum:
You
cannot
reply to topics in this forum