Latest topics
»
N & C Midwest: November/December 2023
by
Scorpio Rising
Yesterday at 4:35 pm
»
Strawberry Varieties?
by
sanderson
12/5/2023, 3:57 pm
»
Recommended store bought compost - Photos of composts
by
sanderson
12/4/2023, 1:27 pm
»
Jerusalem Artichoke or Sun Choke
by
Scorpio Rising
12/4/2023, 7:09 am
»
Mark's first SFG
by
sanderson
12/3/2023, 7:33 pm
»
Strawberries in MM: to feed or not to feed?
by
sanderson
12/3/2023, 7:30 pm
»
What Have You Picked From Your Garden Today
by OhioGardener 11/29/2023, 5:36 am
»
Senseless Banter...
by
sanderson
11/28/2023, 10:31 pm
»
FREE Online SFG Class - November 28, 2023
by
sanderson
11/27/2023, 9:21 pm
»
Mini-Raised Beds?
by Chuck d'Argy 11/27/2023, 2:14 pm
»
Happy Birthday!!
by
sanderson
11/26/2023, 10:58 pm
»
Name the mystery (to me) seedlings! :-)
by Psdumas 11/25/2023, 12:04 am
»
Happy Thanksgiving from the USA
by
sanderson
11/23/2023, 1:47 pm
»
Guatemalan Green Ayote Squash
by OhioGardener 11/21/2023, 8:27 am
»
Kiwi's SFG Adventure
by
sanderson
11/20/2023, 2:06 pm
»
Seeds 'n Such Early Order Seeds
by
sanderson
11/20/2023, 1:13 pm
»
USDA Plant Hardiness Zone Map
by OhioGardener 11/19/2023, 7:12 am
»
AeroGarden for starting seeds?
by OhioGardener 11/16/2023, 12:40 pm
»
Biochar?
by OhioGardener 11/16/2023, 10:31 am
»
2023 - Updated U.S. Interactive Plant Hardiness Map
by
sanderson
11/15/2023, 6:18 pm
»
SFG Is Intensive Gardening
by
sanderson
11/14/2023, 3:26 pm
»
Teaming with Microbes Kindle Sale (Mem. Day weekend 2023)
by markqz 11/10/2023, 12:42 am
»
Bok Choy Hors d'oeuvres
by
donnainzone5
11/9/2023, 5:58 pm
»
Now is the Time to Start Preparing Next Year's Spring Garden
by OhioGardener 11/9/2023, 7:13 am
»
Shocking Reality: Is Urine the Ultimate Gardening Hack or Disaster?
by dstack 11/6/2023, 5:29 pm
»
Nightmare on Mel Street.
by
Scorpio Rising
11/4/2023, 6:37 pm
»
Aerogardening
by
Scorpio Rising
11/3/2023, 10:02 am
»
Sunday All Purpose Organic Garden Nutrients
by lisawallace88 11/3/2023, 9:13 am
»
Mid-summer seed sowing, how do you do it?
by KiwiSFGnewbie 11/2/2023, 8:04 pm
»
N&C Midwest October 2023
by OhioGardener 11/1/2023, 8:49 am
+4
Scorpio Rising
Frost?
sanderson
Soose
8 posters
Page 2 of 2 •
1, 2
Sanderson, on your advice I went to Debbie's Back Porch.  I think she does not recommend the new Ball canning book anymore, and I saw reviews that consistently said it's changed, since some buy out.  Not sure when that was.  I did look for an older version but they go for an arm and a leg.  (If I went to estate sales I might find one.)
Anyway, Debbie's Back Porch pointed me to a book I bought from the cooperative extension at Uni of GA, "So Easy to Preserve." I have no idea how good it is or if the recipes are good.
I will watch for Ball lids.  (Again, just don't know how many to buy.)

Soose




Posts

: 409


Join date

: 2022-02-23


Location

: North Alabama



sanderson and Scorpio Rising like this post
The title sounds familiar. Okay, bottom row, middle book. I believe Univ. of GA is the testing facility for approved recipes. I also look online at NCHFP for recipes.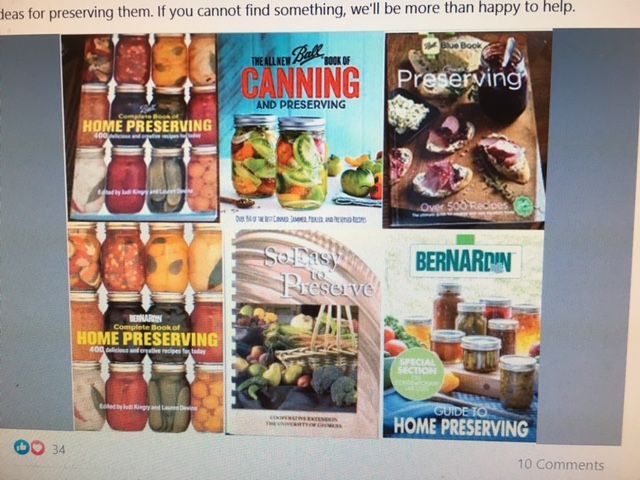 My book is 2013 so it's time to buy an update. I think I will go with this one: https://www.amazon.com/Ball-Blue-Book-Guide-Preserving/dp/0972753745
Scorpio Rising likes this post
Dave's Garden newsletter this week has a couple interesting articles on food preservation that many may find interesting.

Creating a Summer Produce Preservation Plan

Eliminate Fruit and Vegetable Waste and Preserve the Bounty
____________________________
"In short, the soil food web feeds everything you eat and helps keep your favorite planet from getting too hot. Be nice to it."
~ Diane Miessler, "Grow Your Soil"

sanderson and Scorpio Rising like this post

Scorpio Rising




Posts

: 8612


Join date

: 2015-06-12


Age

: 61


Location

: Ada, Ohio



sanderson likes this post
I was given this as a gift last Christmas and have earmarked some of the recipes that I would like to try this summer. Have you found any that are really good ones to try Scorpio Rising? I just canned some strawberry jam yesterday and I am excited that they all sealed and set up! I love hearing the sound of the lids popping. So exciting!

JAM23




Posts

: 198


Join date

: 2021-01-01


Location

: Illinois; Zone5b



sanderson likes this post
So Easy to Preserve is one of the books I use when teaching canning.  I also show Ball's Complete Book of Home Preserving.  Both have some great information!  Definitely safe canning books.  There is also a video series for So Easy.  Some can be found here or at least lead you in the right direction:

Dr Elizabeth Andress - Healthy Canning

The Univ of GA is the home of the National Center for Home Food Preservation.  They do all of the testing for USDA.  Unfortunately Dr. Andress retired a couple of years ago.  She spent ALL of her time teaching & testing.  The school slowly but surely took her assistants away & she ended up being basically a single-person department.  It was very frustrating.  I don't know how much testing was done in her final few years as a result.  (And I don't know what they're doing now.  My main contact who did a lot of work with Dr. A has moved out of state & she loaded me up with teaching supplies before she left.)  You can download the USDA books from the NCFHFP website:

National Center for Home Food Preservation | Publications Home (uga.edu)

Ball was purchased by Newell Rubbermaid in 2015, I believe.  (NR also owns Food Saver, btw.)  I've been hearing complaints for a couple of years now that they no longer completely use tested recipes.  For those who are interested only in safe canning practices, this is a major concern.  I would say use any older Ball books (pre-2016) but avoid the newer ones if this is a concern for you. 

I do not own the Bernardin book.  But in some of the FB canning pages I belong to, some folks have expressed concern about safety.  I can't make any judgements or suggestions on this one.  

Hope this helps.
sanderson likes this post
Page 2 of 2 •
1, 2
Similar topics
---
Permissions in this forum:
You
cannot
reply to topics in this forum