Latest topics
»
Recommended store bought compost - Photos of composts
by
sanderson
Yesterday at 1:27 pm
»
Strawberry Varieties?
by Chuck d'Argy Yesterday at 12:42 pm
»
Jerusalem Artichoke or Sun Choke
by
Scorpio Rising
Yesterday at 7:09 am
»
Mark's first SFG
by
sanderson
12/3/2023, 7:33 pm
»
Strawberries in MM: to feed or not to feed?
by
sanderson
12/3/2023, 7:30 pm
»
What Have You Picked From Your Garden Today
by OhioGardener 11/29/2023, 5:36 am
»
Senseless Banter...
by
sanderson
11/28/2023, 10:31 pm
»
N & C Midwest: November/December 2023
by
sanderson
11/27/2023, 9:23 pm
»
FREE Online SFG Class - November 28, 2023
by
sanderson
11/27/2023, 9:21 pm
»
Mini-Raised Beds?
by Chuck d'Argy 11/27/2023, 2:14 pm
»
Happy Birthday!!
by
sanderson
11/26/2023, 10:58 pm
»
Name the mystery (to me) seedlings! :-)
by Psdumas 11/25/2023, 12:04 am
»
Happy Thanksgiving from the USA
by
sanderson
11/23/2023, 1:47 pm
»
Guatemalan Green Ayote Squash
by OhioGardener 11/21/2023, 8:27 am
»
Kiwi's SFG Adventure
by
sanderson
11/20/2023, 2:06 pm
»
Seeds 'n Such Early Order Seeds
by
sanderson
11/20/2023, 1:13 pm
»
USDA Plant Hardiness Zone Map
by OhioGardener 11/19/2023, 7:12 am
»
AeroGarden for starting seeds?
by OhioGardener 11/16/2023, 12:40 pm
»
Biochar?
by OhioGardener 11/16/2023, 10:31 am
»
2023 - Updated U.S. Interactive Plant Hardiness Map
by
sanderson
11/15/2023, 6:18 pm
»
SFG Is Intensive Gardening
by
sanderson
11/14/2023, 3:26 pm
»
Teaming with Microbes Kindle Sale (Mem. Day weekend 2023)
by markqz 11/10/2023, 12:42 am
»
Bok Choy Hors d'oeuvres
by
donnainzone5
11/9/2023, 5:58 pm
»
Now is the Time to Start Preparing Next Year's Spring Garden
by OhioGardener 11/9/2023, 7:13 am
»
Shocking Reality: Is Urine the Ultimate Gardening Hack or Disaster?
by dstack 11/6/2023, 5:29 pm
»
Nightmare on Mel Street.
by
Scorpio Rising
11/4/2023, 6:37 pm
»
Aerogardening
by
Scorpio Rising
11/3/2023, 10:02 am
»
Sunday All Purpose Organic Garden Nutrients
by lisawallace88 11/3/2023, 9:13 am
»
Mid-summer seed sowing, how do you do it?
by KiwiSFGnewbie 11/2/2023, 8:04 pm
»
N&C Midwest October 2023
by OhioGardener 11/1/2023, 8:49 am
My son is planning to use grow bags (set in a bed of sand to wick up water, all inside a container) for his potatoes.

I know there are determinate (one level growers) and indeterminate (grow along the stem, add something - soil mix, or straw or hay? to keep them producing as the plant grows taller.  I don't know what type the seed potatoes we bought at the feed/seed are - one was Red Pontiac and I see that's only a determinate.  One was Red LaSoda?  Another just a white potato, didn't say.

Can you give me an answer based on type of potato -- and say whether he should use MM in those grow bags, or MM to start with then use straw to keep filling in, or what?

I'm trying to calculate how much of each "ingredient" I need to bring in for both the SFG's and his grow bags and some berries in 18gal tubs.  Need to know how to handle his potatoes?   Thanks.

Soose




Posts

: 409


Join date

: 2022-02-23


Location

: North Alabama



... I've just ordered vermiculite from Uline - they say it'll be here tomorrow! 
I'm assuming some will be for these potato grow bags.

I'm about to try to find sand to be the underbed in my IBC tote raised beds. 

Should I include any sand to mix inside his potato bags, or just straight MM? 

(Already added enough sand to make a bed under the bags, so if he decides to
not use the grow bags but plant directly as a SFG, we at least have that.)

BTW, what grade sand do I need to go as a bed under MM in a raised bed?

Top to bottom in a 20" tall tote:
MM - 6"-8".
Sand for wicking - 4"
fabric liner/separator
5" water reservoir.

Soose




Posts

: 409


Join date

: 2022-02-23


Location

: North Alabama



Determinate potatoes can grow in 6" of Mel's Mix with good mulching to keep the sun from reaching the new potatoes.  Plant the seed potato or a wedge of potato with a viable eye, 4" deep.  The potatoes form above these.
I learned something from Docwas.  I thought the potatoes formed below the seed potato and only planted 2" deep in 5-gallon buckets with hit and miss results.  They
grow above
the seed potato.
 I have Yukon Gold popping up in the bed in front, and in the usual buckets, and I am hoping for my first righteous harvest.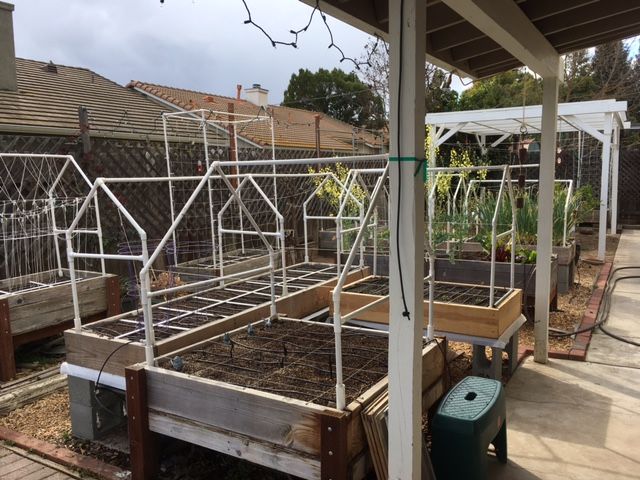 Photo taken 5-2020.  I wrap the food grade buckets with aluminum foil to keep out the sunlight and keep the Mel's Mix cool. The storage totes in the back ground are sweet potatoes.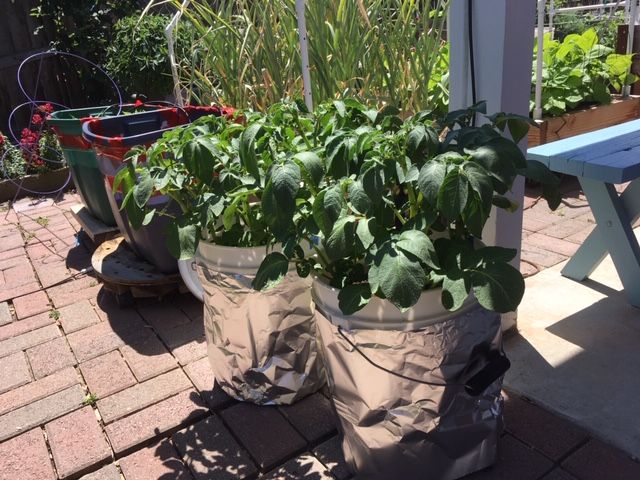 Grow bags did not work here in central CA.  Just toooo hot and dry.  I did try to imitate a grow bag with which others seemed to have success.  Duh, they lived in "cooler" and wetter climates than me.  I only get 8-10" of rain a year and over 100*F for days or weeks on end.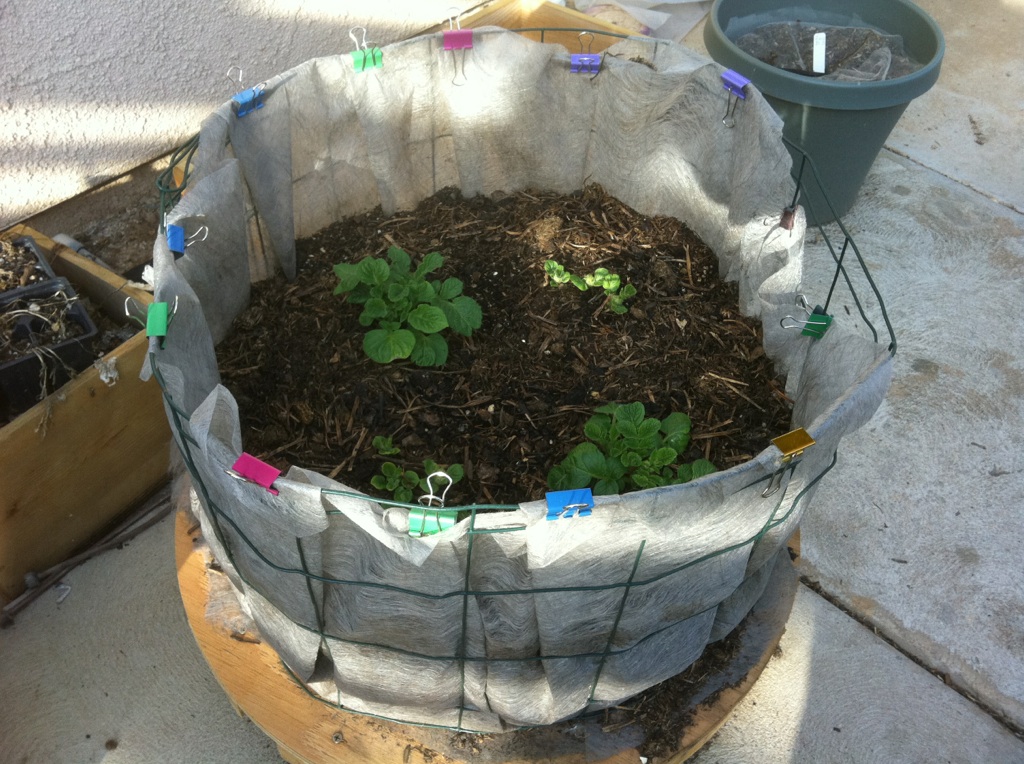 This was the harvest from 4 plants.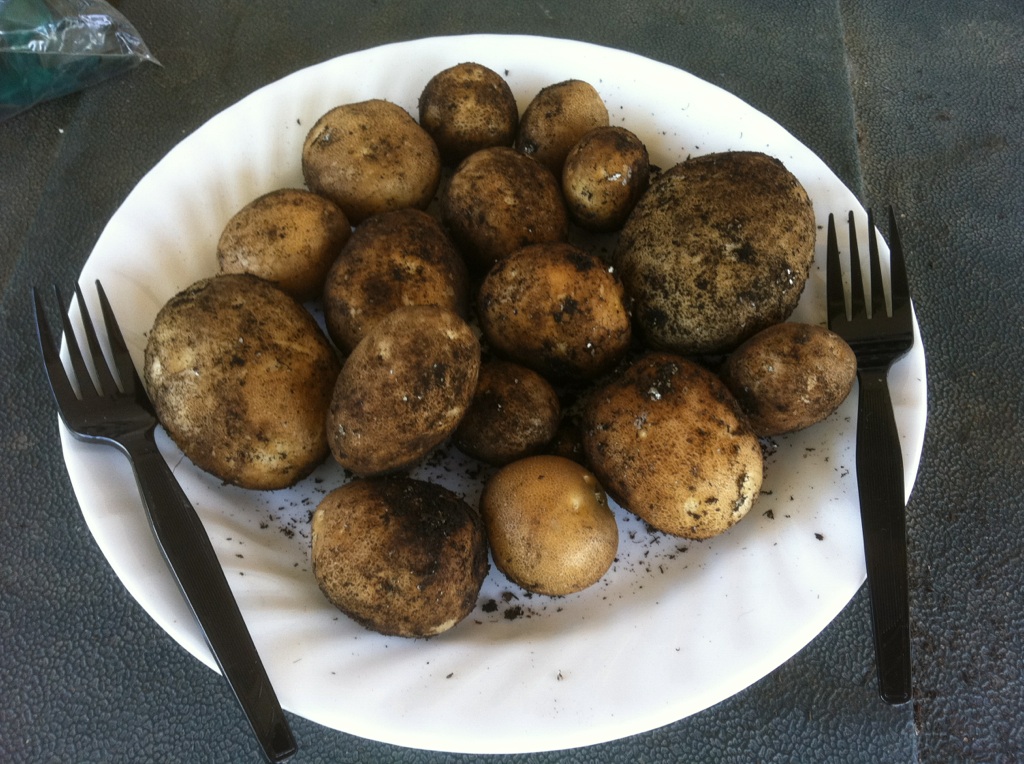 sanderson wrote:Determinate potatoes can grow in 6" of Mel's Mix with good mulching to keep the sun from reaching the new potatoes.  Plant the seed potato or a wedge of potato with a viable eye, 4" deep.  The potatoes form above these.

Sanderson, and if we want indeterminate potatoes where you pile stuff on top as the plant grows?   I seem to remember from the first SFG book that you could make a square bigger by building a rim to allow deeper soil.  You could do something like that with MM? 
(But we're planning the grow bags, only with a sand bed under and slightly above the bottom of the bag.  The idea is to have the water wicking  up into the bag bottom from the sand bed.  Also to slightly bury the bags in sand, just an inch or so, and have the overflow for the water an inch or so below the top of the sand. So the bags should be in contact with the wet sand below, and wick up,  but the top inch or so of the sand will drain out and not be a breeding ground for mosquitoes.  )

Soose




Posts

: 409


Join date

: 2022-02-23


Location

: North Alabama



Indeterminate potatoes do require adding more and more MM as the plant grows. You can build a deep container and have MM stored to use as the plant grows. There are a zillion Youtube video and photos showing the ways people do this.
One caution about putting a bed below grade is getting the MM anaerobic. Since you are using sand in the bottoms, you should be okay.
On this Forum there are 158 threads going back a decade of SFG folks growing potatoes.
https://squarefoot.forumotion.com/search?search_keywords=potato&typerecherche=interne&show_results=topics
I had not thought of anaerobic.  Maybe I'll remember next time I'm thinking of something like this.

I did look / search for potatoes before I just asked the question.  Read about 10 threads before giving up on 158.  (The search function is something I'll have to learn to use better, it seems to not be giving useable results.  Will try to learn more.)

After reading I was hoping for was some clarity,  like:

"Grow determinate / one-level potatoes in a normal 6" MM bed."
But...
"Grow indeterminate potatoes that need 'hilling up' as the plant grows in... 
6" mel mix, but then straw piled on top to keep them growing up?"  ...  or
"20 inches mel's mix added over time?"
"Don't bother using MM for potatoes, go back to another method?"
etc..

I guess it's not so straightforward. I do appreciate the examples and photos and will try to copy or avoid what we've seen so far.

In the end as I was trying to order vermiculite (grade 4), I added in another 2 bags and we'll either use them or not.

[ Pricey, but Uline sure seems fast, at least for my area.  They say it'll be here today?  If possible, a miracle!
Good service, I've ordered before something totally diff.
I saw pics on their site of bottles of chemicals packed in vermiculite,
which is why they carry it I guess, for shipping harmful stuff. 
I was puzzled, as I knew they were a shipping company. ]

Soose




Posts

: 409


Join date

: 2022-02-23


Location

: North Alabama



Make sure the Uline vermiculite is Grade 3 or 4 in 4 cu. ft. bags.

This Forum supports the ALL NEW SFG, which boils down to raised beds, Mel's Mix and grids. It was created to help folks with questions or show and tell.

That said, some folks are limited on the number of beds and square feet they can have, and prefer to grow certain precious plants in the beds, and common or cheap things like corn and potatoes in their old row garden, or such.

For hilling indeterminate potatoes, I personally would not waste precious Mel's Mix. Some cheaper soil amendment or damp peat moss? ??
I know I replied to this last night, Sanderson, but it appears I lost it along the way. 

Sorry if I broke forum protocol going off topic.  Others are talking about potatoes and I don't have nuances down yet.

TY, the vermiculite is Grade 4 from Uline, thanks for the thread showing where to buy it -- I never would have thought to look for it there, though I've ordered something from them before. Shipping supplies, it's used there for packing chemicals/bottles of.  Mine came in ONE day from Atlanta. Astonished.  Set my bank account back but I ordered extra in case I have no source in future and need it.  And I keep forgetting that I am going to try to put berries in.

My son wants to grow the potatoes in his pseudo grow bags.  (Large feed bags.)  Who am I to argue at interest.  I know potatoes have been cheap in the past but will they continue to be?  We eat a lot of potatoes.  I need a starch to grow, a staple. 

I am regarding each growbag -- 11 1/2" approx in diameter -- as one square.  With the capability of rolling up the rolled down sides of the bag to increase hilling height.  And at this time the plan is,  they're going into a cut off tote, same as my other raised beds.  With a wicking bed of sand under as I don't know if he'll always continually be here to water them.  That's our compromise, coming together. 

He would have liked mineral or molasses tubs I think but we can't find them here.  (Though I know farmers must have them. )  Supplies of free planters have nigh on dried up.  The bags just might make harvesting easier.  He doesn't want, nor do I, to be digging potatoes out of the ground, damaging them. He wants to upend a bag and pull them apart.  I figure he might destroy a SFG raised bed as he does that. 

Trying to blend in SFG with these other needs.  Not easy when new to all of it.

We did get the blueberry beds semi-set up yesterday.  I need more pine straw or mulch.

Soose




Posts

: 409


Join date

: 2022-02-23


Location

: North Alabama



sanderson likes this post
Soose, You barely went off topic, nothing to worry about.  Finding coarse vermiculite is on everyone's mind.  Finding Grade 4 from Uline was a great find.  For blueberries the MM is tweaked, heavy on fluffed peat moss.  See the blueberry thread below.
I have changed the name of your introduction thread so you have your own garden thread, sort of like a garden journal or diary.  
 https://squarefoot.forumotion.com/t23529-hello-from-soose-in-north-alabama#302842
One of our Certified Instructors in Texas posted a thread on growing blueberries in containers.  You don't need pine needles (as they don't affect the pH of the Mix) and the container doesn't need to be very deep as the roots are basically 6" deep.
https://squarefoot.forumotion.com/t23206-growing-blueberries?highlight=blueberries
My son wants to grow the potatoes in his pseudo grow bags.  (Large feed bags.)  Who am I to argue at interest.
That is fantastic and should be encouraged.  How old is he?   He can browse the Forum with you or on his own.  The Search box is a great tool.
I like to dump my sweet potatoes that I grow in large storage containers in Mel's Mix.  Dumping rigid containers makes harvesting so much easier.  He can use 5-gallon food grade containers for individual determinate potatoes.  Just wrap with card board, aluminum foil or burlap to keep the roots dark.  I use a clean tarp or plastic sheet for dumping. The aluminum foil keeps the roots in the dark (and prolongs the life of the plastic). 
The vines have been cut off in preparation for harvesting.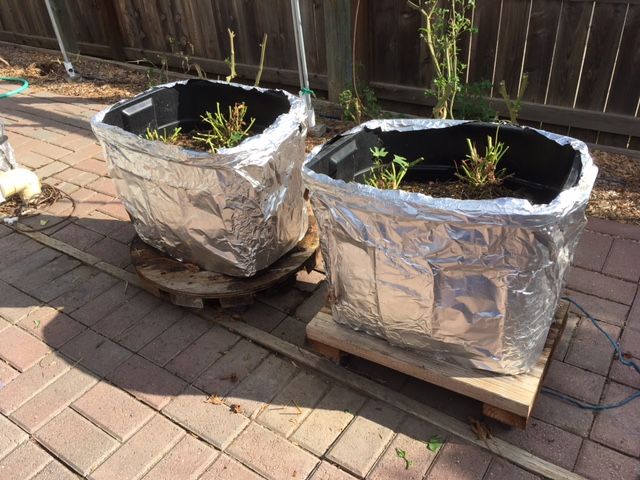 TY for setting up my thread. That makes a lot of sense as I will surely have a lot of varied questions.  I didn't know if I should continue it there as a "introductory" thread.

Maybe this thread should be moved over to the one for Off Topic stuff; I didn't see it earlier.

Answers:

TY for the discussion of the forum of vermiculite sources. I was not having any luck. 

I did see your aluminum foil wraps and thought the technique brilliant. I saw someone use burlap but the price is a concern.  Never would have thought of foil - I have a roll of heavy duty large stuff.  We have several containers we need to protect from sun. 

TY, I do understand now that the blueberries acidity will not be aided by the pinestraw or pine bark. But we started that bed with a layer of cardboard and laid the pine straw out as that's what I had already collected.  Cost so far, only the plants.  The bed will need more mulch to keep down weeds. There wasn't enough pine straw to cover, and the nursery nearest can not deliver mulch or bark for another week or more.  I have to shop around,  find something to finish off covering that "bed."  We have located it somewhere we have trouble getting the tractor in close to mow.  I'm planting 14 blueberries, three varieties.  It's about 60ft long and 12ft deep up to a fence.

My son is not a little tyke -- he is grown and 26yo, living with us.  He's always had an interest in gardening, from a very young age. We've had several failed attempts on my part as he grew.  We used a horse trough for a mini SFG of herbs and such.  There's still some vegetation in it.  I tried to put in a teepee type kid's garden.  I'm aware that I'm better at getting structure in than tending the plants as time passes.  (MUST change that now.)  My son does not handle sun well even when it's cool out (allergic, I think) and every time, we failed on the maintenance stage. 

Our first real long term success has been the "earth boxes" on the porch for greens. No weeding, resilient if we miss a bit watering.  Solved the squirrel problem, hopefully.   He's been reading and watching videos on his own for a long time, and when we compared notes, we found we'd discovered a lot of the same channels. 

His "potato bags" came in today -- not real grow bags (due to money and reviews), but XL sand bags or feed bags.  No luck with finding the "mineral buckets," his first choice.  He next considered using cardboard boxes wrapped with chicken wire, but has decided he dislikes working with the latter. (He covered our greenhouse frames on the earth boxes.)  Then, he saw a guy use sandbags on a channel on youtube, smaller bags, set inside a wicking tub, and we had been looking vigorously for some type container about the right size.  This is what we compromised on.  I hope it works out for him. 

Had trouble finding a bag that was supposed to be really UV protected.  Descriptions say UV but then the latest reviews were saying many of them fall apart.  I found a company called SandBaggy which seems to not have that problem, and hope they work out.  (Another reason to keep them inside a tote - if they fail he'll have a backup, with them all pressed in there against each other.  And try something different next season.)

I offered my 18gal tubs which I found for as low as 6.49 and would hold 2 of his bags.  But then we realized he could just use some of the ibc totes to hold his bags.  I have a pretty good source, it's cheaper than all those bins, and an advantage over time, we can revert to using them for other raised garden beds. 

I guess he'll start off with MM and then maybe we'll try pinestraw or I'm inquiring about some straw, last season's, from a farmer 4$/bale.  (Waiting on county extension agent to tell me what he sprayed on it is safe.  Farmer gave me the names. NOT broadleaf killers.)  We'll find something to hill up around them.  I can get bulk $30/cu yd fine shredded mulch.  I can get peat moss, for now.  I'll have to go back and read what was suggested.

Soose




Posts

: 409


Join date

: 2022-02-23


Location

: North Alabama



Similar topics
---
Permissions in this forum:
You
cannot
reply to topics in this forum