Latest topics
»
2021 SFG in Brooks, Ga
by
OhioGardener
Yesterday at 8:19 pm
»
N&C Midwest—September 2021
by
OhioGardener
Yesterday at 12:07 pm
»
Patio Tomatoes at the Kitchen Door
by
OhioGardener
9/16/2021, 8:05 pm
»
Help identify seeds
by
OhioGardener
9/16/2021, 7:59 pm
»
Mulch question
by
MrBooker
9/16/2021, 6:37 am
»
Fallen Apples
by
Kelejan
9/16/2021, 3:48 am
»
CANADIAN REGION:What are you doing January to June 2021
by
Kelejan
9/15/2021, 1:25 pm
»
California's Drought
by
Kelejan
9/15/2021, 12:58 pm
»
Mark's first SFG
by
markqz
9/14/2021, 11:28 pm
»
Organic Management of Fall Garden Pests
by
OhioGardener
9/14/2021, 8:38 am
»
My name is boffer, and I'm a juicer.
by
azonia221
9/13/2021, 9:10 pm
»
Happy Birthday!!
by
Scorpio Rising
9/12/2021, 11:54 am
»
Chick N Poo Compost
by
OhioGardener
9/9/2021, 4:59 pm
»
What Have You Picked From Your Garden Today
by
donnainzone5
9/9/2021, 12:41 pm
»
Composting information
by
Bart
9/9/2021, 11:13 am
»
Hi from Lillington, NC
by
AtlantaMarie
9/9/2021, 7:11 am
»
What are you eating from your garden today?
by
OhioGardener
9/7/2021, 7:19 pm
»
What's everyone planting?
by
sanderson
9/7/2021, 1:24 pm
»
Worm On Tomato?
by
sanderson
9/7/2021, 1:21 pm
»
Canning Humor
by
sanderson
9/6/2021, 11:36 pm
»
Starbucks for coffee grounds!
by
sanderson
9/6/2021, 11:35 pm
»
Hi from an SFG beginner from Nashville, TN
by
sanderson
9/6/2021, 10:55 pm
»
Tomato - Snow Fairy
by
markqz
9/6/2021, 6:23 pm
»
Soil Building - For Better Fruit Production
by
sanderson
9/6/2021, 4:33 pm
»
OhioGardener SFG
by
mollyhespra
9/6/2021, 1:19 pm
»
Create Your Own Named Hybrid Tomato
by
OhioGardener
9/3/2021, 8:10 am
»
Senseless Banter...
by
sanderson
9/2/2021, 6:56 pm
»
Soil Additives
by
sanderson
8/31/2021, 3:20 am
»
Hurrican Ida
by
sanderson
8/30/2021, 5:14 pm
»
Butterfly/Pollinator Havens - Which plants are your favorite to cultivate?
by
sanderson
8/30/2021, 5:11 pm
Hello everyone,
Super excited to have found you guys. I have No experience with a garden - didn't grow up with one, but I come from a long line of farmers (except my dad, but every generation before that).
I recently moved into a house with multigenerational friends n family.
I have inherited 3 4'x8' beds that right now have a summer garden but before that had laid fallow for decades
the soil is not very good,  So the garden is not doing as well as I had hoped for, but boy is it teaching me. 
The beds have names
1. Gloria Gaynor (I will Survive) - (NS) the bed with the worst soil. summer veggies were planted with nothing done to the bed. they r struggling n stunted
2. Shirley Bassey - (NS)was dug up and new soil n amendments. plants doing well
3. Hellen Keller - (EW) Last year when my friend tried growing squash they DIED! that was bad news!! i knew then it needed care. so i started Trench composting there (by accident. did not know such a thing existed!). so this bed has been teaching me a lot. Plants this year are doing alright.
My favorite thing in the garden is working on the soil. My heart sings when i see worms where even weeds would not grow. i also love composting! i am mostly a vegetarian so i generate a lot of table scrap. so glad they no longer will add methane. we have compacted clay so it's hard to dig deep which is why i am not composting animals yet! Digging a 1 ft deep trench has already taken me 2 days. i am hoping to plant a native bee garden, since we don't have many bee friendly flowers so the veggies suffer.
my superpower is researching but that generates more questions so i'm so glad to have you all to guide me. Plus it's so wonderful to share passions. 
in my other life i work as a caregiver for hospice patients and i love it. it is very rewarding as well as extremely challenging too.

ClayWheel




Posts

: 5


Join date

: 2021-05-28


Location

: zone 9b N California



Welcome to the SFG Forum., Claywheel,
There's lots of experienced gardeners here to help you in your journey towards being a successful gardener. Starting out with raised beds can be challenging - not at all like conventional till and row gardening. I would suggest you invest in Mel Bartolomew's "Square Foot Gardening" book and read it through. The Key to success is the "soil " formula, which gives the confined beds a perfect environment for intensive growing in a concentrated environment. I garden in a 9b zone, and you'll find that the intense seasonal heat can be a heartbreaker as far as trying to be successful on  your first planting season. It's about keeping the plants from drying out and struggling to thrive. My plants were "cared to death" by me in hopes of success when the odds were stacked against me. I couldn't keep up with the watering and reasoned that it was the lack of fertile soil that made the plants struggle, so I over-fed them with synthetic chemicals in hopes of supercharging the soil and forcing the plants back to health. I nuked them and I would have been better off pulling them up and digging out the beds and starting over with Mel's Mix and joining the SFG Forum for some great  advice. Don't be afraid to ask any questions here- we don't judge, and thanks for joining- I'd encourage any "Lurkers" out there to join up too.

Yardslave




Posts

: 510


Join date

: 2012-01-19


Age

: 70


Location

: Carmel Valley, Ca.



sanderson likes this post
Hello ClayWheel and welcome to the forum!
It sounds like you've taken a very personal (or at least anthropomorphic) approach to your garden beds!
One of the key ingredients to SFG is the special mix used in boxes. It's called Mel's mix, and it's made up of 1/3 vermiculite, 1/3 peat moss, and 1/3 compost. It solves lot's of problems with bad soil and water retention. You might consider converting one or more of your boxes or possibly putting a 6 inch layer on top of them. This might get you out of the trench-digging business.  
You can read more about Square Foot Gardening in the book:
All New Square Foot Gardening, 3rd Edition, Fully Updated
available at the various and
usual
suspects!

markqz


Forum Moderator




Posts

: 507


Join date

: 2019-09-02


Location

: Lower left hand corner



sanderson likes this post
thanks guys.

it was Mel's book that introduced me to square foot gardening. It was an older addition and alas i recall not paying much attention to the soil issues a while ago. Yes I have heard of Mel's mix. But I don't want to use peat moss even though i will be using much less than commercial businesses. trying to figure out what to add instead of peat moss.

i am also surrounded by asian gardners who do quite an intense garden sorta like sfg. i cant believe the amount of production they get out of their plots n containers. i haven't drummed up the courage to approach them yet!

the sun is killing today! it's only 90 today n the cukes n squashes have limp leaves even tho i watered last night n the soil is still wet! memorial day it's going to hit 108!!!

I've given myself 2 maybe 3 years to get the soil ready. 

Thanks for stopping by to say hi!

ClayWheel




Posts

: 5


Join date

: 2021-05-28


Location

: zone 9b N California



Welcome to the forum from Ohio, ClayWheel! You have a challenge ahead of you, but it is doable. The key to your success will be high quality compost to enrich build the soil. You can use Coconut Coir in place of peat with equal results. You will want to check out the regional forum for
Northern California
, where you'll find members that experience growing conditions similar to yours.
____________________________
Never plant without a bucket of compost at your side.

OhioGardener


Forum Moderator




Posts

: 2766


Join date

: 2018-08-06


Location

: SW Ohio



Yardslave and sanderson like this post
Thanks O!
Hah! And I thought I understood composting!!!
I have learnt so much just reading up here while i wait for the book to arrive!
And also read about coir that u mentioned. 
now trying to find affordable shade cloth 
thanks for the heads up on northern cali group!
much appreciated!

ClayWheel




Posts

: 5


Join date

: 2021-05-28


Location

: zone 9b N California



Hi Claywheel.  Welcome from Atlanta, GA.
Sanderson's archives might be helpful for you to look through.  Not sure how close she is to you...
Sounds like you're off to a good start & learning lots.  Don't forget to take notes on what works well & what doesn't.  
sanderson likes this post
ClayWheel,  We had a burst of +100*F weather here.  I've been slowly recovering from a lower back injury so my husband, and daughter when she visited, have been doing all of the summer planting and gardening that I would normally do.
Mel's Mix is the greatest fill for raised bed.  The 1/3 blended composts feed the plants through microbial and root activiity.  The Coarse vermiculite both helps retain water, and release water when it's needed.  The fluffed peat moss makes it light and fluffy.  The structure of MM allows oxygen in the MM which is needed.  Please don't worry about buying peat moss.  Our PM is a sustainable commercial harvest from our northern neighbor, Canada.
https://www.gardenmyths.com/coir-ecofriendly-substitute-peat-moss/
The  latest activity in the garden was erecting the overhead shade cloth (Home Depot and topping all beds with E-Z Straw mulch.  The shade cloth prevents sun scold and the plants really appreciate it.  They don't set fruit when it's hot, but keeping them alive until the next "cool" break means they will set fruit again.  The straw mulch helps keep the roots and Mel's Mix cool.  Building beds with 2" (1 1/2") thick wood also keeps the MM cool.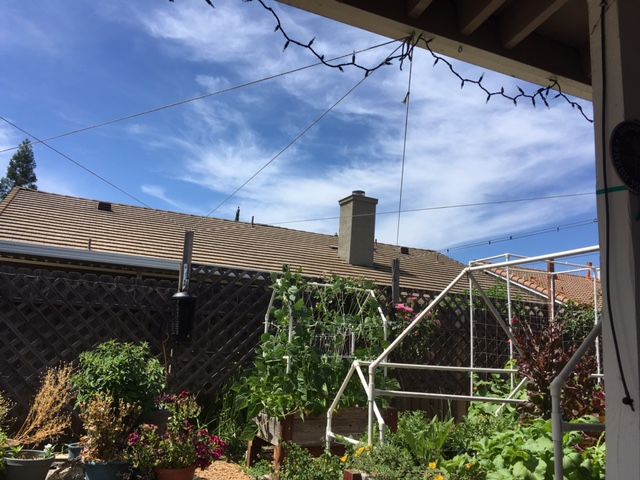 The hardest thing for Californians is locating real compost. NOT potting soil, raised bed soil, soil amendment, etc. Just real compost. Ace Hardware in Roseville carries orange bags of compost for $5.99. My son picked up 3 x 1.5 cubic foot bags for the next time he comes down or we go up. Here in Fresno, I found Gardener & Bloome Purely Compost at a local independent nursery. And located mushroom compost in Morgan Hill. A hydroponic store off 49 in Grass Valley has carried Oregon Bull in the past. My son will check this out when he goes to GV.
Do read All New Square Foot Gardening, 2nd or 3rd Edition.
With another impending water cut-back because of the drought, I cannot stress enough that a layer of mulch is a must. Mulching layers help reduce evaporation and keep soil temps more consistent. I found that tomatoes need a layer to help keep soil from drying and causing cracking, and squash and cukes will not be as prone to drooping on hot days. Just be sure to keep the mulch from  being in contact with the plant's base as it can cause diseases to develop. Keep an eye out for pill bugs and earwigs, as they love the shade and moisture and can cause problems at the base or your veggies. I found that a sprinkling of diatomaceous earth will stop them from invading your beds.

Yardslave




Posts

: 510


Join date

: 2012-01-19


Age

: 70


Location

: Carmel Valley, Ca.



sanderson likes this post
I know I am late to the party, but welcome from Coastal Carolina!!!
You will definitely find TONS of info here. You can use the search box and find lots of answers.

ralitaco




Posts

: 1312


Join date

: 2010-04-04


Location

: Hampstead, NC



---
Permissions in this forum:
You
cannot
reply to topics in this forum