Latest topics
»
Kiwi's SFG Adventure
by KiwiSFGnewbie Yesterday at 10:25 pm
»
Hi from Western Australia
by OhioGardener Yesterday at 11:10 am
»
N & C Midwest: November/December 2023
by JAM23 12/8/2023, 6:49 pm
»
Mark's first SFG
by OhioGardener 12/8/2023, 3:13 pm
»
Strawberry Varieties?
by
sanderson
12/5/2023, 3:57 pm
»
Recommended store bought compost - Photos of composts
by
sanderson
12/4/2023, 1:27 pm
»
Jerusalem Artichoke or Sun Choke
by
Scorpio Rising
12/4/2023, 7:09 am
»
Strawberries in MM: to feed or not to feed?
by
sanderson
12/3/2023, 7:30 pm
»
What Have You Picked From Your Garden Today
by OhioGardener 11/29/2023, 5:36 am
»
Senseless Banter...
by
sanderson
11/28/2023, 10:31 pm
»
FREE Online SFG Class - November 28, 2023
by
sanderson
11/27/2023, 9:21 pm
»
Mini-Raised Beds?
by Chuck d'Argy 11/27/2023, 2:14 pm
»
Happy Birthday!!
by
sanderson
11/26/2023, 10:58 pm
»
Name the mystery (to me) seedlings! :-)
by Psdumas 11/25/2023, 12:04 am
»
Happy Thanksgiving from the USA
by
sanderson
11/23/2023, 1:47 pm
»
Guatemalan Green Ayote Squash
by OhioGardener 11/21/2023, 8:27 am
»
Seeds 'n Such Early Order Seeds
by
sanderson
11/20/2023, 1:13 pm
»
USDA Plant Hardiness Zone Map
by OhioGardener 11/19/2023, 7:12 am
»
AeroGarden for starting seeds?
by OhioGardener 11/16/2023, 12:40 pm
»
Biochar?
by OhioGardener 11/16/2023, 10:31 am
»
2023 - Updated U.S. Interactive Plant Hardiness Map
by
sanderson
11/15/2023, 6:18 pm
»
SFG Is Intensive Gardening
by
sanderson
11/14/2023, 3:26 pm
»
Teaming with Microbes Kindle Sale (Mem. Day weekend 2023)
by markqz 11/10/2023, 12:42 am
»
Bok Choy Hors d'oeuvres
by
donnainzone5
11/9/2023, 5:58 pm
»
Now is the Time to Start Preparing Next Year's Spring Garden
by OhioGardener 11/9/2023, 7:13 am
»
Shocking Reality: Is Urine the Ultimate Gardening Hack or Disaster?
by dstack 11/6/2023, 5:29 pm
»
Nightmare on Mel Street.
by
Scorpio Rising
11/4/2023, 6:37 pm
»
Aerogardening
by
Scorpio Rising
11/3/2023, 10:02 am
»
Sunday All Purpose Organic Garden Nutrients
by lisawallace88 11/3/2023, 9:13 am
»
Mid-summer seed sowing, how do you do it?
by KiwiSFGnewbie 11/2/2023, 8:04 pm
Hello all, I have 2 squares of bush peas in my elevated bed(36" off ground). They turned yellow in one day. I was gone on a MC trip all day Saturday which was hot 90+. My wife watered twice about a cup each square, seems like enough. The elevated is MM soil.
The odd thing is the in ground raised bed square of peas in a soil/compost mix look great. 
So I'm thinking what is the difference?
 1. The in ground is 50% compost while elevated is 33%. So maybe needs fertilizer?
 2. In ground plants have tap deeper water source while elevated are basically container plants strictly limited water? Also would the soil/compost hold more water? 
I'm so new to this that it is all NEW to me
OC

OldCrow




Posts

: 45


Join date

: 2020-05-09


Location

: Mid Coast Maine 5a



It could be something such as soil temperature. Remember, peas are cool weather crops. If you have a soil thermometer, test the soil temp both for the above ground and on-the-ground bed. Plants keep cool by pulling cool water from the soil, and up into the leaves where the plant perspires to cool off.  if the soil is hot, the plant cannot pull up cool water to use to cool off.

Another problem with the above ground bed might be an inability to drain excess water. Peas will develop yellow leaves from too much, or too little water. They don't like their roots to be saturated in water. If the bottom of the bed is saturated with water because it cannot drain out, that will cause the leaves to turn yellow due to too much water.  Check deep in the soil to see if it is too wet.
____________________________
"In short, the soil food web feeds everything you eat and helps keep your favorite planet from getting too hot. Be nice to it."
~ Diane Miessler, "Grow Your Soil"

Hi OG, 
I did not remember peas are cool wether
Thinking about soil temp. 90+ air under, direct sun on the sides. I suppose for all the neatness of elevated it's just a big container and suffers the same drawbacks. I do have a remote thermometer I can put a few inches down. My engineer brain demands I know the answer to that "how much heat" problem.
I suppose on these oppressive(for me and the plants) days I need to rig a shade for the container. 
Now the burning, Pun intended
,question is "are these peas toast?" can they recover or what??
As for draining I think it "should" be OK. the bottom is hardware cloth(1/4 wire grid) with a sheet of landscape fabric over that. I thought that landscape was not water proof. 
Thank you very much for those thoughts/insights. 
OC

OldCrow




Posts

: 45


Join date

: 2020-05-09


Location

: Mid Coast Maine 5a



Peas can be planted as soon as soil can be worked, OC.  Here, usually around St. Patrick's Day.  Also they are nitrogen fixers, if your MM is fresh I doubt it is due to a lack of nitrogen/fertilizer.  My sugar snaps can generally weather a short stint of warmth, but they don't like heat of summer.

Scorpio Rising




Posts

: 8612


Join date

: 2015-06-12


Age

: 61


Location

: Ada, Ohio



Live and Learn. Turns out I've mixed cold and warm in the elevated box, mostly cold with only cucumber, bean and dill warm. 
I went through a book by "The Vegetable Gardener's Bible" by Edward C. Smith and looked at all the max soil temps for my vegetables. As you would expect the cold stuff is mostly about 65F while the warm is 75-80F with my peppers in 2gal bucket being the king of hot at 85F soil temp max. 
Edward doesn't specify depth so I measured 4-6inches down in shaded spots.  
Now the crazy part I measured the soil temp about 4inches down in my pepper Homer 2gal bucket with a mylar reflective skirt and partial sun on my sunroom porch and drum roll please... 95F. 
Next I measured the soil temp in my in ground MM bed and it's 80F while the shaded container is 82F(which is the outside air temp).
So I had a bunch of mylar emergency blankets from another project, I've cut one up for skirts for all 7 of my buckets. Next I had an unused broken patio umbrella so today on a much milder day but still above our normal summer time high, this is my elevated container.
 Easy Peasy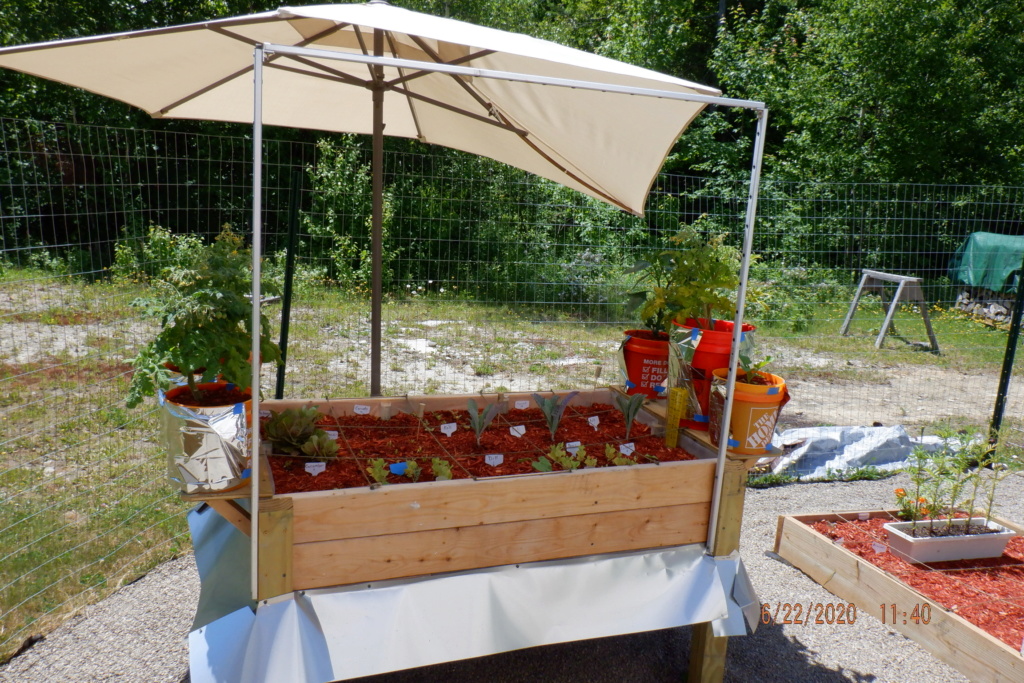 OldCrow




Posts

: 45


Join date

: 2020-05-09


Location

: Mid Coast Maine 5a



Nice!!!!  Looks like a good stop gap,   OC.

Scorpio Rising




Posts

: 8612


Join date

: 2015-06-12


Age

: 61


Location

: Ada, Ohio



---
Permissions in this forum:
You
cannot
reply to topics in this forum