Latest topics
»
So glad I watered...
by
Emily49
Today at 8:31 pm
»
Rogue strawberries
by
Emily49
Today at 8:29 pm
»
Friday Rookie Topic: Carrots
by
Emily49
Today at 8:26 pm
»
TD Painting
by
mbrobb
Today at 7:38 pm
»
new eastern redbud looks like it might need attention
by
bkrieb
Today at 5:44 pm
»
N&C Midwest—June 2020
by
OhioGardener
Today at 5:40 pm
»
Experimental Asparagus Bed
by
plantoid
Today at 4:09 pm
»
Eddie Willers 1st rookie mistake, what to do?
by
Eddie Willers
Today at 1:29 pm
»
2020 SFG in Brooks, GA
by
yolos
Today at 12:29 pm
»
frustration
by
Yardslave
Today at 12:29 pm
»
Oh, TURD...
by
mollyhespra
Today at 8:45 am
»
TD - A Journey Through Prostate Cancer
by
countrynaturals
Yesterday at 9:51 pm
»
CANADIAN REGION: What are you doing April, May, June, 2020
by
lvanderb
Yesterday at 8:42 pm
»
What to plant now for Zone 10
by
dstack
Yesterday at 8:09 pm
»
Be a couch potato or grow your own potatoes?
by
Emily49
Yesterday at 1:05 pm
»
mix of lettuce in one square
by
OhioGardener
6/2/2020, 7:54 pm
»
Any Strange and Wonderful Visitors? Photos please!
by
OhioGardener
6/2/2020, 7:41 pm
»
Stroke - Country Naturals
by
Kelejan
6/2/2020, 7:37 pm
»
Just about got enough seeds sown & seedlings transplanted
by
Emily49
6/2/2020, 7:33 pm
»
How's the Weather Where You're At?
by
Scorpio Rising
6/2/2020, 6:32 pm
»
What Have You Picked From Your Garden Today
by
plantoid
6/2/2020, 3:17 pm
»
Senseless Banter...
by
sanderson
6/2/2020, 5:07 am
»
Tomato disease help
by
OldCrow
6/1/2020, 7:07 pm
»
New England, June 2020
by
Scorpio Rising
6/1/2020, 4:47 pm
»
Mail order tomato plants
by
Scorpio Rising
6/1/2020, 12:40 pm
»
N&C Midwest: May 2020
by
Scorpio Rising
6/1/2020, 12:37 pm
»
Cheerleaders needed, please. This is daunting.
by
OldCrow
6/1/2020, 9:27 am
»
The SFG Journey- Harvesting compost from rows
by
has55
5/31/2020, 1:57 am
»
The SFG Journey- preparing Hoops on SFG Beds for future shade cloth
by
has55
5/31/2020, 1:37 am
»
Panic Buying due to Cornavirus Pandemic
by
yolos
5/31/2020, 1:00 am
This picture was taken at 3:30pm. We are clearing an area to build some garden boxes and it currently gets exactly 8 hours of full sun for this time of year, it's 
the area to the left that you can see the gravel pulled away. The area of the gravel is on the east side of the house and gets sun as soon as the sun rises. As the sun sets to the west, the shadow from the house gradually covers the area to the right. My question is: do you think this site placement is good? It will definitely shield the plants from the harshest afternoon sun. I could move the box over to the right more to get more sun, but I am afraid it is going to get really roasted. But I am completely open to suggestions as I have never gardened in the high desert before, what do you guys think? thx!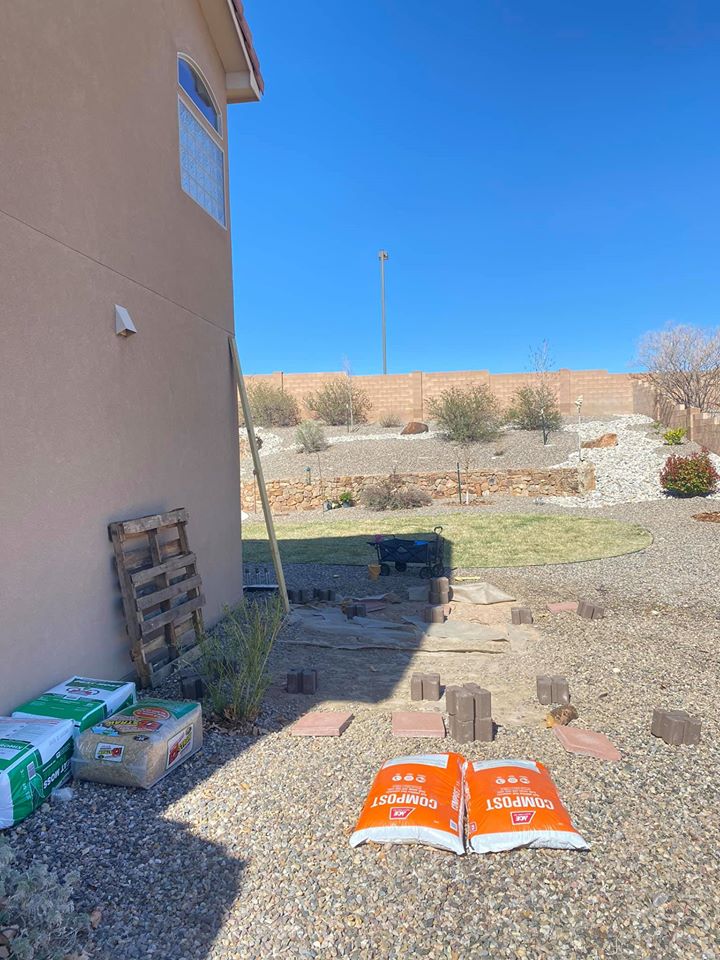 asvmac




Posts

: 2


Join date

: 2020-03-28


Location

: New Mexico



I think you have the right idea, protecting your plants from the worst of the afternoon sun. I'm in Redding, CA. Almost nothing can survive in direct sun all day, here. I plant everything in partial shade or under a shade cloth cover. I'm sure you'll here from others with more experience. Good luck and
Asvmac, you have the right idea.  East sunrise, west shade.  You have a nice wide area on the east side as your lots are wide.  Have you had a chance to read the 2nd or 3rd Edition of All New Square Foot Gardening?
I notice you have the concrete corner blocks that are 7 3/4" high.  If you use 2" x 8" lumber it will provide some insulation from the heat to keep the Mel's Mix cool during the summer, especially if you use mulch.  I recommend that you set down the frames and then line the inside bottom and up the sides to contain the Mel's Mix.  My husband and I just made a bed and set it on concrete board and I lined the bottom and sides with durable weed fabric and trimmed the excess after I fill with MM.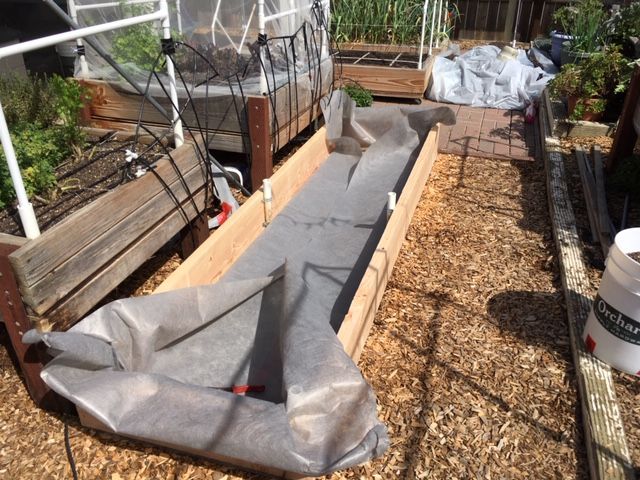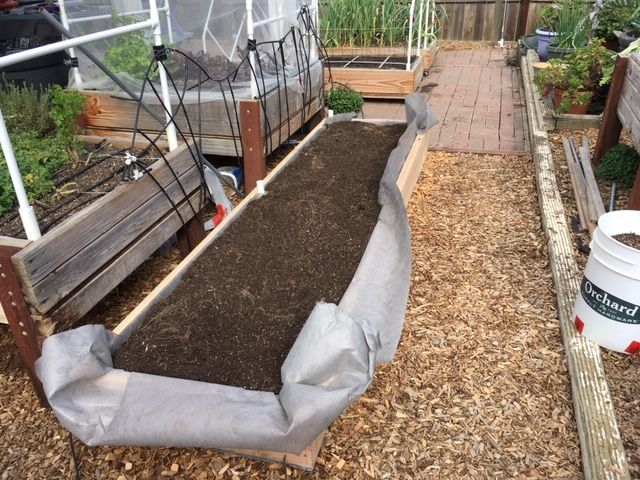 In dry, hot zones, overhead shade cloth is almost a must.  Sometime in June, my overhead shade cloth goes up and doesn't come down until September.  Then it is time to plant the winter crops! August.
Winter crops covered with bridal tulle to keep off the white butterfly and her green caterpillars.
Also a consideration is the sun reflection off the house stucco and windows.  I erect shade cloth on the east side of the house to prevent reflective heat from my pole beans.
Mulch is important to slow surface evaporation.  I use bedding straw cut to 4-6" lengths.
Drip irrigation on timers can really help.  I also daily water the beds using the hose wand on the shower setting to keep ALL of the Mel's Mix wet, not just the area around a plant or in a strip.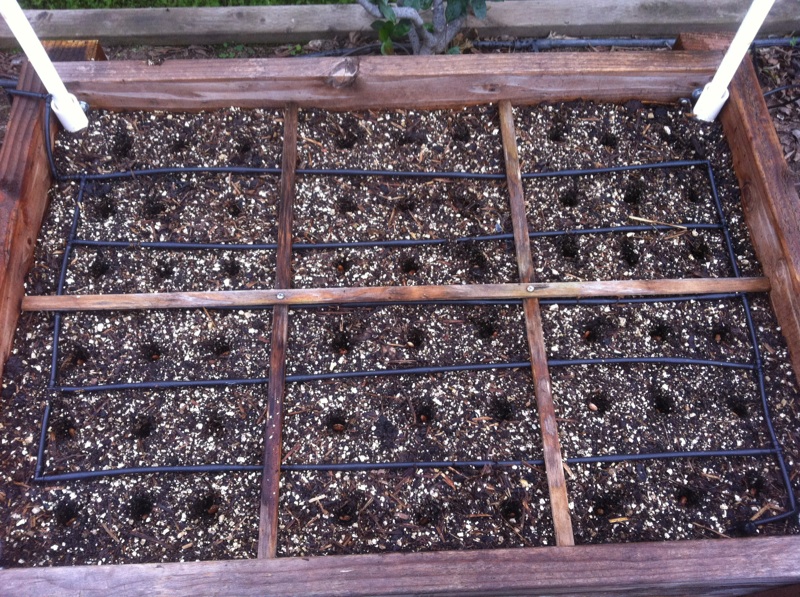 Brainchasm had a nice thread with great photos of his Las Vegas garden.  Unfortunately, many of his photos were held ransom by a photo site that was free and then decided to charge for it.
https://squarefoot.forumotion.com/t14727-newbie-in-las-vegas-year-1
I'm in Central California where the summer temps get over 100*F for days at a time.  Shade, water and mulch.  The summer plants produce a first flush of produce, then struggle to survive the heat, which causes the flowers to fail to set.  Then, produce a late season flush.  I have about 193 sq ft or equivalent square feet, in beds, 5-gallon buckets, and an amended 1'x50' foot strip of otherwise unused dirt.  It produces enough to put up a lot of canned, frozen or dried food and herbs.  https://squarefoot.forumotion.com/t22075-sanderson-s-urban-sfg-in-fresno-california
Thanks guys! Sanderson, I absolutely LOVE your PVC frame set up, looks GREAT! My hubby and I are pretty handy, so I think we can figure it out, but is there a tutorial online that you followed for the setup? Do you affix the pvc support posts to the inside of the boxes that are in the soil? I've heard shade cloth comes in different percentages, is there is a percentage that you recommend? A local gardener in our area uses 70%, but I've never used it before. Thanks again! Love your set up!
-Andrea

asvmac




Posts

: 2


Join date

: 2020-03-28


Location

: New Mexico



Asvmac,  Thank you.  No tutorial.  I just tried to make a house with gable roof design so that water would run off the roof instead of pooling on top the plastic like it did with my earlier version.  Much trial and error.
  The 1/2" PVC frames are set down into "cup holders" made from Sch 40 1" PVC and held in place with plumbers tape and 1" wood screws.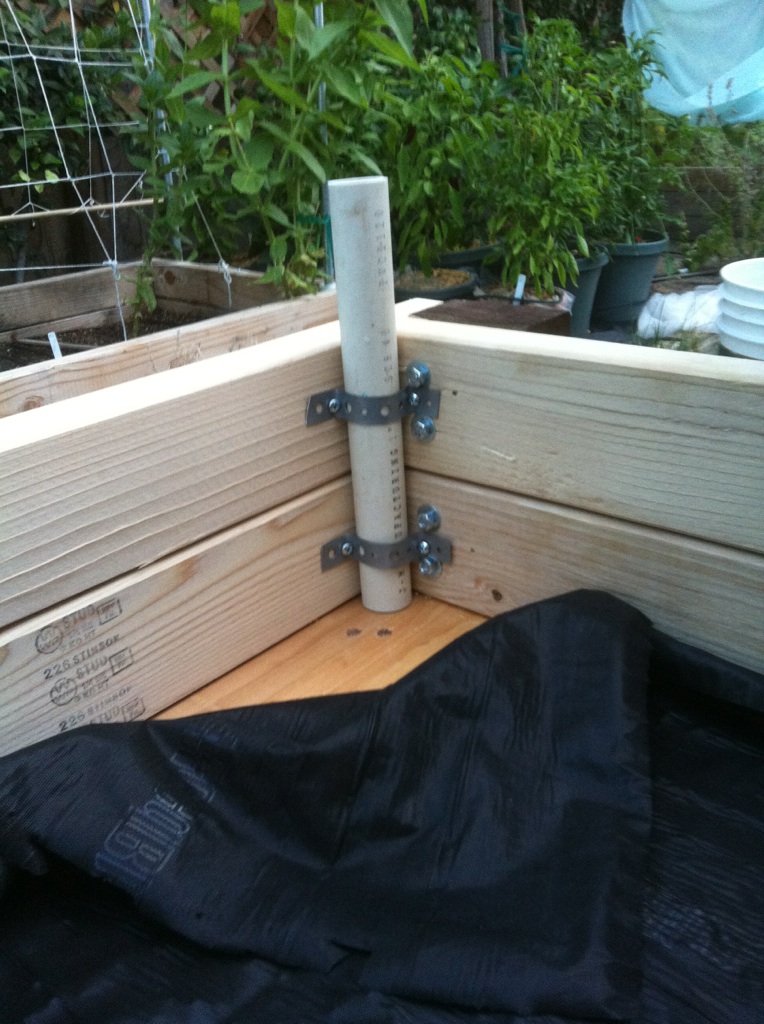 The frames are not glued together because I want to be able to change them for different needs. I do tie a string from roof peak to roof peak, like a tension wire. You can kind of see one in the shade cloth photo.
As far as the strength of shade cloth, I use the 75% sun ray blockage in Harvest Wheat. I do wash and dry them in October, and pin their labels back on. I use para-chord to support them.
---
Permissions in this forum:
You
cannot
reply to topics in this forum