Latest topics
»
New England, June 2020
by
OldCrow
Today at 4:42 pm
»
TD - A Journey Through Prostate Cancer
by
donnainzone5
Today at 2:20 pm
»
Stroke - Country Naturals
by
Yardslave
Today at 11:50 am
»
new eastern redbud looks like it might need attention
by
bkrieb
Today at 10:37 am
»
A Louisiana hello
by
LilBittyBean
Today at 9:31 am
»
Tropical Storm Coming. Pull up garlic and onions?
by
LilBittyBean
Today at 9:25 am
»
What Have You Picked From Your Garden Today
by
OhioGardener
Yesterday at 8:27 pm
»
Comfrey
by
OhioGardener
Yesterday at 8:26 pm
»
Friday Rookie Topic: Carrots
by
Emily49
Yesterday at 4:01 pm
»
Eddie Willers 1st rookie mistake, what to do?
by
OhioGardener
Yesterday at 3:19 pm
»
Rogue strawberries
by
mollyhespra
Yesterday at 2:41 pm
»
frustration
by
Dan in Ct
Yesterday at 8:39 am
»
TD Painting
by
trolleydriver
Yesterday at 8:31 am
»
N&C Midwest—June 2020
by
Scorpio Rising
6/4/2020, 9:42 pm
»
So glad I watered...
by
Scorpio Rising
6/4/2020, 9:39 pm
»
Experimental Asparagus Bed
by
plantoid
6/4/2020, 4:09 pm
»
2020 SFG in Brooks, GA
by
yolos
6/4/2020, 12:29 pm
»
Oh, TURD...
by
mollyhespra
6/4/2020, 8:45 am
»
CANADIAN REGION: What are you doing April, May, June, 2020
by
lvanderb
6/3/2020, 8:42 pm
»
What to plant now for Zone 10
by
dstack
6/3/2020, 8:09 pm
»
Be a couch potato or grow your own potatoes?
by
Emily49
6/3/2020, 1:05 pm
»
mix of lettuce in one square
by
OhioGardener
6/2/2020, 7:54 pm
»
Any Strange and Wonderful Visitors? Photos please!
by
OhioGardener
6/2/2020, 7:41 pm
»
Just about got enough seeds sown & seedlings transplanted
by
Emily49
6/2/2020, 7:33 pm
»
How's the Weather Where You're At?
by
Scorpio Rising
6/2/2020, 6:32 pm
»
Senseless Banter...
by
sanderson
6/2/2020, 5:07 am
»
Tomato disease help
by
OldCrow
6/1/2020, 7:07 pm
»
Mail order tomato plants
by
Scorpio Rising
6/1/2020, 12:40 pm
»
N&C Midwest: May 2020
by
Scorpio Rising
6/1/2020, 12:37 pm
»
Cheerleaders needed, please. This is daunting.
by
OldCrow
6/1/2020, 9:27 am
Heres the situation:

We've grown onions (from Vessey sets) for 5 years with great results every time.

Last year, during the drying phase, we notice onion maggots. Actually the "worm" looked a little longer and thinner than the photos on google but I don't know what else it could be. The entire crop, almost 100 onions, had the be thrown out. We chalked it up to bad luck.

Now here is where it gets interesting: We never planted all of the sets (just didnt have room) so some were left over, stored in the house (ie never came in contact with the infested onions which were dried in the shed and never came indoors). On a whim I planted them last week.

I thought the better of that and decided to pull them up and buy new ones. To my HORROR several of them came out of the ground with a little white wiggling terror poking out the side....after just ONE WEEK of being in the ground!!!

What is going on???

A) Were the sets we bought last year "infested"? If so, would a larva (or whatever) really survive in the unplanted ones for an entire YEAR, only to emerge the moment they were planted?!?  Seems far fetched but this is so far outside of my knowledge and experience I don't know what to think.

B) Is our soil "infested"? Will any bulb we plant be subject to almost immediate attack?  Do I dare plant onions at all?

Help!

Sunsanvil




Posts

: 74


Join date

: 2012-05-19


Location

: Atlantic Canada



Oh my gosh!
I hope someone experienced with onions can help you. Can you plant some in a pot with any generic planting material to see if there are maggots after a week or 2 in clean material?
How terrible! I don't think your sets were infected, the pupae will overwinter in the soil and it sounds like mid-May is when they start hatching, so you had a perfect storm for maggot infestation. Sanders' suggestion of planting in a different area/container with fresh mix is a great idea; that would definitely tell you if it's the soil. I would also suggest you cover the plants with tulle or something to prevent the adults from laying the eggs in the new soil.

BlackjackWidow




Posts

: 173


Join date

: 2018-05-07


Age

: 58


Location

: SW Michigan, on the coast of Lake MI; Zone 6a/b



Five years with no crop rotation may have contributed to the problem.
The following is from 
https://www.gardeningknowhow.com/edible/vegetables/onion/onion-maggot-control.htm
"Crop rotation is one of the most important aspects of onion maggot control. The maggots feed only on members of the onion family. If newly hatched maggots don't find a food source, they won't survive. When you thin your plants, remove and destroy the culls, which also serve as a food source. You should also completely remove any crop debris remaining at the end of the year. The insects like to pupate and overwinter in areas with large pieces of organic matter. To avoid providing them with a comfortable hiding place, make sure all compost is completely decomposed before adding it to areas where you are growing onions."

trolleydriver


Forum Moderator




Posts

: 5290


Join date

: 2015-05-04


Age

: 72


Location

: Ottawa, Ontario, Canada



Thanks everyone.

So if I understand correctly, the thing to do is not plant any onions (and related) at all this year (cant really experiment with alternate location as we have only have the 4 beds, all of which had onions in them last year).

With nothing to eat, any overwintered pupae will die/move on and with no new onions to attract the fly, no new eggs should be laid. Do I have that right? NEXT year should be "safe" again?

Sunsanvil




Posts

: 74


Join date

: 2012-05-19


Location

: Atlantic Canada



If it's onion maggots and the adult flies are in your area now (could be in the wild or coming from a neighbor's plantings) you will need to use tulle going forward, as well as waiting a year. (If you try to use tulle now, the pupae in the soil will hatch inside the enclosed area, so it won't help.) You have my empathy. A newly invading pest, the allium leaf miner, is in my area and I lost most of my leeks to it last year.

Longer and thinner could be wireworms. They tend to be copper-colored when older, but young ones are off-white, and the timing you are describing makes more sense for them as they would already be in the soil as larvae, rather than having onion maggots develop after only a week.

BeetlesPerSqFt




Posts

: 1439


Join date

: 2016-04-11


Location

: Port Matilda, PA Zone 5b/6a LF:5/11-FF:10/10



if it not to hot in your area beneficial nematodes will work. also, you can develop the population for the fall to address anything that will come out of the soil.  depending on how bad your infestation is right now, it may be better to build up the soil life for fall. also, good compost will bring the BN to develop in your bed. live vermicompost is great, but not old aged one that you buy in the store that's in a nonbreathable plastic bag, you have to go to a supplier. homemade compost tea will be helpful.
from Elaine Ingham-soil food web
Beneficial nematode
numbers need to be improved as well, to increase nutrient availability for the plants.  Add fungal foods to improve fungal biomass, and this may attract the fungal-feeding nematodes.      
Fungal biomass can be improved by adding some additional fungal foods, which are materials such as humic acids, fish hydrolysate with chitin and chitosan (insect exoskeletons), insect frass (high in chitin), rice hulls, steel ground oats (mostly the seed coat of the oat), or other high-cellulose or lignin containing materials which beneficial fungi enjoy.  
I like this set.-
beneficial nematodes you would want neem attack. I used the triple threat in the past/


has55




Posts

: 2166


Join date

: 2012-05-10


Location

: Denton, tx



@BeetlesPerSqFt

wrote:Longer and thinner could be wireworms. They tend to be copper-colored when older, but young ones are off-white, and the timing you are describing makes more sense for them as they would already be in the soil as larvae, rather than having onion maggots develop after only a week.
I googled some images and off hand they look larger than what I saw last fall (coming out of the harvested crop) as well as the sets planted and pulled a couple weeks ago, which in both cases were very small and distinctly white. Then again, maybe I've only seen the "young" version? At the same time I look at pics of onion maggots and that doesn't seem a perfect likeness either.
Call me crazy but I went ahead and planted the same square with onion sets again, the intention being to pull them in a weeks time, and this time take pictures and/or video to share and try to get a definite ID.
If it is wireworm... heaven help us! They sound
bad!
Its not just onions, but also carrots (which we didn't have any problems with last year), potatoes (which we are trying for the first time this year) and a butt load of other stuff. From what I'm reading they also can hang around in soil for
YEARS.

Sunsanvil




Posts

: 74


Join date

: 2012-05-19


Location

: Atlantic Canada



Update for anyone interested...
1) We pulled the square of onion sets we planted 1+ week ago: No holes, no pests, no sign of damage (just lots of healthy roots). This was the exact same square we pulled the old onion sets from earlier and found a critter half inside a couple.
2) While excavating in a completely different bed (for a tomato transplant) I unearthed this fellow: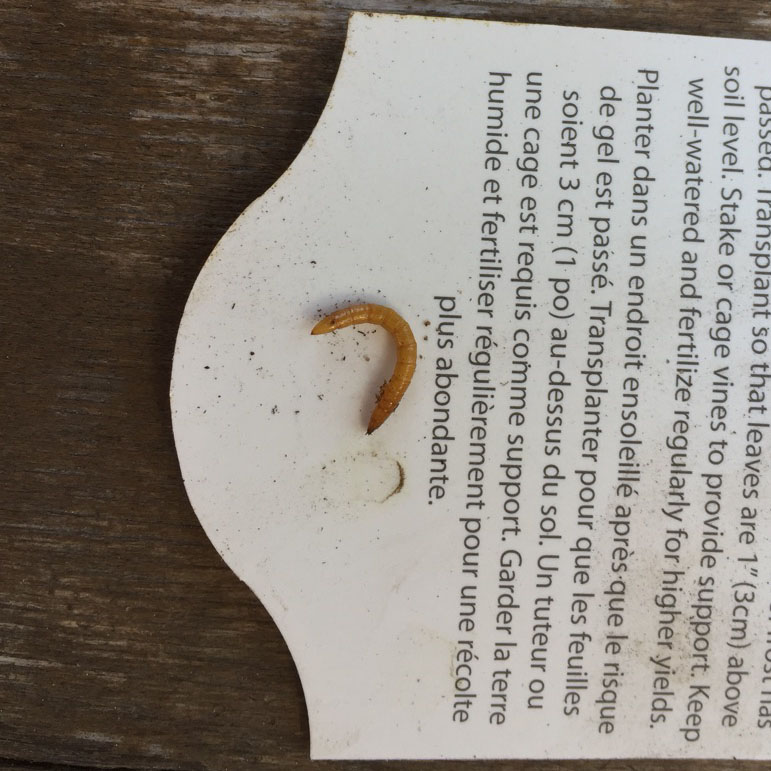 Still a little smaller and not quite so orange as the google photos, but I'd say that was a wireworm. 3 pairs of legs at the front etc.
So the question is....now what?  Were the "old" onion sets simply more susceptible? Is every root/tuber plant going to be wasted this year? Do we get nematode crazy on them?

Sunsanvil




Posts

: 74


Join date

: 2012-05-19


Location

: Atlantic Canada



Watching.
I'm a month behind you with onion maggots.  there is no treatment, other than take out the affected onions and burn them ..do not compost them you will not be able to store them either as the maggots tend to make them go rotten where they have been eating the onions ..

   The thing that sets onion fly strike off is very dry ground which gives the flies a beautiful place to lay their eggs on the low stem at ground or sub ground level to  the onions. 

 I lost one in each bunch of shallots .. a total of 15 wrecked onions , the good news is it looks like I'll still have 45  nice strong eye watering shallots to use . 


The other four or five onions in each bunch seem to have survived unmarked or damaged .. At present the survivors are sun bathing on a bed of 1/2 " chicken wire nesh some 2 foot off the ground .  Daily checks are not revealing any further strike  or damage . 


 It seems the onions are most vulnerable just after the onion has germinated & broken out the ground . So the strike evidence of suddenly dying tops before the onions are fully grown could happen weeks later . 

 To try and prevent  any problems next year I've already started using micro spray heads to keep the old spent cleared  bed & all other beds well damp & will do so for another 14 days , then stop so they can fully ripen for harvesting .

Then it will be a quick harvest and flood the beds with water for a couple of days to get them really soggy and in an egg rotting state whist it's nice & warm /hot I might even use some Jeyes fluid ( A garden steriliser fluid ) and add that in to the soaking water to help keep other bugs way from the beds too . 


 It's never struck me before like this … the old 1964 Percy thrower gardening encyclopaedia  book I use for reference says if it is a persistent problem  cease growing alliums in that area for four years so the soil is starved of maggot food & onion fly attractions .



 Oh one last thing ,don't grow your onions from seed use certified onion sets that have a bit of onion fly strike resistance ... if you can find them 
 

Japanese onions ( heat treated onions ) seem particularly susceptible  in drying  ground  to getting fly struck .

plantoid




Posts

: 4003


Join date

: 2011-11-09


Age

: 69


Location

: At the west end of M4 in the UK



---
Permissions in this forum:
You
cannot
reply to topics in this forum