Latest topics
»
Hi from Western Australia
by OhioGardener Today at 11:10 am
»
N & C Midwest: November/December 2023
by JAM23 Yesterday at 6:49 pm
»
Mark's first SFG
by OhioGardener Yesterday at 3:13 pm
»
Strawberry Varieties?
by
sanderson
12/5/2023, 3:57 pm
»
Recommended store bought compost - Photos of composts
by
sanderson
12/4/2023, 1:27 pm
»
Jerusalem Artichoke or Sun Choke
by
Scorpio Rising
12/4/2023, 7:09 am
»
Strawberries in MM: to feed or not to feed?
by
sanderson
12/3/2023, 7:30 pm
»
What Have You Picked From Your Garden Today
by OhioGardener 11/29/2023, 5:36 am
»
Senseless Banter...
by
sanderson
11/28/2023, 10:31 pm
»
FREE Online SFG Class - November 28, 2023
by
sanderson
11/27/2023, 9:21 pm
»
Mini-Raised Beds?
by Chuck d'Argy 11/27/2023, 2:14 pm
»
Happy Birthday!!
by
sanderson
11/26/2023, 10:58 pm
»
Name the mystery (to me) seedlings! :-)
by Psdumas 11/25/2023, 12:04 am
»
Happy Thanksgiving from the USA
by
sanderson
11/23/2023, 1:47 pm
»
Guatemalan Green Ayote Squash
by OhioGardener 11/21/2023, 8:27 am
»
Kiwi's SFG Adventure
by
sanderson
11/20/2023, 2:06 pm
»
Seeds 'n Such Early Order Seeds
by
sanderson
11/20/2023, 1:13 pm
»
USDA Plant Hardiness Zone Map
by OhioGardener 11/19/2023, 7:12 am
»
AeroGarden for starting seeds?
by OhioGardener 11/16/2023, 12:40 pm
»
Biochar?
by OhioGardener 11/16/2023, 10:31 am
»
2023 - Updated U.S. Interactive Plant Hardiness Map
by
sanderson
11/15/2023, 6:18 pm
»
SFG Is Intensive Gardening
by
sanderson
11/14/2023, 3:26 pm
»
Teaming with Microbes Kindle Sale (Mem. Day weekend 2023)
by markqz 11/10/2023, 12:42 am
»
Bok Choy Hors d'oeuvres
by
donnainzone5
11/9/2023, 5:58 pm
»
Now is the Time to Start Preparing Next Year's Spring Garden
by OhioGardener 11/9/2023, 7:13 am
»
Shocking Reality: Is Urine the Ultimate Gardening Hack or Disaster?
by dstack 11/6/2023, 5:29 pm
»
Nightmare on Mel Street.
by
Scorpio Rising
11/4/2023, 6:37 pm
»
Aerogardening
by
Scorpio Rising
11/3/2023, 10:02 am
»
Sunday All Purpose Organic Garden Nutrients
by lisawallace88 11/3/2023, 9:13 am
»
Mid-summer seed sowing, how do you do it?
by KiwiSFGnewbie 11/2/2023, 8:04 pm
Nearly six years ago now, I planted my first 4' x 4' here in Bend, OR.  Naturally, I placed weed cloth on the bottom.

Subsequent beds, BTW, had the grassy underlayer dug out.

I've recently spent several hours with my digging fork and brute strength (such as it is these days), digging out grass from several 4' x 4's. That original bed was particularly difficult, and I learned that the grass had grown through the weed cloth.  I'm tempted to tear or cut out that weed cloth and see what happens in the future.  Or should I dig out the MM, lift the bed, and start anew?  Thoughts?
  Donna, do you have Bermuda grass or something similar that spreads underground?  Did you use the cheaper thin black plastic or the thicker gray fabric?  The only thing I can think of, if it was the cheaper black plastic, rebuild with the commercial grade, extending beyond the bed.  Also line the inside of the bed with a second layer.  Screen the Mix before replacing.  All of my beds have an air gap because of the invading roots from trees, bushes and roses.
Sanderson,

Thanks for your input.

I don't know what that grass is!  The lawn was replaced 3-4 years ago.  

I used the SFG weed cloth.  I do have a raised bed liner that might work, with the commercial-grade weed cloth you suggested: https://www.gardeners.com/buy/raised-bed-liners-in-four-sizes/8589751VS.html
I have not met ANY weed cloth that is not bored through by quack grass roots. It is a constant battle. I try to keep it out of the paths and a 2 foot diameter around the garden by digging, covering with black plastic, or metal roofing, or heavy rubber mats from a horse trailer. The best way I know to get it out of a bed is to dig it out as thoroughly as possible and then cover the bed with black plastic for at least one season. I usually grow a squash in the bed, that is a small hole in the center of the bed.

Turan




Posts

: 2605


Join date

: 2012-03-29


Location

: Gallatin Valley, Montana, Intermountain zone 4



Turan, 

After reviewing a few photos, I don't think it's quack grass, although I do have some patches here and there in the lawn and elsewhere.

So far, I think it most closely resembles Bermuda grass, which is cold-hardy and may well have been one of the grasses included in my lawn replacement.
Quack and Bermuda seem to have very similar type of root that pokes right through things so I am guessing similar strategies would work.

Turan




Posts

: 2605


Join date

: 2012-03-29


Location

: Gallatin Valley, Montana, Intermountain zone 4



Donna, The fabric looks like what I would call contrator's grade of weed fabric. I buy a 4' x 100' roll of it at a time. The thin black stuff is cheaper but breaks down so fast exposed to the sun and is easy to accidentally tear in the beds.
Looking at photos on Bing, I have a feeling our once fescue lawn is now quack grass. It is thick and clumpy but holds up to traffic!
Any crab grass is quickly removed because it smothers anything around it.
When going through the trouble of laying down weed barrier multiple layers are much better than a single layer. Regardless of the quality of the material. Of course in this case because it is difficult to correct problems if they arise cost should be minimal and not even considered.  In any event the very best way to build a bed is to elevate it...
Believe me I had much experience with this problem.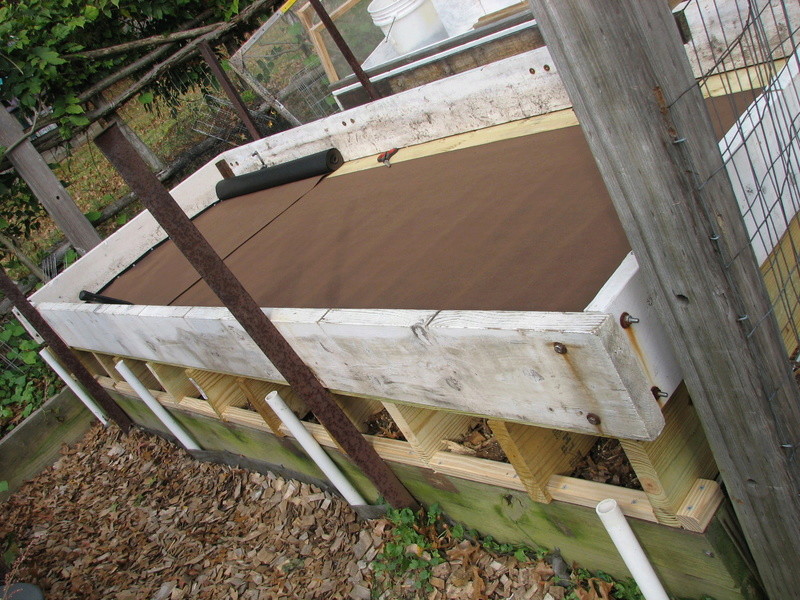 jimmy cee


Certified SFG Instructor




Posts

: 2215


Join date

: 2013-02-16


Age

: 88


Location

: Hatfield PA. zone 6b



Jimmy,

Unfortunately, I have no carpentry skills whatsoever.  In addition, it's planting time already, not a good time to start over.  Thanks, however, for the suggestion.
---
Permissions in this forum:
You
cannot
reply to topics in this forum