Latest topics
»
What Have You Picked From Your Garden Today
by
sanderson
Yesterday at 9:41 pm
»
Sanderson's Urban SFG in Fresno, California
by
sanderson
Yesterday at 9:39 pm
»
What are you eating from your garden today?
by
OhioGardener
Yesterday at 2:30 pm
»
The SFG Journey-Johnson Su Bioreactor for composting, No turning
by
has55
Yesterday at 9:10 am
»
Steves first SFG
by
markqz
12/5/2021, 2:43 pm
»
Catalog season has begun!
by
Scorpio Rising
12/5/2021, 10:34 am
»
Mary Mary quite contrary, how does your garlic grow?
by
sanderson
12/4/2021, 7:05 pm
»
N&C Midwest—November/December 2021
by
nrstooge
12/4/2021, 5:02 pm
»
cabbage pest??
by
sanderson
12/4/2021, 3:26 pm
»
Sauerkraut & fermenting veggies
by
sanderson
11/25/2021, 6:23 pm
»
Kombucha
by
anabelarto
11/25/2021, 9:34 am
»
Happy Thanksgiving 2021!
by
sanderson
11/25/2021, 1:21 am
»
Happy Birthday!!
by
sanderson
11/23/2021, 4:03 am
»
Hi from Las Vegas
by
OhioGardener
11/22/2021, 11:35 am
»
Another hello, Australia - Perth
by
Simso
11/20/2021, 7:47 pm
»
Anyone grow okra?
by
sanderson
11/18/2021, 10:44 pm
»
CANADIAN REGION:What are you doing July to December 2021
by
Kelejan
11/18/2021, 9:46 pm
»
Closing beds for winter
by
sanderson
11/18/2021, 2:30 am
»
Steam canning?
by
sanderson
11/18/2021, 2:28 am
»
Where food comes from - a Poem
by
Yardslave
11/17/2021, 11:23 am
»
Fitness Trackers/Fitbit Users
by
martinjery
11/15/2021, 9:29 am
»
2021 SFG in Brooks, Ga
by
sanderson
11/14/2021, 8:42 pm
»
November: What to plant in Northern California and Central Valley areas
by
sanderson
11/14/2021, 1:53 pm
»
California's Drought
by
sanderson
11/14/2021, 1:45 pm
»
N&C Midwest — October 2021
by
sanderson
11/14/2021, 1:25 pm
»
Hello from the UK
by
yolos
11/13/2021, 11:05 pm
»
can you identify this insect
by
sanderson
11/12/2021, 11:46 pm
»
Ladybug, ladybug
by
sanderson
11/12/2021, 8:37 pm
»
Famous Gardening Quotes
by
sanderson
11/12/2021, 3:55 pm
»
Sweet Potatoes
by
sanderson
11/11/2021, 9:29 pm
Ok my first try at Mel's Mix was a bust. I use extra fine vermiculite (this wasnt so bad) and peat moss and "only cow manure" from Lowe's. Welllllllllllllll, I was at one of the chats and Belinda said she did the same thing thats how I knew my first mix wasnt so hot. I was going to be watching for plants not surviving etc. In the first mix I used my plants did ok, but stood still in time. Radish seeds popped up fast and died, carrots and bell peppers didnt even show. I racked my brains all this time, what shall I do, what shall I do. I decided to take out the soil mix square by square. I started with the tomatoes and replanted them in a mixture of the first soil and another mix I had (horse manure and excellent top soil).
Here is my lemon boy in the process of being replanted with a new mix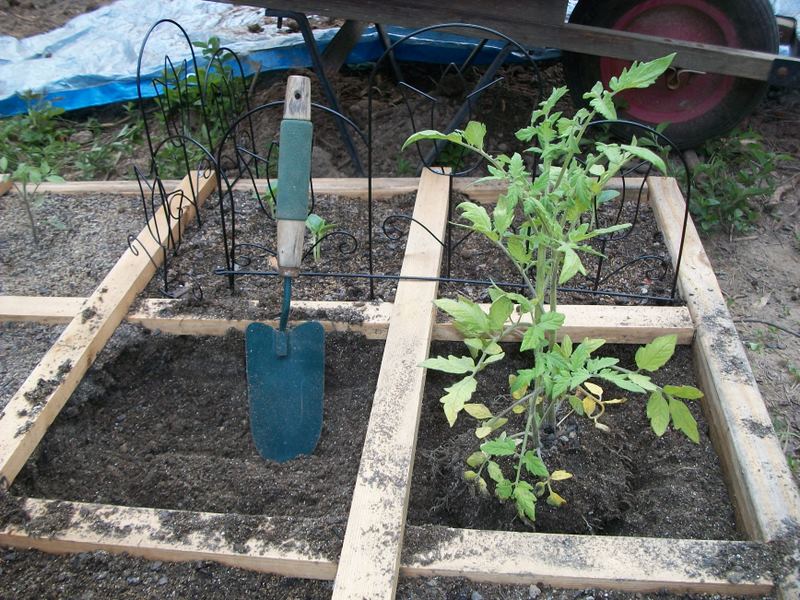 I took out 10 square feet today, the box is 4 x 8, I have 22 more to go
The picture below is unknown heirloom tomatoes waiting to be put back in new soil
This is the way I was digging out the squares and putting it a side to mix with the other compost mix.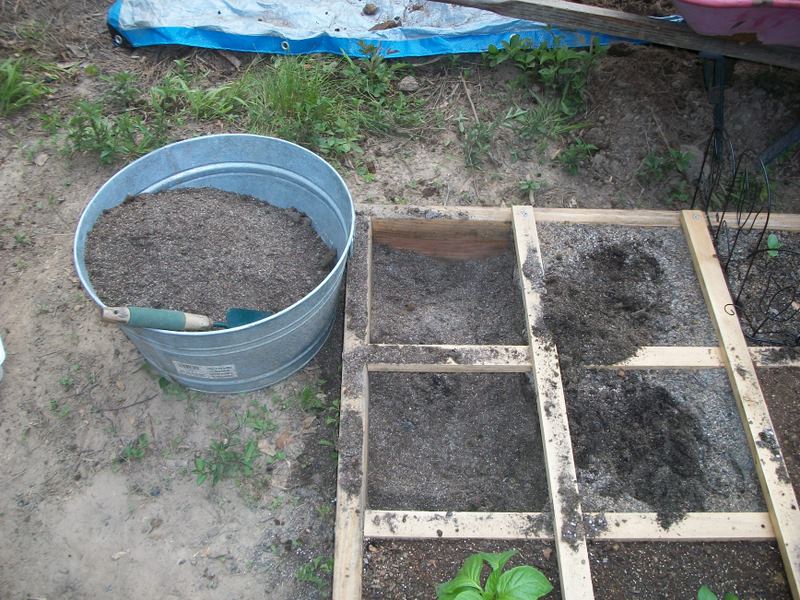 These are orange and yellow bells just put into this box today with a new soil mix, I am going to see how well these do in comparison to those that were in the original soil.
And did I take a pic with all the squares that I re did finished, no but I will share the pic of one of my son shoveling the manure we got for free (and we get to go back for more !! ) He and I went and got this together, I really enjoyed my time working wtih him. Will post a pic of the pile now that its done tomorrow. Oh, the bandana on his face is because his tip of the day when we picked up the manure was "Mom, tip when shoveling, keep your mouth closed" lolololololol
Ok moral of the story, Mels mix right the first time :-D But the beauty of gardening the SFG is that my mistakes were remedied with a little more work. My mix still isnt completely up to what Mel would have, but Im happier now and know that it has more of a mixture than the first soil. I am still encouraged, I found this for my mother's day morning today an okra blossom I thought was the best ever.
I love gardening the SFG way
Ha-v-v

Ha-v-v




Posts

: 1123


Join date

: 2010-03-12


Age

: 61


Location

: Southwest Ms. Zone 8A (I like to think I get a little bit of Zone 9 too )



I have done the same exact thing. Redone some squares. I can tell you your peppers will love you for it. You will be able to tell the difference in just a couple of days. I still need to redo about 10 squares but have to wait on the vermiculite to get here.

Your okra plant looks great.

chexmix




Posts

: 92


Join date

: 2010-03-12


Age

: 54


Location

: Mobile, Alabama zone 8b



Thank you chexmix (that's a great nick name). I was surprised how easy it was to do. I can really see how come harvest time and replanting how easy it will be now with the experience of doing so today. I have another box that is store bought soil mix, it is definitely lacking nutrients as well I can tell by the bell peppers. I had them look like that last year while row gardening and fertilized and they were green and lush looking in no time. I will fix those squares another day.
I look forward to sleep and waking up, faster I get back to do the work in the garden.

From the "Victory Garden"
Ha-v-v

Ha-v-v




Posts

: 1123


Join date

: 2010-03-12


Age

: 61


Location

: Southwest Ms. Zone 8A (I like to think I get a little bit of Zone 9 too )



I'm confused. This is essentially what I did, though I'm not sure my vermiculite was extra fine or not. My plants, seedlings, etc..that are in there are doing amazing. I mean, I don't want to be all weird, but being the daughter of a daughter of a family owned greenhouse business, I can tell you, we've grown flowers and food in EVERYthing, without expensive ammendments; everything from the finest blends for flats, to clay soil at my parents house in the suburbs. Food/plants will grow where there is light and dirt. I'm not saying that my mix is IDEAL necessarily and if I could have managed better compost options, I would have, but I can't fathom redoing my squares after I already spent all that money and time on it. My stuff is making me real happy so far, and it's a huge improvement over last years row garden. So, you're saying that with the right (or as close as I could have possibly gotten) proportions of peat, vermiculite and composted manure (yes, all cow) that the plants will just remain in stasis? I have watched my peas grow visibly every day....I have always used composted cow manure in the first layer (mixed in of course) as amendment to my gardens. I only blend it in with one of those garden claw thingies and every year I've done that, my stuff does better and better. *sigh* Seems like there are so many different ways to get to the end result. I'm leaving all my beds exactly as is, and we can see how it does. Maybe I'm messing up, especially since my plot is not right in the open blazing sun for 10 hours a day.....thinking, thinking, mulling this all over now.

silverbug




Posts

: 185


Join date

: 2010-04-17


Age

: 52


Location

: Wauwatosa, WI (zone 5a)



Im under the understanding the compost part of my mix being just cow manure(bagged manure from lowes) , and from the experience I have now have with my plants, using only the manure is the issue. (it could also be that my mixing wasnt right but I was careful to use a five gallon bucket to 1/3 everything ) Im only saying from my experience. And some plants are thriving in this first mixture !! The acorn squash popped up from seed in no time and is growing visibly daily. Its other plants that are in a stand still or seeds didnt make it( Im also going to germinate now). After re mixing with other compost soil/compost I had made the soil a look and feel better in the hand. I have taken notes and dates and what Ive done to monitor the progress all along so I will be able to see what works and feeds the plants properly and what doesnt. Time will only tell if my "re mix" works. I was sharing about my vermiculite only as what I used. The extra fine works ok a coarser verm is better in my opinion. (this too from experience now)
Sure taking up the soil I put in is extra work, but :-D It was so much simpler to take it out and put in a bucket a few squares at a time. I took the soil and put it in a wheel barrel and mixed it with another soil/compost and put it back into the squares. I enjoy being in my garden (its my therapy ) and I know Im still new at it so Im ok with a mistake. If I learn something Im not wasting.
Since the making of the soil I had to replace Ive secured the vermiculite I prefer and a good source for horse manure. I will treat it like gold. We will get our worm box/farm going soon for another source to our compost. I will have my chicken stuff cleaned out and put in there too. My husband is moving logs this week for me to fence in an area for my "compost" garden. This way I can get in there and turn the rows and water. It will also keep my dogs from rolling in it and wanting to hug me later. Ive learned more about compost in the last two months and am encouraged about my sources.
My SFG garden is a big difference to my row gardening, wouldnt want to go back to row gardening. I will be planting some potatoes and corn in the ground though. :-D Just ran out of milled lumber and have a great corner that was tilled with a ton of ash, I added peat and will add horse manure. I also plan on use the SFG thought process when planting, it will just be in the ground. Thats been fun experimenting with. Its a good at retaining moisture so far and doesnt compact from the rain. I just need to add the "food". I will do that today. Then I will mark out the grid
so to speak and go from there.
Happy in the garden
Ha-v-v

Ha-v-v




Posts

: 1123


Join date

: 2010-03-12


Age

: 61


Location

: Southwest Ms. Zone 8A (I like to think I get a little bit of Zone 9 too )



I sure hope I didn't come off crummy. I don't mean to be critical...I'm trying to learn as much as I can. Maybe we can use one another as a guage by season's end. I have some serious issues against me regarding light, but I've worked my garden in this space for 5 seasons now, and feel like I'm learning it really well. Anyway, Let's keep each other up to date on how the progress is going from here on out. Me with my bagged composted cow manure and you with the new mix. We can be our own case study.

silverbug




Posts

: 185


Join date

: 2010-04-17


Age

: 52


Location

: Wauwatosa, WI (zone 5a)



I like that idea, I will share as I go along with this box. I have written down what Ive done . I will take a pic of the first soil mix and a pic of the new in my hands or on a board to see the difference. I want to document as much as I can to learn for next growing season. Like I said too, those acorn squash seem to be thriving etc. I did add some of the new mix on top of their squares knowing it has manure thats ready for the garden in it I figure it would get a different nutrient. This box also has about 11 boxes planted. 21 more to go
lololol They are waiting for my seeds. Light was one of my issues in the previous garden area. My bell and hot peppers grew in the spot that got the most sun. They grew well. I didnt ever have luck with tomatoes. I know it was their food source. They had none lololol . Now i have all sun and Im learning to deal with that. Im learning to watch the sun all times of the day on the garden as I go.
The other half of the case study lolol
Ha-v-v

Ha-v-v




Posts

: 1123


Join date

: 2010-03-12


Age

: 61


Location

: Southwest Ms. Zone 8A (I like to think I get a little bit of Zone 9 too )



I think there's a huge difference between brands of composted cow manure sometimes. I bought 1 cheap bag from a box store, thinking, "How expensive can cow poo be?" and when I opened it at home, it seemed to be much more clay than actual manure. I was burned!!!
Then I got the more expensive bag (Black Kow brand) and it was fine, fluffy, nice stuff like I thought it should be.
That stuff
has made a world of difference for my newest bed (remember, though, that I'm not using proper "new style" Mel's Mix, long story). So that may be part of this contrast you're seeing.

Odd Duck




Posts

: 327


Join date

: 2010-03-08


Age

: 59


Location

: DFW, TX, Zone 7b/8a



I think there's a huge difference between brands of composted cow manure
sometimes.
I would think maybe brands have something to do with the quality of the manure. We will see. Time will tell with my re mix. Im hoping all goes well. I still dont mind having to "feed extra" if needed. I am posting a pic of my horse poo pile my son shoveled for me.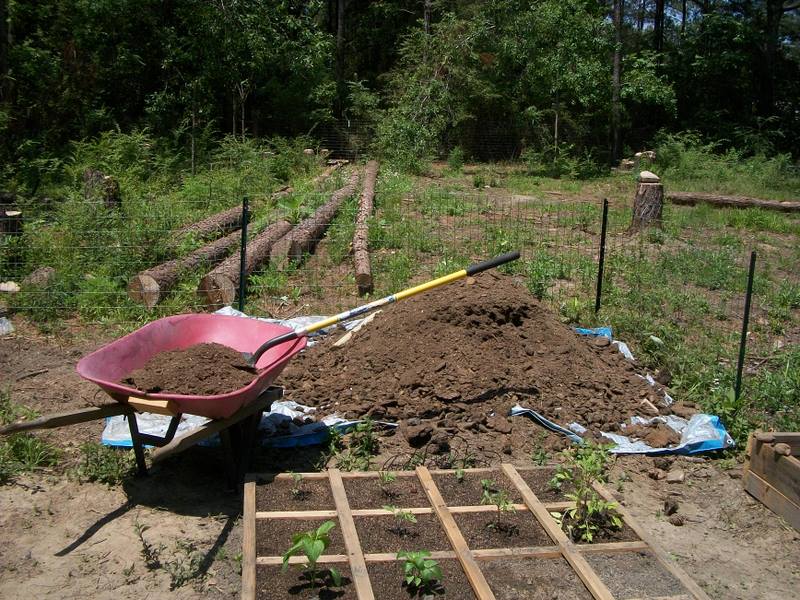 This I will mix with my other piles of stuff I took out of the squares as well.
I did take some and put it on a piece of ground I was going to use for my compost pile. I had a ton of ash put on it from all the burning we did while clearing trees for the house. I just need to turn this one more time and it will be ready for my in the ground sfg.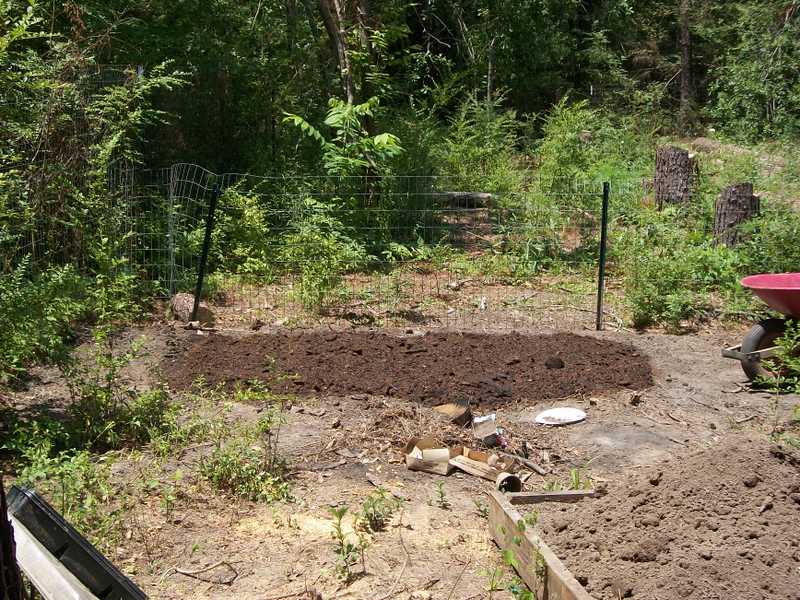 Ha-v-v




Posts

: 1123


Join date

: 2010-03-12


Age

: 61


Location

: Southwest Ms. Zone 8A (I like to think I get a little bit of Zone 9 too )



It is not just the composted cow manure that varies greatly -- it is all compost. I found I had to be very careful to read the "ingredients" of the compost blends I bought or they were all wood pieces. They call it Fir Compost or Redwood Compost as an ingredient but it just looks like wood chips to me. I am sure there is much nutrition in that either. When I open a bag of compost, I want it to look like rich earth, not a bunch of bark.
OK… enough of my gripping! Sorry, I digress.
Please keep us posted as to your results! It will help all of us.
Shoda so funny !! I know what you mean. But I did learn a valuable lesson
Get the right mixture first. I was at Lowe's today, they had mushroom compost made by black velvet. I was so tempted to buy some but I have this nice huge pile of horse poo now

Ha-v-v




Posts

: 1123


Join date

: 2010-03-12


Age

: 61


Location

: Southwest Ms. Zone 8A (I like to think I get a little bit of Zone 9 too )



---
Permissions in this forum:
You
cannot
reply to topics in this forum