Latest topics
»
Birds of the Garden
by
Scorpio Rising
Today at 9:21 pm
»
Mulch around garlic
by Junkmail99 Today at 8:10 pm
»
Kiwi's SFG Adventure
by KiwiSFGnewbie Today at 5:05 pm
»
Paul's First SFGs
by pkadare Today at 4:38 pm
»
What Have You Picked From Your Garden Today
by
Scorpio Rising
Yesterday at 11:58 pm
»
N&C Midwest: June 2023
by
Scorpio Rising
Yesterday at 5:59 pm
»
New to Forum and SFG 15" raised bed foundation
by OhioGardener Yesterday at 12:56 pm
»
Frequency/amt to water
by OhioGardener 6/5/2023, 9:09 pm
»
Famous Gardening Quotes
by OhioGardener 6/5/2023, 10:18 am
»
Easy Refrigerator Pickles from Extra Produce
by OhioGardener 6/5/2023, 9:25 am
»
Tea Time -- Compost Tea, that is
by OhioGardener 6/3/2023, 7:07 pm
»
Hello from Central Missouri, Zone 6a
by
Scorpio Rising
6/3/2023, 3:48 pm
»
N&C Midwest: May 2023
by OhioGardener 6/1/2023, 8:55 pm
»
Walking stick kale
by
sanderson
5/31/2023, 1:38 pm
»
Why Letting Weeds Run Wild Can Actually Help Your Garden
by
sanderson
5/30/2023, 2:35 pm
»
What are you eating from your garden today?
by OhioGardener 5/30/2023, 12:11 pm
»
Teaming with Microbes Kindle Sale (Mem. Day weekend 2023)
by
sanderson
5/29/2023, 3:14 pm
»
Mid-Atlantic New Host Intro & Info
by JAM23 5/29/2023, 8:38 am
»
Poppy seeds - Hungarian Blue Breadseed
by
AtlantaMarie
5/28/2023, 6:12 am
»
Sluggo Plus
by
sanderson
5/27/2023, 3:23 pm
»
Centpedes
by OhioGardener 5/25/2023, 6:19 pm
»
beneficial nematodes
by OhioGardener 5/24/2023, 9:18 pm
»
Senseless Banter...
by markqz 5/24/2023, 5:39 pm
»
Pre-Filling a 30" Raised Bed
by toledobend 5/24/2023, 1:10 pm
»
Happy Birthday!!
by
AtlantaMarie
5/24/2023, 7:03 am
»
Aphids & Their Predators
by MrBooker 5/24/2023, 6:01 am
»
Hello from Bobcaygeon, Ontario
by
Scorpio Rising
5/20/2023, 1:52 pm
»
Spring Flowers
by OhioGardener 5/18/2023, 6:23 pm
»
My Solar Dehydrator at Work
by
sanderson
5/18/2023, 3:10 pm
»
French Tarragon
by
sanderson
5/18/2023, 12:41 pm
Had 3 little blueberry bushes but not in Mel's mix.  Two died probably from extreme brutal winter leaving one little bush this year.  Not enough production. What's a girl to do?  Turns out there is a blueberry farm 15 minutes from here. Had to console myself with someone else's berries to the tune of over five and a quarter pounds.  Yee-hah. Of course these will be washed off very well...and I figure sometimes we just have to make do with some help from others, don't worry and be happy...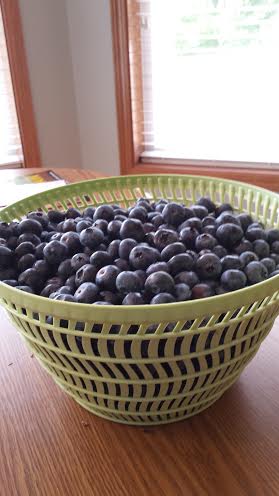 llama momma


Certified SFG Instructor




Posts

: 4921


Join date

: 2010-08-20


Location

: Central Ohio zone 6a



I now have three blueberry bushes in a version of Mel's Mix (extra peat moss and something called acid planting mix, along with vermiculite and some other composts).

One of the two I purchased this spring was puny to begin with, and currently shows no signs of life.  

The two survivors from last year appear to be healthy, and one is producing a few blueberries.  I tasted one today; YUM!  Now, I need to complete my Bird Defense Cage....  Apparently, the cats aren't quite up to capturing or discouraging bluejays.
Donna, you might try our trick of putting rubber snakes in the bushes.  You have to move them around every day, but it seems to help.
My bushes are full and getting ripe, but no time to pick today... 
Donna I put stakes around the bush at least a foot away.   Put chicken wire around it and loosely tied it to the stakes.  I can pull the cage right off to get the berries.  Also attached bird netting over the top of the chicken wire.  This is the second year and so far has worked at keeping the birds away and the cats from using the soft soil as a litter box.

llama momma


Certified SFG Instructor




Posts

: 4921


Join date

: 2010-08-20


Location

: Central Ohio zone 6a



My plan is to use rebar/PVC for a cage, surrounded with bird netting and clipped.  I've already purchased the materials, along with couplings for the frame.

Following my neighbor's example, I'll probably secure the opening with ground staples.  She's very creative and handy!  

I haven't had any problems with the felines confusing MM with litter recently.
Similar topics
---
Permissions in this forum:
You
cannot
reply to topics in this forum