Latest topics
»
Mid-Atlantic New Host Intro & Info
by
sanderson
Today at 4:39 am
»
N&C Midwest: May 2023
by nrstooge Yesterday at 4:39 pm
»
Paul's First SFGs
by pkadare Yesterday at 11:06 am
»
Poppy seeds - Hungarian Blue Breadseed
by
AtlantaMarie
Yesterday at 6:12 am
»
Kiwi's SFG Adventure
by KiwiSFGnewbie 5/27/2023, 6:27 pm
»
Teaming with Microbes Kindle Sale (Mem. Day weekend 2023)
by OhioGardener 5/27/2023, 4:27 pm
»
Sluggo Plus
by
sanderson
5/27/2023, 3:23 pm
»
What Have You Picked From Your Garden Today
by OhioGardener 5/25/2023, 6:25 pm
»
Centpedes
by OhioGardener 5/25/2023, 6:19 pm
»
beneficial nematodes
by OhioGardener 5/24/2023, 9:18 pm
»
Senseless Banter...
by markqz 5/24/2023, 5:39 pm
»
Pre-Filling a 30" Raised Bed
by toledobend 5/24/2023, 1:10 pm
»
Happy Birthday!!
by
AtlantaMarie
5/24/2023, 7:03 am
»
Aphids & Their Predators
by MrBooker 5/24/2023, 6:01 am
»
Hello from Bobcaygeon, Ontario
by
Scorpio Rising
5/20/2023, 1:52 pm
»
What are you eating from your garden today?
by OhioGardener 5/18/2023, 6:29 pm
»
Spring Flowers
by OhioGardener 5/18/2023, 6:23 pm
»
My Solar Dehydrator at Work
by
sanderson
5/18/2023, 3:10 pm
»
French Tarragon
by
sanderson
5/18/2023, 12:41 pm
»
Famous Gardening Quotes
by
sanderson
5/15/2023, 8:50 pm
»
Birds of the Garden
by
sanderson
5/15/2023, 8:49 pm
»
New Compost PIle, 2nd attempt
by Chuck d'Argy 5/13/2023, 11:43 am
»
Ohio Gardener's Greenhouse
by OhioGardener 5/11/2023, 6:44 pm
»
Asparagus
by
sanderson
5/11/2023, 4:11 pm
»
Plan needed for 4'x4' irrigation grid
by OhioGardener 5/11/2023, 12:47 pm
»
TD's 2023 Garden
by
trolleydriver
5/10/2023, 3:16 pm
»
Spring Gardening - Parsnips and Garlic
by OhioGardener 5/10/2023, 2:59 pm
»
Seedlings Sticker Shock
by
sanderson
5/7/2023, 9:44 pm
»
From a Year 2 Novice to All the New SFGers or "How to Get Past the Fear Factor! :)"
by
sanderson
5/7/2023, 3:13 pm
»
Mark's first SFG
by
sanderson
5/5/2023, 3:39 pm
Who out there has an uncommon little tool or gadget that really comes in handy in the garden? I'll start.

I get packs of those 12" bamboo shish kabob skewers. They're awesome for all kinds of stuff. Some of which are:

- they're 12" long, just the length/width of a square.

- you can mark lines on them for measuring spacing.

- you can mark lines on them for planting depths, and make seed holes.

- you can pry and pull up a stubborn weed.

- you can add a piece of packing tape to the top, write on it, and fold it back on itself for a quick and handy plant/row/whatever flag/marker.

- you can use them as an early stake support for plants.


And the list goes on and on.


Next to the basics of a shovel and water, probably the one item I use most in the garden.

vortex




Posts

: 81


Join date

: 2015-03-26


Location

: Midwest - Zone 6



At 73 I hate bending down to do any weeding.  My absolute favorite tool I take with me when checking the garden.  I use it as a walking stick with the handle down to the ground or as a tool.  It gets into the tiniest spots to weed out a culprit.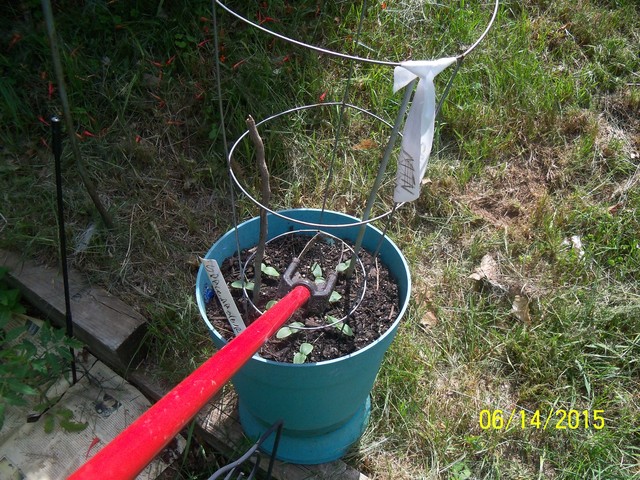 This photo above gives you a general idea of its size.  The business end is only 2"wide  by 5" long and it has a 4 1/2 foot long handle.
Its named a Telesco Weeder and you can turn the midsection to make it shorter-handled if you like, but I never do.  I keep it full length.
It roots out the smallest of weeds just as they get started.  Here I'm working in my flower garden around the tomatoes.
Above:  I can push it right under a plant to get at a weed.  Give it a press and a pull and its defeated another weed.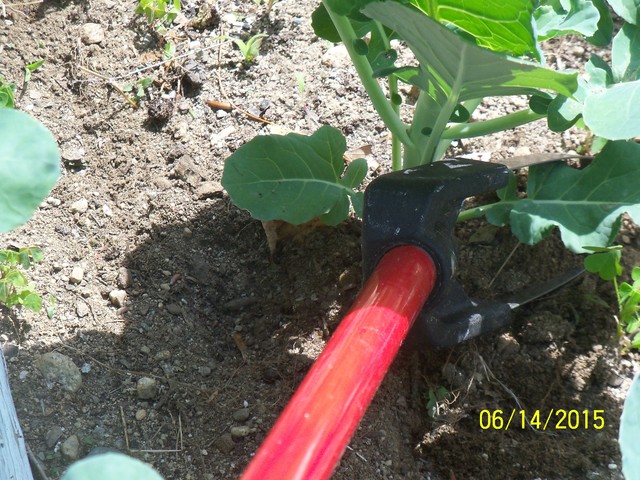 As you can see above, it gets right into the tightest spaces.
Its similar to a stirrup hoe but much smaller and it doesn't wiggle back and forth.  Its stationery.  I thought I bought mine a Johnny Seeds but can't find it in their latest catalog.

quiltbea




Posts

: 4712


Join date

: 2010-03-21


Age

: 81


Location

: Southwestern Maine Zone 5A




yolos




Posts

: 4152


Join date

: 2011-11-20


Age

: 73


Location

: Brooks, Ga Zone 7B/8A



Well this year it's the insect barrier my DH bought. Was kind of costly and truthfully I  I wondered how it it could really keep insects out. Turns out, I've had to use it as a shade barrier to save my plants this year ( especially the tomatoes) from wilting away entirely. The tomatoes don't get full sun until 10:15 AM and by 11:45 they are drooping terribly even though the soil is plenty moist.
It claims to allow 90% of the UV rays through, so they still get sun without the scorch.

FeedMeSeeMore




Posts

: 143


Join date

: 2014-05-06


Location

: Georgia



Similar topics
---
Permissions in this forum:
You
cannot
reply to topics in this forum